Fly fishing sunglasses – one of the most important items when hitting the water. We share opinions on the best fly fishing sunglasses on the market.
Which are the best fly fishing sunglasses?
When choosing a pair of fly fishing sunglasses there is a number of factors to consider: the most important one being the fit of the fishing sunglasses. They need to fit the shape of your face and rest firmly on your nose. Otherwise you won't have a lot of fun on the water.
Secondly your fishing glasses should definitely be polarized. We will explain this technology in more detail later. It basically means that certain rays of light are filtered which takes the glare of and enables you to see fish you otherwise wouldn't see.
In this article we want to share our experiences and introduce you to a number of different options concerning lenses and shapes of the best fishing glasses. For our test we selected multiple high quality lenses from well known brands such as Costa, Oakley, Smith Optics and Lenz Optics but also included a pair of fly fishing sunglasses that costs a fraction of the well known brands to see how it can keep up.
We chose different shapes, glass technologies and glass colors. The reason behind this was to give you a better overview about what options for fishing sunglasses are out there. Polarized glasses are the standard in fishing sunglasses nowadays. Let's jump right into the best fly fishing sunglasses on the market.
Oakley Split Shot Prizm Sapphire Polarized
The facts:
Frame color: Matte Translucent Blue
Lens color: Prizm™ Sapphire Polarized
The Oakley Split Shot Prizm Sapphire Polarized glasses are a great pair of fly fishing sunglasses. Here is a list of the features that Oakley put into their Split Shot model:
•Durability and all-day comfort of lightweight O Matter™ frame material
•No-slip Unobtanium™ nosepad: Increase grip with perspiration
•Three-Point Fit: Comfort and performance that holds lenses in precise optical alignment
•Frame suitable for medium to large faces
•Prizm™ lenses enhance color, contrast and detail for an optimized experience
•HDPolarized: Minimizes glare via technology that produces a comprehensive, single-layered lens (optional)
•Plutonite™ lens material offers top UV Protection filtering 100% of all UVA, UVB up to 400nm and some of harmful blue light
•Glare reduction and tuned light transmission of Iridium™ lens coating
•Optimal precision and impact resistance that meet or exceed ANSI Z80.3 optical and impact standards
•HDO™ Optics for crystal clear vision and impact resistance
•Includes water resistant eyewear case with attachment clip
We wore the Oakley Split Shot during bright days on the water since that is the environment that these lenses are designed for. If you want a higher light transmission you should opt for the Prizm Shallow Water Polarized lens option. This makes the Oakley Split Shot a better option for cloudier days and the time during dusk and dawn.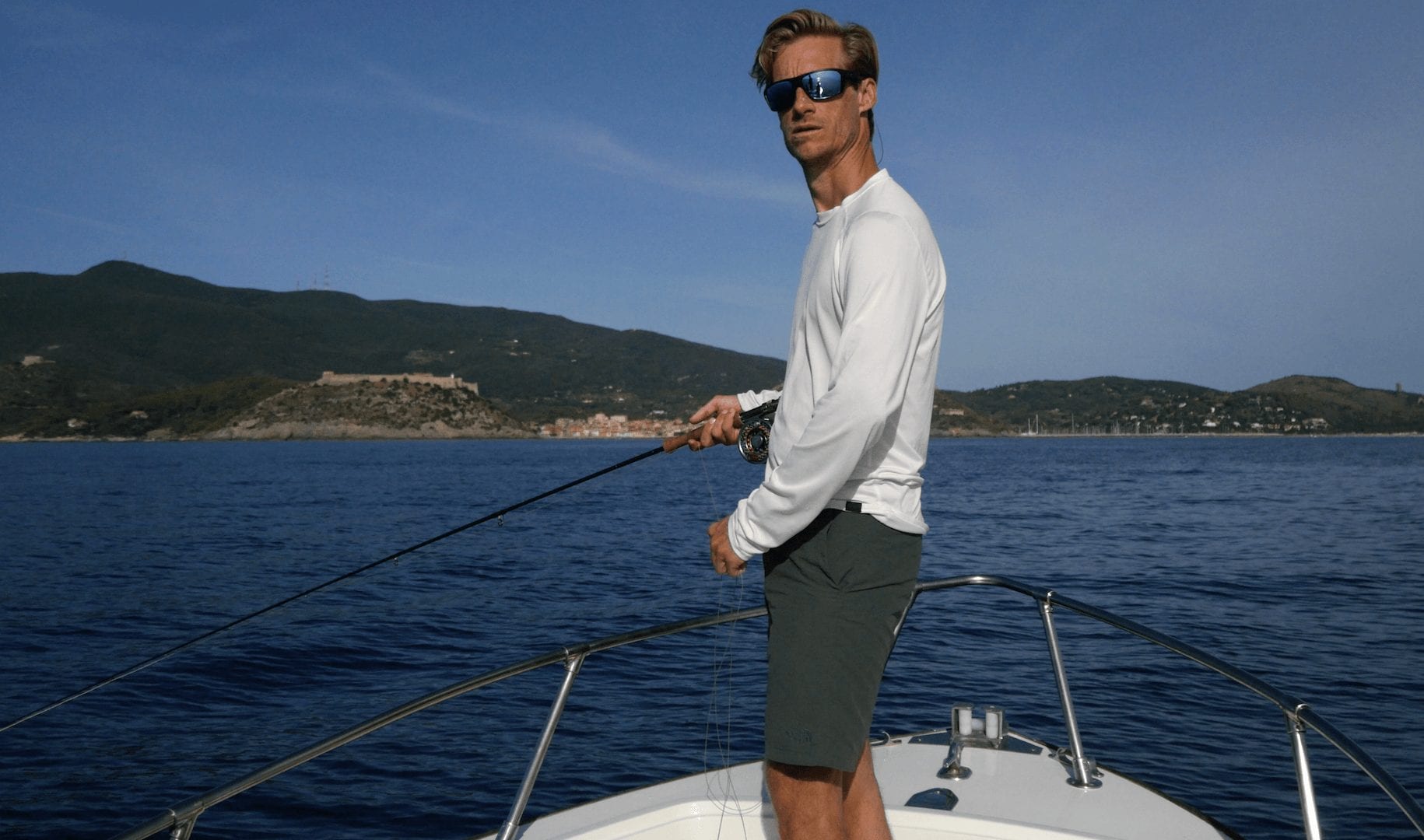 Oakley has been known for building high performance fishing sunglasses for a while. The Split Shot have a great, close fit that shields your eyes from the sun completely. Another lovely feature is the detachable leash that holds your shades when you take them off.  These lenses are a great choice if you are into other outdoor sports besides fly fishing such as skiing or mountain biking. Their tight fit protects you against air stream when executing these sports.
Price: $ 216
Costa Ocearch Half Moon Polarized
The facts:
Frame Colour: Tiger Shark
Lens Colour: Green Mirror
Lens Material: Polarized Glass (580)
Frame Fit: Regular
About Costa's 580G glass:
Lightwave glass
Superior clarity and scratch-resistance
Glass provides the best clarity in material
Encapsulated mirrors (between layers of glass) are scratch-proof
20% thinner and 22% lighter than average polarized glass
C-WALL® MOLECULAR BOND
GLASS LAYER
ENCAPUSLATED MIRROR
POLARIZED FILM GLASS LAYER
C-WALL® MOLECULAR BOND
Costa has made a name for themselves amongst fly fishermen and women around the world. Their polarized fishing sunglasses are amongst the best on the market. Recently they launched a new product line in cooperation with Ocearch, a team of scientists and explorers dedicated to gathering critical data about sharks and ultimately the ecosystem of the ocean. Their new Ocearch Half Moon Polarized lenses are inspired by sharks.
As lenses we chose the Copper Silver Mirror and experienced them to be a great all around choice and performing especially well in low light situations. Costa praises their glass as lighter and thinner than other brands and we found the Ocearch Half Moon very comfortable to wear all day. The shape is less tight-fitting than the Oakley Split Shot Prizm for example. It's definitely a question of preferences. The Half Moon can be worn around town as well as they don't come across as a purely functional pair of shades.
The clarity of the colours is stunning and the polarization of the water's surface works excellently as you would expect from a brand as experienced as Florida-based Costa. You can choose from a wide variety of glasses depending on the environment you fish in. As with the Oakley Split Shot Prizm we chose for the test, Costa's Blue Mirror glass is a great choice if you fish in saltwater a lot. If you want to wear your fishing sunglasses around town as well or use them for other sports, the Gray Silver Mirror is a good option. For the utmost in low light qualities the Sunrise Silver Mirror is the way to go.
Price: $259
Smith Optics Highwater ChromaPop
Smith Optics is another manufacturer that has a long tradition in producing some of the best polarized fishing sunglasses. They praise themselves to add another dimension to polarisation through their ChromaPop technology. Here's what's behind it:
How ChromaPop works
Through a proprietary ChromaPop lens technology, you can see detail and color beyond normal capabilities. ChromaPop filters two specific wavelengths of light that cause color confusion. By doing this the lens delivers greater definition, more natural color, and unmatched clarity to allow you to see more detail.
NORMALLY
The eye's retina has trouble distinguishing between blue and green, and red and green light perception.
WITH CHROMAPOP
ChromaPop filters these specific crossovers, allowing greater definition, natural color, and clarity.

For our test we chose the Smith Highwater ChromaPop fishing sunglasses. They come in a variety of color options as for most quality manufacturers. The Blue Mirror variant is a great choice for bright days on the water. The Gray Green option is perfect if you are looking for an allrounder. If you want the utmost in low light qualities which can be especially helpful fishing during the colder months, the ChromaPop Plus Polarchromic Ignitor is the way to go.
We have to admit that the ChromaPop Plus Polarchromic Ignitor is a fantastic low light lense. It brings out every little detail and makes you see extremely clear.
The Smith Highwater ChromaPop frame is similar to the Oakley Split Shot Prizm lenses. It has a more snug fit than the Costa Half Moon Ocearch for example. This prevents glare in any situation. The tighter fit make them a great choice for other outdoor sports such as mountain biking and skiing as well. Compared to the Oakley Split Shot Prizm it is designed for people with a wider face.
Price: $ 259
Maui Jim Peahi Polarized Sunglasses
Maui Jim is another premium brand when it comes to fly fishing sunglasses. The Peahi has a tight fit similar to the Oakley Split Shot Prizm but is a little bigger. It has rubber insert on the inside where the glasses meet the nose. The very thin glass lenses provide excellent polarization and take stress off the eyes on a long day of fishing.
The Maui Jim Peahi comes in a wide range of colors to provide a solution for any possible fishing situation. The bronze polarized lenses are great for low light situations and fishing during dawn. For really bright conditions the Blue Hawaii Polarized version is an excellent choice.
The rubber inlay where the glasses sit on the nose are a neat little feature as the nose pad ensures the Lenz Nordura lenses stay on your nose even on hot days when you sweat.
Price: $190
Kast King Toccoa Polarized Sunglasses
The KastKing Toccoa Polarized Sunglasses are the outsider in our test. They are the only lenses by a non-premium brand and only cost a fraction (about 10%) of the other premium glasses. How can they keep up?
Most importantly, the KastKing Toccoa Polarized provide 100% UV protection and polarized glasses. We tested them in different environments, fishing a river in low light conditions and during bright sunshine in the Mediterranean. The polarisation capability is flawless and gives you a good look into the water. Their grayish glas makes them a good overall choice if you don't want to spend hundreds of $ for a pair of sunglasses or if you just picked up fly fishing and want to find out if you stick with it.
The fit is less snug than the Oakley Split Shot or the Smith Highwater and can be better compared to the Costa Half Moon Ocearch. Due to the shape it does not block out glare as well. On the other hand, the looser fit makes it a great allrounder and a pair of sunglasses that you can easily wear around town without looking like a hardcore sports enthusiast.
The glass works well in low light situations although it cannot keep up with the Smith Highwater ChromaPop for example which plays in another league. On very bright days you should opt for a darker glass.
The technology behind polarized fishing sunglasses
Polarized fishing sunglasses emphasize certain parts of the light and provide stronger contrasts. They are important when fly fishing because their special lenses prevent or reduce light reflexes and reflections for example on the water's surface.
Your eyes get less tired because they don't constantly have to adapt to new lighting conditions. First and foremost they enable you to literally look into the water. Spotting fish gets easier no matter whether you fish in fresh or saltwater. Polarized fishing sunglasses also help you to figure out underwater structures more precisely or can support your vision when wading.
This image from Smith Optics' website neatly explains the advantages of using polarized fishing sunglasses:

What color polarized lens is best for fishing?

The best color for a polarized fishing lens depends on the conditions you are fishing in. For bright, sunny days on the ocean, blue is a great lens color. Green is a great lens color for fishing flats and shallow water. If you fish in low light situations yellow and light red are great colors for polarized lenses.

Do polarized sunglasses help with fishing?

Polarized lenses offer great protection when fishing because they cut glare. This helps avoid strain on the eyes. The best-polarized fishing sunglasses help you see beyond the water surface. This enables you to spot fish more easily.

Why do fishermen wear polarized sunglasses?

Polarized lenses in fishing glasses block out glare. This can help prevent fatigue during long days on the water. The mirror in a polarized sunglass lens works like a real mirror. It helps bounce the sunlight off the surface of the lens.

What is the best color for polarized sunglasses?

Darker colors (brown/gray/green) are best suited for everyday use and most outdoor activities like fishing. Blue is a great lens color for bright light conditions. Yellow and light red are great colors for polarized lenses in low light conditions.
Note: If you click one of the links and end up purchasing a product we earn a small commission at no extra cost for you. We only recommend products for purchase that we tested and believe in. Thanks for your support!