Last updated on August 24th, 2023.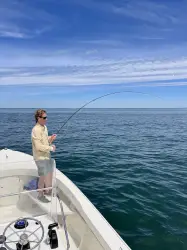 Latest posts by Leonard Schoenberger
(see all)
In this fly tying vise guide we want to provide you with all the info you need on the best fly tying vises on the market.
Disclaimer: All products in this guide are independently researched by our team. We only recommend products we believe in and never get paid for the reviews. Learn more about our review process here.
There is little more exciting in fly fishing than seducing a fish to take a fly you tied yourself. To get started with tying is easier than you might think. Your flies won't be perfect from the get go but simple patterns can be learned quickly.
In order to tie your own flies you need a tying vise, often also called tying vice. We give you an overview of the best fly tying vises on the market no matter whether you're a beginner, advanced fly tier or expert.
Table of contents:
Best Fly Tying Vises on the Market
Rotary Fly Tying Vise vs Fixed Jaw
Best Fly Tying Vise Reviews
We picked vices for all levels of fly tying to make sure you choose the right product no matter your level of fly tying. At the end of the article we will also explain what to pay attention to when choosing your vise. You might think: do I need a rotary vice or can I do with a tying vise with fixed jaws? Don't worry, we got you covered here. Let's go!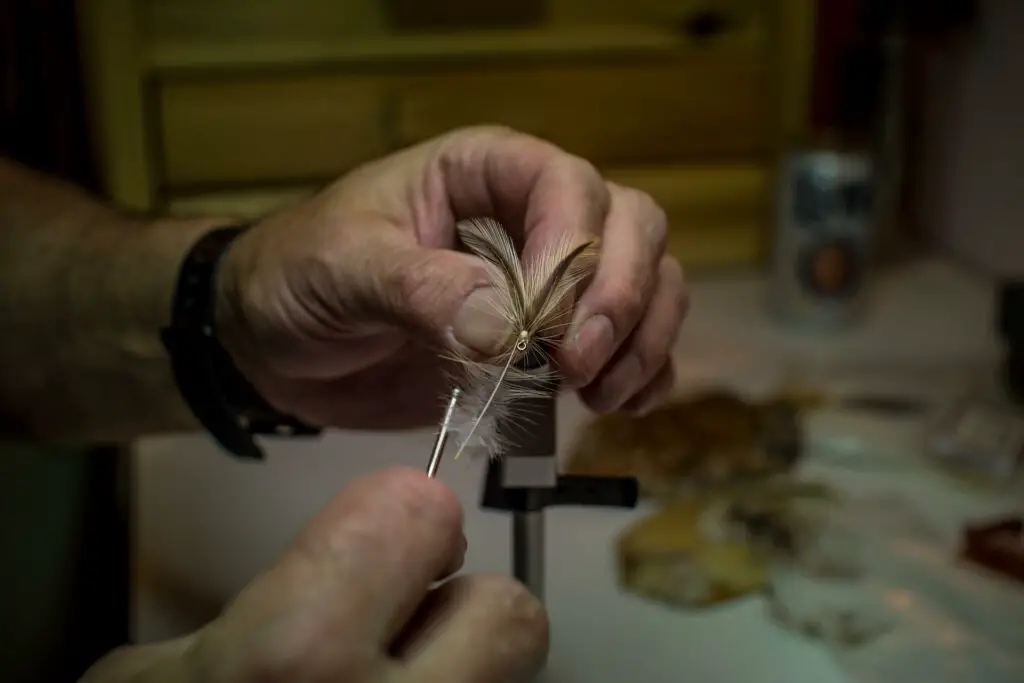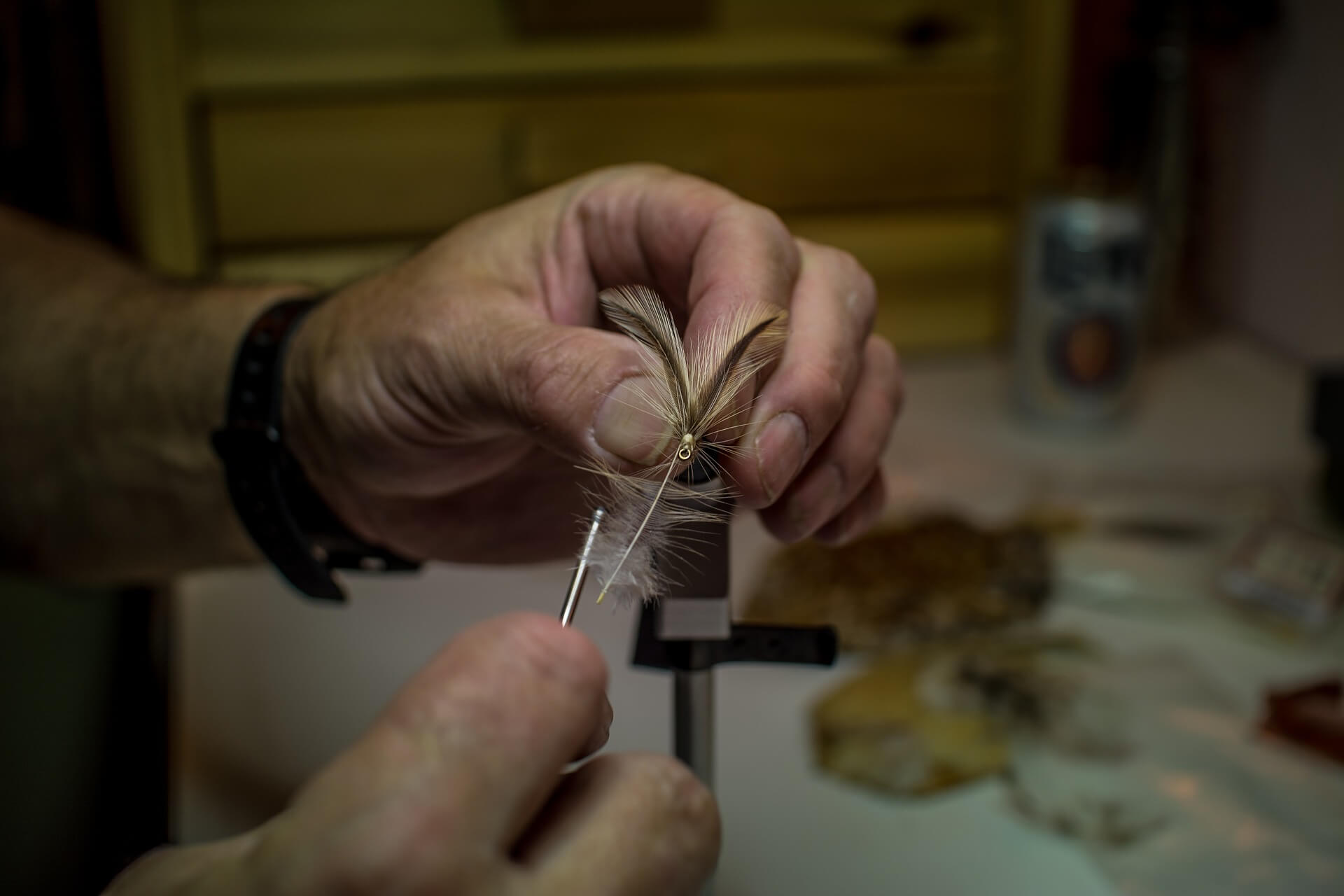 Key features:
– Four positive locking angle adjustments for stable tying
– Fully machined with high quality stainless steel and aluminum for extra durability
– Made in the USA. Dyna King Inc. has been in the business for almost 40 years
Why we picked it:
The Dyna King Professional is everything you are looking for in a high-end fly vice. The fully rotating vise comes with a sophisticated quick clamping system. It can be precisely adjusted to hold hook sizes from #10/0 all the way to #32.
The clamping jaws have two notches of different sizes, which are designed for medium and very large hooks. The Dyna-King Professional can be brought into a horizontal position as well.
PROS:
Excellent build quality – made in the USA
Highly versatile
CONS:
Needs a bit of knowledge to take full advantage of
Key features:
– 100% made in the USA.
– 360-degree rotation
– Jaw capacity of 28 to 4/0
Why we picked it:
The Griffin Odyssey Spider Vise is probably the best fly tying vise for the money if you are just getting started. It has everything you ask for in a fly tying vice: a bobbin holder which is a prerequisite for a rotary vice (360 degree rotation). (Read more on rotary vs. fixed jaw here)
The advantage of a rotary fly tying vise is it's versatility. The rotation enables you to tie more advanced flies more easily. The only disadvantage we found in the Griffin Odyssey Spider Vise is the fact that you have to clamp it to a table, it cannot stand on its own.
PROS:
Lifelong guarantee
Fully rotating
CONS:
C-clamp limits versatility
Key features:
– Tempered tool steel jaws securely hold hooks from size 2/0 to the smallest hooks around
– The pedestal base is heavy and stable and holds the vice in place safely
Why we picked it:
The Peak Rotary Vise is another great fly vise for the money. At around $150 it is a great choice for fly tiers who are a little more advanced already. You can get the Peak Rotary with a C-clamp or a pedestal base.
The Peak Rotary Vise features a minimum design to focus on what's essential. It is made from super stable materials including stainless steel and aircraft aluminum.
PROS:
Pedestal base and C-clamp available
Wide variety of hooks usable
Key features:
– All stainless steel construction made in the USA
– Very sturdy setup. C-clamp holds tightly and base is very heavy
Why we picked it:
The Atlas Rotary Vise is an excellent choice for intermediate fly tiers. Built like a tank the full rotary vise features a rock solid pedestal and a C-clamp. A material clip is included as well but no bobbin cradle.
Holds hooks in all sizes from 2/0 all the way down to 18. Downside: The plastic screw that holds the main arm can be a little weak at times.
PROS:
Great overall vise if you are looking to spend less than $200
All stainless steel
CONS:
Main arm fixation can be a bit tedious
The Renzetti Traveler 2200 has the following features:
– All parts of the traveler are anodized for extreme durability
– Renzetti claims the strongest hook holding power in the industry
Why we picked it:
With the Renzetti Traveler 2200 you enter the territory of professional fly tiers. First introduced in 1988 the Traveler Rotary Vise has been extremely popular ever since.
The Renzetti Traveler 2200 comes in two versions: pedestal or C-clamp which makes it even lighter, ideal for travelling as the name suggests.
PROS:
Handcrafted in the USA
Great for travelling
CONS:
Not quite as sturdy due to lightweight construction
Key features:
– Revolves 360 degrees and articulates 220 degrees up and down
– Ultimate hook holding power
Why we picked it:
The Regal Medallion is one of the best products on the market. Yes, you have to invest a bit of money but if you are a serious fly tier you won't regret spending your money on a Regal vise.
Regal's flagship product can be used to tie any fly ranging from small dries and nymphs all the way up to big streamers for large predators. The Regal Medallion is fully rotating and articulates up and down by 220 degrees.
PROS:
Ultimate versatility thanks to incredible rotation options
Plenty of options to customize your Regal – great as a gift
CONS:
Minimalist style is great but you need some experience fly tying
Key features:
– 360 degrees rotation
– Excellent hook holding capabilities
Why we picked it:
The Wolff Industries Apex Rotary is another hugely popular vise amongst fly tiers. It comes with a lifetime warranty that gives you peace of mind in case something does not work as planned. The rotary vise enables a 360 degree jaw rotation. Stainless steel, extra tough around the jaws, ensures a long lasting quality product.
Grooves in the jaws ensure a secure fit of the hook when tying with the Wolff Industries Apex Rotary. A clamp on the pedestal allows for a vertical or angled operation. You can switch the solid pedestal for a C-clamp if you prefer to attach your vise to your tying desk.
PROS:
Lifetime warranty
Highly versatile with pedestal and C-clamp
CONS:
Not quite as sturdy as the Regal
Key features:
– Built to tie the largest flies for saltwater species
– C-clamp and pedestal available
Why we picked it:
If you are into saltwater fishing and want to tie your own patterns to catch bonefish, stripers and co., make sure to check out the Renzetti Clouser Cam Saltwater Traveler Series. Named after one of the game's most famous people, Bob Clouser, this vise allows to tie larger saltwater flies such as the Clouser Minnow.
Just like its brother, the Renzetti Traveler 2200, the Renzetti Clouser Cam Saltwater comes in a pedestal and c-clamp version. However, the saltwater series can hold larger and stronger hooks which are essential when hunting strong saltwater species.
PROS:
Unmatched when it comes to tying big streamers
Excellent grip even on big hooks
CONS:
Not ideal if you also want to tie tiny flies
Best Fly Tying Vise Lamps
Now that you have a good overview of the best fly tying vises out there on the market, we want to focus on one of the most essential gadgets when it comes to tying your own flies: the fly tying vise light. If you have a bright desk lamp you might as well use that one but if you are new to tying you can consider getting a fly tying light together with a vise. Here are a few good options for you to consider.
Why we picked it:
For a little over $30, the Brightech LightView Pro Fly Vise Light offers a great entry level fly vise light. It features an integrated 1:1.75 magnifying glass surrounded by a bright LED light. If your eyes are a little weak or if your tying room is not perfectly lit, the Brightech LightView Pro will offer you everything you need to tie your flies with precision. There is even a version with a 1:2.25 magnification.
The Brightech LightView Pro comes with a heavy base and a clip, so you can choose how you want to use it at your tying desk. The gooseneck is highly flexible and you can easily bring it into the position you desire. The fly vise magnifiers and lights of the Brightech LightView Pro are very reliable and will last you a long time.
Why we picked it:
The Carson MagniFly is another solid option if you are looking for a fly vise light. In contrast to the Brightech LightView Pro it only comes with a C-clamp which means you can attach it to your tying desk but it doesn't feature a base that enables it to stand on a desk.
The Carson MagniFly features a 2x magnification and the LED comes with 3 very bright LED bulbs. It can either be run on power with an 4.5v AC/DC adapter or on batteries (which you will have to get separately). Comes with a limited lifetime guarantee.
Why we picked it:
With 220 Lumen, the Alert FTL130 LED Fly Tie Light offers maximum brightness. Thanks to separate LED lights and magnifiers you can use them individually. The overall magnification is 2x but the Alert FTL130 LED Fly Tie Light offers up to 10x spot magnification which makes it an excellent choice for the ones whose eyes have gotten a bit weaker over the years.
The Alert FTL130 LED Fly Tie Light comes with a solid base and a C-clamp so you have the choice in attaching it to your fly tying desk. The base even features a small built-in storage tray and magnet.
Best Fly Tying Vise Knowledge
In this section we want to give you more information on what to be aware of when choosing your tying vise. We will cover why it makes sense to tie your own flies, which product is good for you and what features in a vise are important.
Why you should Consider Tying your own Flies
Some fly fishermen tie their own flies, others don't. While there is no need to tie your own flies we want to give you advice on why we think it's a good idea.
First and foremost: we think you'll become a better fly fisher if you start tying your own flies. The reason behind this is the fact that you will become more knowledgeable about insects and their artificial counterparts that tiers try to imitate.
If you are on a fly fishing trip for example and bring along your vise (look for a travel model) you can quickly adapt to the conditions and tie a few flies at night that might make a difference the next day.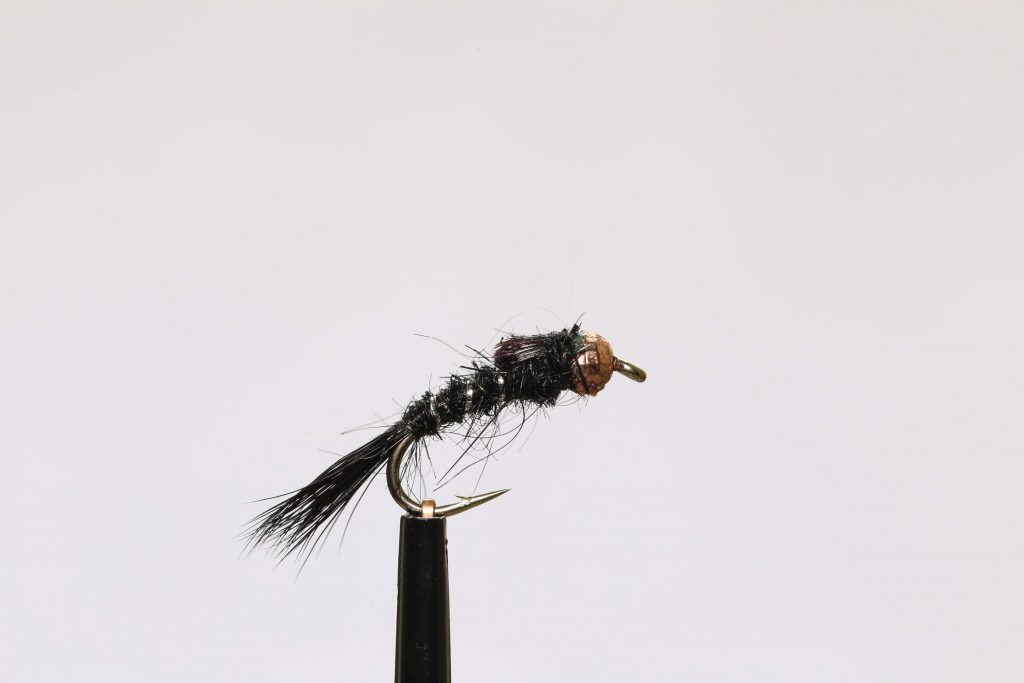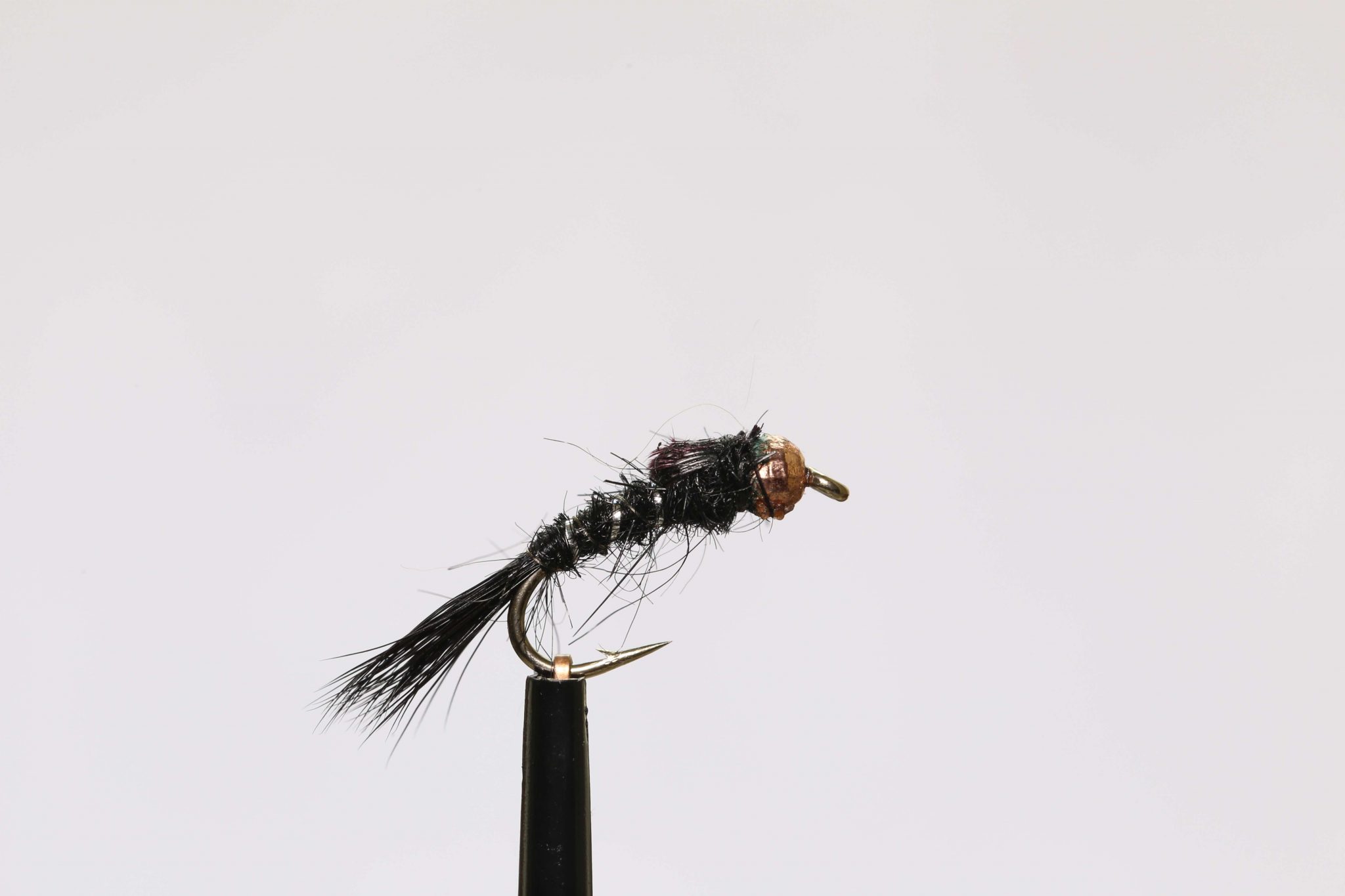 Especially nymphs can be tied easily and quickly. Techniques such as euro nymphing have become increasingly popular in recent years – most of all because they are so successful.
Last but not least catching fish with your own creations is incredibly fun and satisfying.
What type of vise do I need?
In order to purchase the right product you should ask yourself the following questions before getting one.
How much time are you spending tying flies?
If you only tying flies every once in a while it probably doesn't make sense for you to invest hundreds of dollars in the most sophisticated vise. The same holds true if you are only getting started.
What types of flies are you tying?
If you are mainly tying flies for trout any of the vises we reviewed above will work just fine for you. If you consider tying saltwater flies you might want to consider getting a vise that can hold large saltwater hooks: recommendable models are the Renzetti Saltwater Traveler or the Regal Big Game Head and Travel Base.
Clamp or Pedestal Vise
The question whether you prefer a clamp or pedestal vise can only be answered by yourself. Here are the advantages of the respective versions.
A vise with a clamp can be attached to any table and is hence very versatile. It is easier for travelling because the pedestal is often very heavy and sturdy to ensure a stable setting on a table. Several of the models we reviewed above come in both version for you to choose from.
Rotary Fly Tying Vise vs Fixed Jaw Vise
A fixed jaw vise has no option to rotate. It comes in one position that is not changeable. Most modern day vises are rotary vises.
What is a Rotary Fly Vise?
In a rotary fly tying vise the head can rotate. When you are tying more advanced flies a rotary vise makes adding materials to your creations easier. When tying a fly you can hold the material steady and simply rotate the head which can increase precision and result it better tied flies.
Do you need a Rotary Vise?
Of course you could argue that a rotary vise is not necessary. It won't help you become a better tier. You will have to learn the fundamentals no matter what type of vise you use.
If you are just starting out your first vise might not have to be a rotary vice. Once you're sure you will stick with tying and have learned the basics a rotary vice can make your tying life easier.
How much should you Spend on Fly Tying Vises?
Since everybody has their own budget it is difficult to give a simple answer here. You can definitely start tying flies with a vise such as the Griffin Odyssey Spider Fly Tying Vise which will cost you less than $100. If you are looking for something a little more advanced medium-priced vises between $150 and $200 are a good choice, for example the Atlas Rotary Vise or the Renzetti Traveler 2200 Vise. If fly tying becomes your passion you can invest more than $350 to get some of the best fly tying vises on the market such as a Dyna King Professional or a Regal Revolution.
Rotary Fly Tying Vise -...
Griffin Odyssey Spider...
Atlas Rotary Fly Tying...
Rotary Fly Tying Vise -...
Griffin Odyssey Spider...
Atlas Rotary Fly Tying...
Last update on 2023-09-20 / Affiliate links / Images from Amazon Product Advertising API
Our Expertise
Why you should trust us: Leonard Schoenberger and his team have tried and tested hundreds of rods, reels and other fly fishing gear over the years. We always express our honest opinions about a product to help you make a solid purchase decision. We never get paid for reviews and are proud of keeping our editorial independence. Our focus is on bringing you the latest in gear so you can have a great time at the water. Thanks for being a reader of The Wading List.
Frequently Asked Questions: Best Fly Tying Vise
What is a fly tying vise?
A fly tying vise is a tool used in fly fishing to hold the hook of the fly securely while materials are added to create the final fly. It's an essential tool for any angler who ties their own flies.
What should I look for in a fly tying vise?
When choosing a fly tying vise, consider its holding power, adjustability, size, and material. A good vise should hold a wide range of hook sizes securely and allow for easy adjustments. The size should fit comfortably in your workspace, and it should be made from durable materials to withstand frequent use.
What are some of the best brands for fly tying vises?
Some of the top brands for fly tying vises include Griffin, Renzetti, Regal, and Peak Fishing. These brands are highly regarded in the fly fishing community for their quality and performance.
Is a rotary vise necessary for fly tying?
While a rotary vise is not strictly necessary, many fly tiers find them extremely useful. A rotary vise allows you to rotate the hook in place, providing easier access to all sides of the fly. This can make tying more efficient and enjoyable.
What's the difference between a pedestal base and a clamp base in a fly tying vise?
A pedestal base vise is heavy and stable, designed to sit on a table or desk. A clamp base vise, on the other hand, is designed to attach to the edge of a table or bench. Both have their merits, and the choice between them often comes down to personal preference and workspace setup.
How do I maintain my fly tying vise?
To maintain your fly tying vise, clean it regularly to remove any dirt or fly-tying materials. Lubricate any moving parts as needed, but be sure to use a non-greasy lubricant that won't interfere with your fly tying materials.
What's the typical cost of a good fly tying vise?
The cost of a fly tying vise can range widely depending on the brand, materials, and features. You can find budget-friendly vises for around $50, while high-end vises from premium brands can cost several hundred dollars.
Additional Resources
If you are looking for additional resources make sure to check our other stories in "Fly Tying".
Here are some how to's for a number of different flies:
CARP FLIES: A TASTY BREAD PATTERN
FLY FISHING NYMPHS: A NEON UNDERWATER SHOCKER
SAND EEL FLY: A SIMPLE AND EFFECTIVE PATTERN
PIKE FLIES: EFFECTIVE PATTERNS FOR PREDATORS
Notice: The Wading List is reader-supported. We take part in so called affiliate programs such as amazon associates or avantlink. If you click on one of the links in this article and end up purchasing a product we might earn a small commission at no extra cost for you. Thank you! All images courtesy of amazon.