A fly fishing hat or fishing cap can protect you from the sun, wind and rain. There are a few things you should look for.
Fly fishing hats, often also called fishing caps or fish hats, are an important piece of gear when heading to the water. Especially it warmer climate where the sun is strong. Not only does a fly fishing hat protect you from the sun, it can also help keep you dry and warm.
They come in different shapes and versions. When thinking of fly fishing hats the style that probably comes to mind first is a hat with a wide brim. Some fishing hats also feature a neck flap for extra sun protection.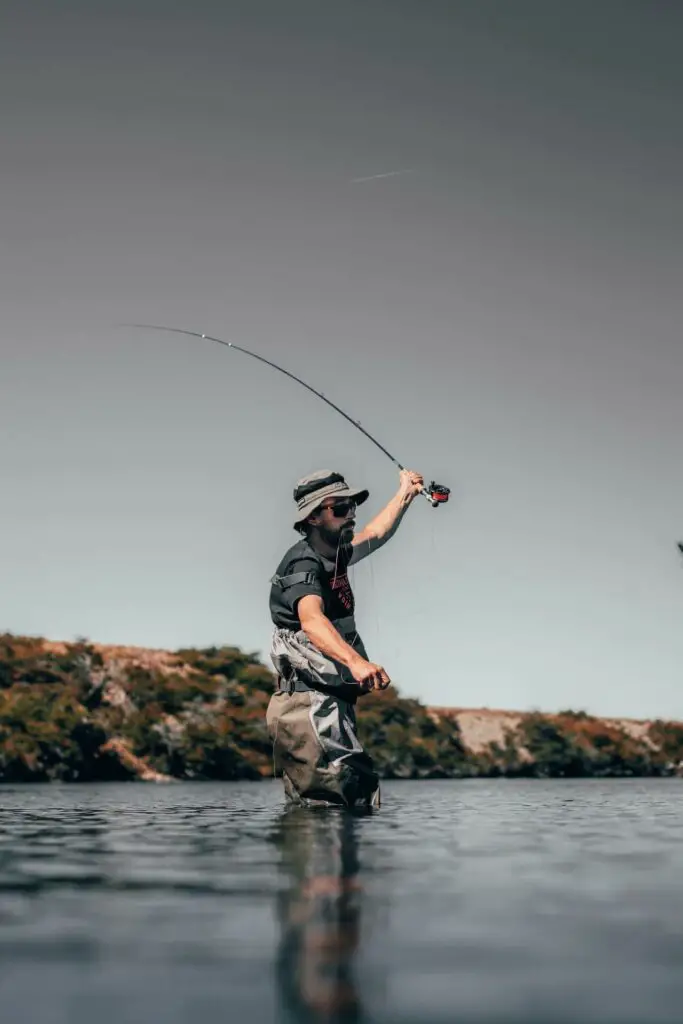 Another model of the fly fishing hat that is very popular is the fishing cap. A fishing cap, often also called fly fishing cap, is a cap that most often features a mesh fabric in the back. This increases ventilation in hot climate.
Besides these two most popular styles, there is the traditional straw fishing hat. The straw fishing hat has a long tradition in many cultures and is very popular to this day. The reason for this is the fact that straw provides a great climate and ventilation as well and is a natural fabric.
Quick Access: Fly Fishing Hats
What to Look for in a Fly Fishing Hat
When buying a fishing hat it is important to ask yourself a number of questions. Where are you going to use it? Do I need a wide brim or is a standard brim enough? Do I need extra sun protection in the neck? Should it be waterproof?
Most modern day versions are made of lightweight materials such as polyester or nylon. You can pack them easily and take them along on a trip. Basically all fishing hats that come in the form of a hat with a brim feature a strap around the chin. That can come in handy when you're fishing in windy surroundings and especially if you're fishing from a boat, since there is basically no way to retrieve a lost hat on the ocean.
For this review we picked our favorites from different categories and tell you what we like and don't like about them. We hope this helps you to make a good purchase decision.
The Columbia Bora Bora Booney is our favorite standard fishing hat. Columbia has a several decades long tradition in producing fishing clothing and the quality of their products is great.
The Columbia Bora Bora Booney Hat comes as a one-size-fits all since you can adjust the size with the cord around your chin. If features a mesh vent panel on the side for extra ventilation.
The Columbia Bora Bora Booney Hat provides solid sun protection as it features built-in UPF 50 sun protection. The Columbia Bora Bora Booney Hat comes in a large variety of colors and weighs in at only 3.68 ounces. Its lightweight and high packability make it a great choice for travelling.
The Super Wide Brim Sun Hat is an excellent choice if you're looking for an extra bit of sun protection. The brim is 5.7 in (14.5cm) deep and almost serves as a neck flap.
The Super Wide Brim Sun Hat is made of 100% nylon and comes in multiple colors. It is lightweight, washable and dries quickly. With an integrated UPF-50 sun protection it is the right hat to wear all day.
Besides sun protection, the Super Wide Brim Sun Hat is a good choice to protect you from rain as well, featuring a high-degree of water-repellency. Just like the Columbia, the Super Wide Brim Sun Hat has a cord to adjust the hat in size.
The Home Prefer is for you if you want the utmost in sun protection. Made from 100% polyester the very light Home Prefer features a neck flap that comes in really handy for example when your flats fishing from a boat with the sun beating down without you realizing it.
On top of the head the Home Prefer features a mesh part for extra ventilation. Like the other fishing hats, the Home Prefer features an adjustable cord.
With a UPF 50+, the Home Prefer blocks 98% of all UVA/UVB rays. You can choose from eight different colors.
The USHAKE Sun Cap is a great crossover product providing the utmost protection from the elements. You can wear it only as a fishing cap. However, it provides ample opportunities for more sun protection.
If you only want more sun protection in your neck, you can clip a removable neck strap onto the USHAKE Sun Cap. If you also want extra protection for your face, there is another flap that can be attached to the cap.
The USHAKE Sun Cap provides great protection in changing environments. It also features integrated UVP 50 sun protection. The 100% nylon is highly breathable and dries quickly. And adjustable chin strap secures the cap on windy days. The USHAKE Sun Cap fits head sizes from 22.3 – 23.8 inches (56.8 – 60.6cm).
The Columbia Unisex-Adult PFG Mesh is our favorite fishing trucker hat. Made of 98% cotton, the back part of the fishing cap is made of a mesh fabric which provides excellent ventilation on hot days.
If you choose a fishing cap such as the Columbia Unisex-Adult PFG Mesh for your day on the water you have to be careful with your ears and neck since these two parts of your body are not protected by the hat.
The great thing about a fishing cap or fly fishing cap like the Columbia Unisex-Adult PFG Mesh compared to a fishing hat is the fact that you can easily wear it around town or on the beach without looking like someone coming straight from a safari. Comes in more than a dozen colors.
The Sunday Afternoons Unisex Sun Guardian is our favorite classic straw fishing hat. Its shape and size are inspired by classic fishing hats that are part of many cultures around the world.
The Sunday Afternoons Unisex Sun Guardian Straw Fishing Hat is made of 100% natural straw and provides great ventilation since the air can flow through the straw. If you are looking for the utmost in lightweight you should not go for a straw fishing hat.
The dark underbrim of the Sunday Afternoons Unisex Sun Guardian Straw Fishing Hat reduces glare on bright days. Adjustable chin strap keeps the hat on your head on windy days.
Conclusion
As you can see from our review there are a number of options to protect yourself from the sun using a fly fishing hat. Depending on your requirements different styles and shapes can be the best option.
We hope this guide has helped you to gain on overview in terms of what's out there on the market when it comes to fly fishing hats. No matter what option you choose we hope you'll have fun at the water.
More Resources
A Guide to the Best Fly Tying Kits
Notice: We take part in the Amazon Associates Program and earn a small commission at no extra cost for you if you end up making a purchase. We only recommend products we are convinced of and use ourselves.