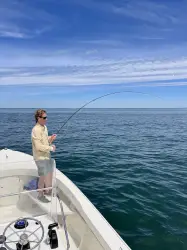 Latest posts by Leonard Schoenberger
(see all)
Neoprene waders are an excellent option when it's really cold outside. But they have their downside as well. We tell you what to look for and which waders to pick.
Most (fly) fishermen and women will not need a pair of neoprene waders. However, in some fishing situations they can come in really handy if you are fishing in winter times when the water and air are close to zero. For example when you are looking for sea trout in the Baltic Sea or for Hucho Hucho in the Balkans. If you are after these elusive species, you will have to put in a lot of hours to catch one.
In this guide we want to give tell you about the advantages of neoprene waders when it's cold outside. In the second part we'll take a look at a couple of good options and tell you the pros and cons of the respective products.
Table of Contents:
Best Neoprene Waders Quick Answer List
What to Know about Neoprene Waders
Best Neoprene Chest Waders Reviewed
Best Neoprene Waders Quick Answer List
5. Hodgman Caster Stockingfoot
What to Know about Neoprene Waders
In most fly fishing situations are pair of breathable chest waders or even wading pants is the best choice. Especially when you are mostly fishing in warmer conditions (even thought the water may be cold like in a river) a pair of breathable waders is the best choice. What exactly differentiates a pair of breathable ones from a pair of neoprene ones?
Neoprene vs. Breathable Waders
Neoprene waders are made from rubber material that can vary in thickness (just like a wet suit in surfing). As a rule of thumb, the thicker the fabric, the warmer the waders. In general neoprene fishing waders range from 3mm for "warmer" conditions to 5mm for colder weather. They are filled with very small nitrogen bubbles that increase insulation and hence keep you much warmer than breathable ones.
The downside of this effect is that neoprene waders don't have any moisture wicking capabilities. Hence they only make sense when it's really cold and when you don't sweat. Since the technology behind neoprene waders is less advanced than in breathable ones, they generally cost a lot less.
Best Neoprene Waders for Fishing
Now that you know the differences, we can dive into a couple of products that we recommend if you know that you will be fishing in cold conditions. We'll take a look at both bootfoot and stockingfoot waders. Bootfoot models have integrated boots while stockingfoot ones have integrated neoprene socks. This means you need additional wading boots.
The Bassdash Men's Bare Camo Neoprene is a very solid pair of neoprene waders made from a 4.3mm neoprene. The rubber booties consist of a Thinsulate insulation that makes sure your feet stay warm in even the coldest conditions. The heel and toes of the integrated rubber boots are reinforced since those areas are the ones where the most abrasion happens.
The big chest pocket of the Bassdash Men's Bare Camo holds all your essential fishing gear such as pliers, tippet spools, a nipper or a fly box. Be aware that this pocket is not waterproof though. A hand warmer pocket hidden behind the chest pocket is an essential feature when it gets really cold. The suspenders and wading belt are adjustable and provide solid comfort all day long. A great pair of waders, especially if you're into hunting as well thanks to its camouflage design.
The HISEA Fishing Chest are a solid and classic pair of neoprene waders. They come in two colors and especially the green version makes for a great pair. They come with integrated boots and are hence ready to use out of the box.
The HISEA are made of 4.5mm neoprene and hence a great choice for really cold conditions. Around the knees, an area of increased abrasion, this model features pads for extra protection and durability. The boots of the HISEA are lined with 200gr 3M Thinsulate to keep your feet warm and dry no matter the conditions. Cleated soles on the boots provide excellent traction.
Adjustable shoulder straps and a wading belt ensure a snug fit of the HISEA. These ones are a good choice for male and female fly fishers and come with a one-year warranty.
The Frogg Toggs Amphib Wader is another great choice if you are looking for a pair of neoprene waders. Frogg Toggs have made a name for themselves in recent years for producing quality wading gear at affordable prices. The Amphib series is available as a stockingfoot wader (pictured above) or with an integrated boot.
With a thickness of 3.5mm the Frogg Toggs Amphib provides excellent warmth but a level below the HISEA (which are 4.5mm). The suspenders are adjustable, a reach-through handwarmer pocket provides extra warmth on cold days and the knees are padded for extra comfort.
The neoprene booties of the Frogg Toggs Amphib fit well and ensure comfort all day long. Check our Wading Boots Guide if you are looking for a pair of boots to go along with these waders.
The Foxelli Chest Waders are a great choice if you are into hunting as well due to their camouflage looks. They feature extra wide shoulder straps for increased wearing comfort.
The Foxelli's high cut in the back makes these waders an excellent option if you want the utmost in wading capabilities. They feature integrated boots with anti-slip soles and padded knees. D-rings on the front to attach extra gear such as nippers or pliers are a handy feature for fishermen. The Foxelli also come with a one-year warranty.
The Hodgman Caster Stockingfoot is another good option if you are looking for a pair of stockingfoot neoprene waders. Made from 3.5mm neoprene, they are in the same range as the Frogg Toggs Amphib.
Integrated gravel guards make sure any debris stays out of your Hodgman Caster. The Hodgman also feature a reach-through handwarmer pocket that is hidden behind the large storm pocket to hold your essentials such as a fly box. A D-ring on the back allows for the attachment of a landing net for example when fishing for sea trout.
This wader is also available as felt bootfoot and with cleated soles.
The Caddis 3.5mm Bootfoot Wader Neoprene come with several thought-through features. They feature two large D-rings on the front of each shoulder strap to attach extra gear. The handwarmer pocket has an integrated drainage hole in case you need to wade deep.
The back of the Caddis 3.5mm Bootfoot is cut high for ultimate deep-wading capabilities. Padded knees provide extra comfort. The integrated boots of the Caddis 3.5mm Bootfoot come with a 200 gr Thinsulate insulation for extra warmth when standing in cold water for longer periods of time.
Bonus: Hip Waders Neoprene / Hip Boots
As you will see when you do your research, most models come as chest ones. There is a reason for that: most of the time you will be using a pair of neoprene ones, it will be pretty cold outside. Hence, the chest ones keep almost your entire body warm.
If, however, you think you will only need waders at the bottom, you can consider getting neoprene hip waders, often also called neoprene hip boots. Neoprene hip ones have the advantage that you can easily put them on and off. You attach them to your normal pants or the belt you're wearing with it. Here are a few waders you can consider.
The Rogers Toughman 4MM Hip Wader is a great choice for a pair of neoprene hip waders, especially if you are also into hunting. They comes with integrated boots which are lined with 1200g thinsulate material. This guarantees you'll stay warm even if it's freezing outside.
The knees of the Rogers Toughman 4MM Hip Wader are reinforced for increased abrasion resistance. With a thickness of 4mm, you won't get cold around your legs. Quick release belt straps make it easy to get in and out of the waders.
Here's another good pair of neoprene hip waders: the Nordman Fishing Hunting Waders for Men with Boots. Just like the Rogers Toughman 4MM they come with integrated boots. With a layer of 5mm neoprene, the Nordman Fishing Hunting Waders for Men with Boots are even a bit warmer than the Rogers Toughman.
If you go for the Rogers Toughman, be aware that their boots don't have any insulation. You should wear an extra pair of wading socks or even some neoprene socks if it gets really cold.
Conclusion
As you can see from the products we reviewed above, neoprene ones come in all sorts of styles. The most basic choice you have to make is between stockingfoot (you need a pair of wading boots) and bootfoot waders where the boots are integrated into the waders.
You should also think about the thickness of your waders. Most often these waders range from 3mm to 5mm. The thicker the neoprene, the warmer the waders as a rule of thumb.
Read more of our Gear Guides here:
Ultimate Guide: Best Wading Jackets
Buyer's Guide Best Wading Boots
Guide to the Best Fly Rod under 200$
A Guide to the Best Fly Fishing Starter Kits
Notice: We take part in affiliate programs. If you click on one of the links in the text and end up purchasing a product we earn a small commission at no extra cost for you. We only recommend products we are convinced of.