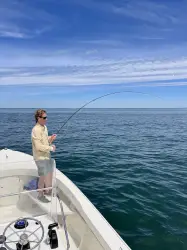 Latest posts by Leonard Schoenberger
(see all)
A fish gripper can be a handy tool when fishing for predators like pike. In this guide we tell you what to look for and show you our favorites.
If you`ve ever caught a big pike or musky for example, you know that these predators have razor sharp teeth. Landing one of these fighters can be a challenge if you don't want to get hurt. There are several options to handle fish with sharp teeth: you can use a glove, a big landing net or a fish gripper, often also called fish lip gripper or fish grabber.
A fish gripper is a tool that grabs the jaws of the fish. This allows you to safely handle the fish, remove the hook and release it. Some grabbers have integrated scales so you can weigh your catch. The best grippers are made for saltwater fishing and hence very tough and durable. The gold standard in lip grippers is the Boga Grip ®. But there are many more grippers out there. In this guide we want to give you an overview of the best fish grabbers out there. We tell you the advantages and disadvantages of each product so you can make a solid purchase decision. Let's go.
Best Fish Grippers: 2023 Market Overview
In this buyer's guide we'll take a look at different kinds of fish grabbers. Not all lip grippers are created equal. To make sure there is a good choice for everyone we included grippers from all price ranges.
As mentioned before, the Boga Grip ® made by Eastaboga is the gold standard when it comes to fishing grippers. The Boga Grip ® is made from premium materials ensuring that you can use it in saltwater as well. Stainless steel prevents corrosion and ball detent pins instead of screws allow for an easy assembly.
The BogaGrip® has an integrated scale that allows you to easily weigh your catch. Can be operated using only one hand. Since the BogaGrip® is quite heavy, you should secure it with a leash or a floating device if you use it on a boat to prevent it from sinking if dropped.
The BogaGrip®`s reputation is so high that the IFGA accepts record fish if they have been weighed using a BogaGrip®. Comes in capacities of 30lbs and 60 lbs.
Verdict: Not cheap but worth it on the long run. Impeccable quality.
The Piscifun Lip Gripper with Digital Scale is another great fish gripper with a similar mechanism of action as the BogaGrip®. The main difference is the scale which is a digital one compared the BogaGrip®'s analog one. The digital scale has the advantage that is highly readable and hence makes the Piscifun Lip Gripper with Digital Scale easy and quick to operate also in low light conditions.
The Piscifun Lip Gripper with Digital Scale is also made from stainless steel and hence ready to use in saltwater. Just like the BogaGrip®, the Piscifun's handle rotates 360 degrees. The digital scale can even stores up to 10 weight readings so you can compare your catches of the day.
Verdict: Sturdy gripper with highly readable display.
The ZACX Fishing Pliers, Fish Lip Gripper is our favorite when it comes to versatility. That is because you not only get a fish lip gripper with this set but a neat pair of fishing pliers as well. With this combo you have everything at hand to safely grab the fish, unhook and release it.
The ZACX Lip Gripper is ready to be used in saltwater as well since it's corrosion resistant. The pliers come with a lanyard and sheath. While this lip gripper does not feel as sturdy as the BogaGrip®, it can get the job done. The only downside is the fact that the ZACX comes without an integrated scale.
Verdict: Great price-performance ratio
The Booms Fishing G04 is a great entry level fish grabber. It does what it's supposed to do. Technically it works a little different than the previous three products in this test. You open and close it more like a pair of pliers.
The Booms Fishing G04 is not made from steel but a mix of nylon (70%) and fiberglass (30%) instead. This makes it extremely lightweight and a good choice for saltwater since it can't rust. It has an extreme load bearing capacity of 110lbs. A wrist lanyard that comes with the Booms Fishing G04 prevents the lip gripper from falling into the water.
Verdict: Great choice if you want to find out if a lip gripper could be for you.
The Plastic Lipgrip with Fishing Hook Remover is a similar tool as the Booms Fishing G04 but comes with a hook remover included. This comes in handy when the hook is set deep in the throat of a fish. In such a case you can grab your catch by the jaws and safely remove the hook using the hook remover.
The t-handle on the hook remover of the Plastic Lipgrip with Fishing Hook Remover makes it easy to operate it with one hand. Just like the Booms Fishing G04, the Plastic Lipgrip with Fishing Hook Remover is very lightweight and floats in the water in case you drop it.
Verdict: Solid choice if you are looking for a hook remover as well.
Conclusion
As you can see from our test, there is a wide range of fish grabbers out there. There are a number of questions you have to answer before making a purchase. If everything you want from your tool is a safe way to grab your catch by the jaws, you can go with the Booms Fishing G04. If you want the utmost in durability and longevity there is no way around the The Boga Grip ®. In case you want the utmost in versatility, you should consider the ZACX Fishing Pliers, Lip Gripper which comes with a great pair of pliers.
Frequently asked questions
Are fish grippers bad for fish?
In general fish grippers help a fisherman to handle his catch safely by gripping the fish by its jaws. Some fish grippers have integrated scales that allow you to weigh your fish. If you do that make sure to do it quickly since it's not ideal for fish to hang in the air for too long.
What is a fish lip gripper used for?
A fish lip gripper is a great landing tool. This is particularly true when you are fishing for big predatory species like pike or muskey that have razor sharp teeth. A lip grabber helps the fisherman to hold the fish, remove the hook and release the fish.
How do you use a fish lip gripper?
A fish lip gripper allows to get a hold of the fish you caught by grabbing the fish by its jaw. The fish is not hurt by this tool since it doesn't have any sharp edges.

Read more of our Gear Guides here:
Ultimate Guide: Best Wading Jackets
Buyer's Guide Best Wading Boots
A Guide to the Best Sling Pack
A Guide to the Best Fly Fishing Starter Kits
Notice: We take part in affiliate programs. If you click on one of the links in the text and end up purchasing a product we earn a small commission at no extra cost for you. We only recommend products we are convinced of. All photos courtesy of amazon.