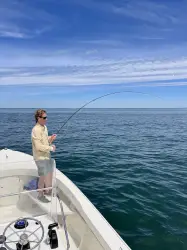 Latest posts by Leonard Schoenberger
(see all)
Fishing pliers are an important tool when hitting the water. They can remove a hook, cut a line or even the shank of a hook.
Disclaimer: All products in this guide are independently researched by our team. We only recommend products we believe in and never get paid for the reviews. Learn more about our review process here.
A quality pair of pliers is made of quality material that will last for years of hard use. Yet, different pliers have different features. If you want to use your pair in saltwater as well you should be looking at a pair that won't rust.
In this test we'll look at the best fishing pliers money can buy considering different budgets. In the first part of the review we'll check out freshwater pliers for fishing. The second part will present our top 3 saltwater choices. Let's go!
Table of Contents:
What to Look for in the Best Pliers?
Best Pliers for Fly Fishing Quick Answer List
Disclaimer: We source, test and review the best products in the market for you. We only recommend products we use ourselves. If you end up buying a product from one of the merchants, we might earn a commission at no extra cost for you.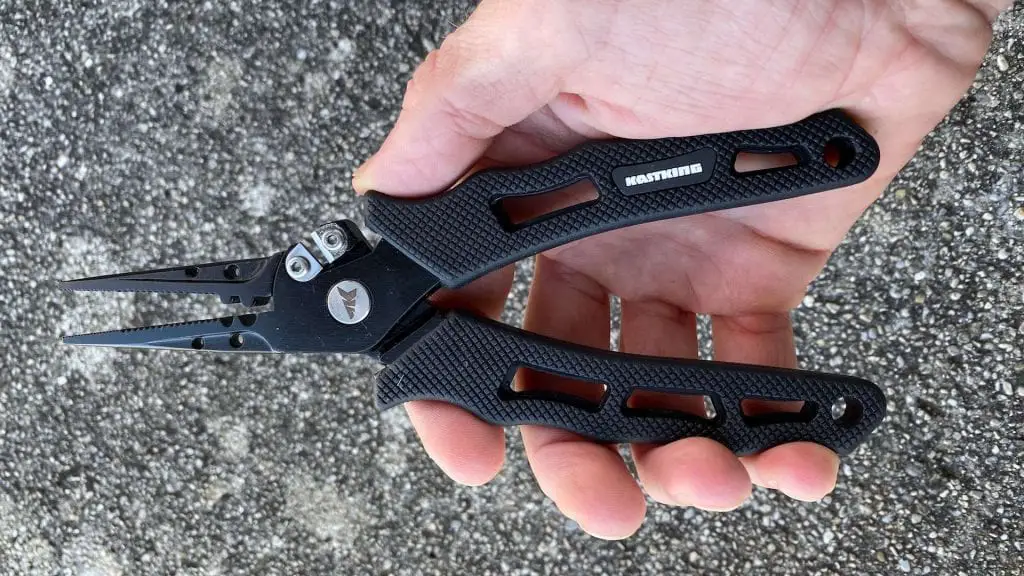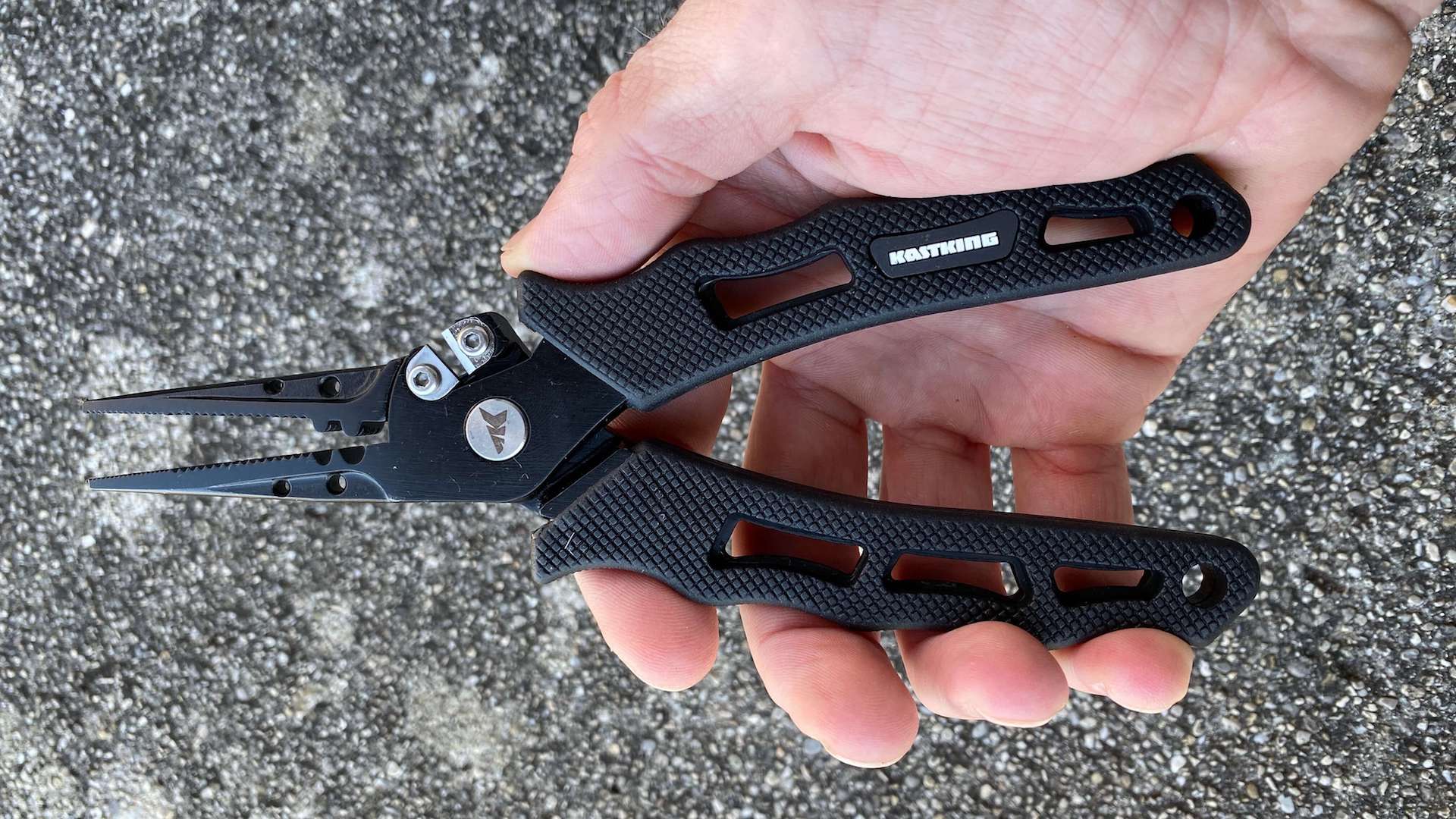 What to Look for in the Best Fishing Pliers?
If you are looking to buy a pair of pliers there are a number of features a quality pair should have.
Material
The choice of material is crucial when it comes to saltwater fishing. In such an environment you need pliers made of stainless steel, aluminum or even titanium. Aluminum needs to be of high quality as well as it could bend otherwise if too much pressure is applied. Aircraft grade aluminum is a good choice here.
Cutters
Fishing pliers come with different kinds of cutters. Here again it matters what kind of fishing you do and what kind of lines you intend to use. If you only cut monofilament or fluorocarbon, normal cutters will do. If however, you intend to cut braid for example you need cutters that are razor sharp. Extra strong side cutters can even cut the shank of a hook. A feature that can come in handy.
Length of the nose
The length of the nose decides over the possibilities when removing hooks. The longer the nose the easier it can handle hook deeper in the throat of a fish. Hence, the size of the fish you're after matters. If you looking for saltwater use, fish tend to be bigger, hence you need longer nose pliers.
Split Ring Tool
A split ring tool is a cool however not crucial feature. It allows you to split rings of bigger hooks. This again can be an advantage when targeting bigger fish since the hook ring tends to get tougher to split by hand.
Grip
A solid grip is essential when dealing with pliers. It comes down to personal taste in the end as to what you prefer. We chose some with rubber and some with steel/aluminum/titanium handles. The design of the grip plays a role as well. Molded grips help you grip them tightly and add a level of security.
Lanyard & Sheath
A lanyard is mandatory if you fish on a boat or from a pier for example. A sheath can be a nice feature if you are carrying your pliers attached to your waders for example. It also enables you to always have them ready quickly when releasing a fish.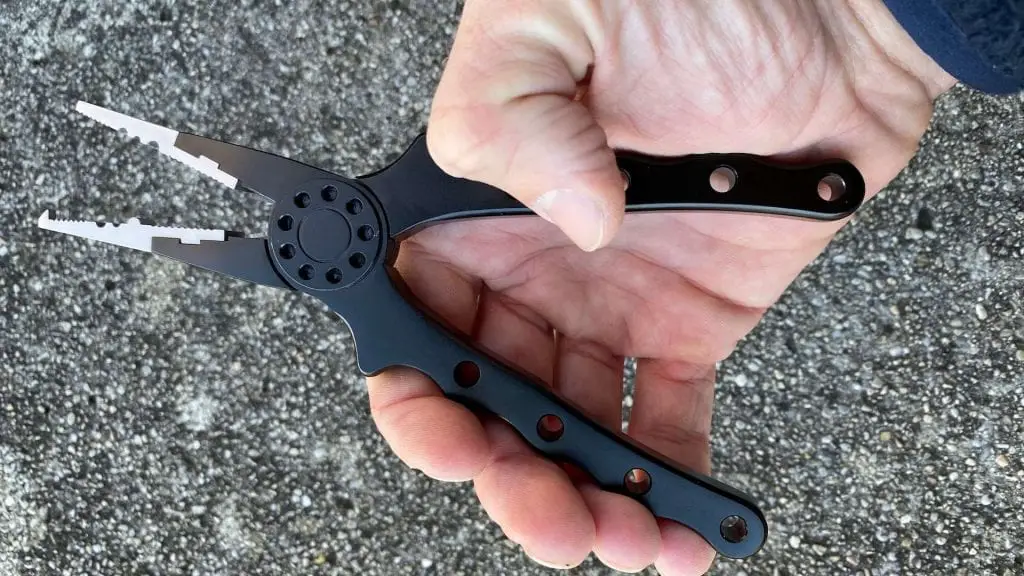 Best Fishing Pliers Quick Answer List
1. Dr. Slick Squall Fishing Plier
Best Pliers for Freshwater Fishing
In this first part of the pliers review we'll look at freshwater pliers. Here are our top three favorites that have different qualities.
Why we picked it:
The Dr. Slick Squall Fishing Pliers are one solid tool. Made from aircraft-grade anodized aluminum, they feel very sturdy and are very comfortable to hold. The aluminum however gets cold in winter, a disadvantage compared to the the KastKing Cutthroat 7" we'll talk about in a second.
The Dr. Slick Squall come with a handful of useful functions. First and foremost their stainless steel jaws can remove hooks and split rings. A spring keeps them open freely and makes them easy to use with one hand. Another feature that we found very useful are the tungsten carbide cutters. These fully replaceable cutters enable you to cut the strongest braided lines (up to 60lbs) , heavy mono leaders, fly lines and backing. You can even clip off the shank of a hook when fly fishing.
The Dr. Slick Squall Fishing Plier come in a nice nylon sheath with a coiled lanyard and can be easily attached to your waders using the belt loop clasp. Their form makes them very sturdy. The downside of this build is the shorter arms that aggravate removing a hook if a fish has taken the bait deep inside the throat.
PROS
Replaceable cutters
Comes with a lanyard and sheath
CONS
Aluminum handle gets cold in winter
Why we picked it:
The KastKing Cutthroat 7" have a similar shape as the Piscifun pliers. The main difference is the material of the handles. The KastKing Cutthroat 7" come with rubber coated handles that feel very comfortable, especially on cold winter days. The material also makes them very slip-resistant. These are not made from aluminum but from corrosion resistant stainless steel with a teflon coating. The manufacturer claims this material makes them significantly harder than aluminum pliers.
The KastKing Cutthroat 7" are also equipped with tungsten carbide cutters. Other than the Piscifun, KastKing places the carbide cutters on top of the jaws next to the handle. It probably comes down to personal preferences in daily life. We did not find one solution easier to use than the other.
The KastKing Cutthroat 7"'s jaws are also multifunctional, allowing you to grab and remove any fish hook with the serrated jaws. The crimping slots enable you to secure a split shot weight or build a steel leader. The KastKing Cutthroat 7" are available both with a straight nose and a split ring nose. Just like the Piscifun the KastKing Cutthroat 7" also comes with a sheath and a lanyard. You can clip it onto the belt of your waders and always have them ready to use.
PROS
Rubber handles provide excellent grip
Great value for money
CONS
Sheath material doesn't last forever
Why we picked it:
The Booms H01 Scissors are a great entry level pair of fishing pliers. They are our top choice when it comes to pliers with a longer nose making hook removal deep in the throat of a fish easier. The Booms Fishing H01 are made of 420 stainless steel. With their scissor cutters they cut anything from monofilament, fluorocarbon, braid and wire. They also feature a split ring tool.
The Booms H01 Scissors also come with a safety look and spring loaded for easy use. The lanyard can easily be attached to a fishing jacket or waders.
PROS
Longe nose enables deep hook removal
Spring load makes usage with one hand easy
Why we picked it:
The LOON ICONIC TOOL KIT is a great choice for the minimalist angler who does not want to carry too much gear but is looking for a high quality pair of fly fishing pliers. The kit consists of two pieces: the Rogue Quickdraw forceps with rubber handles quickly release a hook when out fly fishing.
The LOON ICONIC TOOL KIT also includes a high-quality nipper that cuts even thicker tippets and leaders. To round off this great package, it comes with a lanyard for easy attachment on your fly fishing vest or fly fishing sling pack.
PROS
Small size means these pliers stow away easily in your wadersl
Rubber handles provide secure grip
CONS
Only for smaller species
Not built for heavy duty work
Why we picked it:
The Dr. Slick Barracuda Pliers are a great choice if you are looking for a slim but very strong pair of fishing pliers. Its long jaws make it easy to remove a hook from the mouth of a fish, even the ones with sharp teeth such as pike or barracuda. The integrated side cutters on the Dr. Slick Barracuda Pliers make cutting even thick leaders and tippets easy.
The Dr. Slick Barracuda Pliers come in two colors and feature anti-slip handles plus a safety bar on the top handle to ensure a safe grip in all environments and situations.
PROS
Slim design
Powerful side cutters
Best Fishing Pliers for Saltwater 2023
Saltwater pliers need an extra bit of sturdiness and corrosion resistance. As mentioned in the beginning of this article they are made of materials such as aluminum, stainless steel or titanium. They also need to be extra strong if you are targeting big fish.
Here are our top three saltwater fishing players. Like in the first part of this review we want to give you a range of options to choose from. That's why we chose our favorites from the best fishing pliers for saltwater with different features.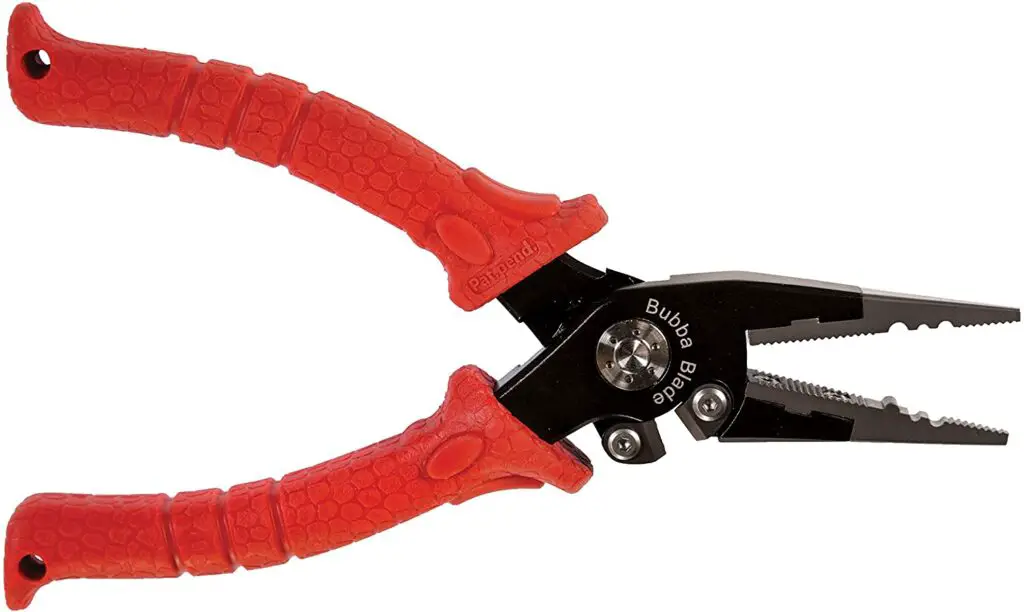 Why we picked it:
Bubba Blade has made a name for themselves in the fishing industry by their fish knives. But they also built great pliers for fishing, especially for saltwater use. The Bubba Blade 7.5 Inch is the right choice for heavy saltwater use. The Bubba Blade 7.5 Inch feature an excellent grip that prevents the pliers from slipping out of your hands. Made from aerospace aluminum and stainless steel jaws the Bubba pliers are very sturdy.
We like the fact that the Bubba Blade 7.5 Inch also feature side cutters and are spring loaded, making them easy to use with one hand. They come with a sheath for easy attachment to your waders or pants and a lanyard to prevent dropping them into the water.
PROS
Rock solid, non-slip rubber handles
Powerful side cutters cut anything from mono to braid
CONS
Rather short nose limits reach of the pliers
Why we picked it:
The Gerber Magniplier 7.5 in Needle Nose are an excellent choice as well when it comes to saltwater fishing pliers. Their needle nose tips stand out and provide extra reach to remove even hooks that are deep down in the fish's throat.
The Gerber Magniplier 7.5 in Needle Nose are angled and off-axis from the pliers' handle. This improves the line of sight and and makes removing hooks even easier as you see what you're doing better.
The carbide cutters and jaws of the Gerber Magniplier are exchangeable and hence guarantee a long-lasting product. These pliers come with a sheath and lanyard as well.
PROS
Highly ergonomic handles for all-day use
Replaceable jaws
CONS
Not as slip resistant as the Bubba
Why we picked it:
At $269.95 the Simms Guide is certainly not for everyone. However, they are a great tool. The strength of the Simms Guide lies in their minimalistic design made from high end aluminum. This makes these incredibly light and yet incredibly strong. Sprng loaded handles keep the pliers open and ready to use in a second.
The Simms Guide features tungsten cutters. The pliers come with a sheath that features a belt loop for easy attachment. A lanyard secures the pliers. These are built to last and an investment for a lifetime. They also feature a bottle opener to celebrate your catch.
PROS
Tightly fitting sheath
Comfortable to use single-handedly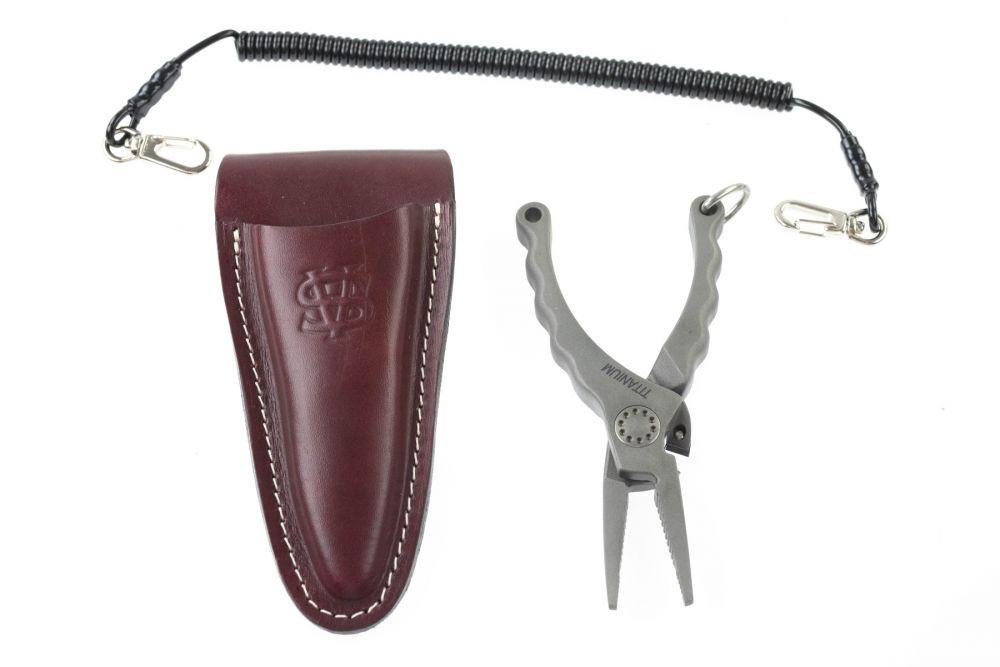 Why we picked it:
If you are looking for the ultimate pair of fishing pliers, look no further than the Van Staal 6″ Titanium Pliers with Leather Sheath. Made from corrosion-proof titanium they feature incredibly strong jaws. Spring-loaded handles make it easy to handle the Van Staal with one hand.
The tungsten cutters are replaceable to make these last for a lifetime. The lanyard ensures that you don't use your Van Staals even if they accidentally drop out of the leather sheath. This plier is not cheap but worth every penny – also makes for a great fly fishing gift.
PROS
High-end feel with combination of titanium pliers and leather sheath
Strongest jaws in the test
CONS
Material gets cold in winter
Why we picked it:
If you are looking for a heavy duty pair of fishing pliers to get any job done, look no further than the Cuda Titanium Bonded. A titanium bonded finish ensures durability and toughness in the harshest environments. At the base of the jaws, you'll find super strong cutters that cut braided and mono fishing lines with ease.
Next to the handles an additional wire cutter on the Cuda Titanium Bonded makes sure there is no line tough enough to withstand the force of the cutters. They are replaceable after heavy use. The handles are coated with a non-slip pattern. The Cuda Titanium Bonded come with a nylon sheath and a lanyard so you don't loose them on any of your fishing adventures.
PROS
These pliers will withstand any test
Non-slip rubber grip
Conclusion on the Best Pliers for Fly Fishing
As you can see from our review the options for a pair are vast. There are so many factors that influence your decision. The most important ones are: Are you going to use them in freshwater only or do you want to take them fishing in the sea as well? If you want to use them in saltwater make sure they are corrosion resistant so they won't rust.
The amount of money you can spend on a pair also greatly varies. Entry level products that will get the job done start at around $15. If you want to get some of the best ones out there that will last you a lifetime, you can easily spend a couple of hundred dollars. A nice pair of pliers for fishing also always makes for a good gift for a fishing friend.
Notice: We take part in the Amazon Associates Program and earn a small commission at no extra cost for you if you end up making a purchase. We only recommend products we are convinced of and use ourselves.
Fishing Plier FAQs
What are fishing pliers?
Fishing pliers are a multi use tool in fishing. They can remove hooks and cut lines. Depending on their built there are different kind of fishing pliers.
What are pliers used for in fishing?
Fishing pliers can be used for a variety of tasks when out fishing. The most common ones include: hook removal, cutting line and work on fishing equipment.
Who makes the best saltwater fishing pliers?
Saltwater fishing pliers must be extra durable and corrosion resistant. Hence they need to me made from the best and toughest materials such as aluminum, stainless steel or titanium. Look for pliers made by Simms, van Staal or Gerber.
Can I use regular pliers for fishing?
Technically yes. Most of the fishing pliers resemble pliers you can get in a hardware store. However, fishing pliers often have additional features such as split ring openers or cutters.
Do you need pliers when fishing?
Not forcibly. It really depends on which species you are targeting. When you are going after pike for example, fishing pliers are really handy to remove a hook since pike have razor sharp teeth. Fishing pliers can also help to remove a hook when it's deep down the throat. Moreover, they are great to cut a line or open a split ring. Hence, we definitely recommend bringing a pair of fishing pliers along for your day on the water.