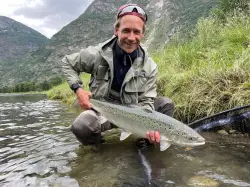 Latest posts by Leonard Schoenberger
(see all)
Looking for a lightweight and durable pair of fishing pliers? The Simms Flyweight might be for you.
These are the unsung hero of any angler's toolkit. Imagine a tool that not only gets the job done but does it with style. That's the Flyweight Pliers for you.
Note: Some of the links in this article are affiliate links. If you click on one of them and end up purchasing a product we earn a small commission at no extra cost for you. We only recommend products we believe in ourselves and would recommend to our friends and family. Learn more here.
Specs and Features
Colors: orange and titanium
One size
Lanyard and holster included
Weight: 4.25oz
Price: $179.95
Look and Feel
The Flyweight Pliers don't just sit in your hand; they meld with it. The ergonomic design is like a handshake with your fishing finesse. The aluminum frame isn't just for show; it's a corrosion-resistant beast, ready to tackle whatever the water throws at it. The lower side of the plier fits only your index and middle finger (see photo above). Since my hands are not huge, I had no problem gripping them tightly but I assume bigger hands might have difficulties with the rather small handle.
What's great about the Simms Flyweight is their radical lightweight design that reduces everything to the bare minimum. Yet they are incredibly tough and durable. On the sides of the blades the pliers (read our big guide on the best fishing pliers here) feature cutters that can cut bigger monofilament although not the toughest saltwater ones. I am also not fully convinced of the handle design as it makes it harder to apply a lot of pressure since you can only use our index and middle finder.
The Real Deal on the Water
So, how do these babies perform? We took them out on several fishing trips and they didn't disappoint. The spring-loaded handles? Smooth as silk. Whether you're debarbing hooks, crimping sleeves, or trying to get that stubborn fly out, these pliers handle it all. However, because of their their short nose design these pliers are not ideal to remove a hook deep in the throat of a fish.
And let's talk about precision – these pliers are like a surgeon's scalpel for your fishing needs. Delicate maneuvers? Check. Excellent grip with the serrated jaws? Double-check. They even threw in a lanyard attachment because Simms gets that you need these at arm's reach.
Pros and Cons – Let's Keep It Real
Pros
Tough as Nails: Anodized aluminum for durability and corrosion resistance.
Feels Just Right: The ergonomic design for a comfortable grip during those long days.
Precision Masters: Meticulously machined jaws for a secure and precise grip.
Smooth Operator: Spring-loaded handles for effortless use without hand fatigue.
Versatile Performer: Debarb hooks, crimp sleeves – these pliers are up for the challenge.
Cons
The holster is a little small and didn't always secure the pliers properly
Cutters reach their limit with strong monofilaments
Handle size too small for big hands
Aluminum gets really cold in winter
Final Verdict on the Simms Flyweight Plier
In a nutshell, the Simms Flyweight Pliers are not just tools; they're your fishing wingmate. From their sleek design to their top-notch performance, Simms nailed it. That is if you're specifically looking for a lightweight pair of fishing pliers that you'll barely feel on your belt. Their build quality is excellent but they have a few downsides such as the size of their handle and the cutting capacities of the cutters for really strong monofilaments. The orange color is fabulous.
Questions You Might Have about the Simms Flyweight Pliers
Are the Simms Flyweight Pliers suitable for saltwater use?
Absolutely. The Flyweight Pliers are constructed with corrosion-resistant brushed aluminum, making them well-suited for the challenging conditions of saltwater fishing.
Can these pliers handle cutting heavy monofilament or fluorocarbon lines?
Yes, the precision-machined jaws of the Flyweight Pliers are designed to handle a variety of tasks, including cutting through heavier lines with ease.
Is the sheath durable and secure for carrying the pliers on my belt or pack?
The included sheath is crafted for durability and features a secure design, ensuring that your Flyweight Pliers are easily accessible while providing adequate protection.
Can I use the Simms Flyweight Plier for fly tying tasks, such as crimping barbs and handling small materials?
Absolutely. The precision and versatility of the Flyweight Pliers make them well-suited for various fly tying tasks, including crimping barbs and handling small materials with finesse.
Why You Should Trust Us
We spend dozens of days out on the water testing and reviewing new gear for you. We always express our honest opinions and never get paid for reviews. We do get products to test and review for free, as was the case with the Atlas fly rod. Our goal is to give you all the facts you need on a product to make a solid purchase decision.