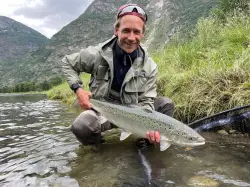 Latest posts by Leonard Schoenberger
(see all)
In the world of fly fishing, it's the small things that matter.
The delicate presentation, the choice of fly, and, of course, the tools you use. Among these, a reliable pair of pliers is a fly angler's best friend.
Enter the Goture Pliers, a versatile, corrosion-resistant, and multi-functional tool that's poised to become an indispensable part of your fly fishing gear. In this review, we'll dive into the specifications, features, and the reasons why the Goture Fishing Pliers are a perfect match for fly fishing enthusiasts. Let's explore how this tool can elevate your angling experience.
Disclaimer: Some of the links in this article are affiliate links. If you click on one of them and end up purchasing a product we earn a small commission at no extra cost for you. We only recommend products we believe in ourselves. Learn more here.
Important Features of the Goture Fishing Pliers
Quick Look:
Price: $19.99
Colors: Red and Green
Different accessory kits available
Come with leash and sheath
Rubberised handles
Split ring openers, knot tightening holes and serrated blades
The Goture Pliers are designed with the discerning fly angler in mind, offering a range of features that make them stand out as a must-have tool:
Material: These pliers are crafted from high-quality aluminum that's been reenforced with Teflon and features an anticorrosion coating to make sure these pliers can handle harsh conditions such as when fishing in the saltwater.
Multi-Functionality: The Goture pliers are versatile, serving multiple purposes. They can be used for removing hooks, cutting fishing lines, crimping sleeves, and more—a true all-in-one tool.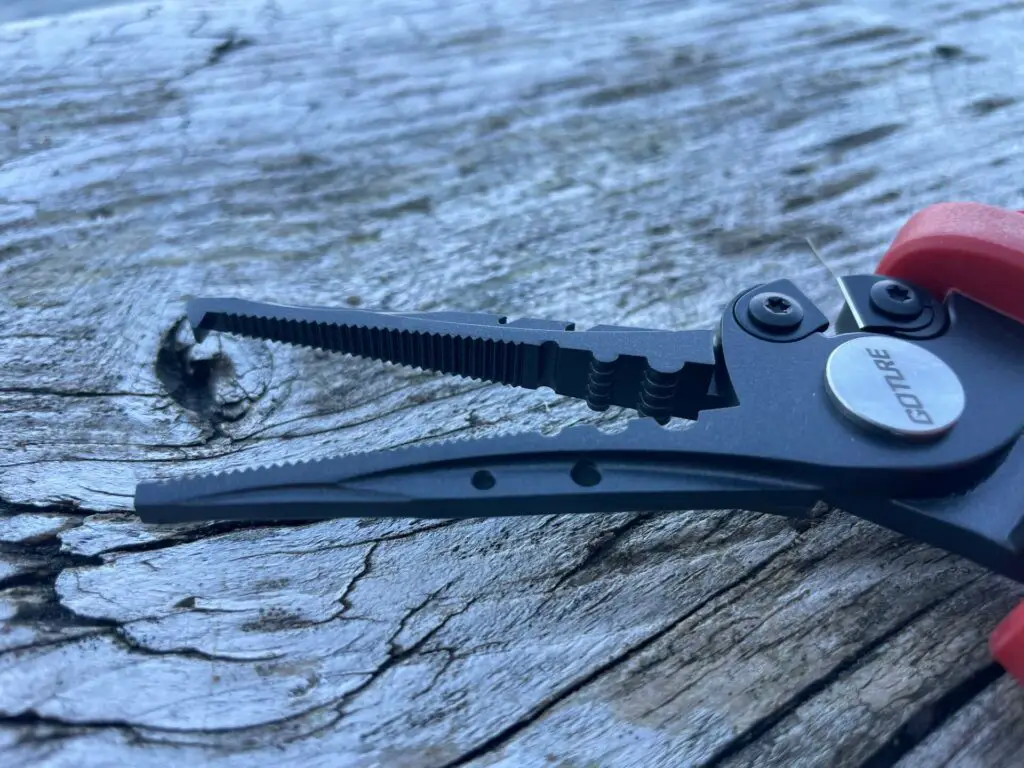 Spring-Loaded Design: The pliers feature a spring-loaded mechanism that makes one-handed operation a breeze. This is especially handy when you need to remove hooks quickly and efficiently.
Non-Slip Handles: The textured, non-slip handles ensure a secure grip even when your hands are wet or covered in fish slime. This adds to the overall safety and ease of use. I'd describe the plier size as medium making the Goture a good choice also for people with smaller hands.
Lanyard and Sheath: The pliers come with a sheath and a lanyard, allowing you to keep them within easy reach, whether you're on the riverbank or in a boat. You can easily attach them to your wading belt for example. The sheath does its job but the hard plastic is not the best material since it's not very flexible and has quite articulated edges that bothered me a bit when testing and reviewing.
How Do the Goture Perform in Real Life?
I must admit, I was surprised about the performance of the Goture considering they come in at $19.99. I've had one of these for multiple seasons and they held up well. The cutters wore out the quickest but since they're replaceable that's not a big issue. If you often find yourself cutting heavy monofilament, these might not be ideal for you. But any kind of tippet material is absolutely no problem for the Goture.
Corrosion Resistance: Fly fishing often takes you into both saltwater and freshwater environments. These pliers are built to withstand the corrosive effects of saltwater, ensuring they remain reliable no matter where your angling adventures take you. Here again, consider the pliers only come with a corrosion resistant coating (instead of being made entirely from stainless steel for example). That's why it's imperative to rinse and clean them properly after use in the salt.
Multi-Purpose Utility: Fly fishing requires a variety of tasks, from changing flies to removing hooks. These pliers are a versatile solution, eliminating the need to carry multiple tools, thus reducing clutter in your gear bag. These pliers feature split ring openers and serrated blades for a secure grip.
Quick and Easy Operation: The spring-loaded design ensures that using these pliers is a breeze, especially when you're working with delicate tippets or need to release fish swiftly. Also, I'm a fan of rubberised handles. Not only do they provide good grip, but they also don't get cold when fishing in the wintertime, a disadvantage of all-metal pliers such as the Truscend (pictured below).
Secure Handling: The non-slip handles provide a secure grip, even when conditions are wet and slippery. This added control is essential for the safe handling of both your gear and the fish you catch.
Convenient Accessibility: The included sheath and lanyard make it easy to keep your pliers within arm's reach, so you're always prepared for any situation while on the water.
PROS:
Great value for money
The Goture come with a leash and sheath
Spring-loaded for easy operation with one hand
Rubberised handles for good grip
CONS:
Sheath is not flexible enough for easy handling
The cutters wear out quite quickly
Final Verdict
The Goture Fishing Pliers are more than just a tool; they're your reliable partner in the world of fly fishing. Their corrosion-resistant build, multi-functional versatility, quick operation, and secure handling elevate your angling experience to new heights. On top of that they come with a sheath and leash. They have a good build quality with exchangeable parts. Overall they provide great value for money and will surely last a few seasons.
If you want to learn more about fishing pliers and check out other products, make sure to read our "Guide to the Best Fishing Pliers".
Frequently Asked Questions (FAQs)
Can I use these pliers for both freshwater and saltwater fly fishing?
Yes, the Goture Fishing Pliers are designed to withstand both freshwater and saltwater environments, making them suitable for various fly fishing scenarios.
Are these pliers suitable for handling delicate flies and tippets?
Absolutely! The spring-loaded design and precise control of these pliers make them ideal for handling delicate flies and tippets with care.
Can these pliers cut braided lines and heavy monofilament leaders?
Yes, these pliers are equipped with a cutting edge that can easily cut through braided lines and heavy monofilament leaders.
Are replacement parts available for these pliers?
Replacement parts, such as cutting blades, are typically available. However, it's a good practice to maintain the pliers to extend their lifespan.