Last updated on August 20th, 2023.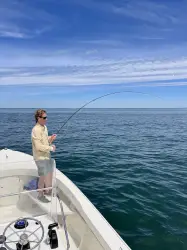 Latest posts by Leonard Schoenberger
(see all)
Shopping for the best saltwater fly line can be an overwhelming undertaking. This is especially true because there are plenty of products in the market.
However, the main purpose of this buying guide is to help you determine the key factors to look for in a fly line and how you can make the best buying decision. In light of this, here are some of the best 2023 saltwater fly lines.
But first…
Things to Keep in Mind When Buying a Saltwater Fishing Line
Fly Line Tapers
One of the most important things to keep in mind (which is often overlooked), is the type of tapers a fly line is designed with. There are a lot of factors that go into getting a product with the right taper other than whether it's a double taper or has a weight-forward design. When it comes to saltwater angling, the best option to go for is a weight-forward fly line taper. 
The Coating and Core of the Fly Line 
Most fly lines come with a PVC (polyvinyl chloride) coating while some are made with a different polymer – for example, polyurethane. However, when it comes to functionality and durability, there's really not a lot of difference between both these materials. Both are great materials that are going to help last a long time.
The Density of the Fly Line 
Whether the fly line sinks in the water or floats is vastly contingent on the added materials a manufacturer uses to design the fly line or more specifically, its coating. The best products come with a microballon and hollow-glass coating, which is what makes the saltwater fly lines less dense, effectively floating on water. 
Top 10 Saltwater Fly Line at Different Price Ranges
Notice: The Wading List is reader-supported. We take part in various affiliate programs such as amazon associates or avantlink. If you click on one of the links in this article and end up purchasing a product we earn a small commission at no extra cost for you. Thank you!
When it comes to saltwater fish species such as the bonefish, there's nothing better than the RIO Elite Bonefish for maximum efficiency. The product is designed with an elongated head with a tapered back to help make the loop as smooth as possible. Anglers can use the fly line to make long and effective casts. The Elite fly line by RIO is a mid-cast and length product with an optimal turnover and simple presentation when it comes to bonefish flies. 
The RIO Elite Bonefish is manufactured with the company's patented DirectCore (low-memory) technology, which is ridiculously simple to stretch and has a tendency to lie completely straight when casted. Surprisingly, the fly line also retains a lot of its stiffness and durability when casting in particularly hot and humid weather conditions. 
Pros
Made with innovative RIO DirectCore technology
Features RIO's SlickCast durable and exceptional coating
Hard and solid casting, mid-range casting fly line 
Cons
Not for serious saltwater anglers
When you talk about a fly line with maximum surface area, it doesn't get any better than the Orvis Pro Saltwater Tropic Textured fly line for saltwater fishing. Along with a better surface area, the product is designed to float higher as soon as you cast it into the water. This means it's going to provide anglers with minimal drag, it's going to make it that much easier to mend, and anglers won't have to worry about any water spray.
Moreover, the Orvis Pro Saltwater Tropic Textured features an innovative micro-textured surface that helps easily constrict air inside the fly line to quickly optimize floatation and shooting speed, all the while minimizing drag friction.
Pros
8x slicker than any product in the market thanks to Orvis' special additive
Quick line identification with tapered design
Enhanced shooting and floatation
Less drag and drag friction
Optimized welded loop for quick leader attachment and comfortable holding
Cons
Slightly expensive 
The SA Amplitude Grand Slam saltwater fly line is amongst the very first products to feature the cutting-edge AST Plus additive for premium slickness. This fly line will help anglers shoot and cast lines at considerably longer distances compared to any other fly line money can buy. 
It's a multipurpose fly line designed to hunt for a variety of saltwater fish species such as the tarpon, permit, and bonefish. This is the core design philosophy of SA, offering fishers the chance to catch different types of fish using just one type of fly line. Moreover, the SA Amplitude Grand Slam also features an enhanced floating texture for streamlined floatation on the water. 
Pros
AST Plus slickness technology
Enhanced texture technology for long distance casting
Superior design for saltwater fishing
Quick rod loads for fishing in windy conditions
Powerful head for fast casts
Cons
Not for novice anglers 
The RIO Coastal Quickshooter is another affordable, yet feature-packed saltwater fly line specially designed to be used by anglers fishing on coastal waters and in particularly cooler weather conditions.
The RIO Coastal Quickshooter is designed with a clear head and an intermediate design, and also features a low front-end taper that's designed to quickly turn over when it comes to baits with shrimp-like patterns. This is especially useful in windy conditions. The fly line is easy to load, which makes it exceptional for close-range line casting. Plus, the front loop is welded for quick rigging.
Pros
Powerful, short, and effective taper to help large flies turnover quickly
No tangling in cooler climate thanks to the fly line's supple core and overall coating 
Welded back loop for easy rigging
Cons
Not for novice fishers
Not for fishing in hot climate
The Airflo Cold Saltwater Intermediate was uniquely designed to help anglers hunt for quick and aggressive fish species inshore or close to shore. One of the best things about this fly line is that its manufactured to remain as flexible as possible during particularly colder days.
A manageable and easy to load fly line that boasts a moderate taper at the front, the Airflo Cold Saltwater Intermediate offers the best balance between presentation and power. It's versatile and is perfect for fishing Largemouth Bass. 
Pros
Doesn't have any PVC
The coating features Ariflo's Ridge technology
The core is designed to have a low stretch 
Best for fishing in colder climate
Cons
Not for novice fishers
Not suitable for hot and humid temperatures 
If you're gearing up for a fishing trip over the weekend, be sure to pack a set of the Hatch Tropical Floating saltwater fly line. This is the company's newest and most premium saltwater fly line design and is manufactured in collaboration with BVG Airflo, adding a dearth of performance features. 
One of the best things about the Hatch Tropical Floating is the fact that it boasts a multipurpose taper design that fly fishers will find easy and flexible to use, especially when casting over longer distances. Moreover, the Hatch Tropical is also manufactured to allow anglers to use different weight classes when it comes to line casts, which completely mitigates the need to buy different lines. 
Pros
Textured line design for effective and powerful shooting
Braided polyester core, making the fly line low stretch 
Special Hatch specification taper design 
Coating is memory free 
Cons
Not for experts looking for custom tapers
The SF Saltwater Fly Line is another decent product on this list – especially when it comes to simple and quick rigging. The fly line features parameter indicators, which can help anglers identify the weight and size of the fish. Moreover, the product also boasts a multifilament core that is braided to help anglers fish in hot to moderate climate. The fly line also features a durable anti-corrosive coating for maximum durability. It's safe to say that the SF fly line boasts superior corrosion resistance. 
Moreover, the SF Saltwater Fly Line has a powerful welded loop at the end and has a load bearing capacity of up to 15-lbs. With perfect retention and quick sinking, the SF fly line is manufactured with topnotch nylon with low memory and offers superior flexibility and increased tensile strength. 
Pros
Solid construction
Balanced and supple for fast sinking and quick retention
Great turnover effect in windy conditions
Cons
Not for novice anglers
A bit expensive
The Cortland 444 Classic Fly Line is designed with a short taper at the front and is a multipurpose saltwater fly line with the added quality of fast and easy turn over, especially if you're using heavier flies for aggressive saltwater fish species.
It's the perfect fly line for hot and humid conditions and can be used to catch different types of species. The Cortland 444 Classic Fly Line's core is manufactured using monofilament and features a durable and long-lasting design that's flexible and strong enough to fight quick fish maneuvers. 
Pros
The fly line boasts a welded front loop that helps anglers rig it quicker
Monofilament core for high tensile strength
Excellent floatation 
Great for warm water fishing 
Cons
Expensive
The Royal Wulff Triangle Taper is one of the best fly lines when it comes to increased casting energy transfer as it is designed to quickly unroll as the heavy line is repeatedly turning and overlapping with the lighter line. The saltwater fly line is uniquely manufactured compared to other products and features a consistent taper design with zero belly. 
Moreover, you'd also be surprised to know that the Royal Wulff Triangle Taper is one of the lightest in the market (it weighs just 30 grains). However, one drawback is that loading it to a close is a bit difficult. However, the fly line has superior casting energy transitioning and powerful loop stability and is great for long distance casting. 
Pros
Perfect cast energy balance
Long distance casting
Continuous taper
Cons
Difficulty loading it in close 
Doesn't have a rear loop
Not for novice anglers 
The RIO Products Leviathan is specifically manufactured for anglers looking to catch big game and aggressive saltwater fish species. The fly lines are designed with a superior taper at the front for powerful casting. Plus, you'll be able to effortlessly use bulkier flies and the fly lines feature heavy yet short heads for easier bluewater rod loadings.
The RIO Products Leviathan saltwater fly line is coated with hard and durable materials for tropical fishing and features a powerful core to fight and win against the heaviest of sea tricksters. 
Pros
Heavy and short head for superior control and casting
Front taper designed to hold heavier flies 
DirectCore design with low stretch 
Features SlickCast technology by RIO
Cons
Quite expensive
Bonus: Best Saltwater Fly Line Backing
A quality saltwater fly fishing line is only half the equation when you're hitting the salt. Another crucial part of your equipment is a strong and solid backing. The backing is attached to your saltwater fly reel and allows for a fish to run far even when it has pulled of the entire fly line. Here are some of the best saltwater fly line backing options money can buy.
When it comes to durability, performance, and versatility, the Hatch Premium Saltwater Fly Line Backing exceptionally delivers. Made with top notch braiding, the product has a thin diameter that's close to a gel spun backing. This helps exponentially increase the backing's overall capacity without increasing the weight of the product. 
And when it comes to tensile strength, the Hatch Backing for saltwater fly lines is designed to yield a massive 68-lb tensile strength. This is increasingly why it's more popular with veteran anglers who're after big game and aggressive saltwater fish. 
Pros
68-lbs tensile strength backing 
100 meter conversion 
Available in multiple lengths (from 100 meters to 3,000 meters)
Cons
On the more expensive end
This RIO Color Change Gel Spun Backing is manufactured using high-quality materials and features  color-coded length identification after spinning every 50 yards. The color change indication allows anglers to know exactly how far the fish has gone back after taking the bait. Plus, it helps identify just how much backing needs to be retrieved.
The RIO Color Change Gel Spun Backing is designed to be compatible with all types of rods and reels and is suited for saltwater species such as tarpon and Giant Trevally. 
Pros
Color changing indication
Made with high-quality materials imported from Japan
Tight woven fibers for increase backing strength 
Cons
Not for novice anglers
The Cheeky Fishing Premium Fly Line Backing is designed to provide minimum friction and is made with abrasion-resistant materials. Anglers will have a particularly easier time wearing out the fish quickly. The fly line backing is available in multiple lengths and weight categories such as 300 yard spools with 30-lbs of tensile strength. Plus, the product is available in multiple colors for high visibility. 
Pros
Different color options
Made with durable and abrasion-resistant materials
Compatible with all Cheeky rods and reels
Minimal friction 
Cons
Not for saltwater experts
Bottom Line
So there you have it – some of the best saltwater fly lines money can buy. However, what you go for will essentially depend on the type of specifications you require. Therefore, to make the best buying decision, first determine what type of condition you'll be fishing in and the type of saltwater fish you'll be targeting. 
Frequently Asked Questions
Is there a particular weight in fly lines that I should go for?
No matter what type of fly line you go for, it's important to read about the weight classification of the product. You'll be able to see that at the butt section of the fly line (this is usually where manufacturers print all the information). Plus, you'll also be able to read about the line weight needed to bend and/or load the product to achieve maximum tensile strength. The weight type you should opt for primarily depends on the type of weather conditions you're fishing in and the type of saltwater fish you're hunting. 
Should I buy a separate rod and reel as backup?
It's strongly recommended that you do. Why? Well, that's because it isn't uncommon to break reels and rods when fishing for aggressive species in saltwater bodies. Moreover, it pays to have a backup at hand especially if you're going on a long fishing trip. 
Notice: The Wading List is reader-supported. We take part in various affiliate programs such as amazon associates or avantlink. If you click on one of the links in this article and end up purchasing a product we earn a small commission at no extra cost for you. Thank you!