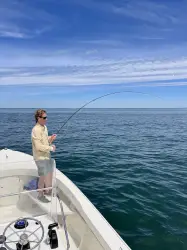 Latest posts by Leonard Schoenberger
(see all)
Many fly anglers consider a fly fishing vest a crucial piece of equipment. Here is why and what you should consider.
Disclaimer: All products in this guide are independently researched by our team. We only recommend products we believe in and never get paid for the reviews. Learn more about our review process here.
When it comes to fly fishing vests, the ghosts are divided by fly fishermen and women. Some fly anglers love to head to the water with the least equipment possible. They want to keep it light and simple. Other prefer some sort of bag to carry equipment such as tippet, nippers, pliers or an extra reel.
The modern fly angler has several options to store this gear. There are hip packs (read our Guide here), sling packs (read our Guide here), fly fishing backpacks (read our Guide here) and fly fishing vests which we'll take a closer look at in this article.
However, not all fly fishing vests are created equal. They come in all sorts of sizes and shapes. In this guide we want to give you an overview of what's out there and what to pay attention to when purchasing a fishing vest. Afterwards we'll take a look at some of the best ones on the market and tell you about their pros and cons.
Table of Contents:
Which Fly Fishing Vest Should I Choose?
Quick Answer List: Best Fly Vest
Best Fly Fishing Vests on the Market Reviewed
Which Fishing Vest Should I Choose?
In its most basic form a fly fishing vest provides additional storage opportunities when hitting the water. In former days these vests were usually made of thicker material such as cotton or nylon. These vests were very durable. On the downside they were not very lightweight and not as breathable as modern fly fishing vests. Today most fishing vests feature a combination of mesh material and nylon. This dramatically increases breathability on hot summer days.
Some manufacturers make fishing vests that have a slim outline and are great if you want to bring only a little extra gear. They won't constrain your freedom of movement. Other vests give you the utmost flexibility in terms of bringing as much gear as you want. Some fly anglers love to carry many fly boxes for every possible fishing situation they may encounter. If you are one of them, you should look for a fly vest with many pockets.
Lastly, modern day fly vests often come with a number of neat little features such as rod holders, D-Rings, retractors and much more. The classic fly fishing vest is rather short so you can wade deep when wearing it over your waders (read our Guide on the Best Fly Fishing Waders here).
Let us now take a look at a range of options for your next fly fishing vest. As all fly fishermen's and women's needs and budgets are a bit different, we made sure to give you a range of options to choose from. All of these fly fishing vests can be worn by men and women. In the very last part of this guide we'll take a look at Fishpond's Upstream Tech Vest specifically for women.
1. BassDash Strap Fishing Vest: Best Low-Budget
2. Fishpond Upstream Tech: Best Versatility
3. Patagonia Stealth Convertible Vest: Best New
4. Orvis Pro: Best Fit
5. Simms Tributary: Best Lightweight
6. Filson Guide: Best Traditional
7. Simms G3 Guide: Best Professional
8. Fishpond Upstream Tech Women's: Best Women's Vest
9. Columbia Men's PFG Henry's Fork: Best Quick-Dry
10. Redington Clark Fork Mesh Fishing Vest: Best Entry-Level
Best Fly Fishing Vests on the Market in 2023
Now that you know what to look for in a fly fishing vests, we want to show you some of our favorites. For each model we'll dive into the details and tell you what we like and dislike about them. We made sure to include different styles in this ultimate guide so that you have a wide selection to choose from. We have also paid attention to picking fly fishing vests for different budgets. Let's go.
Pros:
Most pockets of any vest tested
Good ventilation
Adjustable straps
Cons:
A little bulky
Why we picked it:
The Bassdash Strap is the outlier in our test in several aspects. It is the only one from a non-traditional fly fishing brand. The Bassdash Strap only comes in one size. However, thanks to its versatile system in can be adjusted to fit fly fishermen and women of different builds. The first thing that catches the eye when looking at the Bassdash Strap is the amount of pockets it features. This makes it a great choice for people who like to carry a lot of gear. The flipside of this design is the fact that the vest gets a bit bulky. This might provide less room of movement when casting a fly rod.
The Bassdash Strap is made of premium polyester and mesh fabric in the back of the vest. This gives it a good breathability even on hot summer days. The collar is not as well padded as in other models such as the Simms or Filson but still provides enough wearing comfort. The wide shoulder straps add to that since they distribute the weight of the vest equally. At 19.4oz (550g) the Bassdash vest is the heaviest one in our test besides the Filson. That comes as no surprise given the amount of pockets of the vest.
The Bassdash comes in a traditional green which gives it a classic look. Another option for traditionalists is the grey version. If you are into colors you can choose from a bright red or blue. At only $45 the Bassdash Strap Fishing Vest is by far the cheapest in our test. It certainly is a good choice for the money conscious fly fisher.
Pros:
Big lower pockets hold even big streamer boxes
Solid fit despite its size
Integrated net holder in the back
Cons:
Lower pockets can obstruct casting if fully loaded
Why we picked it:
The Fishpond Upstream Tech Vest is another great fly fishing vest that is very versatile. It features 14 interior and exterior pockets. The ones on the front are extra large to hold even big fly boxes like the Fishpond Tacky Big Bug Box. On the back of the Fishpond Upstream Tech Vest you find a neat attachment for your fly fishing net. Adjustable waist and shoulder straps make sure the vest fits tightly no matter how packed it is. The Fishpond vest is made of recycled nylon material.
A mesh interior ensures a low weight which in turn makes the Fishpond Upstream Tech Vest comfortable to wear all day. Padded shoulder straps add to that comfort. The Upstream is the pinnacle of the Fishpond vest collection. If you want something a little cheaper the Fishpond Sagebrush Mesh Vest and Fishpond Gore Range Tech Pack are also great options from one of the premier fly fishing gear manufacturers.
At $199 the Fishpond Upstream Tech Vest does not come cheap. But the build quality ensures you will have fun with this fly fishing vest for years to come.
Pros:
Lightest fly fishing vest in the test
Excellent ventilation
Extra storage with basically no extra weight
Cons:
No bigger pockets for streamer boxes
Why we picked it:
The Patagonia Stealth Convertible Vest is a great choice for people who would rather not wear a fly vest. It is as lightweight and simple as it gets. The front pockets of the Patagonia Stealth Convertible Vest are stacked vertically rather than horizontally like in most other fly vests. This makes the Patagonia vest less bulky and gives you more freedom of movement when casting. Besides the six front pockets it has additional zippered back storage pocket. This is a good place to store a little snack for example.
The Patagonia Stealth Convertible Vest also features a rod holder, a fly patch and several clip and attachment points. The greatest feature is the detachment option at the top and bottom. This way the Patagonia Stealth Convertible Vest can be attached to pack fronts. A small zippered security pocket to store car keys for example rounds off the long list of neat features on this fishing vest. Made from 100% recycled polyester. Weighs only 410g (14.45 oz).
Pros:
Tight fit
Excellent padding around the collar
Big pockets that don't obstruct casting
Cons:
Not adjustable
Why we picked it:
Orvis is another big fly fishing brand offering a solid fly fishing vest with their Pro model. Similarly to the Patagonia Mesh Master II, Orvis stacks the front pockets vertically. The lower pockets are much bigger than the Mesh Master ones' though giving you the possibility to store even large fly boxes (for streamers for example). Featuring 18 pockets in total, the Orvis Pro comes close to the Simms Freestone Vest. Just like the Patagonia the Orvis Pro also features two back pockets. One of them is a reach-through and the other one closes with a zipper.
The material of the Orvis Pro promises to be extra abrasion resistant. On the flipside the vest does not come in as light as the Patagonia Mesh Master II. At 17.5 oz (496g) it does not feel heavy either. It comes across as more sturdy overall since the fabric is not made of mesh but nylon. The nicely padded collar adds to the comfort and makes it a good choice for long days on the water.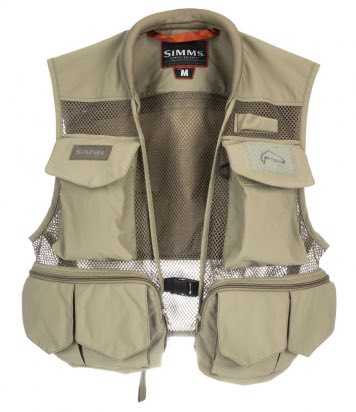 Pros:
Very lightweight
Plenty of pocket options
Mesh fabric provides good ventilation even on hot days
Cons:
Not as durable as other Simms vests
Why we picked it:
For the new season American manufacturer Simms comes out with their new Simms Tributary fishing vest. At $79.95 this one is an excellent choice for the minimalist and for women as well. This fishing vest boils it down to the essentials and is focused on reducing the weight while providing you with ample storage opportunities.
The padded collar of the Simms Tributary ensures great wearing comfort all day long. Besides the multiple pockets, this vest features a D-ring for your landing net and a rod holder. Comes in two colors and multiple sizes. Excellent value for money.
Pros:
Classic look
Plenty of pockets and storage options
Comfortable collar
Cons:
Doesn't dry as quickly as mesh vests
Why we picked it:
If you are a traditionalist and want to look like Brad Pitt in "A River Runs Through It" the Filson Guide is for you. Besides all the classic pocket options of a fly fishing vest, the Filson Guide comes with neat little extras such as a sunglasses pocket or the fly patch made from sheepskin.
Filson is well-known for the durability of their products. The Fly Fishing Guide is made in the USA and the kind of gear you pass on to your grandchildren. On the back it features a D-Ring to attach your fly fishing net and two pockets to store a fly fishing jacket or your lunch or catch. Not as lightweight as other vests in this review but you will surely stand out from the crowd.
Pros:
Wide lower pockets for big items
Great weight distribution around the shoulders
Cons:
Heavier fabric – not ideal for the summer
Why we picked it:
If you want to look and fish look like a pro, go for the Simms G3 Guide. This model is the pinnacle of Simms' fly fishing vest line and leaves nothing to be desired. 24 pockets make sure you can bring any gear you want.
The Simms G3 Guide has a very nice and snug fit and does not hinder your casting. Besides all the classic features of a fly fishing vest, the Simms G3 Guide comes with two built-in retractors to attach your nippers or pliers for example. Every time you think you've discovered all the pockets on the vest, you find another one.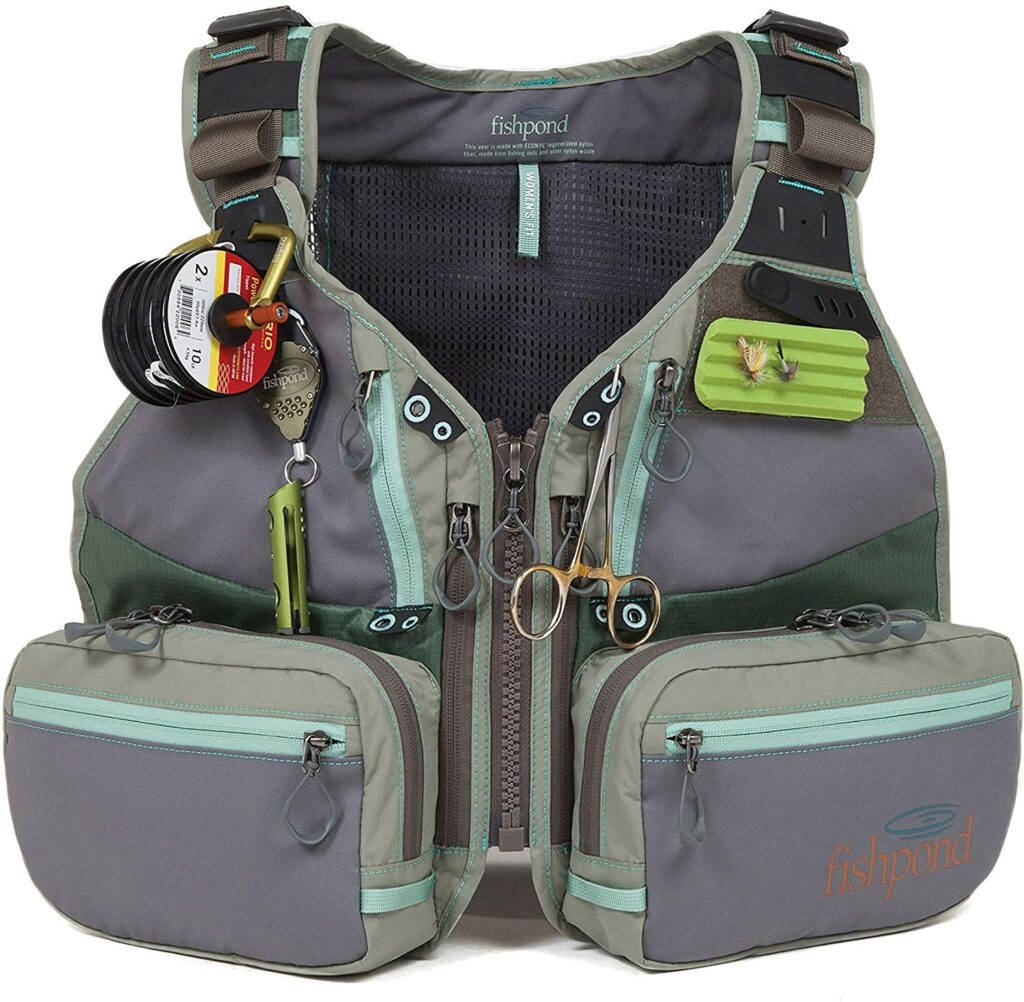 Pros:
Women specific, more slender fit
Great attachment options
Cons:
A little bulky
Why we picked it:
Although all of the vests reviewed in this article can be worn by women as well, Fishpond has set out to create a fly fishing vest especially for women with their Upstream Tech Women's. The women's specific fit rides higher and has the option to be cinched down to ensure a snug fit.
The Fishpond Upstream Tech Women's features padded, adjustable shoulder straps and mesh nylon on the back for increased breathability. We liked the fact that it also comes with a net slot in the back and velcro fly patch to store your wet flies to dry.
Pros:
Great value for money
Plenty of pockets in all sizes
Good mix if mesh and solid fabric
Cons:
A little bulky
Why we picked it:
The Columbia Men's PFG Henry's Fork is our favorite when it comes to quick drying fly fishing vests. Available in two colors (Fossil – pictured above – and carbon) this vest is made from Columbia's Omni-Shield™ material that promises to withstand all liquids below 170°F from entering the fabric. The result is that it dries 3-5 times faster than conventional material.
Besides these quick-drying capacities, the Columbia Men's PFG Henry's Fork convinced with its multitude of pockets and attachment options. The big lower front pockets can easily hold even big streamer boxes, tippet spools, floatant and other essential fly fishing gear. A neat little feature is the license window on the right chest pocket that means you don't even have to take the license out of your pocket if you're checked. The cushioned shoulder part ensured all-day wearing comfort.
Pros:
Very lightweight
Solid ventilation
Cons:
Lacks adjustment options
Why we picked it:
The Redington Clark Fork Mesh Fishing Vest is a fantastic beginner's fly fishing vest that has the potential to stay at your side for years because it has all the features you're looking for in a quality fishing vest. Nine pockets are more than enough for most fly fishermen and women to hold all the essentials and even a small packed lunch if you're out for a long day.
The padded shoulders and light mesh fabric make the Redington Clark Fork Mesh Fishing Vest comfortable to wear even when fully loaded. Besides all the front pockets, this vest features another big zippered pocket on the back that can even hold your catch if necessary. For around $30 the Redington Clark Fork Mesh Fishing Vest is a fantastic price to value product.
Fishpond Gore Range Tech...
Simms Freestone Fishing...
BASSDASH Strap Fishing...
fishpond Upstream Tech...
Fishpond Gore Range Tech...
Simms Freestone Fishing...
BASSDASH Strap Fishing...
fishpond Upstream Tech...
Last update on 2023-02-01 / Affiliate links / Images from Amazon Product Advertising API
Conclusion on Fly Fishing Vests
We hope you enjoyed our big review of the best fly fishing vests. As you can see they come in all different forms, shapes and sizes. If you are looking to bring a lot of gear, pick one with a lot of pockets such as the Fishpond Upstream Tech Vest. In case you want the utmost in casting flexibility and freedom go for a lightweight model such as the The Patagonia Mesh Master II Fly Vest. If you want a cool, classic look you can't go wrong with the Filson Guide.
Best Fly Fishing Vest 2023: FAQs
What is a fly fishing vest?
A fly fishing vest is a piece of gear that you wear over your waders. Made of lightweight material such as nylon it can hold many items you need when fly fishing, such as fly boxes, tippet spools, pliers and clippers.
What do you put in a fly fishing vest?
You can put a number of things in a fly fishing vest. These could be tools you need on the water such as fly boxes, tippet spools and pliers. A small lunch should also fit into your fly fishing vest.
Are fishing vests worth it?
You can get a quality fishing vest for less than $50. It can be a great and helpful tool as it offers you to stow away items such as nippers, pliers, sunglasses or fly boxes. Moreover, you can attach a landing net on the backside since most modern fishing vests have D-rings.
Are fishing vests supposed to be short?
Fishing vests tend to be shorter than a jacket let's say because fishermen wear them over their regular clothes. When wading deep a shorter fishing vest can come in handy since even the lower parts of it won't get wet.
Note: If you click on one of the links and purchase a product we earn a small commission that helps support our operations. We only recommend products that we think are worth using ourselves.