Check out the best fly fishing nets on the market in 2020 including landing nets such as trout nets, rubber fishing nets and folding landing nets.
When choosing a fishing net you should consider a number of factors. The most important one is where you are going to use the net and what (size of) fish you are planning on catching. In most cases a trout net will do in terms of size when targeting freshwater fish. However, if you are after larger species such as pike or salmon you will net a bigger fishing net.
Which are the best Fly Fishing Nets?
Other important factors to consider are: what is the landing net made of and how long a handle to you need? Here is our selection of the best landing nets for each category.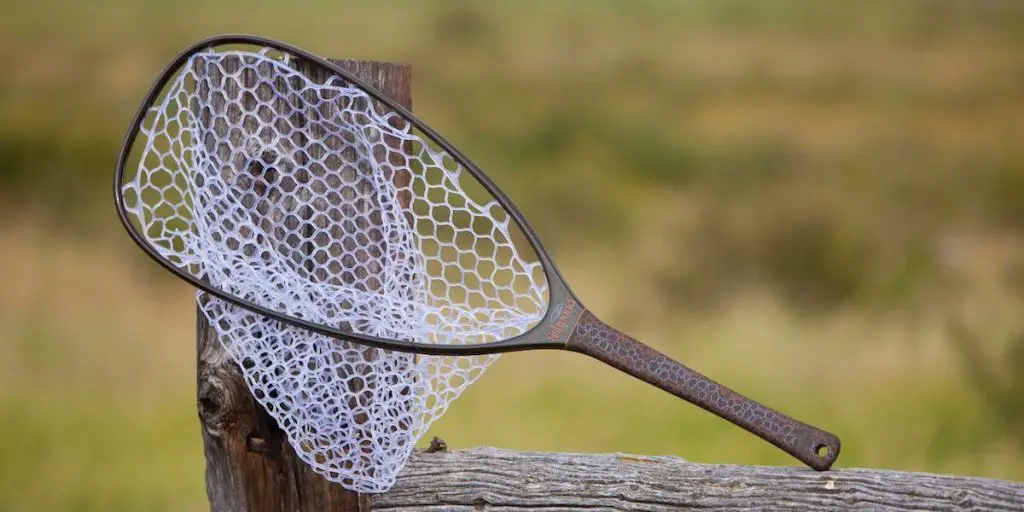 Specs: 32″ Length – 9.8″ W x 18.8″ L Head – Weight: .95lb. Comes with a net bag.
The Fishpond Nomad Emerger Net has all the features of a great fly fishing net. Made from carbon fiber/fiberglass material it is built for utmost durability and a long lifespan. Another positive aspect of the material is its low weight – an important factor when carrying a landing net all day.
The Fishpond Nomad Emerger Net is also waterproof and floats in case you drop it into the water. As you would expect in that price range the Nomad nets come with a rubber bag for better storage.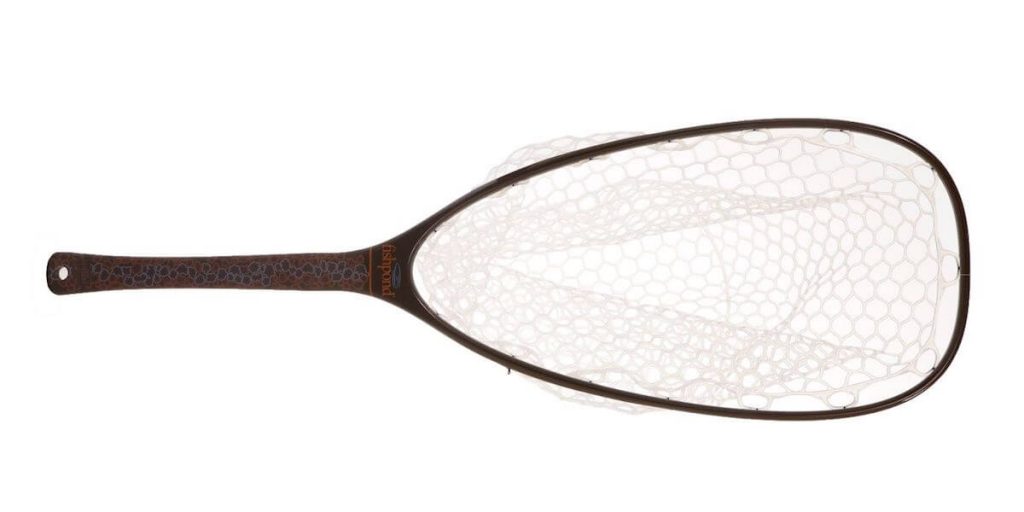 The Fishpond Nomad Emerger is made to be worn with fly fishing packs and fly fishing vests. Another great way to attach a landing net to your jacket or vest is a magnetic net release such as the Fishpond Confluence. The Fishpond Nomad Emerger comes in two colors: Brown Trout and Original.
Pros: Fantastic built quality – great design – replaceable rubber net – durability
Cons: none. Quality comes at a price.
Price: $149.95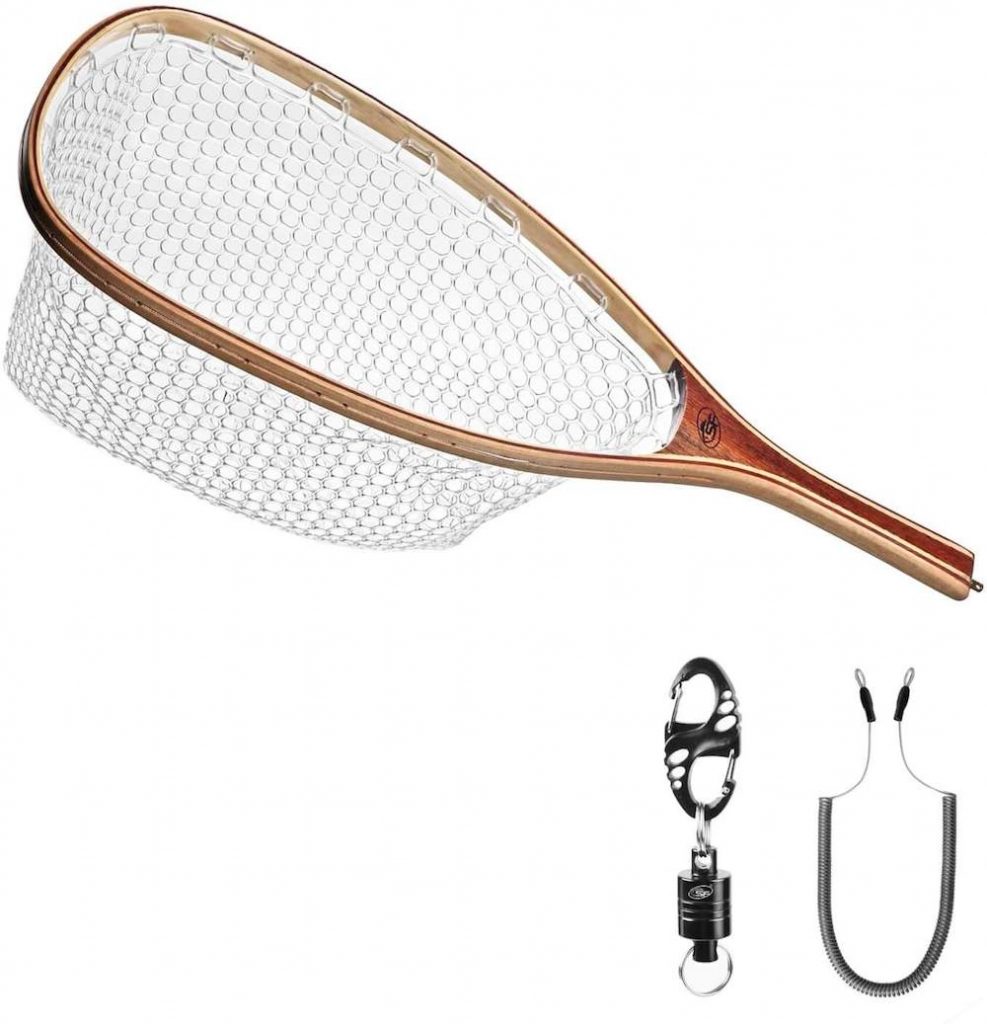 Specs: 16.1″ x 9.4″ x 8.3″ – comes with a Magnetic Release
The SF Fly Fishing Net Soft Rubber is another great choice for fly fishermen. It has a rubber net just like the Fishpond Nomad Emerger. However, the frame is made of wood. This gives this landing net a much more classic look.
The handle is a bit shorter than the Nomad one and the rubber net is not as deep. These factors make the SF Fly Fishing Net Soft Rubber a great choice for smaller streams and creeks.
A great feature of the SF Fly Fishing Net is the fact that it comes with a magnetic release. This makes it easy to attach the net to the back of your wading jacket or fly fishing vest.
The wooden handle feels good in your hands and since it's made of wood, the SF Fly Fishing Net Soft Rubber floats as well.
Pros: Solid built quality – comes with magnetic release – wooden handle feels good
Cons: rubber net is quite shallow – only advisable for smaller streams and creeks
Price: $39.99
Specs: 26″ x 30″ wide – 38″ net depth (48″ net depth option)
The Frabill Power Catch Net is our #1 choice for a big fly fishing net. And when we say big we mean it. This net comes in a 26″ x 30″ standard version with a 48″ handle and 38″ net depth. If that is not big enough for the fish you are targeting there is a 48″ net depth version as well.
The Frabill Power Catch Net is the ideal tool if you are after big pike or musky or even saltwater species like salmon or small halibut.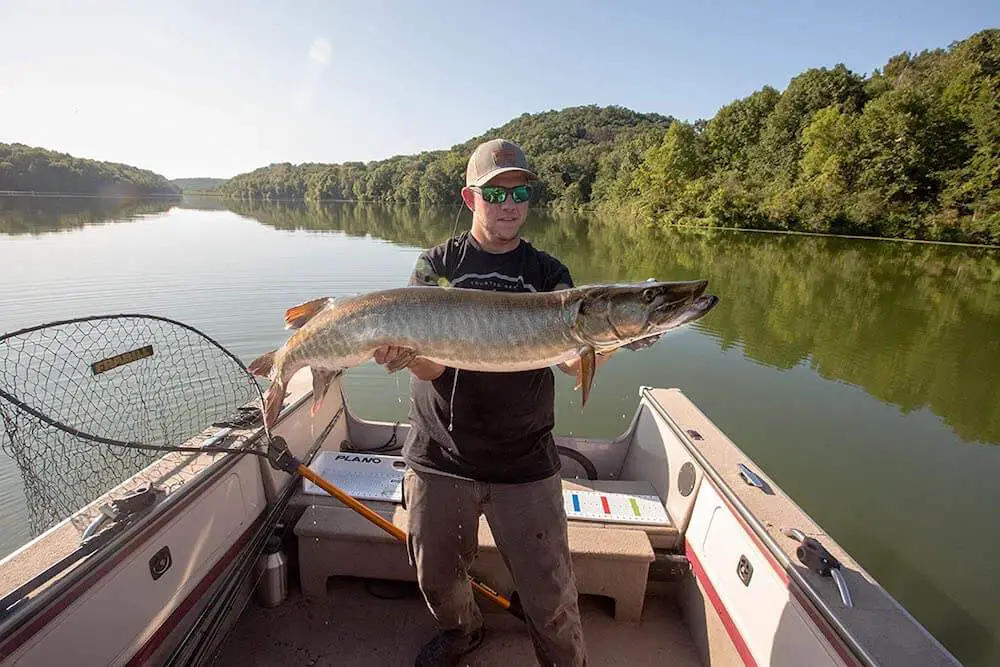 If you still don't think the Power Catch version is big enough then there is the Frabill 8450 Power Catch Big Kahuna (pictured above). It comes with hoop sizes of 32″ x 41″ and even 40″ x 44″.
The Frabill landing nets don't come cheap. But when you target these big fish whether in freshwater or in saltwater you shouldn't compromise on quality. There is nothing worse than losing the fish of a lifetime because of a poorly made landing net.
Pros: Comes in a wide variety of sizes to hold even the biggest fish. Sturdy built quality.
Cons: Quality comes at a price. If you after really big fish it's worth investing the money to be able to land them safely.
Price: $89.39 – $239.99
Specs: 11.5″ x 15.5″ x 10″ hoop size. Handle length: 8.5″
The Oddspro Fly Fishing Folding Landing Net is a great choice if you want a landing net with compact dimensions. Made from carbon fiber and fiberglass, the Oddspro features a handle that can be folded and hence makes it easier to store the landing net.
Due to its dimensions the Oddspro Fly Fishing Folding Landing Net is an excellent choice if your main target species is trout and grayling. Its net is a bit deeper than the SF Fly Fishing Net for example and can hence hold bigger fish.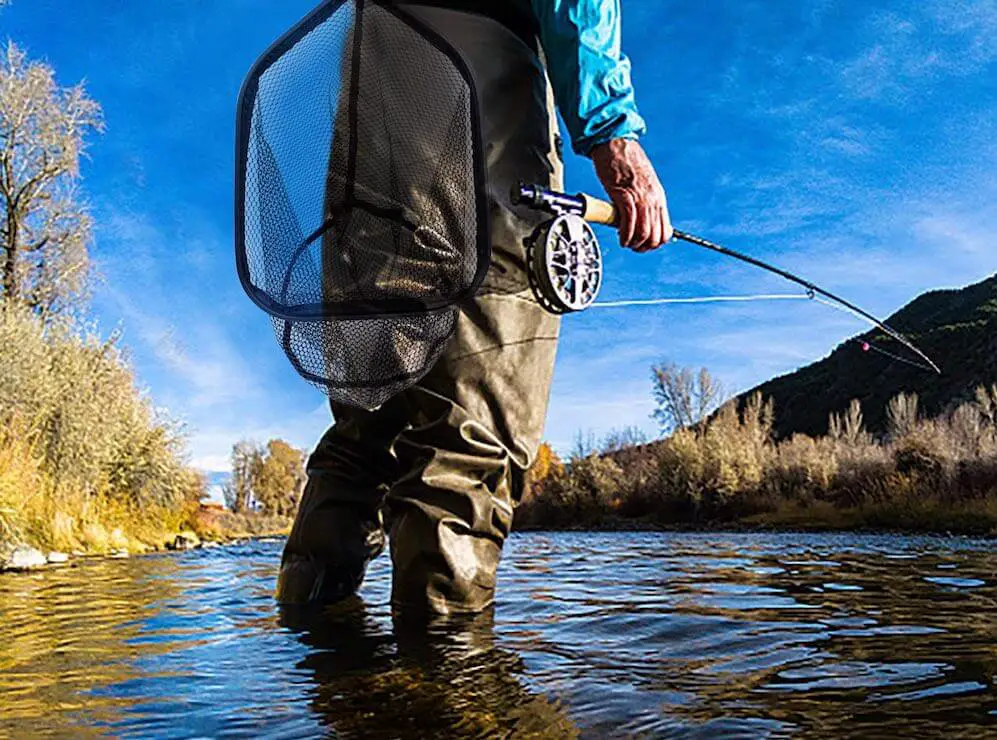 The OddsPro features a rubber coating nylon mesh that does not harm the fishes' mucus.
Pros: Affordable. Compact built and easy to carry and store.
Cons: Hooks get stuck more easily it the nylon net than in the bigger mesh sizes of the rubber nets.
Price: $25.99
Specs: 19″ x 13″ hoop size. 13″ depth. Overall length with handle: 40.5″
If your focus is fly fishing from boats, rafts or canoes the Kingfisher Long Handle Net is a great tool for you. Its long handle makes it easy to net fish from a distance.
Made from laminated wood, the Kingfisher Long Handle Net floats if dropped in the water, an important factor especially if you are fishing from a boat. In addition the soft rubber net is gentle on the fishes' mucus and great for catch and release purposes.
The Kingfisher Long Handle Net features a brass swivel to connect the net to a zinger or leash.
Pros: Beautiful, classic long handle net made from wood. Great value for money.
Cons: Primarily for trout sized fish. Not recommendable for big fish.
Price: $79
What is important in a good fly fishing net?
A good fly fishing net should have a solid built quality no matter where you use it. There is nothing worse than losing a big fish because your landing net is too small or poorly built and breaks when it counts.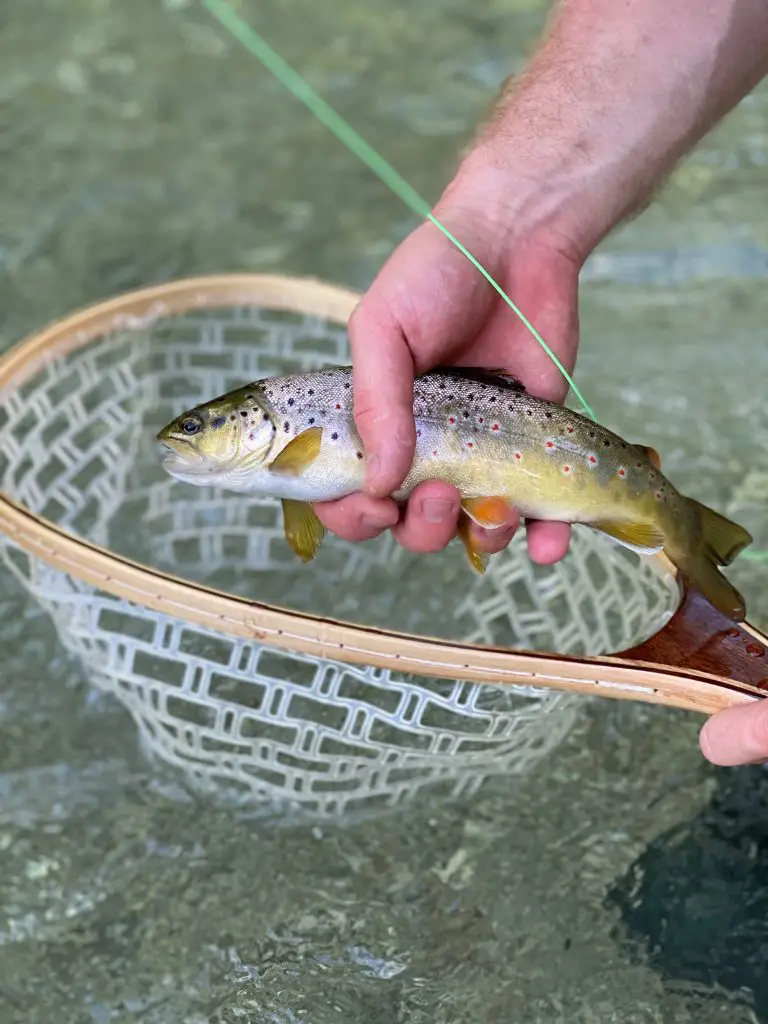 Frame Material
There is a wide range of materials used to make fly fishing nets. The most popular ones are wood, aluminum and fiberglass. Wood gives the landing net a more classic look and makes sure the net floats. Aluminum and fiberglass are strong and light and more modern materials to make fly fishing nets.
Handle Grip
Aluminum and fiberglass almost always feature grips made from rubber. This ensures a solid grip and prevents the fly fishing net from slipping out of your hand when landing a fish. In wooden nets the handle is most often made from wood as well.
Size
As you can see in our recommended landing nets above there is a wide variety of fly fishing nets available on the market. The most common size is a trout net. Depending on your fishing situation you should choose a net that suits you best. As a rule of thumb you should remember to always use a net that can hold the biggest fish you can expect to catch.
Price
Just like with the sizes the prices of fly fishing nets can vary significantly. Smaller wooden trout nets can be found in the $40-$50 range. Handmade more exclusive ones can easily reach three digit price tags.
Generally speaking fly fishing nets get more expensive the better the built quality and the better the components used such as the Fishpond Nomad Net for example. Also: the bigger and stronger the fish the more sturdy your landing net needs to be. A high quality landing net is a worthy investment.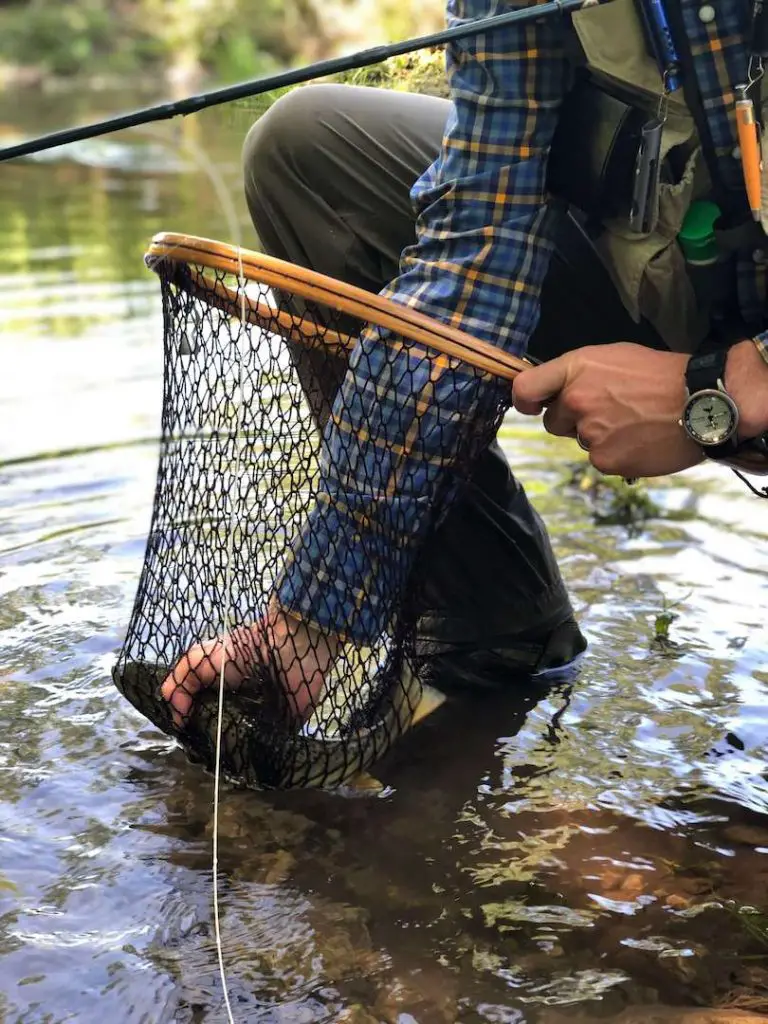 Conclusion
As you can see there is wide range of fly fishing nets on the market. To find the right one you really have to ask yourself where you are going to put it to use mostly. Only then can you decide what fly fishing net you should get: a classic trout net, a folding landing net, a long handle one, etc.
A high quality fish landing net is a good investment no matter what kind of fly fishing you practice.
Editor's Choice
SF Fly Fishing Landing...
Aventik Floating Carbon...
Fishpond Nomad Emerger...
SF Fly Fishing Landing...
Aventik Floating Carbon...
Editor's Choice
Fishpond Nomad Emerger...
Last update on 2021-06-16 / Affiliate links / Images from Amazon Product Advertising API
Read more of our guides:
The Ultimate Guide to Fly Fishing Vests
Ultimate Guide to Streamer Boxes
Guide to the Best Fly Fishing Sunglasses
Note: Some of the links in this article are affiliate links. If you click on one of them and end up purchasing a product we earn a small commission at no extra cost for you. We only recommend products we believe in ourselves.