Last updated on November 6th, 2023.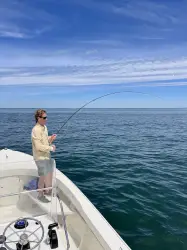 Latest posts by Leonard Schoenberger
(see all)
Fishing with streamers is popular for a reason. If you're in for trophy fish, streamers are often a good choice. We give you an overview of the best streamer fly box out there.
Disclaimer: All products in this guide are independently researched by our team. We only recommend products we believe in and never get paid for the reviews. Learn more about our review process here.
Streamers can be used for a number of predatory freshwater and saltwater fish. Since they are often a bit bigger than dry flies or nymphs you need bigger boxes to store them properly. Ideally, in terms of sustainability and durability, they should be waterproof and sturdy.
What are the best streamer fly boxes?
Like all fly fishing products, streamer boxes that have that extra bit of quality come at a slightly higher price. However, all the ones we'll present you in this guide fulfill the quality standards that we apply to premium products. 
If you get any of these you will take pleasure in using your streamer box for years to come. Here is an overview of the models we'll take a look at:
Key Features:
Dimensions: 7" x 3.75" x 1.25" (17,8 cm x 9,5 cm x 3,2 cm)
Holds up to 144 flies and hook sizes up to 2/0
If I had to pick one streamer box it would probably be the Fishpond Tacky Big Bug. Tacky got acquired by Fishpond for a reason: they had made a name for themselves for creating innovative fly fishing products. What makes this box special is Tacky's patented slit silicone system. 
The small slits hold the streamers in place really well even after a long day of fly fishing. It is the ideal streamer box for big trout streamers. If you are looking for a streamer box to hold larger pike streamers (bigger than 7" or 15cm respectively) the Fishpond Tacky Big Bug is too small. 
The entire box exudes quality. Besides the great slit silicone system the Fishpond Tacky Big Bug Box also features nice magnetic closures in the corners of the streamer box. This ensures that the box stays closed at all times and makes it waterproof. 
PROS:
Slit silicone system holds everything in place
Lid closes very precisely
Waterproof
CONS:
Not ideal for really big streamers
Key Features:
Dimensions: 7.25" x 4" x 1" (18,5 cm x 10 cm x 2,5cm)
Holds up to 100 flies
Here is another model from Fishpond that makes our list of recommended streamer boxes: the Flydrophobic. Its size of 7.25" x 4" x 1" (18,5 cm x 10 cm x 2,5cm) puts it in the same range as the Big Bug Box however it is designed for smaller streamers.
The anchoring system inside is a bit different and features a silicone mat that gives you more freedom to arrange your flies than the Big Bug. The real innovation is the Event® fabric venting system from Fishpond that makes the Flydrophobic waterproof on the one hand but breathable on the other hand. That ensures a longer life time of your streamers. 
A great feature since you have probably experienced taking out a streamer a few days after your last fishing trip and realising it hasn't completely dried in the meantime. The waterproof closure system is latchless. 
PROS:
Ideal for small trout streamers
Waterproof and breathable
CONS:
Cannot hold big streamers
Key Features:
Dimensions: 7.75 x 4.48 x 1.65 inches (19.69 cm  x 11.38 cm x 4,19 cm)
Capacity: up to 100 flies
Japanese C&F Design have been in the game for a long time. Their product quality is hardly matched by other manufacturers. That's why there can't be a list of recommended streamer boxers without one of their fly boxes. 
We chose the C&F Design Grand Slam Series for its versatility. The rounded edges and ripples surface make it easy to grab whatever the conditions may be. Four slit foam strips on both sides of the C&F Design streamer box make it an ideal choice for medium sized flies. The slit system and the thickness of the foam can hold heavier saltwater hooks.
PROS:
Grips very well
Excellent closure system
Slit foam holds streamers of different sizes
CONS:
Doesn't open as easily and conveniently as the Tacky Big Bug
Key features:
Dimensions: 8.66 x 6.69 x 2.01 inches (22 cm x 17cm x 5cm)
Capacity: more than 50 flies
The Kingfisher Extra Large is another great streamers box. It features a foam slit system to arrange your flies. It can hold streamers on both sides of the box, hence it is a bit thicker. 
Like most streamer boxes it features see through lids that make it easy for you to choose a fly when the box is still closed. This feature can come in handy on a windy day. The Kingfisher Extra Large is not waterproof although the high density rubber seals make it water resistant. Snap tight latches make sure your box stays closed when stowed. 
PROS:
High versatility
Opens on both sides

See through makes it easy to pick a fly
CONS:
Not waterproof
Closure system not as good as on the C&F Grand Slam
Key Features:
Dimensions: 7.5 x 5 x 1.5 inches (19 cm x 12,7 cm x 3.8 cm)
Capacity: comes with more than 120 flies included
The Ventures Fly Co. Streamers Box is the bird of paradise in our guide. The reason we recommend you this streamer box is the content it comes with. It's fully loaded with more than 120 flies for all situations, not only streamers but dry flies, wet flies, terrestrials etc. 
The two fly boxes each feature 24 compartments that make a great storage for your streamers. You can leave these bigger boxes in the car and just take a selection when you head to the water. The Ventures Fly Co. box also makes for a great gift for fly fishermen.
PROS:
Comes loaded with flies
Plenty of storage options
CONS:
Not ideal to carry around
Cannot hold really big streamers
Conclusion on the Best Streamer Fly Box
As you can see from our test there are a couple of features that come into play when choosing a streamer box for your fly fishing adventures. The questions you have to ask yourself are: How big will my streamers that I need to store be? Does the box have to be waterproof? Do I want to be able to see the streamer from outside? No matter which product you end up choosing, we hope you'll have fun at the water and catch a lot of fish.
Aventik Streamer Fly Box...
Kingfisher Fly Box -Huge...
fishpond Tacky Original...
Ventures Fly Co. | 122...
Aventik Streamer Fly Box...
Kingfisher Fly Box -Huge...
fishpond Tacky Original...
Ventures Fly Co. | 122...
Last update on 2023-11-30 / Affiliate links / Images from Amazon Product Advertising API
Note: If you click one of the links and end up purchasing a product we earn a small commission at no extra cost for you. We only recommend products for purchase that we tested and believe in. Thanks for your support!
Read our fly box guide here and learn how to store all your flies