Last updated on August 24th, 2023.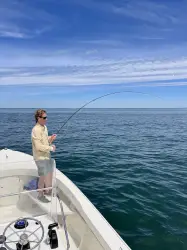 Latest posts by Leonard Schoenberger
(see all)
Every time I walk into a fly shop I am magically attracted by the shelves of flies. How to store them I'll show you in this guide to the best fly fishing boxes.
Disclaimer: All products in this guide are independently researched by our team. We only recommend products we believe in and never get paid for the reviews. Learn more about our review process here.
I have amassed hundreds of patterns over the years. Still I find myself going through the boxes of flies again and again picking a few here and there. Back at home I take out the new patterns and start to reshuffle my boxes of dry flies, wet flies, nymphs, emergers, streamers, terrestrials. It's a never ending process, a fun process however, at least for me.
The next question that always arises is which box to choose for which situation. My general preference is to reduce my gear and go out to the water with the least amount of things in my pockets. Sure, there are situations when you need a certain range of different types of flies. Still, I then try to choose a few from each category (dries, wet flies, emergers, terrestrials, etc.) and put them all in one or two boxes. I simply don't like cramped pockets of my jacket, vest or waders. It feels bulky and hinders my casting.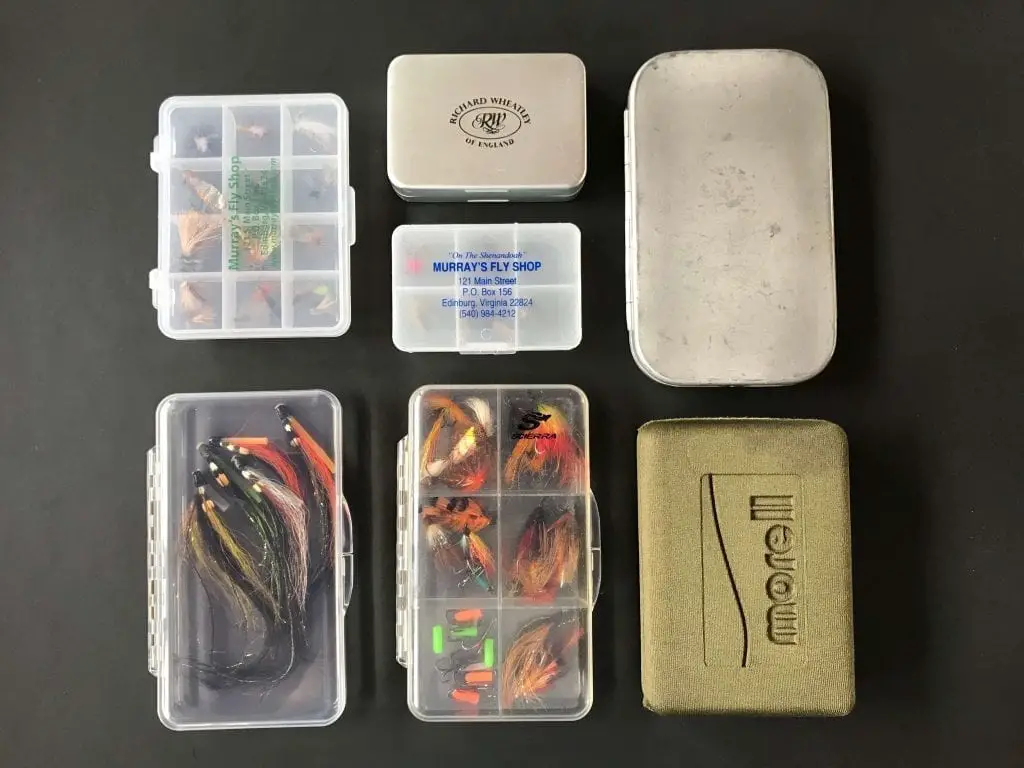 Table of Contents:
How to Choose the Best Fly Box
How to Choose the Best Fly Boxes
Of course the size of the box increases with the size of the flies. A streamer for pike or hucho fishing definitely takes more space than tiny dry flies. Over the next few paragraphs I want to give you an overview of the fly cases I use, show you for which situation or species I use what type and work out the advantages and disadvantages of different models.
I group my fly cases mostly according to three features: size, shape and material. Naturally the smaller the flies, the smaller you can go in terms of size. On some summer days when I fish a small alpine stream, all I bring is a tiny fly case with a few dry fly patterns and a few nymphs. The size of the box is similar to a box of matches.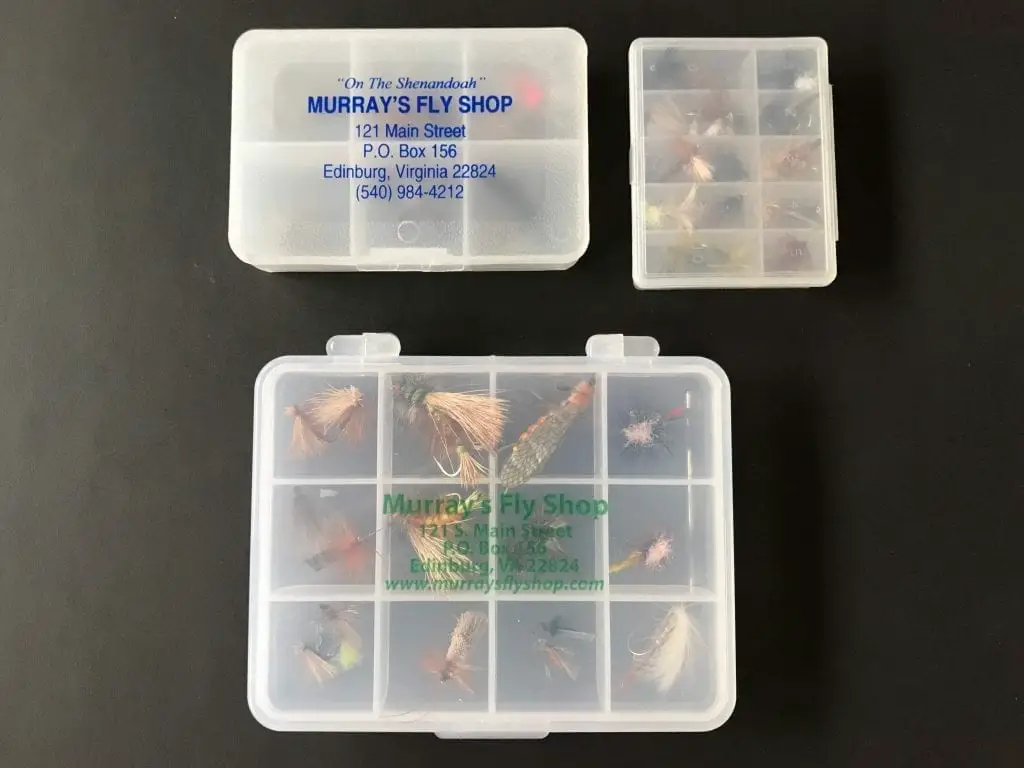 Best Fly Boxes on the Market in 2023
Note: If you end up purchasing a product through the links we provide we earn a small commission at no extra cost for you. It helps to support our business. Thank you!
Why it made the cut:
For dry flies and terrestrials I prefer transparent boxes with small compartments. This way of storing keeps the flies nice and loose and doesn't damage delicate wings for example. If the box is transparent it makes it easier to preselect a fly without even opening the box (which can come in handy on windy days).
If you are a traditionalist a great option especially for dry flies are aluminum boxes such as the ones originally introduced by Richard Wheatley of England. They have a neat mechanism with mechanical springs that pop open the different compartments. Here again the transparency helps with the preselection of your next pattern. A nice modern interpretation of such a dry fly case is the Aventik Aluminum Dry.
PROS:
High versatility
Transparent cases with springs
Timeless design
CONS:
Springs of transparent cases sometimes pop open by accident
Foam attachment could be improved
Why it made the cut:
The newest addition to my collection of fly cases is the Tacky Big Bug Box. It features the same slit silicone system as the smaller fly cases I use for wet flies and nymphs. The Tacky can hold large streamers of 4 to 5" with its silhouette remaining slim. It is a great choice for streamers to target big predators such as hucho hucho or pike.
Like other Tacky models it features magnetic closures to securely hold the box shut. The slit silicone system makes sure even big and heavy streamers stay in place.
PROS:
Excellent closure system
Slit silicone holds everything in place
Transparent
CONS:
Not for the biggest of streamers
Why it made the cut:
A similarly slim box with a more modern touch to it is the Tacky Slit Silicone Insert. The American made fly cases have made a name for themselves in recent years and rightly so. Even before opening the box you feel they are well made and will last a long time.
The magnetic closure at the corners of the fly cases is a really effective and convenient feature. On top their patented slit silicone feature secures the flies and makes sure they stay where they are. Even after removing flies dozens of times I could not detect any deterioration of the silicone slits.
PROS:
Excellent fixation of flies
Slim design is ideal for wading jackets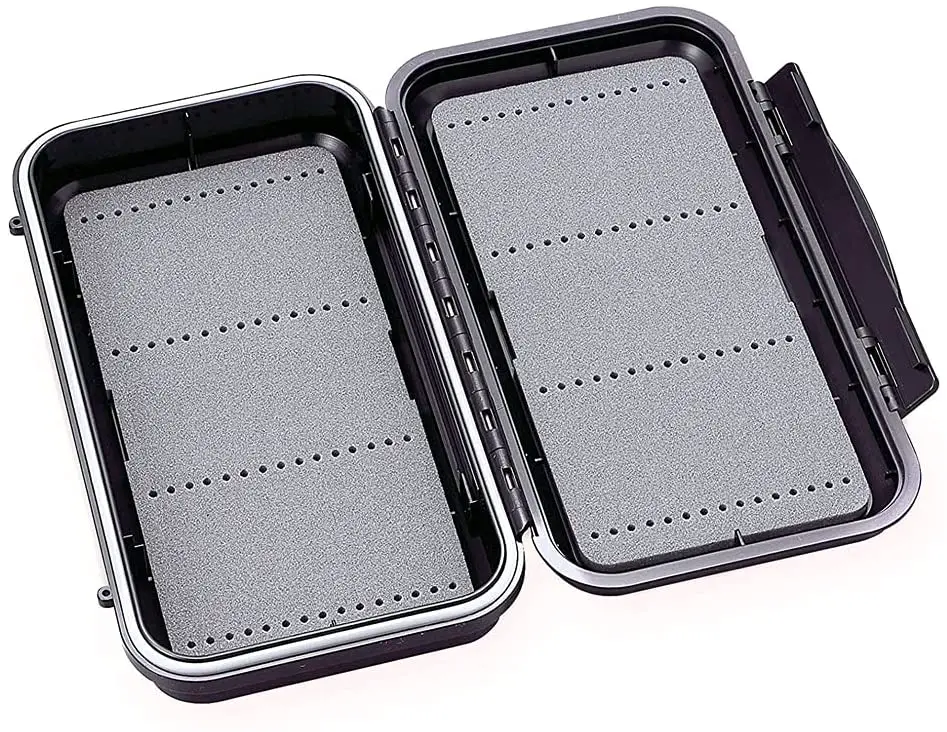 Why it made the cut:
A modern, slim alternative to the Tacky Slit Silicone case is the foam model from C&F Design. It has a very nice build quality as well and gives you a bit more freedom in terms of organizing your patterns.
Yet, if I had to choose I would opt for the Tacky Fly Fishing Box as their slit silicone system is the most precise and repeatable way of fixing your flies inside the case. The C&F is a great choice if your focus is on fishing bigger streamer patters for species such as bass or striped bass.
PROS:
Secure closure mechanism
Foam offers a lot of flexibility
CONS:
Closure system not as easy going as the Tacky Big Bug
Why it made the cut:
If you want to go light and know that what flies you will need to imitate at the water the SF Super Slim is a great choice. It is perfect for storing small midges and dry flies.
Larger flies and streamer would be matted down in this smaller sized box. Since it is so slim its weight is very low. This means it's easy to carry along even in your waders' pocket, ideal for the ultra minimal set up.
PROS:
Minimal design
Doesn't take up a lot of space in your jacket's pocket
Transparent
CONS:
Can only hold smaller flies (dries, wet flies and nymphs
Closure mechanism could be improved
Why it made the cut:
Here's a neat mid-size fly box that we had the chance to test during a recent trip to Iceland. The Trax Junk Trunk is the ideal choice if you want to carry only one fly boy for your day out fishing.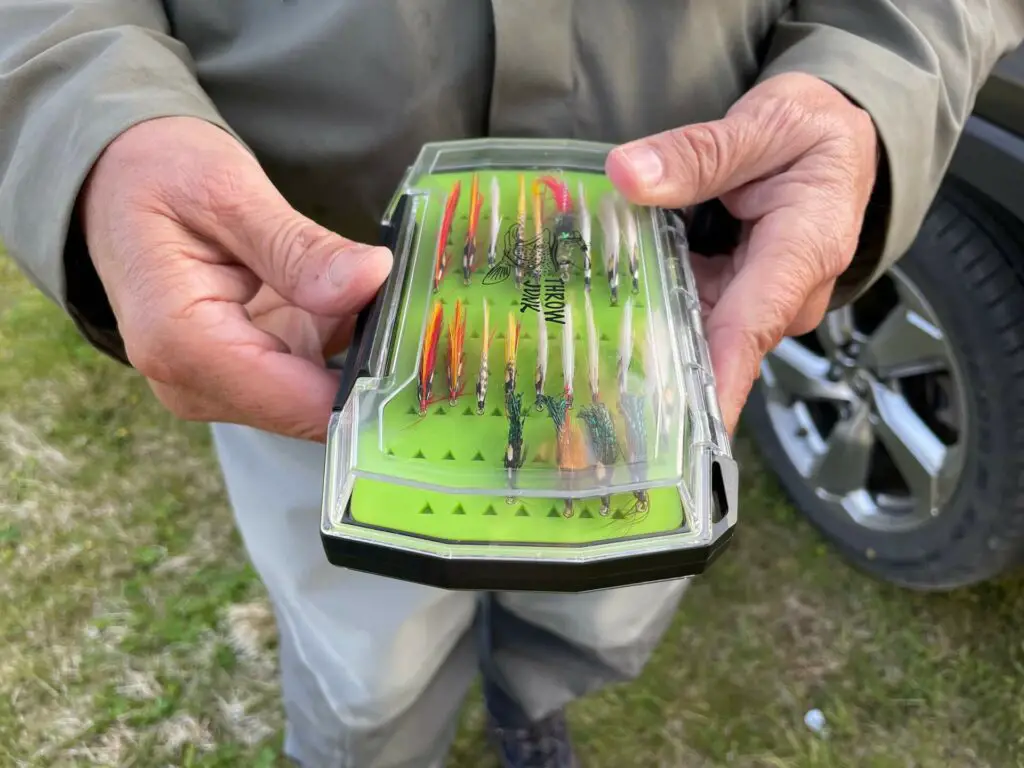 It can easily hold 30+ flies in its double-sided silicone slits. Although this fly box is primarily aimed to hold nymphs and dry flies, we found it be a very good allrounder that could easily hold smaller baitfish imitations as well due to its height. The clip closures work well and keep the Trax Junk Trunk securely closed while casting. If you're looking for something bigger, go check out Trax's Meat Locker Box which is a great companion on any multi-day boat trip.
PROS:
Affordable price
Transparent closure allows for pre-selection of flies
CONS:
The only downside that we've found during our testing, is that the Junk Trunk can feel a little bulky when stored in the front pocket of your wading jacket
Best Fly Boxes: Pre-Filled
Often it is easier to buy a fly case that is pre-filled already. If you're not yet an expert on fly fishing flies this makes sure you buy flies that catch fish. There are a number of good pre-filled ones out there. Here are our Top 3.
Why it made the cut:
The Barnsley + 100 Assorted Flies is a combination of an Aluminum box with slotted foam inserts. With it come 50 dry & parachute flies, as well as an assortment of 50 nymphs, beadhead nymphs, wet flies, scuds, streamers and worm flies.
The box is made from sturdy aluminum and fully packed with flies. With bigger hands it can get a bit tedious to take them out and put them back in.
PROS:
Comes pre-filled: ideal for beginners
Classy, timeless design
Solid attachment system
CONS:
Not for bigger streamers
Not waterproof
Why it made the cut:
The 24/36/48 Assorted Trout Fishing Flies Kit is a great choice for beginners. It comes loaded with great flies that catch fish. You can choose between 24, 36 or 48 flies.
The set includes a range of hopper flies, nymphs and dry flies. The box also features foam slits to tightly arrange your flies. Hook sizes range from #8 to #18 giving you a range of options for every fishing situation.
PROS:
Transparent
Good selection of flies
CONS:
Variety of fly selection is limited
Why it made the cut:
The Ventures Fly Co. | 40 Premium Hand Tied Fishing Flies includes 40 premium flies to cover almost any situation you might encounter on the water. The Ventures Set contains 15 different patterns including dry flies, nymphs, terrestrials, and streamers. Hook sizes range from #8 to #18.
The fly box is waterproof and comes with foam slits to safely store your flies no matter the conditions. As the other pre-filled boxes, this one also makes for a great gift for any fisherman or woman.
PROS:
Transparency makes picking your fly easy
Solid closure system
Decent selection of flies
CONS:
Variety of flies could be improved
Closure is not as easy as on the Tacky fly boxes
Features of the Best Fly Boxes
When selecting your fly fishing box you should pay attention to a number of factors. What's the material the box is made of? Is it waterproof? How many flies can it hold?
Here is a number of characteristics you should think about. They will help you to choose the best fly fishing box for your needs.
Durability
Like in any good product a more durable fly case will last you longer and might hence be less expensive on the long run. Most of the modern fly cases are made of plastic, often ABS plastics that are known to be very durable.
The other material often used is aluminum. It has a timeless and more classic look and is always a great choice for traditionalists. Like leather it only gets more beautiful over time with small scratches and nicks.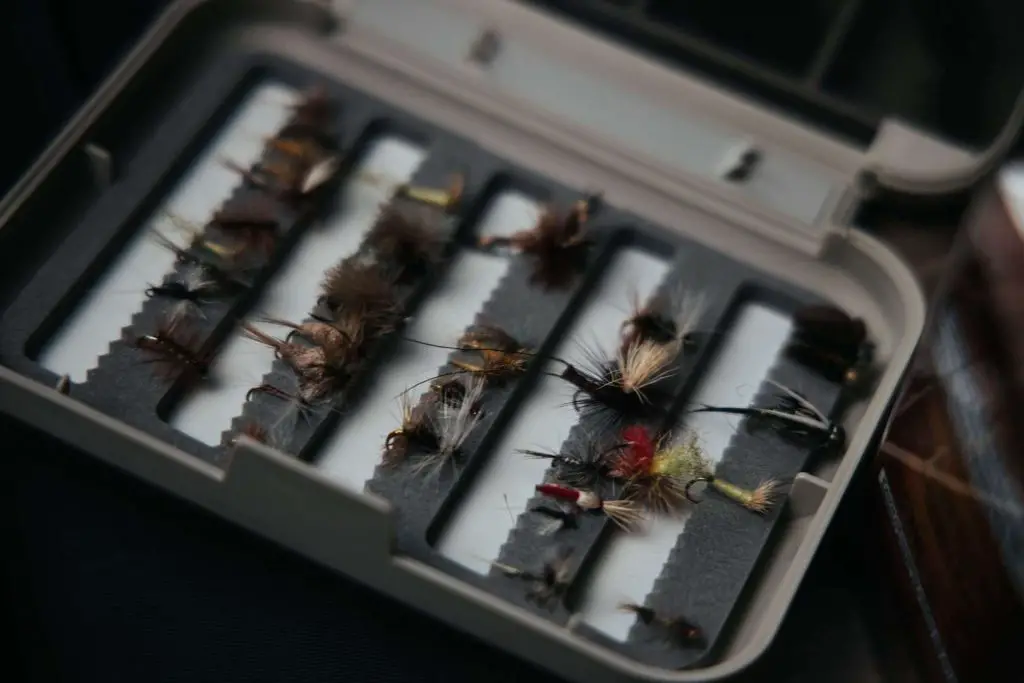 The inside of a box is another important factor in terms of durability. High quality foam or silicone will ensure you can take out your flies and put them back in many times without the material deteriorating.
Capacity
In terms of capacity it really comes down to the way you like to fish. If you prefer to keep it light and simple you should choose slim boxes. Bigger ones can get bulky if you don't want to wear a vest.
If you plan on fishing big streamers you will need a bigger box. So it really matters to think about what you need before getting your fly fishing box. It will make the selection easier.
Waterproofness
A waterproof fly box can be great but is not necessary in. If you pay a little attention the box should not get wet. If it does you can still open it up in your living room and let it dry properly.
Many boxes are waterproof anyways, especially the ones made from plastic. If they are not you should pay attention to keeping them dry to prevent corrosion.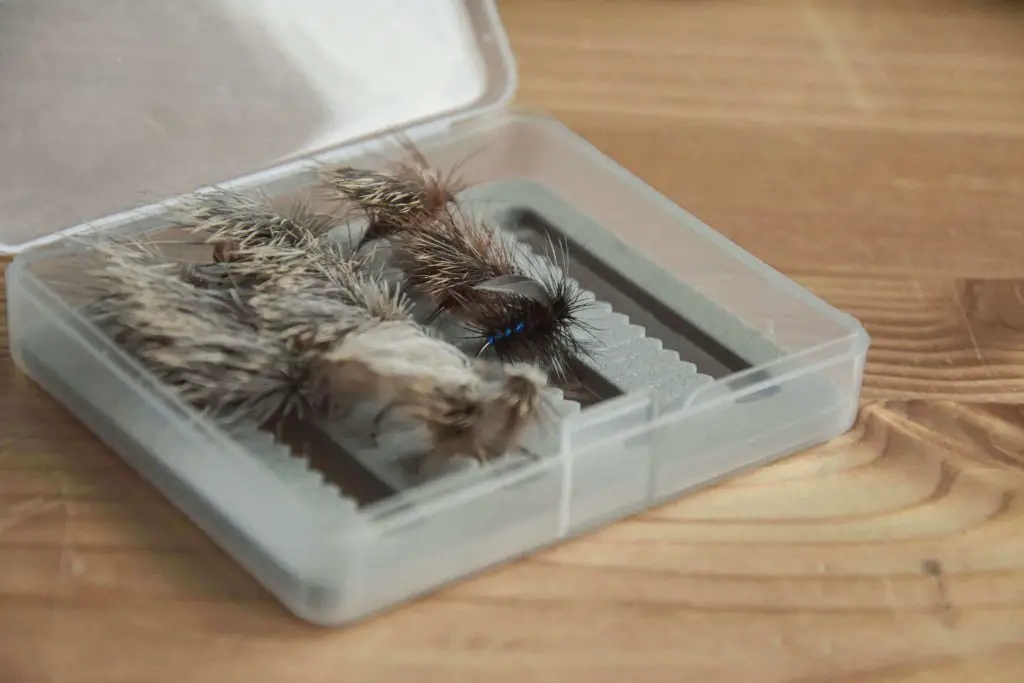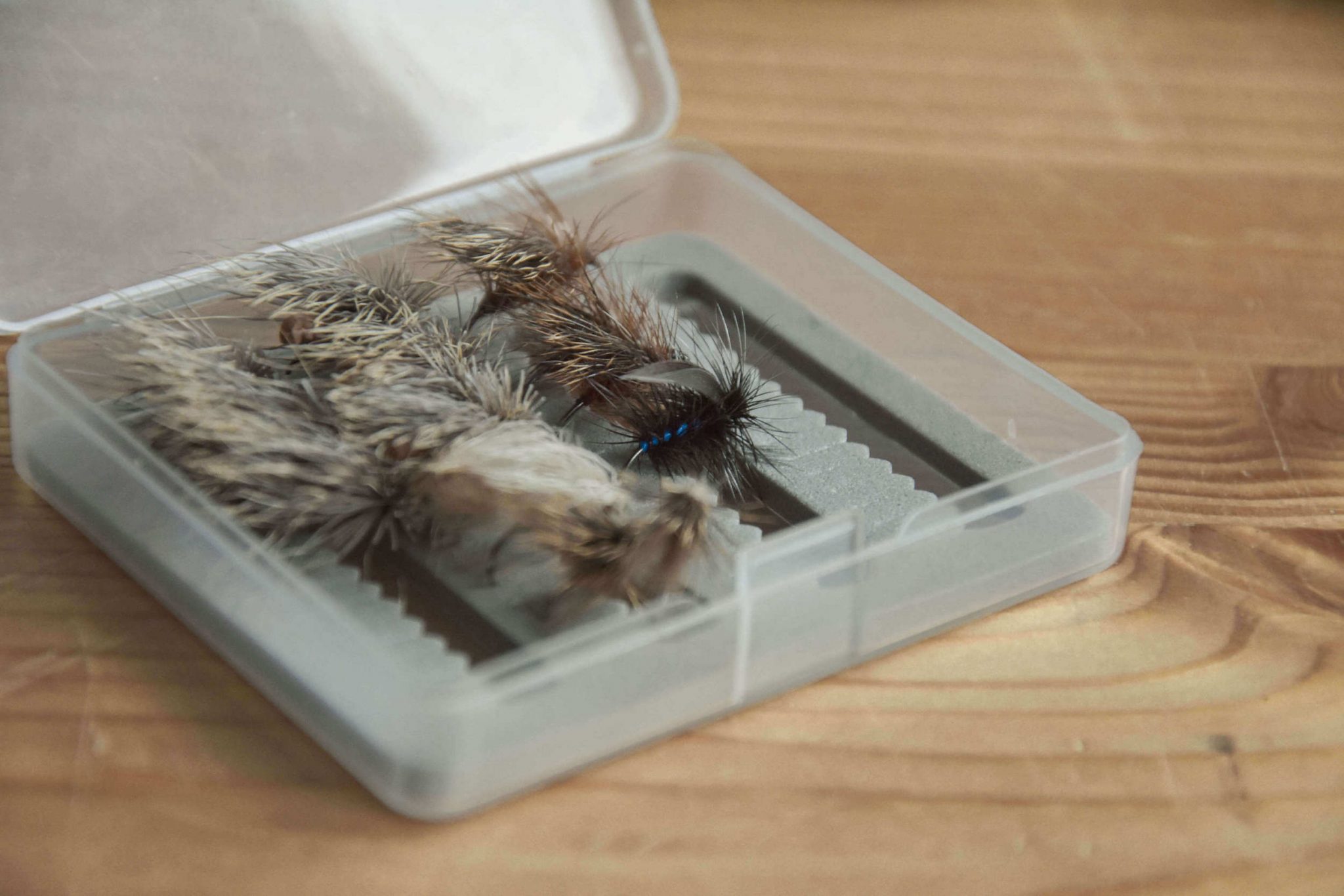 Types of Flies your Fly Box can Hold
The most important question you should ask yourself before getting a new fly fishing box is: what purpose should it serve? Where will I be fishing and what species will I be targeting?
What size will my flies need to be? Will I be fishing in saltwater or freshwater? How many flies do I need? If you can answer these questions beforehand you will have an easier time picking the right product.
If you are unsure you can always reach out to us at info@thewadinglist.com. We are happy to help!
Read more on streamer boxes in our streamer box guide
Special thanks to:
Isarfliegen for supplying us with high quality flies for the guide. Shop their selection here.
World Fly Angler for providing us with the Tacky cases.
Why Trust Us?
Leonard Schoenberger and his team spend plenty of days out fishing. Their goal is to test and review products for you so you can make a solid purchase decision and improve your fly fishing game. We always express our honest opinions, never get paid for reviews and are proud of our editorial independence.
Best Fly Boxes: FAQ
What are some key features to look for in the best fly boxes for fly fishing?
Key features to look for in a fly box include the size, the material it's made from, waterproofing, the type of closure, and the interior design. A good fly box should be compact yet spacious enough to hold a good variety of flies. It should be made from a durable and preferably waterproof material. The closure should be secure but easy to open. And the interior design should hold your flies securely without damaging them.
How many compartments should a good fly box have?
The number of compartments in a fly box depends on your personal needs and the type of fishing you do. If you carry a wide variety of flies, a box with many compartments or rows may be beneficial. However, if you're a minimalist angler, a box with fewer compartments would suffice.
Are waterproof fly boxes necessary?
While not always necessary, waterproof fly boxes are beneficial if you often fish in wet conditions or if there's a chance your gear could end up in the water. Waterproof boxes protect your flies from rust and degradation due to moisture.
Should I go for a foam insert or a silicone insert in a fly box?
Both foam and silicone inserts have their advantages. Foam inserts tend to be more traditional, offering a firm grip on your flies. On the other hand, silicone inserts can be more durable, maintaining their grip even after numerous punctures from fly hooks. Ultimately, the choice depends on your personal preference.
Are transparent fly boxes better?
Transparent fly boxes can be useful as they allow you to see your flies without opening the box, saving you time and effort on the water. However, they can also let in sunlight, which can potentially degrade certain types of flies. If you opt for a transparent box, it's wise to store it in a shaded place.
Is there a particular brand of fly boxes that is recommended?
There are numerous reputable brands that produce high-quality fly boxes. Some of the popular ones include Tacky, Umpqua, and C&F Design. It's best to choose a brand that matches your budget and specific needs.
Note: If you end up purchasing a product through the links we provide we earn a small commission at no extra cost for you. It helps to support our business. Thank you!