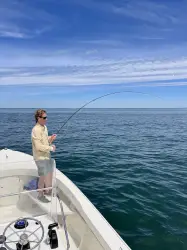 Latest posts by Leonard Schoenberger
(see all)
If you're a fishing enthusiast, you must be fully aware of the level of commitment it requires to plan a next fly fishing trip.
From waking up in the wee hours of the morning to reaching the ideal site on time and packing numerous gear, it takes a lot to plan a single trip. After all this diligence and slogging around, a broken or damaged rod in your trunk can completely ruin your plan to rejuvenate over a big catch. 
Therefore, you need to add a fly rod roof rack to your vehicle to ensure that your fishing equipment is secured against any harm or damage during transportation.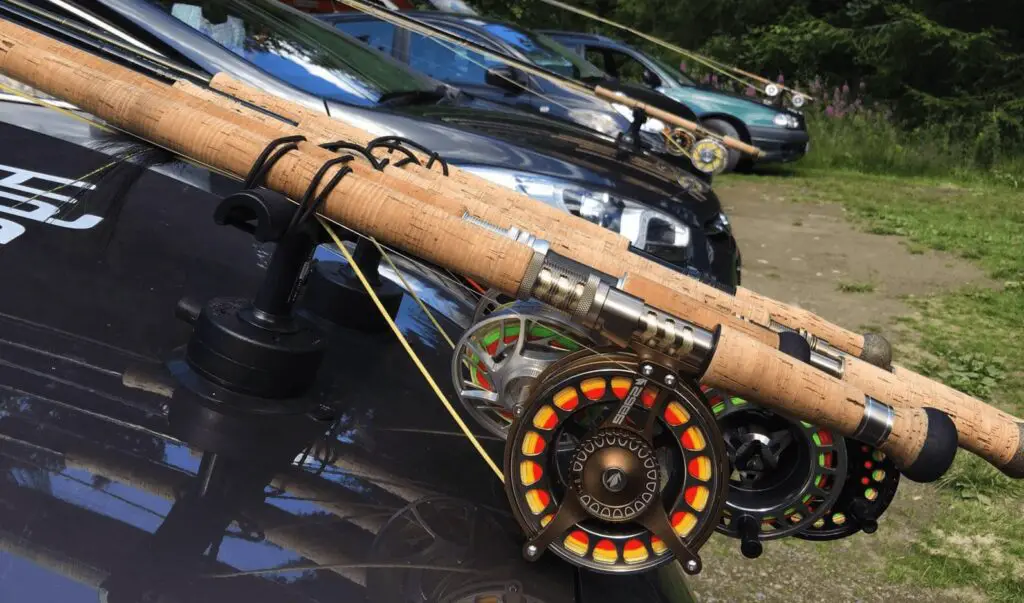 Which Type of Fly Rod Roof Rack Carrier is Best for You?
A model fishing rod roof rack is one that can be operated and handled easily when it comes to mounting and securing the fishing rods so that they won't dismount during transportation. Keeping in mind that mounted fly rods are heavy and long, your very first step should be to measure the length of your fishing rods. 
Vehicle compatibility, durability, adaptability, quality and looks are also some of the key characteristics of a fly rod roof rack once you understand the features of your fishing rods. 
Vehicle Compatibility
It is important that the fly rod roof rack carrier is compatible with your vehicle. If you're unsure about the brand and size that's suitable for your vehicle, then you can always check out the specifications to determine if your choice matches your vehicle dimensions or not. 
How to Choose the Best Fly Rod Roof Rack?
There are several aspects that you should consider when choosing the best fly rod roof rack including pricing, brand, specifications, and design.
Pricing and Quality
Pricing is a key factor when it comes to obtaining a fly rod roof rack carrier but there should be no compromise on quality either. The most important thing to keep in mind is that you should be getting the best quality for the best price possible. 
Brand
A reliable brand with excellent customer service is something you should consider when buying a carrier for your fishing rods. A good brand not only guarantees superior quality products, but their customer service is also available to help you out with your queries and issues. 
Customer Reviews
Customer reviews and ratings matter a lot because they show you how the product works. This helps you in your decision as these reviews can indicate whether it is worth spending the money or not. 
Durability
A fly rod roof rack is exterior equipment mounted on your vehicle. Select one that's designed and manufactured with sturdy materials that can withstand the harsh conditions. 
Installation Requirements
When looking for a suitable fishing rod rack, you should also check out its requirements for installation. Some racks are magnetic, some can be secured with hinges and some racks require drilling into the metal frame of the vehicle, which may be impossible if you have a leased vehicle. 
Security
It's very important to consider how secure the fly rod roof rack carrier that you're investing in is. Some roof racks come with a lock and key system that keep the gear safe from theft as well. Others only guarantee safe transportation when you're traveling. 
Types Of Fishing Rod Roof Racks
A fly rod roof rack is used to transport fishing rods in a vehicle. These racks are available in a variety of types to suit different demands and specifications. Each rack style has advantages and disadvantages that are best suited to various vehicles.
Interior Roof Rack
Most hardtop automobiles can accommodate an interior fishing rod roof rack. This type of rack is suitable for transporting your fishing rods, reels, and any other equipment. 
Temporary Mount Rack
These racks are lower on the price range and best suited for leased or rented vehicles. They can be attached magnetically or linked to the vehicle using a vacuum suction attachment. 
Permanent Mount Roof Rack
This rack style is highly preferred by people who like to carry multiple fishing rods. Most of the permanent fly rod roof racks are heavy-duty with aluminum or steel finish. These are usually pricey as well.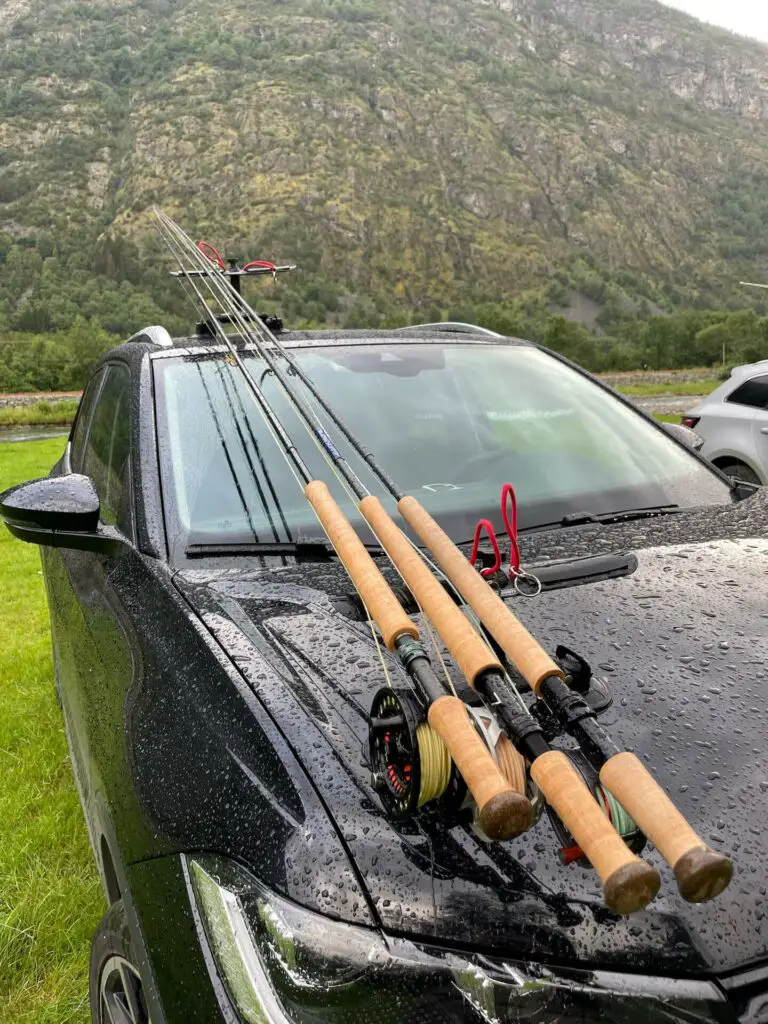 Best Fishing Rod Roof Racks – Top 7 of 2023
The fishing rod roof rack is the most important piece of equipment but the options available in the market may overwhelm you. 
Considering this, we're going to shed light on the best fly rod roof racks of 2023. 
Notice: We take part in affiliate programs. If you click on one of the links in the text and end up purchasing a product we earn a small commission at no extra cost for you. We only recommend products we are convinced of. 
The Riversmith 4-Banger Rooftop Fly Rod Holder is a lightweight, durable, and high-quality fly rod roof rack that keeps your rods safe. The understated design of this roof rack has the capacity to hold four fly rods which makes it a great choice if you're out on a trip with your fishing buddies.
Thanks to its sleek and aerodynamic design, the Riversmith 4-Banger Rooftop Fly Rod Car Rack is a good choice if you plan on travelling considerable distances on a regular basis.
Features
Versatile mounting system
Aerodynamic and quiet
Lightweight and easy to install
Able to endure shock, wind &, impact loads
The most secure rear entry molded reel box fly rod holder available
The Thule Rodvault Fly Fishing Rod Carrier is a strong and sturdy product. You can smoothly secure the fly rods in its shaft. Lightweight aircraft aluminum makes it durable and weather resistant. It is not only easy to mount but easy to lock and unlock as well. Its heavy duty, glass-reinforced, nylon reel case offers maximum reel protection.
Features
Holds 4 fully assembled fly-fishing rods up to 10'
Accommodates reel diameters up to 4.25" with fighting butts
Fishing rod rack locks to keep rods safe and secure
Universal mounting hardware fits all Thule crossbars and a wide range of roof racks
Polypropylene lined rod tubes for added rod, guide, and tip protection
The highly adaptable YAKIMA ReelDeal Fly Rod Car Rack is easy to mount on your vehicle's roof top. It features a quick release button that makes it quite convenient to store and remove the rods. You can secure up to 8 rods in this fly rod roof vault. Its heavy-duty aluminum material makes it a sturdy product that's resistant to any sort of weather conditions. 
One of its primary features is the advanced locking system that protects your equipment against theft. Another remarkable thing about the YAKIMA ReelDeal Fly Rod Car Rack is that it is water and rust resistant as well. 
Features
Customizable rooftop carrier
Kind to gear
Highly compatible
Single Key System
One of the best fly rod roof racks, Trxstle CRC System V2.0 (Convertible Rod Carry System) is quite versatile where you can store two fully rigged fly rods. Another key element that makes it a desirable choice is that you can collapse it to the size of a standard double rod & reel case! The CRC System extends premium protection for fly-fishing rods and reels along with an adaptable telescoping liner system. Its reel padding also ensures its durability and sturdiness. 
Features
Clamps and hardware included 
Optional key & knob upgrade available 
Mounts in 4 telescopic lengths 
Spring loaded, locking hatch 
Stainless steel hardware 
The RodMounts Sumo Suction Rod Carrier is equipped with four separate "lever-lock" suction mounts that generate force and stick to any smooth, non-porous surface. The Sumo is compatible to more vehicles than any other fly rod roof racks in any location. For automobiles with steel hoods and tops, suction mounts can be swapped out for magnet mounts.
To produce force and stick to any smooth non-porous surface, the RodMounts Sumo Suction Rod Carrier has four separate "lever-lock" suction mounts. It outperforms everything else on the market in terms of adaptability and performance for transporting rods of all varieties. It disassembles for storage and weighs only 2 pounds.
Features
SUMO can transport up to 6 rods of all types.
Suction mounts are more sensitive to cold temperatures and wet and dirty surfaces. Really cold, wet, and dirty surfaces can inhibit adhesion.
If you're in search of a heavy duty, weather resistant roof racks, Ultimate Original 4 Rod – 10′ Edition makes it to Best Fly Rod Roof Racks because of its heavy-duty aluminum body, and aluminum angle, making it the sturdiest roof rack in the market for the protection of your fly rods. Its aluminum locks and stainless-steel hinges make it rust-proof. It can store fully rigged 4-10′ rods. Hand packed, enclosed PVC tubes also fully protect the rods.
Features
Smooth finish only.
16-gauge aluminum pressed together, combined with 1/8″ aluminum angle creating the strongest 
Includes 1 security roof rack lock.
Can be mounted on any side and any cross bars or ladder racks up to 9′ wide.
Standard Black Powder Coat finish.
Custom powder coat colors available at Cardinal Paint – Powder Color Chart.
Custom, one of a kind, air brush finishing.
The GEAR RAK Fishing Roof Rack is a heavy-duty roof rack that can accommodate up to four fishing rods at the same time. It is intended to be placed on the roof of an SUV, hatchback, or van to transport your trip's belongings. This rack comes with all the essential installation hardware and will fit most car manufacturers.
The GEAR RAK Fishing Rod Roof Rack is ideal for the traveler or those who desire a simple method to transport their fishing gear. It can be attached to your vehicle's top  easily in a few minutes. Its sturdy design also supports high speeds on highways.
4 Rod Capacity
Rust Resistant
UV Protected
Lockable & Secure
Bottom Line on the Best Fly Rod Car Rack
So, there you go – some of the best of 2023 roof racks have been given to you. Now, you can enjoy a relaxing fishing trip.
FAQs
Can I take my car into the carwash with roof racks?
No. It can damage both your car and the fly rod roof rack.
Can I remove my racks when I'm not using them?
If your racks are not mounted permanently, it is recommended that you remove the roof racks for better storage and security.
Notice: We take part in affiliate programs. If you click on one of the links in the text and end up purchasing a product we earn a small commission at no extra cost for you. We only recommend products we are convinced of.