Last updated on September 18th, 2023.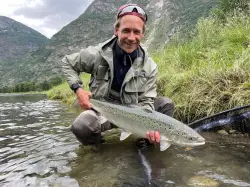 Latest posts by Leonard Schoenberger
(see all)
For fly anglers, having a reliable and functional rod carrier is essential to protect their prized rods and make transportation a breeze.
In this in-depth review, we will explore the Standard River Quiver (10'4″) 4 Banger by River Smith, a premium rod carrier designed to meet the needs of fly fishing enthusiasts. We will delve into its specifications, key features, and usability to help you understand why this quiver stands out from the rest. So, let's discover how the River Quiver Fly Rod Roof Rack can revolutionize your fly fishing experience.
Specs and Key Features
The River Quiver Rod Holder is a meticulously crafted rod carrier designed to safely transport and store your fly rods. Here are the key specifications and features that make it a standout option:
Size
The Standard River Quiver measures 10'4″ in length, providing ample space to accommodate four-piece fly rods up to 10 feet in length. This generous length ensures compatibility with a wide range of fly rod models, making it suitable for most fly anglers. You can choose between the 2 Banger (which can hold two fly rods) and the River Quiver 4 Banger (which can hold 4 fly rods) that we tested and reviewed and which you see in the photos in this article. We got it with the Standard Mount which takes a little longer to set up than the LT T-Track Mount or the Quick Release Mount but it didn't take us more than 10 minutes.
Construction
Built with durability in mind, the River Quiver features an AES polymer body that combines strength with lightweight design. It's slender design makes it look great on any type of vehicle since its silhouette stays understated even when you go for the 4 Banger. It also provides excellent corrosion resistance since very pieces are made of metal, ensuring long-lasting protection for your rods.
Locking System
The Quiver is equipped with a secure tongue and groove joint that we've found to lock together very tightly. This bullet proof connection makes it virtually impossible to break the roof rack open. You would have to apply a lot of force (and time) to get that job done. Hence, I am confident that a potential fly rod thieve will try another rood rack instead of yours. This feature gives you peace of mind, knowing that your valuable fly rods are safe from theft or accidental openings while in transit.
Design and Usability
One thing we particularly like in the River Quiver 4 Banger is its sleek design that doesn't come at the price of being bulletproof and sturdy. Yes, especially the 4 Banger is big, but its slender silhouette doesn't make it look or feel that way. What surprised me was how little impact it had on the overall streamlining of our truck even at higher speeds. It does not produce a lot of noise either when driving on the road.
Accessibility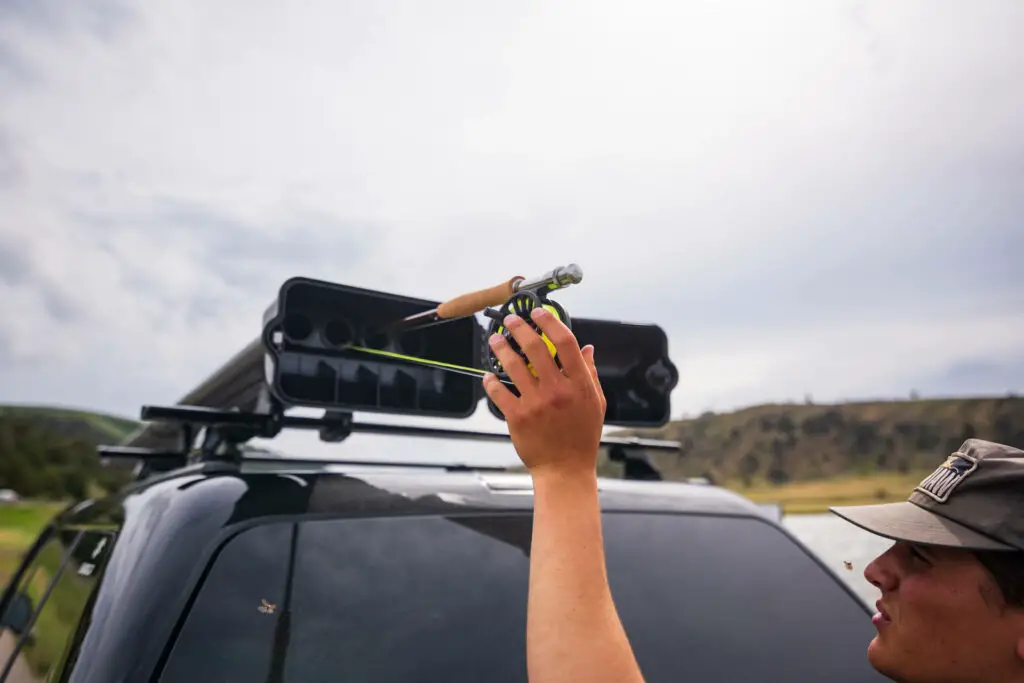 The Quiver's design allows for quick and easy access to your fly rods. The lid opens wide, providing a convenient way to load and unload your rods effortlessly. This feature is especially appreciated when time is of the essence, allowing you to spend more time on the water and less time fussing with your gear. Since the lid opens and closes to the side, the River Quiver can easily be accessed even when your trunk is open.
Conclusion
The Standard River Quiver (10'4″) by Riversmith is the ultimate companion for fly anglers seeking a reliable, functional, and secure rod carrier. With its durable construction, rod dividers, and lockable latch system, this quiver offers a high level of protection for your fly rods during transportation. The user-friendly design and compatibility with various rod models make it a versatile choice for both freshwater and saltwater fly fishing enthusiasts.
The River Quiver truly excels in usability, simplifying the setup and storage process, allowing you to focus on what matters most—enjoying your time on the water. Yes, it doesn't come cheap. But from my experience, it most often makes sense to invest in the best quality product because on the long run, silly as it may sound, it's often cheaper since your product will last longer. I cannot see a scenario that the River Quiver will break down after a couple of seasons.
FAQs: Riversmith River Quiver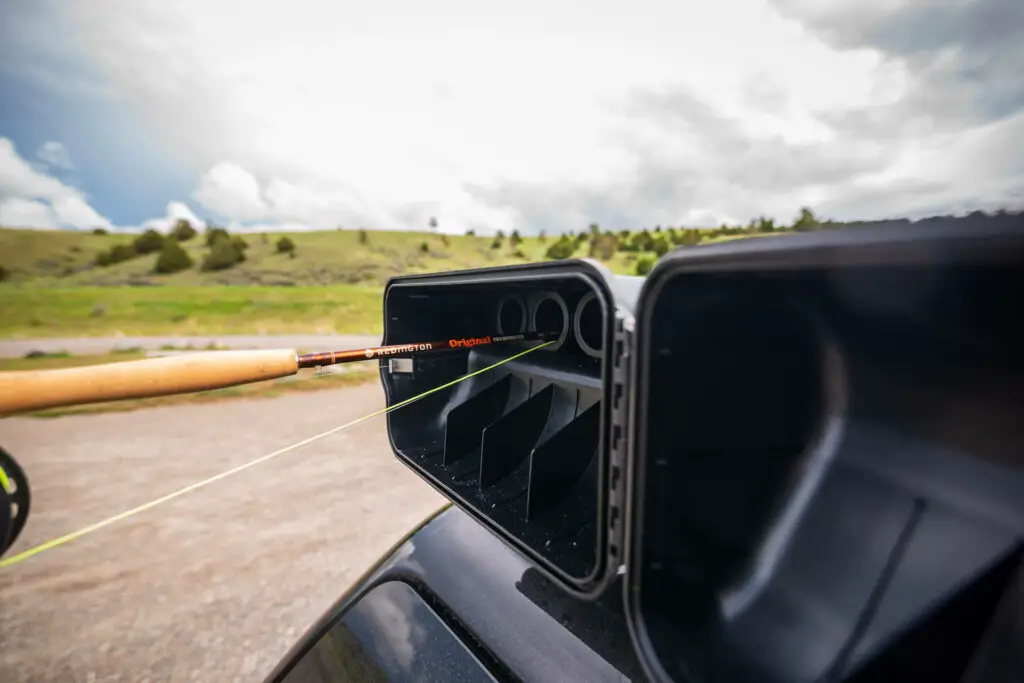 Is the River Quiver compatible with all types of vehicles?
The River Quiver is designed to be compatible with a wide range of vehicles, including sedans, SUVs, trucks, and vans. It can be easily attached to roof racks or crossbars using different mounts, providing a secure and stable fit.
Can the River Quiver accommodate fly rods with reels attached?
Yes, the River Quiver can accommodate fly rods with reels attached. The rod dividers provide a secure fit for different rod lengths and reel sizes, allowing you to transport your rods fully assembled and ready for action.
Can the River Quiver protect fly rods from harsh weather conditions?
Can the River Quiver protect fly rods from harsh weather conditions? Yes, the River Quiver is built to withstand various weather conditions. The strong AES polymer (very hard plastic) construction provides excellent corrosion resistance, ensuring that your rods remain protected from rain, snow, and saltwater exposure.
Can the River Quiver be used for air travel?
Can the River Quiver be used for air travel? While the River Quiver is primarily designed for vehicle transportation, it may not meet the size requirements for carry-on luggage on airplanes. It is always advisable to check with your airline's regulations regarding the transportation of fishing equipment before flying.
Can the River Quiver be used for other types of rods, such as spinning or casting rods?
The River Quiver is specifically designed for fly rods and may not be suitable for spinning or casting rods due to differences in length and handle configurations. It is recommended to explore rod carriers specifically designed for spinning or casting rods if you need to transport those types of rods.
Leonard Schoenberger and his team spend plenty of days out fishing. Their goal is to test and review products for you so you can make a solid purchase decision and improve your fly fishing game. We always express our honest opinions, never get paid for reviews and are proud of our editorial independence.
Disclaimer: All products we review are independently researched by our team. We only recommend products we believe in and never get paid for the reviews. Learn more about our review process here.