Last updated on August 21st, 2023.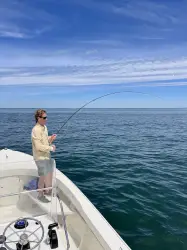 Latest posts by Leonard Schoenberger
(see all)
If there's one thing that should never be overlooked when fly fishing, it's your safety, especially when wading into the waters.
Table of Contents:
Best Wading Staffs for Fishing Quick Answer List
Important Features of a Quality Wading Staff
Along with the necessary equipment needed for fly fishing comes the need to have accessories and clothing that will ensure you a convenient and comfortable fishing experience while moving along the water body you are angling in. 
When fly fishing, while it is important for anglers to have a good set of waders to protect their lower body and feet from potential damage, it is also important to have something that could provide you security and convenience while wading through the waters, particularly, a staff. 
A wading staff is essential if you like to fly fish on streams with slick and bouldery bottoms, as well as fishing for large and sleek steelhead and salmon in a watercourse. Wading through a river on a waist-deep level can be quite intimidating, and for more timid anglers out there, wading through the middle of a river far away from the shore can give you an isolated feeling that might overwhelm you. 
With a wading staff, even the most apprehensive anglers will have a sense of security even when wading through large bodies of water. It's not only for the less confident anglers, though, because no matter how strong or graceful you think you are to withstand the slippery bottoms and dashing water, a wading staff will also ensure you extra security and comfort especially when you are a few feet deep in the water body you are fishing in.
Best Wading Staffs for Fishing Quick Answer List
8. Folstaf F34B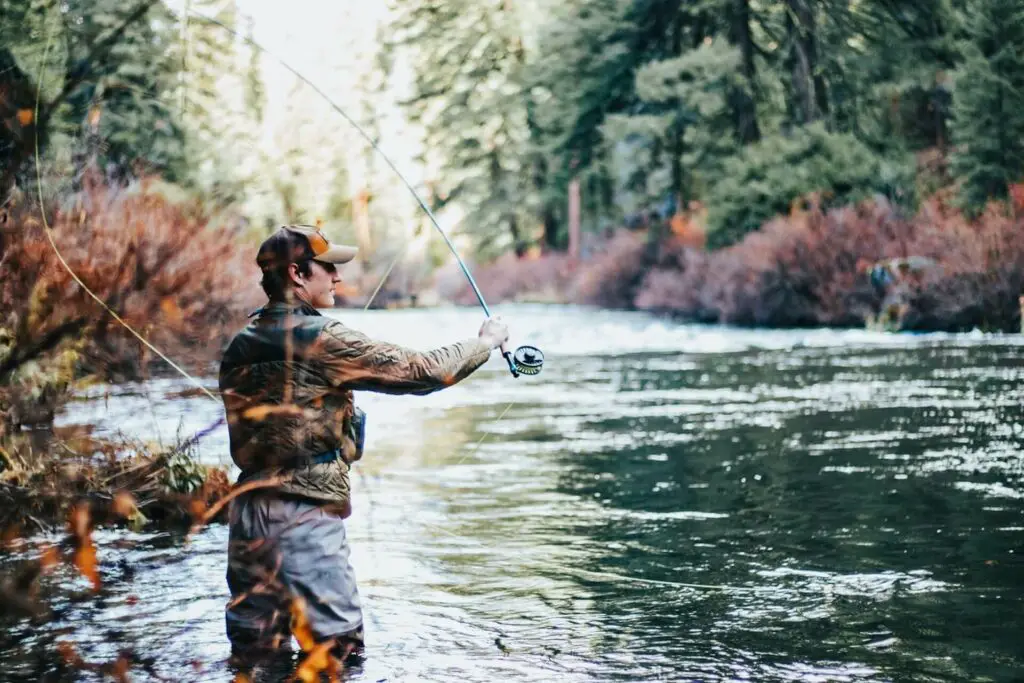 Why You Need a Wading Staff for Fly Fishing
While a lot of anglers have made use of certain fishing equipment to adapt as a wading staff such as shovel handles, beaver sticks, and ski poles, it is still important for fly fishers to have an actual and quality staff to assist them while wading in the middle of a river. 
Fly fishing in general is not considered a dangerous activity, but you will never know what you will encounter unexpectedly while sportfishing. As much as a good set of waders will help you have an extra layer of protection against blisters and skin damage, a good staff will help you face certain risks and cautions while exploring the waters for potential catches. Whether you may be a casual or a dedicated fly fisher, a wading staff would be essential for:
Increase your balance and stability while wading 
A wading staff will act as your third leg, offering maximum balance even when you are exploring the most slippery riverbeds out there. 
When you don't have a staff at hand while wading, your entire body weight will only be supported by one leg when you start to wade or walk, which will compromise your balance, especially when the boulders underneath the water are not that visible. Even when you already have a great set of wading boots, moss-covered rocks should never be underestimated. A staff will keep you upright no matter how much your boots slip.
Navigation
When traveling in steep terrains and trails, a wading staff is a great alternative for trekking poles when climbing up and down. These staffs are not only useful in water, but in dry land as well.
Saving Energy
When wading, most of your body's energy will be pretty much used up when you spend it mostly on maintaining your balance and position against the current.
With a wading staff at hand, the additional stability it provides means less work for you to maintain your body's equilibrium. That being said, your energy will be poured out to your fishing stint instead, making you have more stamina and fewer chances of fatigue.
Probing
Wading in muddy waters can be quite hard when the riverbed has an unpredictable pattern, so a staff would be useful for you to test the area and footing ahead and examine potential changes in the water. It is also great for checking if there are any big boulders that you need to look out for while wading to avoid stumbling.
Protection
Some anglers have had the experience of encountering rattlesnakes while fishing in creeks, and a wader staff has proved to be useful in warding them off. It might sound silly to think of a mere wading staff as a weapon, but it is actually a very effective alternative for personal defense against surprise encounters with wildlife.
Important Features of a Quality Wading Staff
Like any other fishing equipment and gear, there are certain factors and features that you need to consider when choosing the suitable wading staff for all your angling needs. Wading staffs are more than just sticks, and you can't just grab the nearest pole you can see in your garage and call it a day. Here are some of the most important features that you need to keep in mind while choosing the best wading staff:
Material
Wading in a river with gushing water and slippery moss-covered rocks will require you to have a wading staff that's built with quality sturdiness to provide you with excellent balance and control over your steps.
Investing in a material-wise wading staff is absolutely necessary, especially when you tend to fish in active waters most of the time. Most anglers have an aluminum wading staff, which is both strong and lightweight to carry. You may also consider staffs that are made of composite, but it's quite costly compared to aluminum—however, it is still worth a try.

You may also see some anglers using old-fashioned wading staffs made of wood, but while this extremely durable material can give you a great vintage feel and look, it can also be quite inconvenient when fly fishing in fast waters, as it is often heavy to carry and might only provide you discomfort while in the middle of a river. When choosing a wading staff, it's best to steer away from wood, as there are plenty of other alternatives out there that have the same quality of durability but are more lightweight and convenient. 
Length
The length of your wading staff is also an important factor to consider, as it mostly depends on your height. You wouldn't want to have a staff that requires you to hunch just to use it properly. If you like to poke around and want to be two to three steps ahead of yourself, then consider longer staffs that measure about 59 inches in length. This is also a good fit if you are or over 6 feet tall.
For those who are 4 to 5 feet tall, a 41-inch wading staff would be your best bet. They can sometimes be quite short for your liking, though, so it's best to properly check them before settling a purchase. There are also wading staffs that fall in the middle, which are perfect for people who are between 5 feet to 5"10 in height. These ones usually measure about 50 or 51 inches.
Convenience and Portability
Every other feature won't matter much if the wading stuff you choose isn't one for convenience. The type of wading staff you choose must align with your style and needs, whether you use it for fishing or hiking. Static or fixed wading staffs are purchased and built as it is, and can't be collapsed or folded for easier transport. This kind of wading staff isn't used as much by anglers at present time anymore, because there are now a lot of more convenient alternatives in the market.
Collapsible or foldable wading staffs are more preferred nowadays because of their packability and lightweight features. When fly fishing, foldable ones are more popular as they can be folded down into practical and convenient sizes. One downside of most folding wading staffs, however, is that they can't be adjusted to suit your height. They may also come apart while you're in the water, but this does not necessarily happen with more expensive models. The best wading staffs are the ones that can be assembled with one hand, so if you happen to come across one, greatly consider it. Collapsible wading staffs have two distinct styles:
Telescopic. This one's pretty similar to trekking poles. They are strong, sturdy, and do the work but it does not automatically extend like the foldable ones. 
Foldable. These ones are collapsed into four pieces, all connected by a bungee cord that will bring the staff into place. 
Weight and size
The most important purpose of a wading staff is to give you stability, and as your "third leg", you wouldn't want something that's difficult to maneuver because of its bulky weight. Heavier wading staff might give you more confidence in the gushing waters, but lighter ones will still give you the same performance and quality. It's still a matter of preference, but aluminum or composite wading staffs will do the trick just fine!
8 Best Wading Staffs: A Review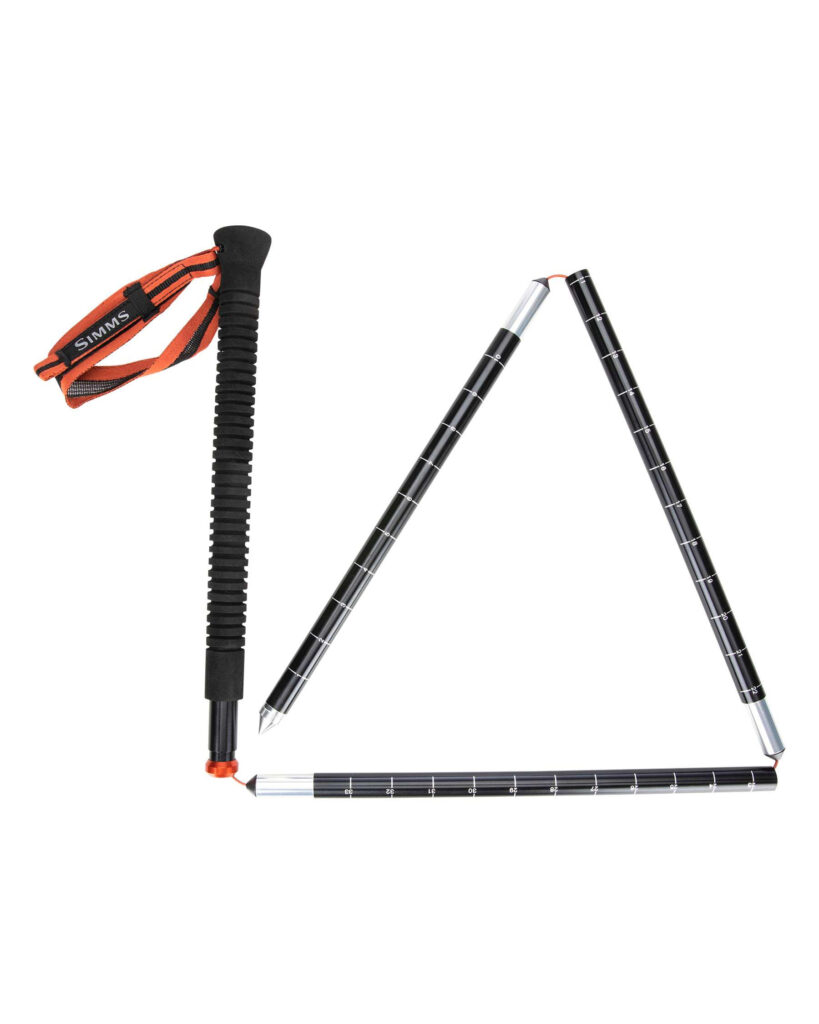 For most anglers, Simms is always the way to go when choosing quality equipment and gears for fishing. It has a classic and modern look and thrives on its strength and simplicity. The Simms Wading Staff is made with a lightweight yet durable 7075 aluminum tubing material with coated stainless steel cable, with a built-in retractor, strain, and compression-molded sheath. 
The Simms Wading Staff features a firm deployment that instantly opens and closes without fail. It even has printed depth markers and customizable aluminum tips. The staff fully extends to 54 and a quarter inches and collapses to 14 inches. The wading staff itself weighs only 9.2 oz, but with the sheath and retractor, it adds up to 16.85 oz.
This Hammers Collapsible Staff features a collapsible design that can fold the staff to at least 12 inches in length. It's a great choice for decent stability when wading in flowing water, navigating river banks, or walking on steep land. It's made of aluminum, making it have a lightweight and strong finish in anodized matte black. 
When collapsed, it can be easily fit into the nylon belt pouch that comes with the staff. Its double shock corded spring action design allows the angler to open up the staff instantly with just one hand. The Hammers Collapsible Staff weighs about 11 ozs, a great model to have if you fly fish and wade regularly. It has a full length of 52 and a half inches when fully extended.
The Aventik Foldable is constructed with top-grade 7075 aluminum that is not only firm and durable, but corrosion resistant as well. It has a stainless steel core that puts all the sections in place, with a double shock corded spring design that allows the angler to spring the staff instantly with just one hand. When fully assembled, the Aventik Foldable Wading Staff has a full length of 55 inches but can be sized down to 12 inches when folded.  
The Aventik Foldable has a 4 feet mark printed on the body, which allows you to work your way around the water while being a lot more mindful of its depth. When you hit the mark, it's best to figure out if it's safe to move forward or turn around. This staff does not also disappoint in terms of stability, as it features a brass press button that solidly locks everything in place. It comes with a self-draining pouch that allows you to carry it during transportation a lot more easily. 
The Snowbee Prestige is one of the sleekest and lightweight wading staffs out there, made of aluminum for reduced water resistance. It has four sections that are locked firmly in place, packed with tension that has a sliding collar that keeps the staff from collapsing even if the rubber cap gets caught between rocks.
Removing the rubber cap will give you a wading staff with an extra grip, with its hardened steel tip. It even comes with a screw-on tip-cup for the easier spreading of the load in sand, snow, or mud. The Snowbee Prestige has an ergonomically designed rubber handle grip for easier usage. The staff fully extends to a length of 55 inches, and it can be sized down to 15 inches when folded. It weighs about 340g and can be stored in a neoprene belt pouch.
The Orvis Sure Step Folding Staff comes in a classic strong, sturdy, and lightweight design made of aluminum sections that lock in place securely without fail. It has a double shock cord construction that allows it to unfold fast and an easy-grip handle for more convenient usage. The staff can be fully extended to 51 or 59 inches.
Patagonia is also one of the most reliable brands for quality fishing gear and equipment, and this wading staff is no exception. This 100% carbon fiber-wrapped aluminum Patagonia Wading Staff is the perfect companion to have when you need a trusty "third leg" while wading, and it even comes with its own stuff sack and retractor that can be attached to a wading belt.
The Patagonia Wading Staff is designed with an ergonomic foam grip that's comfortable to hold in any conditions, coupled with its thin diameter design that reduces underwater vibration. It weighs roughly 11 oz. 
The Orvis Ripcord's design was adapted from avalanche probe technology, allowing it to have convenient and easy usage features, but is also strong enough to withstand and prevent any wading disaster. It has four sections that can be assembled in seconds, as well as be collapsed into 18 and a half inches, and it measures a total of 54 inches when fully extended.
The Orvis Ripcord is built with a quality 7075 aluminum and kernmantle climbing cord that's moisture-repellant, and does not fray or stretch in the long run. The staff comes with an accessory kit that includes a Delrin tip, a fly retrieval hook tip, and a tip-removal tool. It even comes with a built-in gear retractor that allows the staff to be attached to the neoprene sheath that can be easily put to a wader belt.
The Folstaf F34B leans more on to the expensive side, but it delivers well in terms of quality. It's made of aircraft-grade aluminum tubing with joints and heavy-duty double shock cord for extreme stability and optimum convenience. The staff can be fully extended to 41, 51, or 59 inches in length, depending on what variation you choose. It folds down to 10 inches and weighs roughly 15 oz. 
Wading Staff Retractors
If the wading staff you choose happens to have no retractors built with it, then you may opt to buy a separate one in the market. Some of the best ones are the:
When you don't want to spend another hefty amount for a retractor, then this Orvis Gear Keeper might just be your best bet. It features a Spectra/nylon cable and a stainless steel spring and hardware with breaking strength. It can be mounted anywhere with a threaded stud and extends to 32 inches.
If you want to have a more premium feel, then this one should be considered. This Gerber Defender Large Freshwater Fishing Tether has a 48-inch Dyneema cable and a wide-body clip that can carry heavy fishing tools effortlessly. The tether can be secured with its lanyard hole and retention clip, and the bulky gear can be secured with its side release lock. 
The Simms Wading Staff Retractor is made with braided Spectra cable that can handle big and bulky fishing gears that extends up to 3 feet. Its design allows it to connect with both the wading staff strap and sheath conveniently.
Conclusion: Best Wading Staff
Wading staffs are one of the most overlooked fishing equipment in the sportfishing industry, but not a lot of people know how much more convenient it is to wade in the fast waters with a wading staff at hand. If you think that you need one, then you most certainly do. With all these features, factors, and models all laid out, which do you think is the most suitable one for you?  
Notice: The Wading List is reader-supported. We take part in the Amazon Associates Program and other affiliate programs and earn a small commission at no extra cost for you if you end up making a purchase. We only recommend products we are convinced of and use ourselves. Thanks!