A good wading boot is priceless. In this wader boots review we give you the best fly fishing boots of the year.
Wading boots literally make you stand on solid ground. No matter whether you go for a rubber sole, a felt sole or one of these choices combined with studs, a quality fly fishing boot is always a good investment.
The best ones provide you with a level of safety that is a prerequisite to enjoy your day at the water. It can prevent you from slipping and it can make you reach places a pair of bad wading shoes won't. In this guide we'll give you an overview of the best options. We will also explain what you should look for in general when buying a new pair of wading shoes: material, sole and fit.
Of course not every fly fisherman's or woman's budget is the same. Hence we included fly fishing boots from all price ranges in this guide. One thing to consider: if you are new to fly fishing or a beginner, you will be just fine with an entry level fly fishing boot. If you consider yourself a passionate fly fisher you should think about getting a premium wading boot since they will last longer and hence these fly fishing boots will even cost you less on the long run.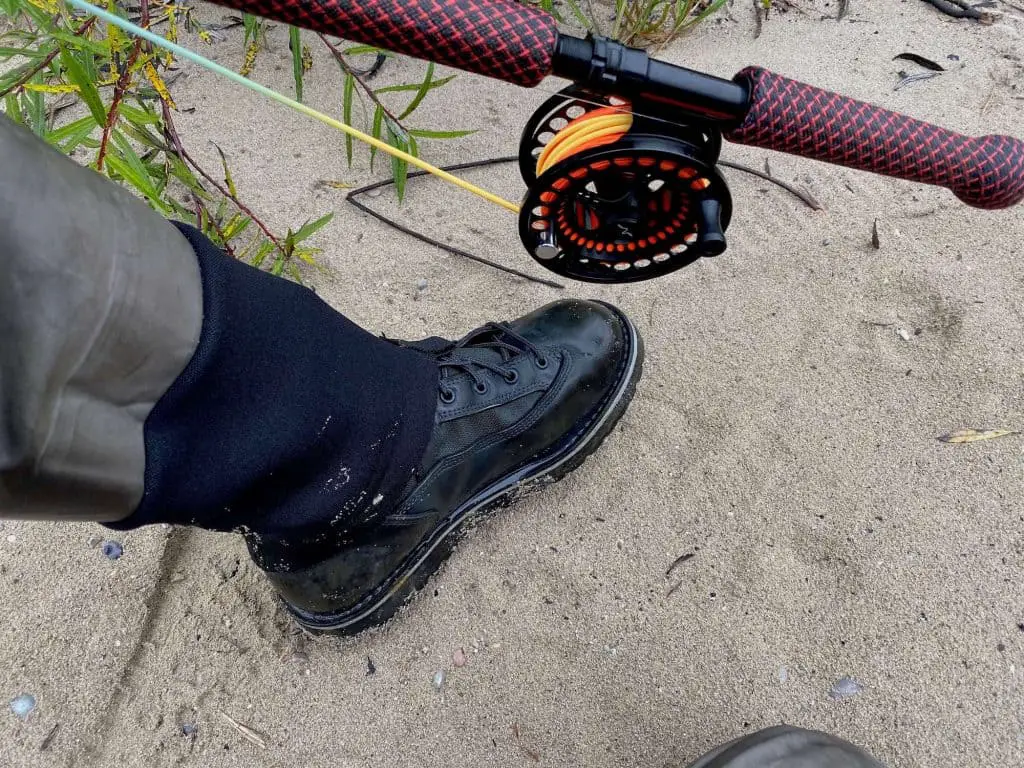 Table of contents:
Best Wading Boots – Felt Soles vs. Rubber Soles
10 Best Wading Boots for Waders in 2022
– Simms Guide Boa – Best new
– Patagonia Danner Foot Tractor – Aluminum Bar – Best Grip
– Simms Freestone: Best Durability
– Korkers Devil's Canyon: Best Versatility
– Orvis Men's Ultralight: Best Lightweight
– Chota Outdoor Gear: Best Low-Cut Wading Boot
– Orvis Encounter Felt Sole: Best Traction
– Frogg Toggs Men's Anura: Best Budget
– Simms FreeSalt: Best Saltwater Wading Boot
– Redington Pro Bowler Wading Boots: Best Price to Value
What you Need to Know about Fishing Boots
– What size wading boots should I get?
– Taking Care of your Fly Fishing Boots
Conclusion on Fly Fishing Boots
Best Wading Boots: Frequently Asked Questions (FAQs)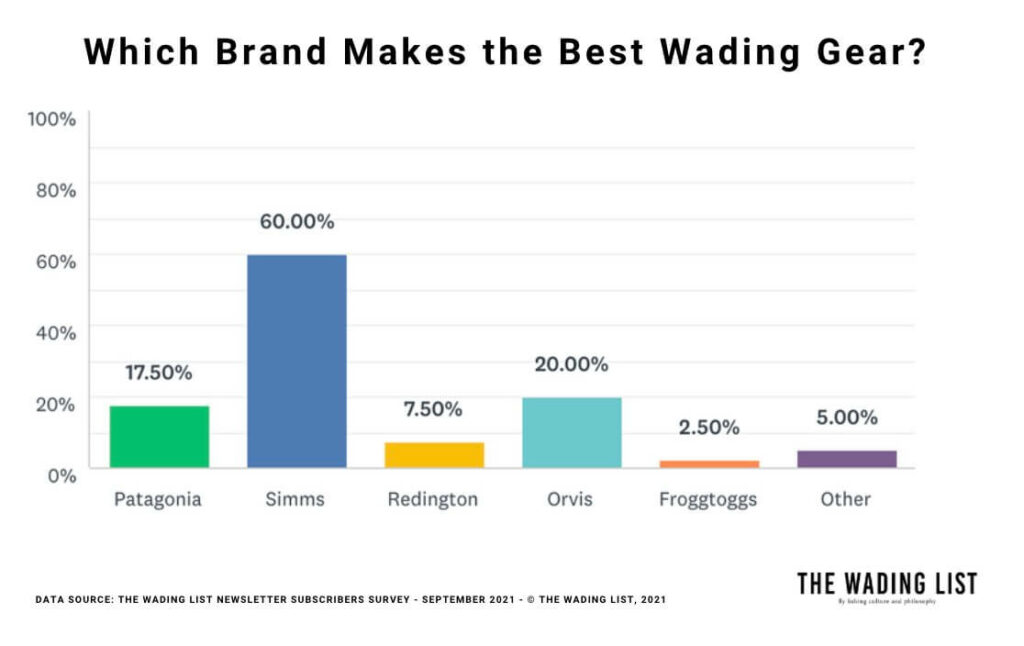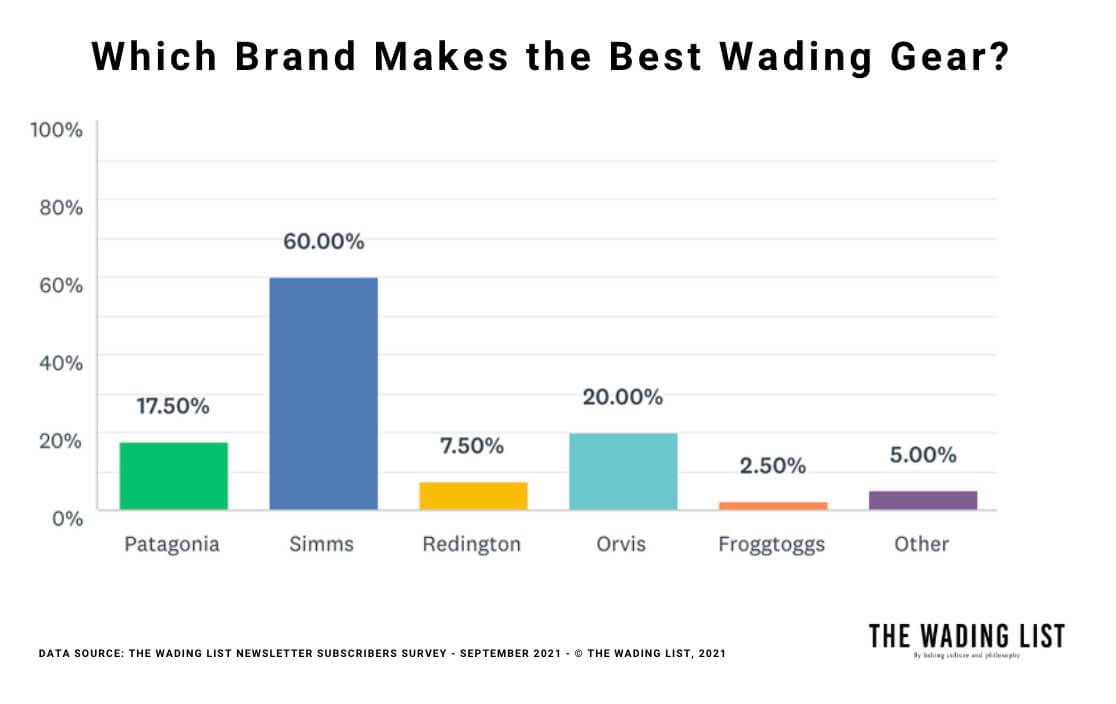 Best Boots for Waders – Felt Soles vs. Rubber Soles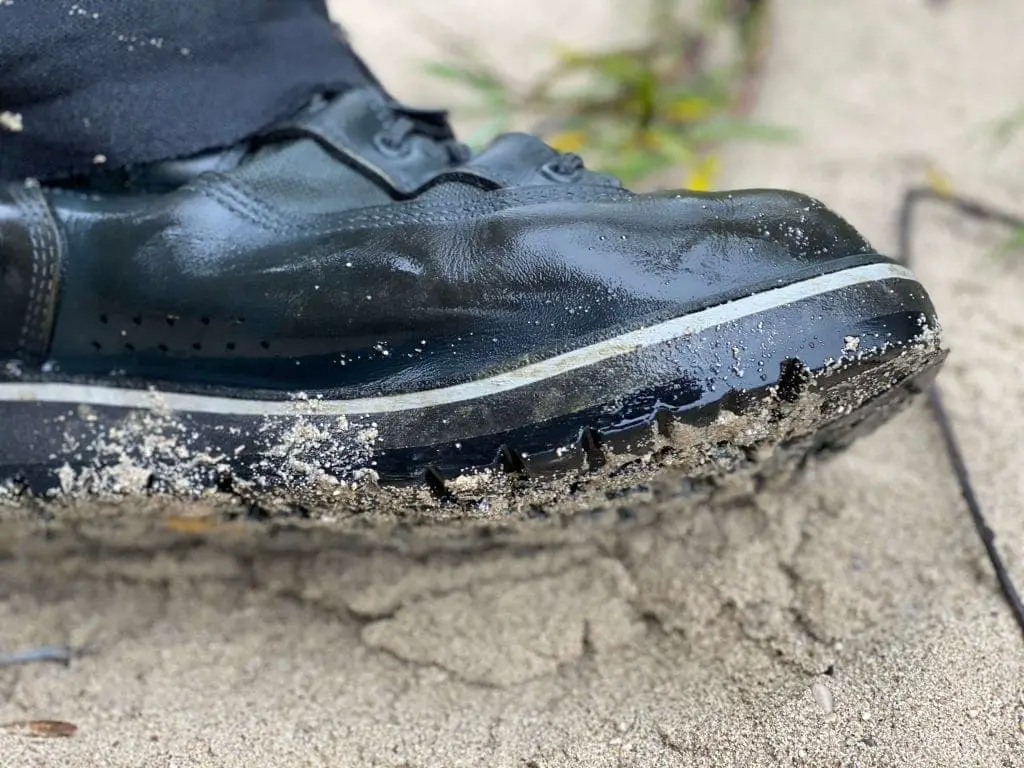 The general question you have to answer first is: felt sole or rubber sole. In fact you don't have to answer that question if you go for the Korkers with their interchangeable sole system.
Generally speaking rubber soles give you extra comfort when you do a bit of walking getting to and from your fishing location. Felt soles on the other hand are the better option on slippery surfaces such as river beds with rocks covered with algae.
No matter whether you opt for felt soles or rubber soles you can always add cleats/studs to your fly fishing boots. They provide extra traction and stability. The only downside of them is that you have to be careful off the river, for example when walking into a fly store.
Best Wading Boots for Fishing in 2022
Now that you now what to pay attention to before making a purchase, we want to give you our favourite fly fishing boots out there. From years of experience we can tell you that the best fly fishing boots come from a handful of manufacturers. Of course, they produce several different models. To make it easier for you, we pick our top choice in terms of durability, traction, versatility, weight and budget. Here are our favourites.
American manufacturer Simms just released a brand new piece of gear: the Guide Boa Wading Boot. It's the brand's new workhorse when it comes to wading boots. Priced just a little below the flagship G4 boots, the new Simms Guide Boa features many of the same characteristics.
The new Simms Guide Boa features rugged synthetic leather and mesh with overlays in parts of high abuse such as the heel and the front cap. The BOA lacing systems is great for fly fishermen who don't want to spend a lot of time tying their laces but fishing.
On the inside the Simms Guide Boa are neoprene-lined for increased comfort and long days at the river. Simms' new boots come with a rubber sole or felt sole.
The Patagonia Danner Foot Tractor are our favorites in this wader boots review when it comes to traction. The Foot Tractor system made from Aluminum bars is just supreme when it comes to slippery river beds.
The Patagonia Danner Foot Tractor where built in cooperation with the American hiking boot specialist Danner. The comfort of these is simply amazing and you can feel the superior built quality.
Yes, the Patagonia Danner Foot Tractor are expensive but they will last you a long time and Patagonia gives you the opportunity to resole. If you think the cleats are not for you, you can get these with a rubber Vibram sole or felt sole.
The Simms Freestone is an excellent wading boot for the money. The American manufacturer Simms its well known for the durability of its products. Synthetic leather and rubber toe caps guarantee scratch resistance.
A dual-density midsole provides extra comfort for long days of wading and walking. A wide opening ensures you can put the Simms Freestone on easily and take them off without breaking your leg.
The Simms Freestone Wading Shoes come with a rubber sole. You can also get them with felt soles and cleats if you need extra stability. Simms offers a great warranty so you will always be happy with your product.
GET THEM AT TRIDENT FLY FISHING
Portland-based Korkers has innovated fly fishing boots over the last years. They solve the tricky question of different soles in wading shoes. The Korkers Devil's Canyon feature their unique sole system as well.
The Korkers Devil's Canyon comes with plain kling-on soles and an extra pair of studded kling-on soles for days when you need an extra bit of stability when wading.
The Devil's Canyon feature Korker's Boa quick lacing system which makes putting them on and taking them off really easy. Heavy rubber toe caps provide extra abrasion resistance. If you are into felt soles check out the Korkers Greenback with Felt & Kling-On Soles.
GET THEM AT TRIDENT FLY FISHING
The American manufacturer Orvis has been in the fly fishing business for decades and known to make some of the best fly fishing gear in the industry. Their Orvis Men's Ultralight is no exception to this rule.
The Orvis Men's Ultralight is our wader boots review top choice in the lightweight category. The lower shaft gives the Ultralight Fly Fishing boots the feeling of hiking shoes. You can comfortably wear them all day.
The Orvis Men's Ultralight feature a Vibram sole and still come in at only 40oz (1.14kg)/pair. You can add studs for extra stability. The Orvis Ultralight are a great choice for trips when you have to keep the weight of your gear low.
The Chota Outdoor Gear is our go-to boot in this wader boots review when it comes to low-cut fly fishing boots. The lower shaft reduces the weight of the boot, similar to the Orvis Ultralight.
The Chota Outdoor Gear features a quick lacing system and an innovative system with removable insoles. This means you can use the Chota fly fishing boots with sock foot waders or leave the insoles in when wading wet, for example in summer.
Reinforced heels and toes will make the Chota Outdoor Gear last a long time. At around $120 these low weight wading shoes provide great value for money.
When it comes to wading on slippery surfaces some fly fishermen would argue that nothing beats a felt sole. So if you know you'll often face situations like that, the Orvis Encounter Felt Sole is an excellent choice for you.
Coming in at under $100 the Orvis Encounter Felt Sole has all the features you are looking for in the best fly fishing boots. A reinforced rubber toe cap and a loop on the back of the boot for easy access.
The Frogg Toggs Men's Anura Wading Shoe is our best budget wading boot. Coming in well below $100 it has everything you are looking for in a quality pair of fly fishing boots.
With the Frogg Toggs Men's Anura Wading Shoe you can choose between a felt sole and a rubber sole with the option of studs. A rubber toe cap provides extra abrasion resistance.
The Frogg Toggs Men's Anura Wading Shoe also features a padded collar around your ankles for extra comfort. The combination of leather and cordura ensures the Frogg Toggs fly fishing boots dry quickly.
As a bonus we want to give you our favourite if you are looking for a wading boot to use primarily in salt water: the Simms FreeSalt. The main difference between fresh water and salt water is the degree of salt in the water. Salt leads to corrosion in metals. Hence, fly fishing boots for saltwater need to pay special attention to this detail.
For their FreeSalt Wading Boot Simms uses non-corrosive materials only. The heels and front are protected by extra strong non-scratch rubber. The soles don't leave any marks if you are stepping onto a skiff when fishing the flats for example.
The Redington Pro Bowler Wading Boots is a great price to value choice and offers all the features of a premiere wading boot. They come with felt soles or rubber soles and almost feel like a tracking boot – very light and comfortable to wear all day.
At the heel and at the toe cap, the Redington Pro Bowler Wading Boots for fishing are reinforced for increased abrasion resistance. The lacing system high up the ankle provides ample stability. Go for the felt soles if you are wading a lot on slippery rocks. The rubber soles are a good choice if you often walk longer distance to get to the water. If you want you can add studs to the Redington Pro Bowler. Redington recommends up to 3/8-inch studs for sticky rubber soles and up to 1/2-inch studs for felt soles
What you Need to Know about Wading Boots
In this section we want to touch upon some of the most important topics when it comes to picking a pair of fly fishing boots.
What Size Wader Boots for Fishing should I Get?
Another word of advise: every wading boot recommended in this guide is to be worn with a pair of stockingfoot waders which are the gold standard in modern day breathable waders. Stockingfoot waders are fly fishing waders that have neoprene booties. Over these, you wear a pair of fly fishing boots. This often brings up the question. What size wading boot should you get? Since these neoprene booties are quite thick, most of the wading boots have to be one size more than your street shoes. Most of the manufacturers have special sizing charts for their products.
What if I want to do wet wading? That's another good question that we often get in the summer. Wet wading means you only wear fly fishing boots. In order for you to not have to get another pair of fly fishing boots, we recommend using neoprene socks with your wading boots. This means they will have the same fit plus they will keep you warm. Because even if the temperatures are hot outside, the water temperatures are much lower and your feet will most likely get cold if you wade for hours.
What about the best fly fishing boots boots for women? Just like with women's waders, the times when women had to pick from men's wading boots are luckily gone. That's why we compiled a separate guide to "The Best Women's Wading Boots".
Weight of Your Boots for Waders
The shape and built of your wading boots has an influence on its weight. If you prefer a really light boot you should go for one with a lower shaft such as the Orvis Men's Ultralight. If you want increased stability and sturdiness a product such as the Simms Freestone is the way to go. They are basically indestructible and will last you for years.
Taking Care of your Wader Boots
The most important thing to make your wader boots for fishing last longer is to dry them properly after every use. Make sure they are completely dry before storing them for longer periods. If they are still wet they can mould.
Conclusion on Wading Boots for Men
Wader boots for fishing are one of the most important pieces of your gear to have fun at the water. Furthermore, they provide stability in all situations and are hence crucial for your safety when wading. It's worth to invest a bit of money into a quality pair of wading shoes. You can't to wrong with any of the fishing boots we reviewed above. Here are a few things to pay attention to when choosing your boots for waders.
Orvis Men's Ultralight...
Korkers Darkhorse w/Felt...
Simms Tributary Rubber...
Orvis Men's Ultralight...
Korkers Darkhorse w/Felt...
Simms Tributary Rubber...
Last update on 2022-05-01 / Affiliate links / Images from Amazon Product Advertising API
Best Wading Boots: Frequently Asked Questions
Why should I use wading boots with felt soles?
To this day felt soles are the best type of soles for wading in rivers with slippery rocks. However, they have downsides, too. Many states have banned them completely because they can increase the spread of diseases from one river to the other. They also don't work well when you are walking on snow.
Why should I choose wading boots with rubber soles?
Rubber soles are the right choice in wading boots for you if you want the utmost in versatility and tend to walk a lot while fishing. Modern day rubber soles like Vibram provide excellent grip in almost any conditions. If you want a little more traction you can add cleats to your boots. Patagonia even offers aluminium bars for an ever higher degree of traction.
Do wading boots keep your feet dry?
No, wading boots are do not keep your feet dry. However, the waders that you wear with your wading boots, do. They are equipped with integrated neoprene socks that keep the water out.
Who makes the best wading boots?
The manufacturers of the best wading boots are Simms, Patagonia, Orvis, Korkers, Redington and Frogg Toggs.
Read more about wading gear here:
BEST POLARIZED SUNGLASSES FOR FLY FISHING
PATAGONIA SWIFTCURRENT EXPEDITION WADERS – 2020 REVIEW
REVIEW: A SEASON WITH PATAGONIA'S DANNER BOOTS
5 BEST WOMENS WADING BOOTS (2020 BUYERS'S GUIDE)
Disclaimer: The Wading List is reader supported. We take part in so-called affiliate programs. If you click on one of the links in this article and end up purchasing a product we earn a small commission at no extra cost for you. Thank you!