Last updated on November 2nd, 2023.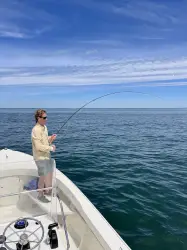 Latest posts by Leonard Schoenberger
(see all)
Everybody knows you need to pick a shoe to match your sport. Golfers and soccer players have studs under their shoes, and ice hockey players have blades.
With different terrain and unique sets of challenges to deal with, this should come as no surprise. It's the same with fishing shoes, and these days you've got an endless variety to cater to every type of angler's needs. Here's a guide to getting shoes for fishing right.
Disclaimer: All products in this guide are independently researched by our team. We only recommend products we believe in and never get paid for the reviews. Learn more about our review process here.
Table of Contents:
Review of the Best Shoes for Fishing on the Market
Important Features
How they handle water
You're going to be spending a lot of time in the water, whether you fish from a boat or not. There are several risks associated with waterlogged feet, from trench foot to blisters and even the 'sandpaper effect' where anything you rub against can scrape off your softened skin. So you want to make sure your shoes can handle being immersed in water. 
How adaptable they are
Responsive footwear is important when you're out in the outdoors, even beyond the world of fishing. You might have to cope with rugged surfaces, or perhaps wet wading is on your agenda. Your choice will be influenced by what you hope to achieve from your shoes. 
How affordable they are
You need to know if you're on the heavy-duty side of fishing or not. You need to ask yourself just how important durability is to you. Professionals invest more in gear for a reason, and a hobbyist is likely to spend less, accordingly.
Notice: The Wading List is reader supported. We take part in the Amazon Associates Program and otjer affiliate programs and might earn a small commission at no extra cost for you if you end up making a purchase. We only recommend products we are convinced of and use ourselves.
Review of the Best Fishing Shoes
Why we picked them:
I found that the Simms Challenger Deck Boot (read our in-depth review here) is a fantastic choice for anglers like me. The boot's exceptional traction on wet surfaces, particularly on boats and kayaks is a reassuring feeling knowing that I can move around the deck without the risk of slipping.
Another standout feature is the boot's comfort. The cushioning and ankle support it offers make it perfect for those long days on the water. I can vouch for the fact that my feet have felt comfortable even after spending hours in these boots. The Simms Challenger Deck Boots have proven themselves as reliable companions for anglers like me who demand footwear that can withstand the rigors of fishing.
Overall, the Simms Challenger Deck Boot has become my go-to choice for various boat fishing situations. Its impressive traction, comfort, durability, and waterproof capabilities make it a dependable piece of gear for any angler looking for reliable and comfortable footwear on the water. What's best about the Challenger is the fact that they are so comfortable and easy to get in and out off, that they've become one of my favorite pairs of boots for the fall season in general.
PROS:
Excellent traction on wet surfaces
Very comfortable neoprene lining around the ankles
Easy on and off thanks to the loop at the heel
CONS:
When fly fishing from a boat, we had some instances when the line got tangled around the loop at the heel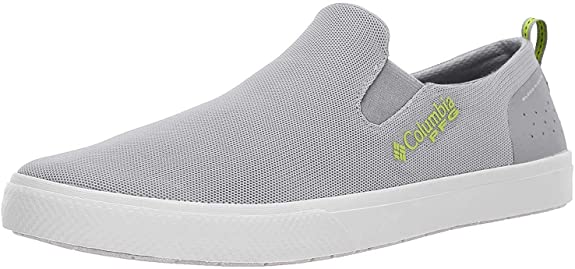 Why we picked them:
If you're looking for decent yet affordable shoe for men, the Columbia Men's Dorando Slip PFG Shoe are definitely worth looking into. They're made from water and stain-resistant material, the rubber sole has got some serious grip behind it, and you can easily slip into them without having to tie the laces. 
I particularly like the fact that the Columbia Men's Dorando Slip PFG Shoe is lightweight and stylish; they look like something you'd wear to the mall on a day out. At just $35, this fishing shoe is no doubt the best when it comes to budget.
CONS:
Upper material is not the most durable around the edges
Why we picked them:
Rubber is a go-to when talking shoes, and neoprene, in particular, is increasingly popular. The Duck and Fish Wading Shoe stood out in this category in our test, with a futuristic-looking, neoprene-based shoe with a tall, sturdy, nylon upper. A Velcro and loop strap as well as YKK side zipper allow for easy adjustment and slipping on or off. 
Overstocking feet won't do well on the Duck and Fish Wading Shoe but the rubber ramp and heel are reinforced to make sure the whole thing is robust. At just almost four dollars more than the cheapest on the list, these are a great option, especially for wet wading flats.  
PROS:
Excellent for wet wading
Tight closure around the ankles
CONS:
Stability around the ankles could be improved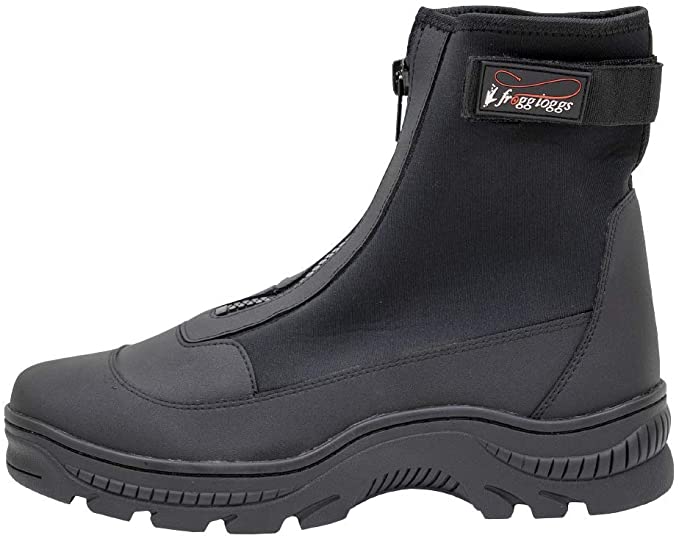 Why we picked them:
The Frogg Toggs Aransas II Neoprene Surf and Sand Shoe are made from a neoprene outer shell with a lightweight midsole. They're made from 60% polyester and 40% PVC. They are a great choice if you are fishing the surf and might step on shells and rocks. The thick sole provides solid protection.
Also featured in the Frogg Toggs Aransas II Neoprene Surf and Sand Shoe are a reinforced toe and heel cap, an adjustable hook and loop ankle strap, and a zipper enclosure surrounded by a gusset to keep the sand out. From surf fishing to clam digging, this $65 show lets you do it all.
PROS:
Excellent grip
Easy in and out thanks to front zipper
CONS:
The tough sole makes them a little heavy
Why we picked them:
HUK Men's Attack Shoes are the ultimate fishing shoe. This is textile and synthetic footwear at its best. They dry up in no time thanks to a drainage system that gets rid of water in all directions. They come with lock-down support like you've never seen it which makes wet and slippery surfaces child's play. 
You've got a zipper enclosure, an integrated shoe structure, and a wet traction non-marking outsole. Performance fishing is what the HUK Men's Attack Shoes are about and anglers only have good things to say about this $85 shoe.
PROS:
Super leightweight
Heel latch for easy entry
Why we picked them:
Simplicity and performance are what HUK's Men's Rogue Wave Shoe is all about. This shoe is machine-washable, has a pull-on enclosure for the sake of convenience, and is completely waterproof. It's designed to hold out against the harshest conditions. Lugs at the bottom hold on to surfaces for a 360-degree grip, minimizing your chances of slipping.
The footbed of the HUK's Men's Rogue Wave Shoe is 8mm thick and is made from rubber and neoprene, guaranteeing dryness in the wettest weather. To make sure they're easy to wear, no matter the circumstances, you have reinforced webbing pull straps for you to hold on to. Now that's an $85 investment worth making, no doubt about it.
PROS:
Very easy in and out
Excellent protection from water
CONS:
A little on the heavy side
Water can come in around the ankles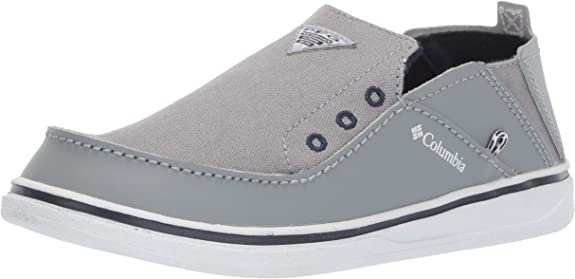 Why we picked them:
If you're into fishing, chances are high you want to bring your kids one day. If you're fishing from a boat a solid grip is essential for the young ones. If you are looking for a high quality pair for kids, look no further than the Columbia Youth PFG Bahama Sandal.
They offer easy access thanks to their slip on mechanism. A high quality rubber sole ensures a solid stance at all times. The Columbia Youth PFG Bahama Sandal comes in two sizes to fit a wide range of age groups for your kids. Available in multiple colours.
PROS:
Quality non-slip rubber sole
Easy slip on mechanism
Why we picked them:
If you're part of the old school (pun intended) you're going to want to take a look at the Top-Sider Men's Billfish from Sperry. This is 100% leather and air mesh with a rubber sole that is both stain and water-resistant. 
I found drying up is a breeze with this one, as the upper panels serve as ventilation, keeping your feet cool so you can fish the whole day. At $99, the Sperry Top-Sider Men's Billfish offers great value for money considering how practical and stylish it is. 
PROS:
Classic boat shoe look
Great anti-slip sole
CONS:
Lacing is a bit tedious
Can get stains
Why we picked them:
Grundens had both comfort and durability in mind when creating the Grundens Freeboard Leather Chukka. You've got a siped natural gum rubber outsole, a full-grain leather upper, and a rubber freeboard overlay to keep water out. 
You don't have to worry about sweat building up on your feet, thanks to the air mesh lining material and wet surfaces shouldn't scare you either. In my eyes, you don't even have to change your shoes after a day of fishing because the Grundens Freeboard Leather Chukka is so stylish, you can wear them anywhere.
PROS:
Very robust built
Excellent sole
CONS:
A little heavy
Stains can show on the upper leather
Why we picked them:
The Simms Flyweight Wet Wading Shoe has been engineered for movement and freedom, so it isn't the kind you'd wear with thick socks on. The midsoles can manage some heavy impact, meaning they can endure high activity for long periods of time. Light-as-a-feather web lacing lets you buckle up as much as you need to while welded TPU film protects those areas prone to abrasion and the synthetic uppers are paper-light.
What's more, the Simms Flyweight Wet Wading Shoe is compatible with studs, it feels amazing on the feet, and even if they're exposed to water every day, they still manage to keep strong for a long time.
PROS:
Excellent grip
Good for long distance walking
CONS:
No protection around the ankle section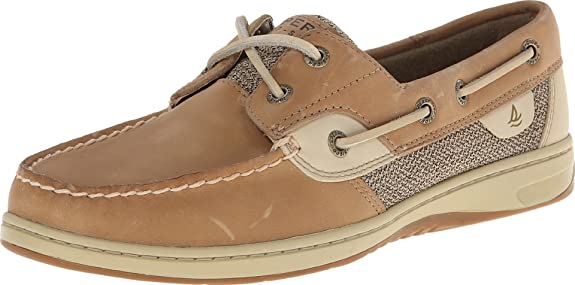 Why we picked them:
Another leather Sperry on the list, this one's a mocc-toe boat shoe, complete with a stain and water-resistant upper that has two-eyelet lacing and a slotted collar. 
If we're talking fishing shoes for women, the Sperry Women's Bluefish Boat Shoe is sufficiently functional, although they also offer a lot in terms of versatility. This shoe will pretty much match any outfit and the padded tongue serves as a great fashion statement.
PROS:
Traditional looks
Good ventilation
CONS:
Lacing does not provide a huge degree of stability
Conclusion
And there you have it, a list of every fishing shoe worth knowing about. It would do you well to take into consideration your unique needs and preferences as you go through this list. You don't want to be pushed into buying something that won't work for you and you need to think about just how easy it is to get the shoes on and off. You've got to think about how much you're willing to spend and how often you're going to go out fishing. 
At least, you don't have to compare all the different kinds of shoes for fishing out there. We've done the leg work for you. 
By now, you should have an idea of what you're looking for and why such a shoe is ideal for you. With so much gear involved in fishing and so much to keep in mind, you'll do well to tick fishing shoes off your list. See if you can make the right pick now that you know what your best options are.
Best Shoes for Fishing: FAQs
What Kind of Shoes do Fishermen Wear?
When fishing, you need shoes that have durable cushioning. This will mean less stress and pressure on your feet, which will make for a more comfortable fishing experience. From foam cushioning to EVA foam material, there is no shortage of ways manufacturers will cushion these shoes, and that should tell you just how big of a deal it is.
Traction is another feature that needs to be taken into account when buying shoes. Slime and mud are a recipe for a disaster when fishing, so shoes with a good amount of grip are a must for anyone involved in fishing. Choose any old shoes and they might leave marks on your boat, so you'll want to go for the non-marking shoes with good quality outer soles.
Also, good fishing shoes should have an efficient way to get rid of water. They should have drains at the bottom and mesh at the top to let the air through. This will help you dry your feet faster so you can get back to having a good time.
If you're a regular angler, you'll want to be able to keep substances at bay too. From blood and other bodily fluids to fish intestines, you need to make sure you're protected from it all. You want to go the synthetic fiber route on this one, synthetic fibers are ideal for keeping not only stains but smells at bay too. At the very least, the shoes ought to be machine-washable.
When dealing with live animals, speed is often appreciated. That's why a fisherman's shoe will be easier to fasten, put on, or take off. Heavy lacing is something you shouldn't expect from an angler's shoe, mistakes with lacing can result in tripping and falling to the floor; something which can prove fatal on a boat or out on the water.     
What else can you use Fishing Shoes for?
You want to make sure you get the most out of your purchase. What better way to do that than by finding more ways you can make use of it? There are so many outdoor activities you can enjoy with your shoes. You can go hiking, jet skiing, camping; whatever your sense of adventure craves.
Anyone on the move or people that take part in a lot of activities will feel right at home in a pair of shoes for fishing, including athletes, tourists, and even dog walkers. If you own a boat or you know anybody that does; that's a great excuse to get yourself a pair or two. 
Are Crocs Good for Fishing?
Crocs are comfortable, they've got great shock absorption qualities, and they're easy to clean. However, they also have a loose fit, do not have enough heel support, and they're not ideal for people with narrow feet. 
While your feet will stay in place, the Crocs won't absorb any water. But, they don't feel heavy, as large and clumsy as they look. Still, they're just not built for the kind of challenges one might face while fishing, so it's best to just go for shoes that are designed for fishing. 
Do I need Shoes on a Boat? 
You may think that because you do your fishing behind the deck of a boat, that your feet are safe. As long as they don't get close enough to bite your toes, you're in good shape, right? While boats have non-skid surfaces to protect you from slipping, you still need shoes to protect the flesh on your feet from all kinds of danger. If you go fishing barefoot, you won't be far into your fishing expedition before you sustain a foot injury, you can bet on that.
Are Hiking Shoes Good for Fishing?
Most people assume that because hiking is an outdoor activity then hiking shoes must surely be suitable for fishing. But this is not exactly the case. 
Sure, hiking boots give you the structural support you need, they've got some good grip on them, and a lot of them are even insulated so your feet don't get cold. But, fishing shoes are in their own league entirely. You need something that can last an entire day in the water, something with maximum breathability. Hiking boots just don't provide that to you.
To be on the safe side, just get yourself a pair of shoes that were designed for fishing. Instead of using your hiking boots for fishing, you can use your shoes for hiking. After all, if they can go through an entire day on the water; then they can help you scale a mountain without breaking a sweat. 
Read more of our Gear Guides here:
Ultimate Guide: Best Wading Jackets
Buyer's Guide Best Wading Boots
A Guide to the Best Sling Pack
A Guide to the Best Fly Fishing Starter Kits
Notice: We take part in the Amazon Associates Program and earn a small commission at no extra cost for you if you end up making a purchase. We only recommend products we are convinced of and use ourselves. All photos courtesy of amazon.