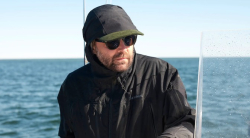 Latest posts by Christian Anwander
(see all)
In the world of angling, the right footwear can make all the difference between an enjoyable day on the water and a frustrating one.
The M's Simms Challenger 7″ Deck Boot is a product that has earned its stripes among avid anglers for its exceptional performance and comfort. In this comprehensive review, we will explore the main specifications and features of this deck boot, sharing my personal experiences with it across various fishing situations. Additionally, we'll highlight the situations where the Simms Challenger Deck Boot truly shines, provide a list of pros and cons, and address some frequently asked questions to help you make an informed decision when choosing your next pair of fishing boots.
Disclaimer: Some of the links in this article are affiliate links. If you click on one of them and end up purchasing a product we earn a small commission at no extra cost for you. We only recommend products we believe in ourselves. Learn more here.
Specifications and Features
Quick overview:
Colors: Black, Grey, Green
Sizes: US 8 – US 15
Price: $129.95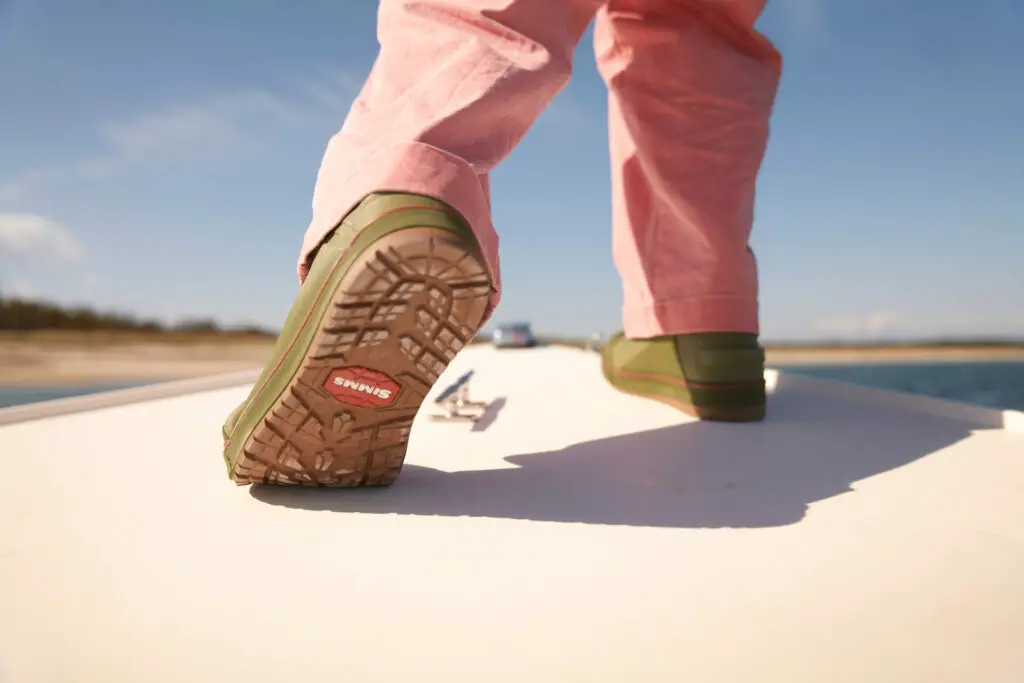 Material: The M's Simms Challenger 7″ Deck Boot is constructed with a durable and waterproof rubber upper. Around the ankles it features a very comfortable neoprene lining that makes sure you won't get any blisters.
Outsole: It features a non-marking rubber outsole with siped lugs for superior traction on wet surfaces. Great thing about this sole is the fact that it almost wears like a hiking boot off the boat. We found it to be very comfortable to walk around in the Simms Challenger all day.
Closure: It's very easy to slip the boot on and off thanks to the little loop at the heel. In fact we found it so comfortable that we started wearing it all day, no matter whether it was around town or when heading out to fish.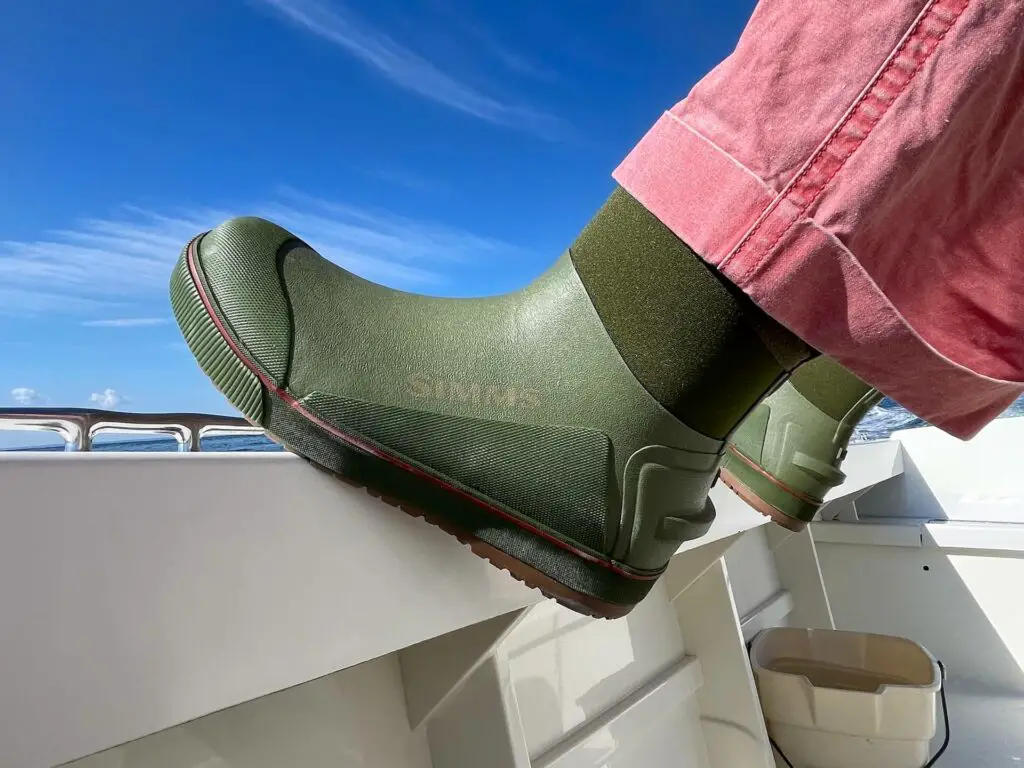 Comfort: With a cushioned midsole and padded collar, it provides all-day comfort for long hours on the water. I was surprised about the degree of stability the boot offered despite not featuring a lacing system.
Protection: The boot offers good ankle support and protection from water intrusion, making it suitable for various fishing environments. Around the toes and the heel, the Challenger features reinforced parts for extra abrasion resistance.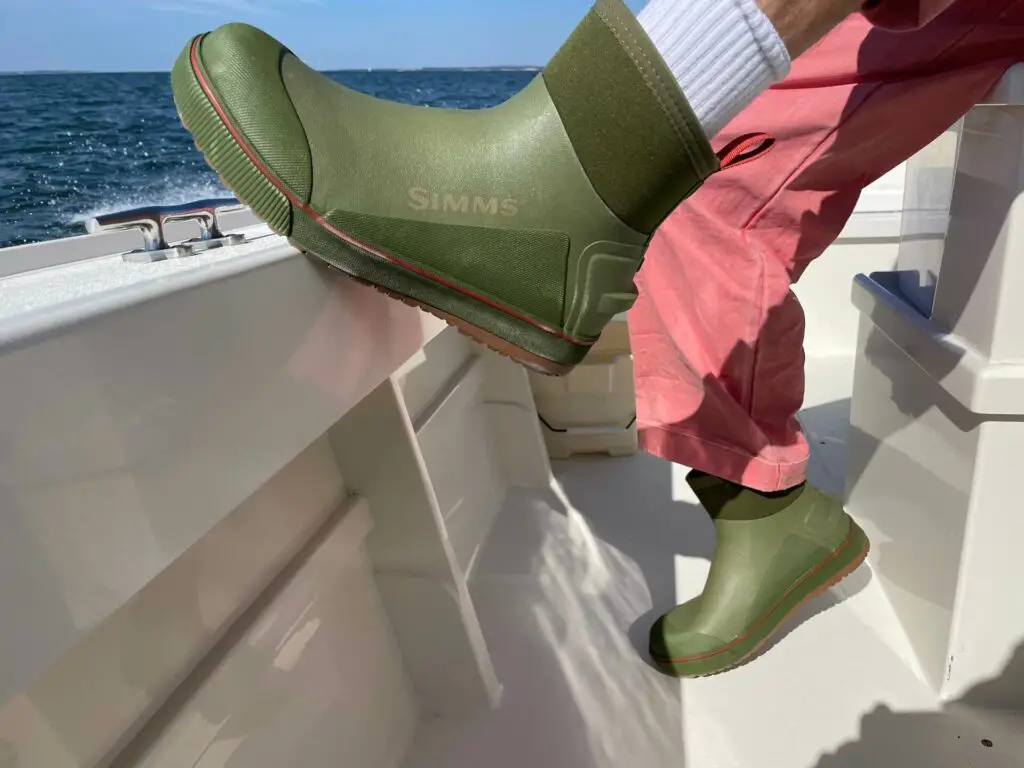 Personal Experience with the Simms Challenger Deck Boots
As an avid angler, I've had the opportunity to put the M's Simms Challenger 7″ Deck Boot to the test in a variety of fishing situations. From the first time I slipped them on, I was impressed by their comfort and snug fit. Here's why I believe these boots are a great addition to any angler's gear arsenal:
Fishing Situations where the Simms Challenger Deck Boot Shines
Boat Fishing: These boots are perfect for boat anglers. The non-marking rubber outsole provides excellent grip on wet decks, ensuring stability while maneuvering around the boat.
Kayak Fishing: The lightweight design and ankle support make these boots ideal for kayak fishing. They kept my feet dry and comfortable, even in splashy conditions.
Wading: While probably not the environment they were first made for, you can also use the Challenger Deck Boot for wading in shallow water to keep your feet protected from debris and provide the traction needed on slippery riverbeds. However, be aware that gravel and sand might come in from around the ankles.
All-Weather Use: This is a use case that I didn't expect from the Challenger Boots. They turned out to be so comfortable off the water, that I kept using them as a daily boot in the country side. The in and out is so easy that you get used to that comfort.
Pros and Cons of the Simmer Challenger Deck Boot
PROS:
Excellent traction on wet surfaces
Very comfortable neoprene lining around the ankles
Easy on and off thanks to the loop at the heel
CONS:
When fly fishing from a boat, we had some instances when the line got tangled around the loop at the heel
Conclusion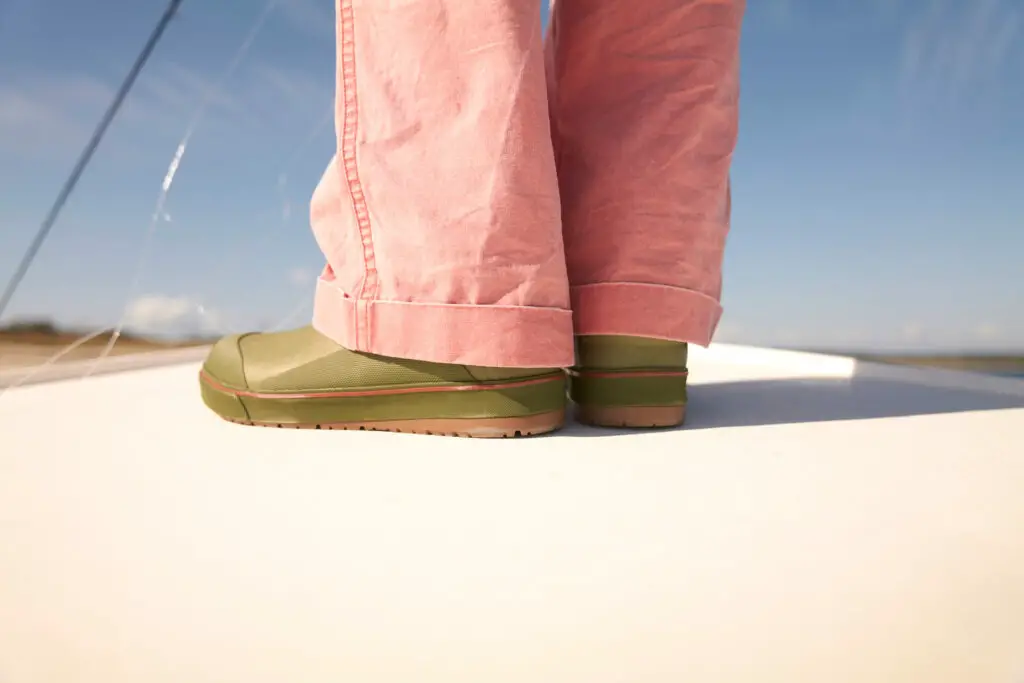 The M's Simms Challenger 7″ Deck Boot has become a trusted companion on my fishing adventures. Its excellent traction, comfort, and versatility make it a valuable addition to any angler's gear collection. Whether you're on a boat, kayak, or wading in a river, these boots offer the protection and support needed to enjoy your time on the water.
FAQs
Are the Simms Challenger Deck Boots true to size?
Yes, these boots are generally true to size. However, it's recommended to consult the Simms sizing chart for the most accurate fit.
Can these boots be used for saltwater fishing?
Absolutely. The non-marking rubber outsole and waterproof construction make them suitable for saltwater fishing environments. Please make sure to rinse them afterwards since the salt is aggressive towards the rubber.
Do these boots have drainage ports to release water?
While these boots do not have specific drainage ports, the synthetic leather upper and quick-drying materials help to shed water and keep your feet dry.
Can I wear these boots without socks?
While you can wear them without socks, it's advisable to wear moisture-wicking socks for added comfort and to prevent potential chafing.
How do I clean and maintain the Challenger Deck Boots?
To clean these boots, simply rinse off any dirt or saltwater with freshwater after use. Allow them to air dry, and store them in a cool, dry place. Avoid prolonged exposure to direct sunlight and extreme heat.