Last updated on September 4th, 2023.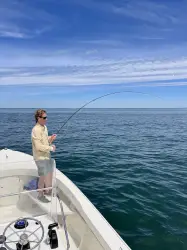 Latest posts by Leonard Schoenberger
(see all)
With the Swiftcurrent line, Patagonia adds a new top tier to its waders. Here is our verdict.
Patagonia Swiftcurrent Waders Review: The Idea behind the New Waders
With its new model, Patagonia tries to improve several aspects of its flagship wader. They promise a better fit giving you more mobility. A higher durability means you can use them in tougher environments. The new adjustable, quick release suspender system enables a conversion from chest to waist high.
They have also reworked the zipped handwarmer pockets and anatomical booties with the intention of a better fit inside your wading boot. That is not an easy task as you might know from experience.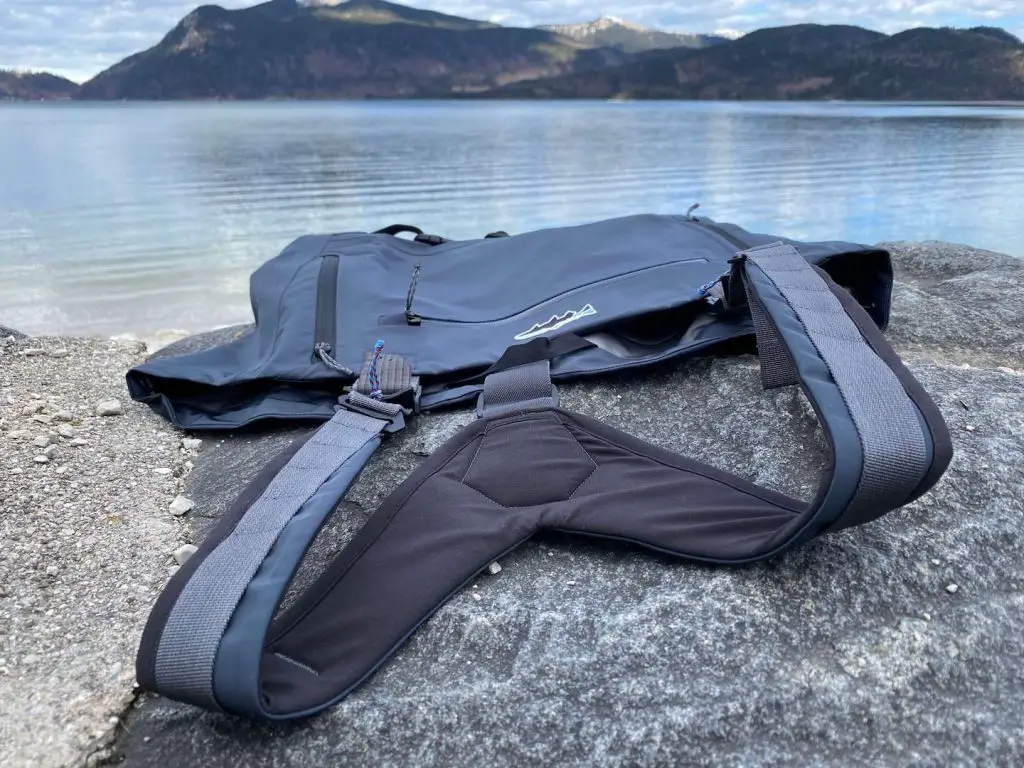 The Swiftcurrent waders, that come in a subtle blue and gray, are made from Patagonia's new 4-layer polyester microfiber. Like other manufacturers, for example the new Simms G4 Pro Wader, Patagonia uses two different degrees of layering.
Above the waist the new waders feature a lighter (6.6.-oz) material that promises weight reduction and an increase in breathability. The lower sections are made from a heavier fabric (9.4-oz) that can weather punctures and abrasion.
The legs also feature a new single seam technology that Patagonia compares to a baseball. The seam runs across the leg and avoids the inside of the knee for example, a neuralgic spot for leaks due to increased abrasion from walking.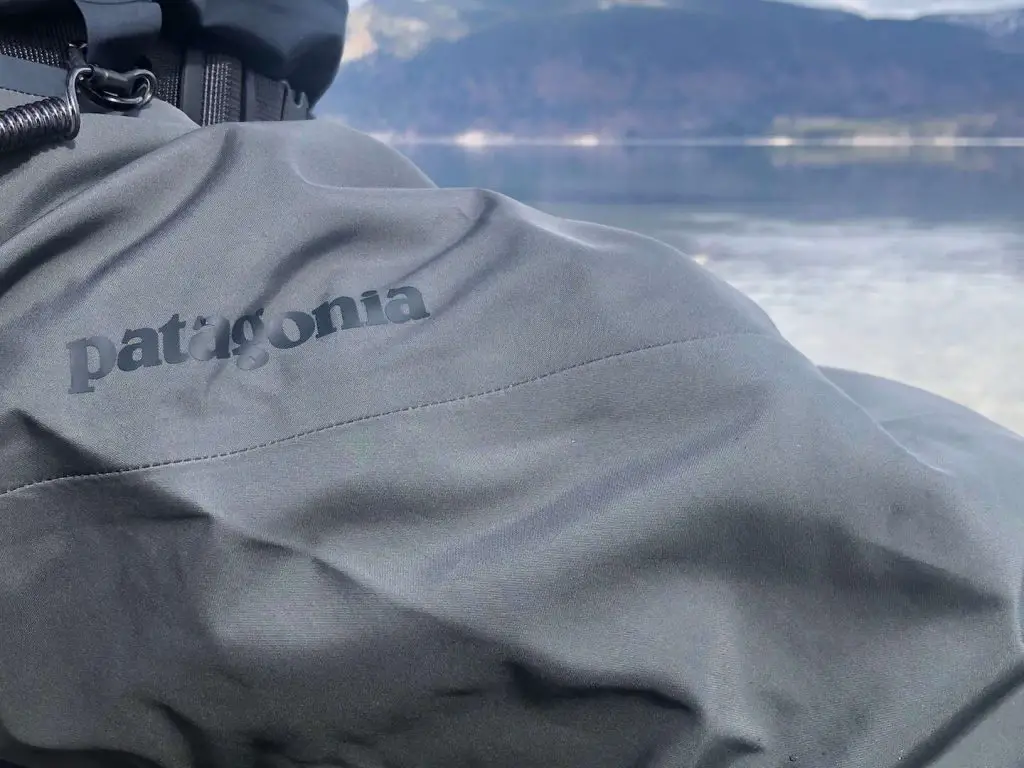 The inside of the ankle area is also reinforced with heavy-duty scuff guards similar to skiing pants.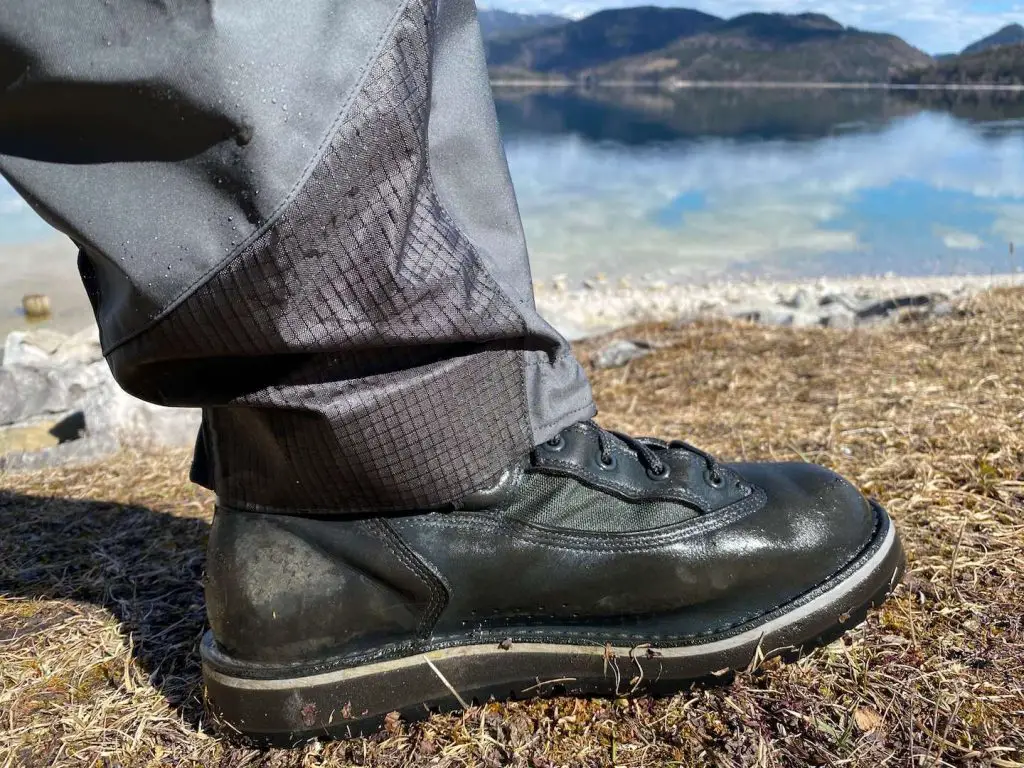 The new suspender system
The one thing that really struck me as different in the new Patagonia Swiftcurrent Expedition is the suspender system. I always felt that other brands had more advanced and comfortable suspender systems than Patagonia. Fly fishermen that don't fish many hours on a fishing day might argue that this is not the most important feature in a pair of waders.
However, anybody who has experienced a great suspender system – such as in the Simms G4 Pro Wader and G3 Guide waders – knows how much of a difference it can make in terms of comfort on a long day.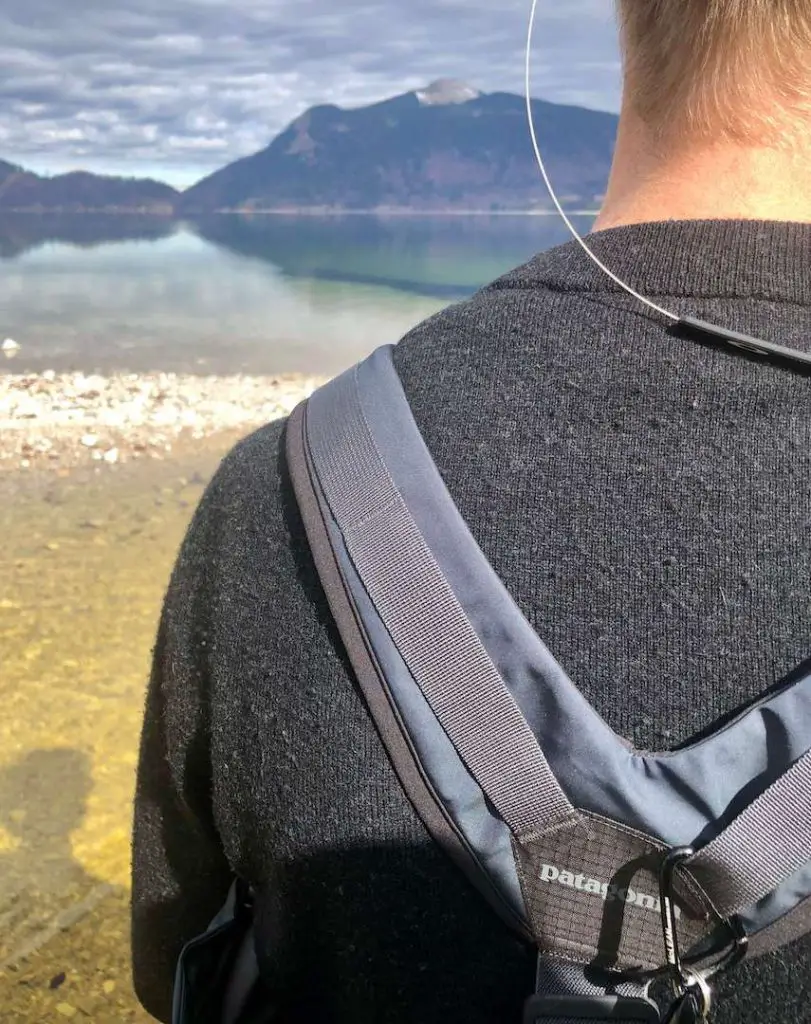 Thanks to the padding the suspenders feel more like a good backpack. They also feature loops on top of the straps to attach gear such as a wading net (as seen in the picture above).
On the front they have a fully adjustable, quick-release suspender system enabling a conversion from chest to waist height quickly and easily. This is a handy feature on hot summer days when no deep wading is required.
Patagonia Swiftcurrent Expedition Waders Review: the Fit
The Swiftcurrent waders feel like Patagonia waders. If you have used them in the past you will recognize their fit. Although Patagonia has reworked the shape of their waders in recent years to make them a little slimmer, they still have a more relaxed fit than Simms waders for example.
In the end it's a matter of your personal preference. If you like a bit more room for movement, the Patagonia Swiftcurrent are a good choice for you. The integrated knee pads also add to the comfort of wearing these waders all day.
In the end it's a matter of your personal preference. If you like a bit more room for movement, the Patagonia Swiftcurrent waders are a good choice for you. The integrated knee pads also add to the comfort of wearing these waders all day. The anatomical left and right booties now have a lower volume and a fit that resembles a pair of socks to increase the comfort of your foot.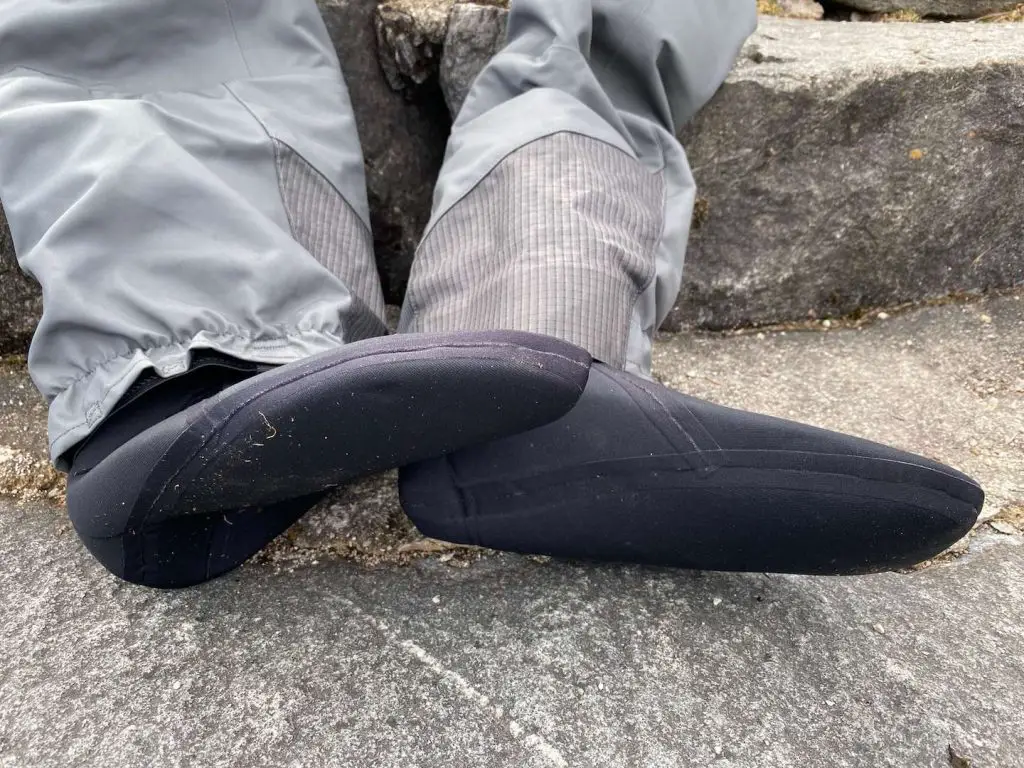 Features of the new Waders
Since the Swiftcurrent waders are the new flagship of Patagonia's wader collection you expect all the features of a top pair of wading pants.
The interior organization features a waterproof flip-out pocket for things that need to be kept save from water like your fishing license. Two drop-in stretch pockets hold extra gear and two internal daisy chains are options to attach your tools.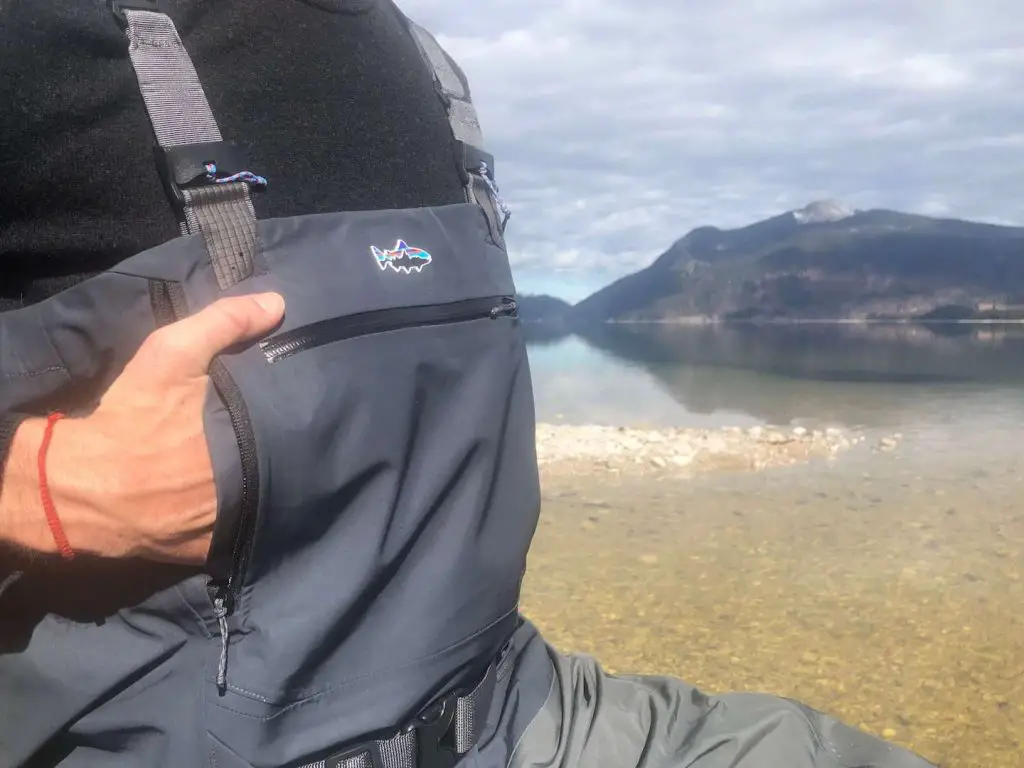 The exterior of the Patagonia Swiftcurrent waders features reach-through fleece-lined hand warmer pockets that can save you on a cold day. The chest part also contains a big front pocket to store extra gear like tippets and fly boxes.
The waders are available in different options. The model we tested is called Swiftcurrent Expedition. For fly fishermen who wish for a bit of extra comfort there is the Zip-Front version of the Swiftcurrent Expedition waders feature a waterproof front zipper for easier access.
As mentioned above the new suspender system enables a quick conversion from waist to chest high. If you prefer a waist high pair of waders altogether you can opt for the new Swiftcurrent Wading Pants which are a great option for warmer days.
Patagonia has also increased the range of sizes for its new Swiftcurrent line. You can now choose from a multitude of different options customizing your waders in terms of girth, inseam and shoe size.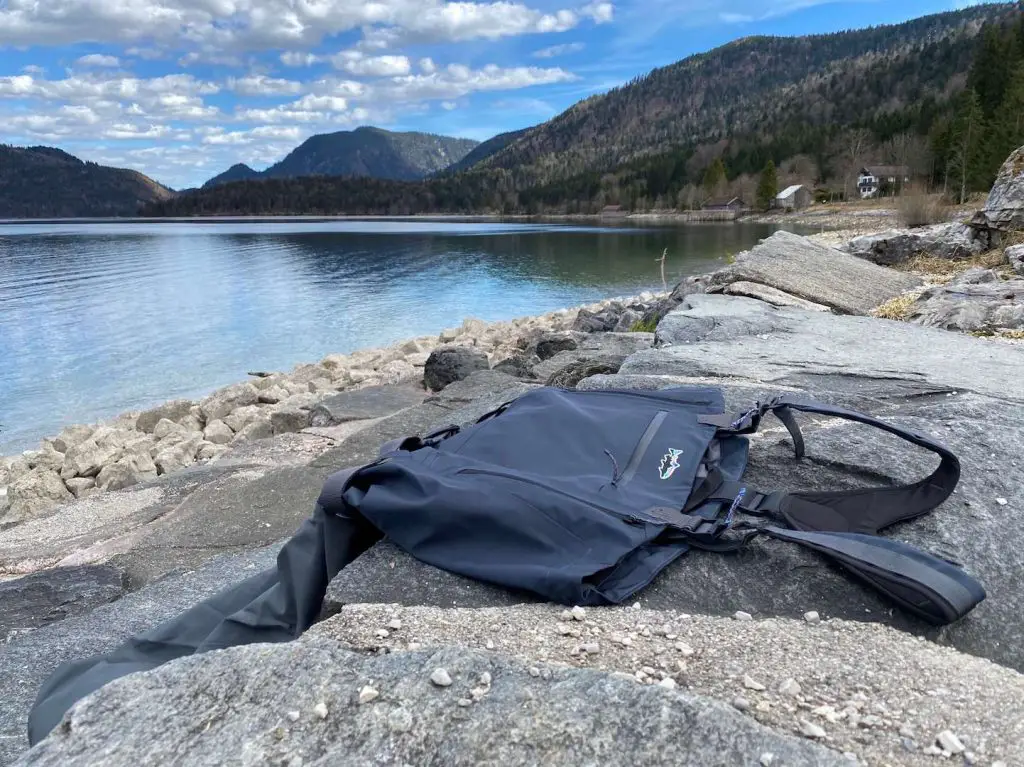 Notice: We take part in affiliate programs. If you click on one of the links in the text and end up purchasing a product we earn a small commission at no extra cost for you. We only recommend products we are convinced of.