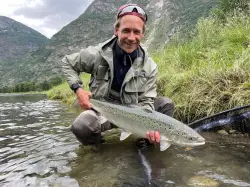 Latest posts by Leonard Schoenberger
(see all)
Wading through waters requires footwear that offers both stability and comfort.
With countless options available in the market, Redington's name often stands out. In this review, we delve deep into the Redington M's Benchmark Boots, understanding its design, specs, and features. Furthermore, we'll also draw comparisons with other boots in the Redington range to help you make an informed decision.
Specifications & Features of the M's Benchmark Boots
Sole options: Felt and rubber, studs available
Sizes: US 8 to US 13
Lightweight Mesh Fabric
Price: USD 119.99
Disclaimer: Some of the links in this article are affiliate links. If you click on one of them and end up purchasing a product we earn a small commission at no extra cost for you. We only recommend products we believe in ourselves. Learn more here.
Material & Build
Constructed from high-quality synthetic materials, the Benchmark boots ensure durability while keeping the weight at a minimum. The reinforced toe cap is a welcome feature, protecting your toes from unseen underwater obstacles and adding longevity to the boot's life.
Shape & Design
These boots showcase a classic wading boot design, ensuring a snug fit and providing adequate ankle support. The ankle padding not only makes them comfortable for prolonged use but also reduces the chances of any sprains or injuries.
Sole Options
The M's Benchmark Boots offer both felt and rubber sole options. Depending on the type of water body and terrains you frequent, you can make your pick. Felt soles are known for providing excellent traction on slippery rocks and underwater surfaces, while rubber soles are versatile, suitable for various terrains, and are often more durable.
Drainage System
One of the standout features of these boots is the mesh-panelled drainage ports. These ensure that any water that enters the boot is quickly drained out, keeping your feet relatively dry and making your treks in and out of the water hassle-free.
Comparative Analysis with Other Redington Boots
M's Forge Boots
Material & Build: The Forge Boots utilize a wide sole design, providing extra stability when wading through challenging terrains. Similar to the Benchmark boots, they too feature a reinforced toe cap. However, the Forge Boots come with an added padded collar for enhanced ankle support.
Sole Options: The Forge Boots come the same sole options as the Benchmark.
Verdict: If you're looking for added stability and regularly wade through uneven terrains, the Forge Boots, with their wide sole design, may be the better pick. On the downside, the wider sole decreases light-footed movements.
M's Prowler-Pro Boots
Material & Build: The Prowler-Pro Boots take durability to the next level. Constructed from molded TPU skid plates, these boots offer excellent protection against underwater debris and sharp rocks.
Sole Options: Like the Benchmark Boots, the Prowler-Pro also provides both sticky rubber and felt sole options.
Special Features: What sets the Prowler-Pro Boots apart is overall tougher built which you can feel particularly on rougher, rockier terrain.
Verdict: For those who are looking for top-tier durability and ultimate ankle support, the Prowler-Pro Boots are an excellent choice. However, they might be overkill for casual waders or those on a tighter budget.
Make sure to read our "Guide to the Best Wading Boots" if you want to compare the Benchmark to other wading boots out there.
The Verdict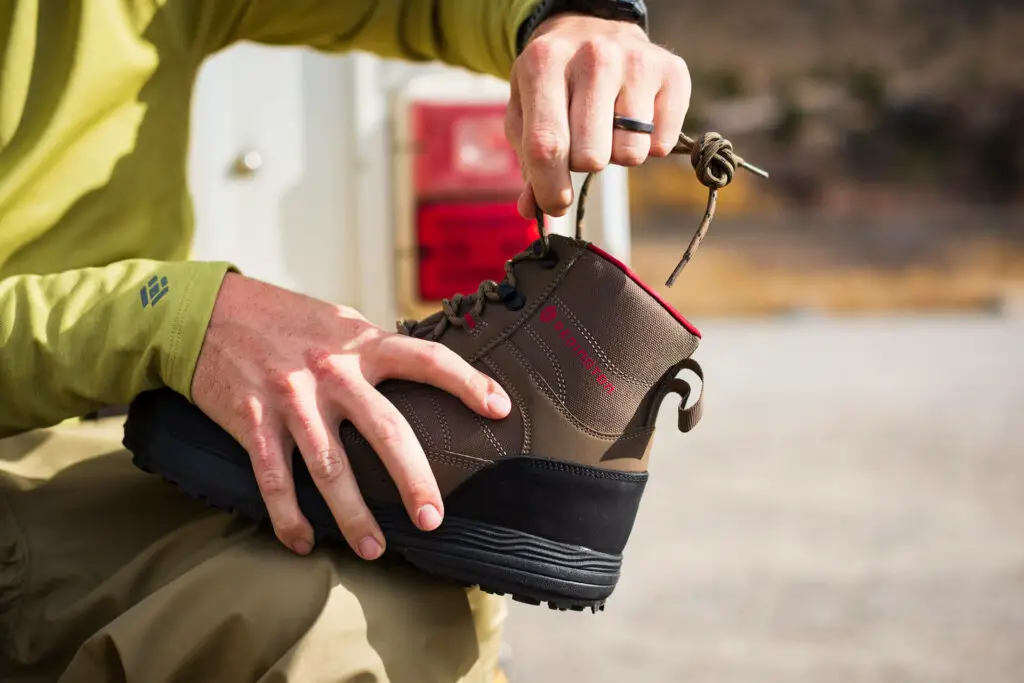 The Redington M's Benchmark Boots are an excellent middle-ground option, balancing features, durability, and cost. While they might not have the overall toughness of the Prowler-Pro or the wide sole design of the Forge, they are versatile, comfortable, and offer the choice of both rubber and felt soles.
PROS:
Excellent value for money
Multiple sole options
Quick drying fabric
CONS:
The only downside during our test was the somewhat limited ankle support (only when compared to the Prowler Pro though)
FAQs: Redington Benchmark Wading Boots
Are the M's Benchmark Boots true to size?
Yes, the boots generally run true to size. However, it's advisable to consider the thickness of your wading socks when choosing a size.
How do the Benchmark Boots fare in saltwater conditions?
The boots are designed to handle various terrains and water types, including saltwater. However, always rinse them thoroughly with freshwater after exposure to saltwater to enhance their lifespan.
Is there a warranty on these boots?
Redington products usually come with a warranty. It's best to check with the seller or the official Redington website for specific warranty details pertaining to the Benchmark Boots.