Womens wading boots are crucial to have fun at the water. Here are the best money can buy.
The days when women had to wear men's wading boots are luckily over. The major manufacturers have taken notice that fly fishing is becoming ever more popular amongst women.
To have fun at the water, a good wading boot is crucial. It can prevent you from slipping and it can make you reach places a bad wading boot won't. In this guide we'll give you an overview of the best options. We will also explain what you should look for in general when buying a new pair of wading boots: material, sole and fit. Let's go.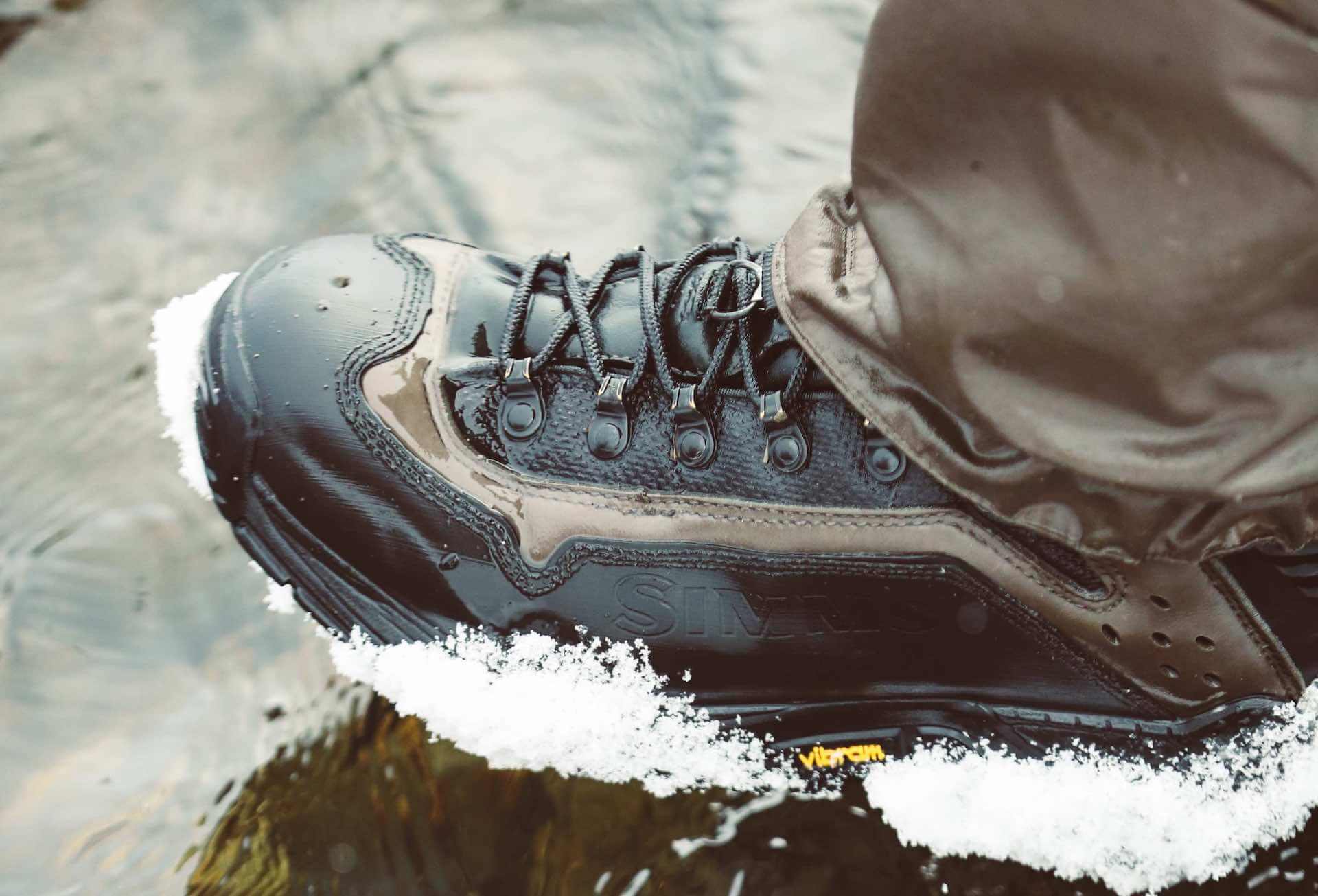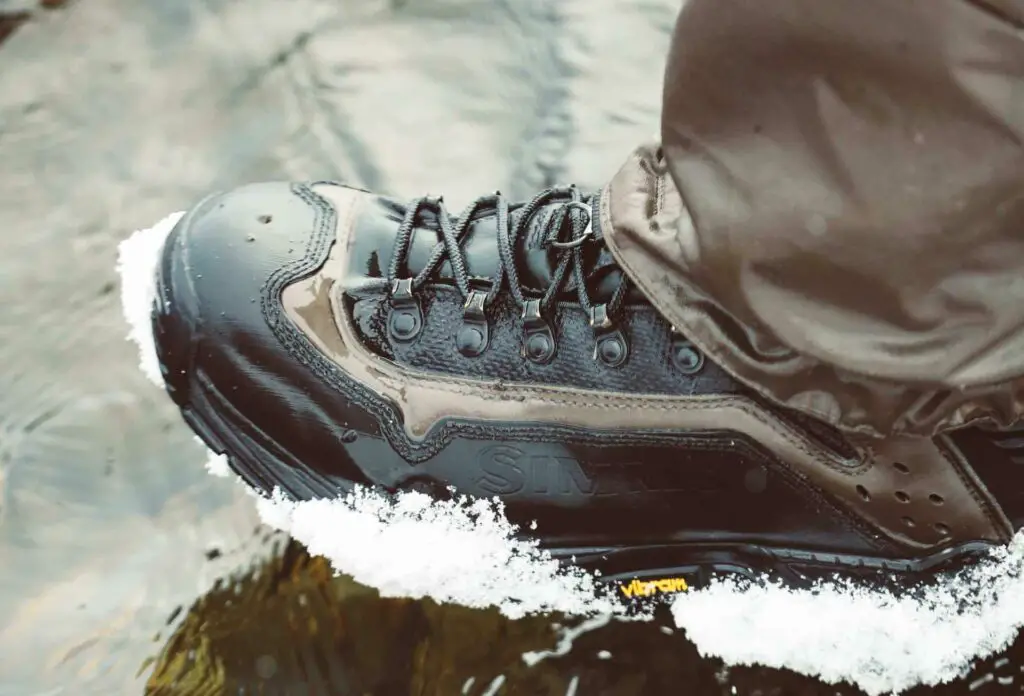 Simms realised that more and more women are getting into fly fishing and is hence offering a second wading boot specifically designed towards the female angler.
The Simms Women's Flyweight Wading Boot offers the utmost in lightweight which makes it the ideal choice for long days on the wader when you know you'll be wading a lot. The reduced weight makes the Simms Women's Flyweight Wading Boot feel almost like a hiking boot. The narrower fit caters to women's feet and the high-cushion midsole increase comfort.
The Simms Women's Flyweight Wading Boot features a Vibram sole. If you want the ultimate traction you can add cleats. Out of the box the Vibram sole works well already on slippy surfaces.
The Best Womens Wading Boots on the Market
Apart from Patagonia, all the big fly fishing brands have fishing boots for women in their lineup nowadays. Here is our Top 5.
The Orvis Women's Ultralight is a wading boot for women that leaves nothing to be desired. As the name suggests it's a great choice for long days on the water as it weights in at only 2.78 pounds (1.25kg).
It's quick drying microfiber makes sure your wading boots don't stay wet for long. The Orvis Women's Ultralight features a vibram sole, well known to be one of the best on the market. The fact that the Orvis Ultralight's shaft is not too high, makes it a great choice if you move around a lot during a day of fishing. It almost feels a bit like a hiking boot.
If you want the extra bit of grip out of your Orvis Women's Ultralight, you can add some studds. They come in handy when you do a lot of wading on slippery surfaces such as stones overgrown with algae.
The Redington Womens Willow River is an excellent choice for a pair of fishing boots for women if your budget is limited. This boot comes at less than $100 and you can get it with a felt sole as well.
The Redington Womens Willow River has a form specifically designed for the woman angler. At 2.9 pounds (1.3kg) it is only marginally heavier than the Orvis Ultralight. Its shaft is a little higher though giving you an extra bit of stability.
Depending on your preferences you can add studs to the sole for extra grip. The webbing pull loops at the front lace make putting the Redington Womens Willow River on and taking it off easy.
The brand Korkers has really innovated fly fishing boots over the past years. Their Korkers Women's feature their unique sole system as well.
With the Korkers Women's you don't have to choose between rubber and felt soles when buying a pair of wading boots. The Omnitrax Interchangeable Sole System offers you two solutions in one boot.
On top of that revolutionary sole system the Korkers Women's features light weight material ensuring your boots dry quickly. The unique sole system makes the Korkers a little heavier than its competitors but at 3.9 pounds (1.75kg) the boots can still easily be worn all day.
The American manufacturer Simms is known to make some of the best fly fishing gear in the industry. Their Freestone Wading Boot is no exception to this rule.
Simms gave their Simms Women's Freestone a women's specific shape and extra comfort with a high-cushion midsole. Like the other models in our review they feature a thick rubber cap over the toes for abrasion resistance.
The Freestone Fishing Boots for women are available with felt soles (as pictured above) or rubber soles depending on your preference.
The Hodgman Womens H3 Felt Wade Boot is another great wading boot for smaller budgets also coming in at less than $100. It features and abrasion resistant hydrophobic upper construction with mesh outlets to accelerate drainage.
The Hodgman Womens H3 Felt Wade Boot also has a reinforced toe cap for increased durability. So if you are looking for an affordable wading boot with a great felt sole the Hodgman is an excellent choice.
Conclusion
Wading boots are one of the most important parts of your equipment when you want to have a good day on the water. You shouldn't worry about a solid stance. Hence it's worth to invest a bit of money into a quality pair of wading boots. You can't to wrong with any of the fishing boots for women we reviewed above. Here are a few things to pay attention to:
Sole of a Wading Boot – Felt vs. Rubber Soles
The general question you have to answer first is felt sole or rubber sole (you don't have to answer that question if you go for the Korkers with their interchangeable sole system).
Generally speaking you can say that rubber soles give you extra comfort when you do a bit of walking getting to and from your fishing location. Felt on the other hand is the better option on slippery surfaces such as river beds with rocks covered with algae.
No matter whether you opt for felt soles or rubber soles you can always add cleats/studs to your wading boots. They give you more traction and stability. The only downside of them is that you have to be careful off the river, for example when stepping into a fly store.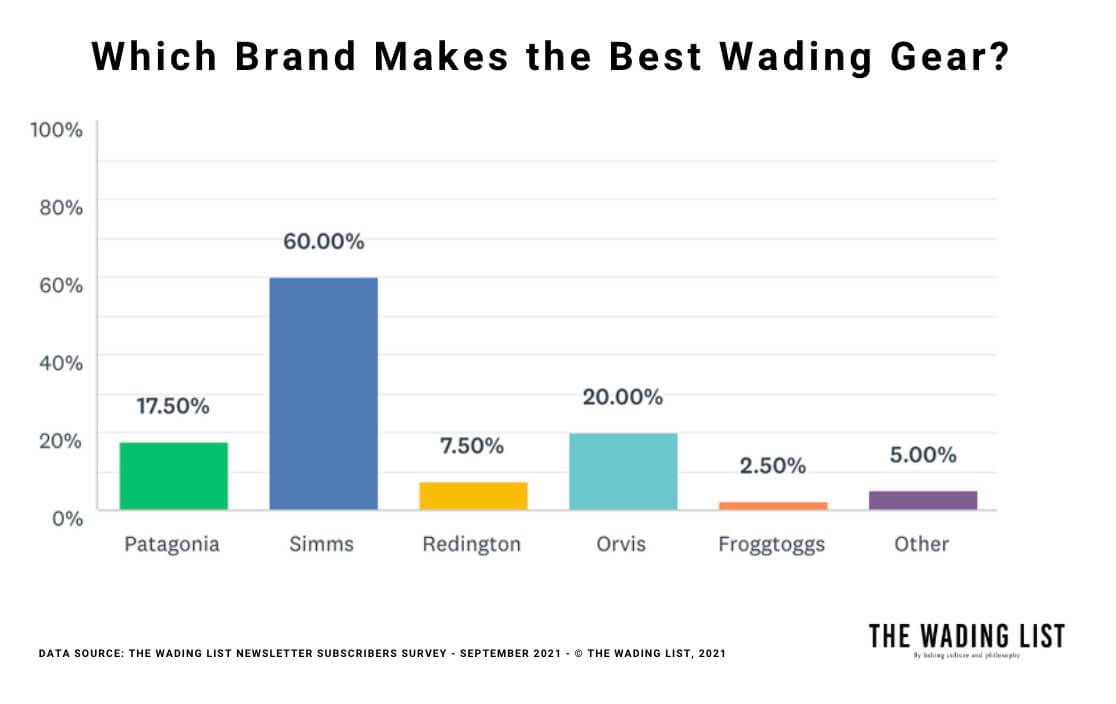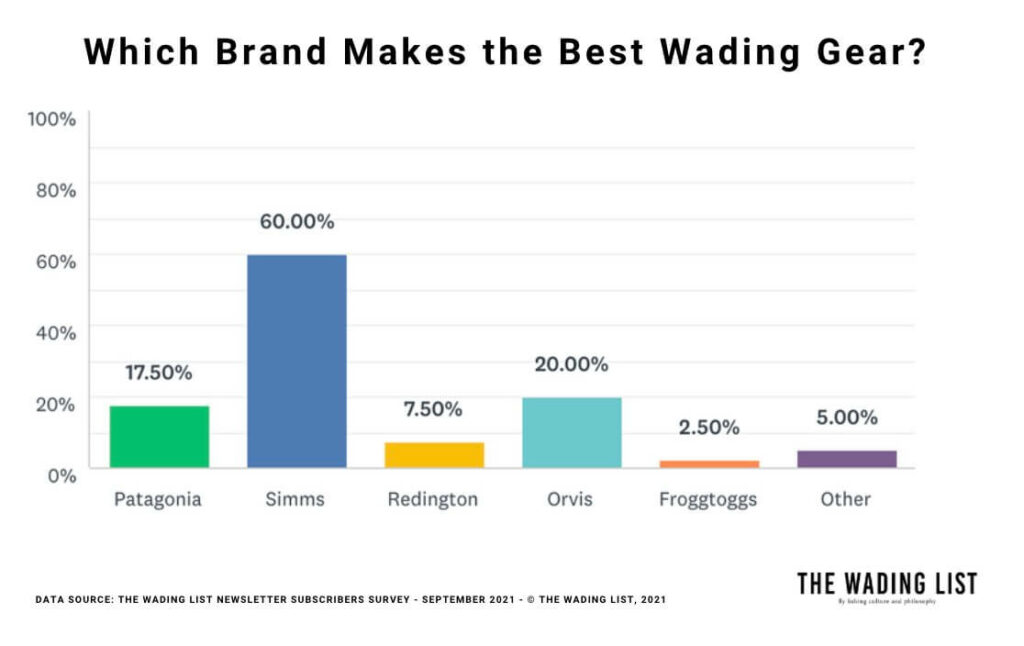 Weight
The shape and built of your wading boots has an influence on its weight. If you prefer a really light boot you should go for one with a lower shaft such as the Orvis Women's Ultralight Wading Boot. If you want increased stability and sturdiness a product such as the Simms Women's Freestone is the way to go. They are basically indestructible and will last you for years.
Taking Care of your Wading Boots
The most important thing to make your wading boots last longer is to dry them properly after every use. Make sure they are completely dry before storing them for longer periods. If they are still wet they can mould.
Korkers Women's Buckskin...
Redington Women's Willow...
Orvis Women's Ultralight...
Simms Women's Freestone...
Korkers Women's Buckskin...
Redington Women's Willow...
Orvis Women's Ultralight...
Simms Women's Freestone...
Last update on 2021-10-25 / Affiliate links / Images from Amazon Product Advertising API
Read more about wading gear here:
PATAGONIA SWIFTCURRENT EXPEDITION WADERS – 2020 REVIEW
REVIEW: A SEASON WITH PATAGONIA'S DANNER BOOTS
Notice: All images courtesy of amazon. If you click on one of the links in this article and end up purchasing a product we earn a small commission at no extra cost for you. Thank you! All images amazon unless otherwise noted.