Last updated on September 2nd, 2023.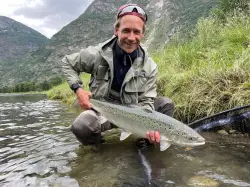 Latest posts by Leonard Schoenberger
(see all)
Can Simms' new wading boot live up to the expectations? We've put it to the test.
Spring is always the time that fly fishing brands release their new gear as fly fishermen and women around the globe are excited to head back to their favorite river or stream.
This year, one of the most highly anticipated products was Simms' new wading boot: the Simms G4 Pro Powerlock. That is for two reasons mainly: with it, the Bozeman, Montana, based manufacturer introduces its new Powerlock system that promises a new level of grip on slippery surfaces. And, from my experience at least, there has never been a Simms wading boot with a higher price tag. We've put it to the test and tell you whether it can live up to the expectations. 
A little word on the importance of wading boots upfront: Wading boots are one of the most important pieces of gear when fly fishing, as they provide essential support and traction when wading through streams, rivers, and lakes. These boots are designed to provide a secure grip on slippery rocks and riverbeds, reducing the risk of slips, falls, and other injuries. They are also designed to provide comfort and protection for anglers who spend long hours on their feet, allowing them to fish in a variety of environments and conditions. A good pair of wading boots can make all the difference in terms of safety, comfort, and performance when fly fishing. Now let's take a closer look at the new Simms G4 Pro Powerlock wading boot.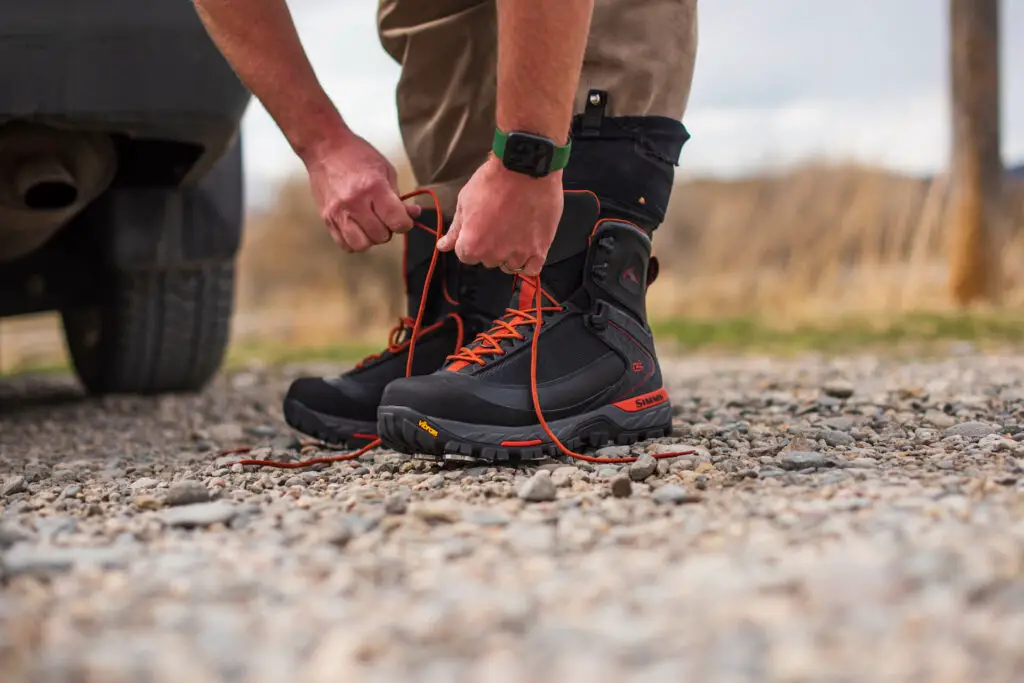 Disclaimer: All products in this guide are independently researched by our team. We only recommend products we believe in and never get paid for the reviews. Learn more about our review process here.
Design and Construction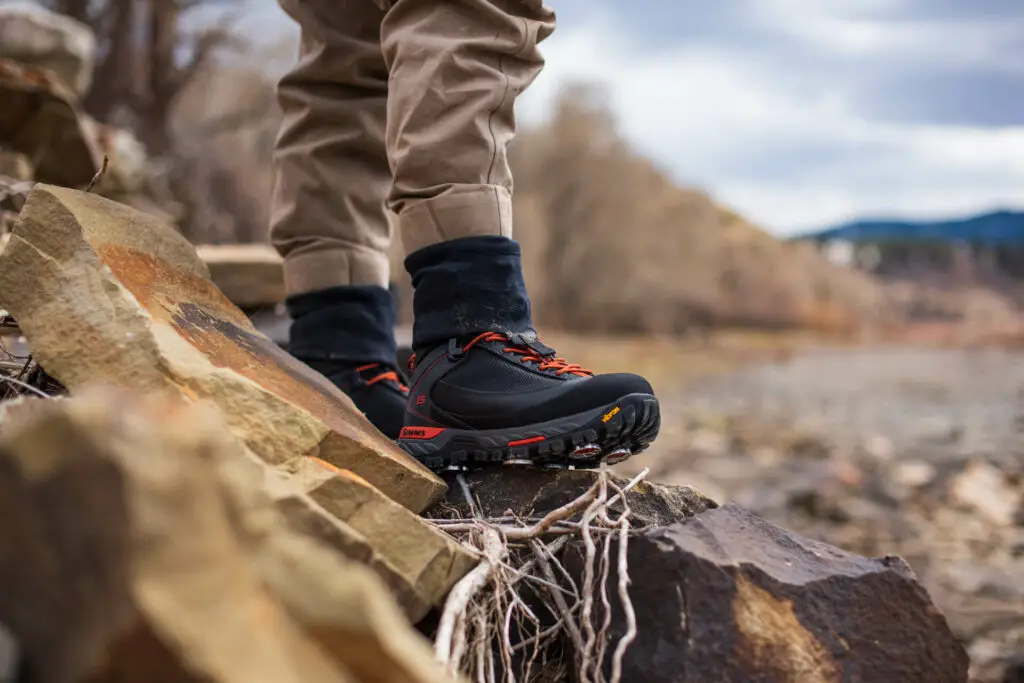 The Simms G4 Pro Powerlock Wading Boots is designed to withstand the toughest conditions, making it an ideal choice if you're often fishing in challenging environments. The boot features a high-quality Vibram sole that provides excellent traction on both wet and dry surfaces, minimizing the risk of slips and falls. The sole is also designed to minimize the build-up of debris, ensuring that anglers can maintain a secure grip throughout their fishing session. Compared to the Simms Flyweight Access boot that we tested last year, the Simms G4 Pro feels much more sturdy particularly around the ankles. And although the flyweight access features a Vibram sole as well, the one on the Simms G4 Pro is a lot thicker and provides more cushioning (which you will appreciate if you fish rocky areas like we did during our test – see photo above).
The Simms G4 Pro is constructed from durable synthetic materials that are resistant to abrasions, providing excellent durability and long-lasting performance (if you're more of a fan of leather upper, make sure to check out the G3 Guide Boot. The neoprene lining offers exceptional warmth and comfort, allowing you to fish in cold conditions for extended periods without experiencing discomfort. Again here, from my experience, the thick neoprene lining provides an extra degree of stability around the ankles making this boot an excellent choice if you're fishing all year round. Only downside in this context that I've discovered, is the fact that these boots tend to get quite warm on hot days. But as an all-year round wading boot they do an excellent job.
PowerLock System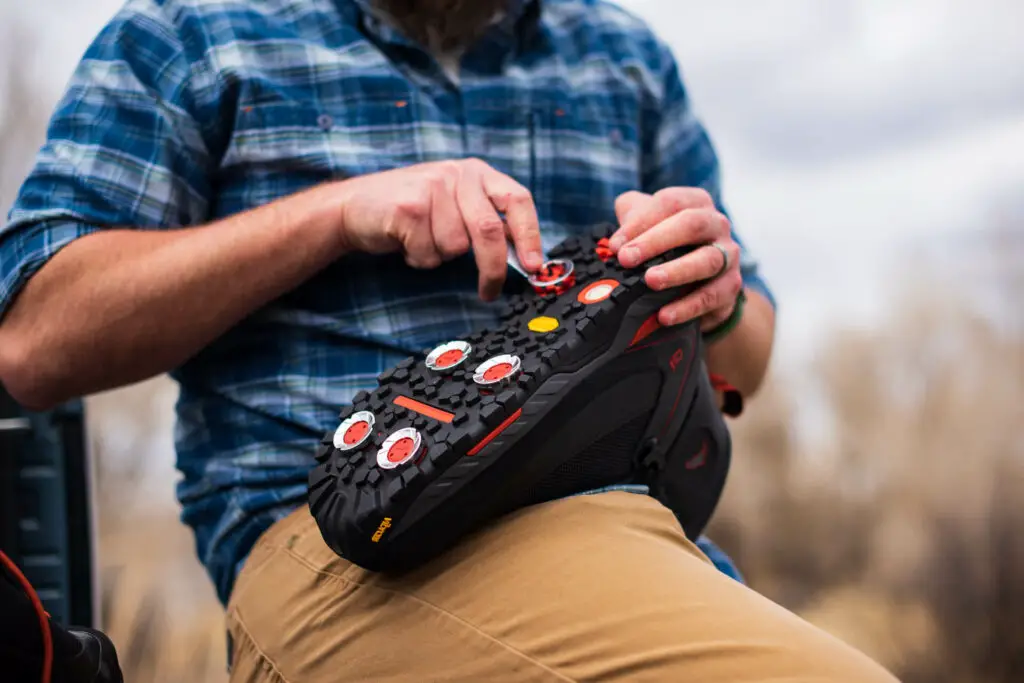 As we're used to from Simms, you can choose between a vibram sole (pictured above) and a felt sole. In my eyes, (Vibram) rubber soles are the best allrounders when it comes to wading boot soles. Felt soles are great when you're fishing very slippery river beds a lot. No matter which one you go for, you can always add studs to the Simms G4 Pro. And this is exactly the feature that Simms reworked the most compared to the prior version of their signature boot. The Simms G4 Pro is now equipped with an innovative PowerlLock system that uses different kinds of cleats to give you the best traction possible. Good thing about this feature is the fact that these boots ship with one set of the Aluminum cleats (pictured above) and one set of the TPR cleats that are made from a highly durable rubber.
This versatility turns the Simms G4 Pro into a solid alternative to the Korkers wading boots (which are a level above in terms of versatility since you can exchange the entire sole in a heartbeat and go from a rubber to a felt sole).
During our test, we've found the new aluminum power lock system to provide excellent traction on different surfaces. Time will have to tell how durable these aluminum cleats are. Good thing, they're exchangeable. Only thing you have to beware of is the fact that these cleats obviously do damage to wooden floors for example. So if you find yourself walking into stores or restaurants between your fishing sessions, you might want to consider the TPR option.
Fit and Comfort of the Simms G4 Pro Wading Boots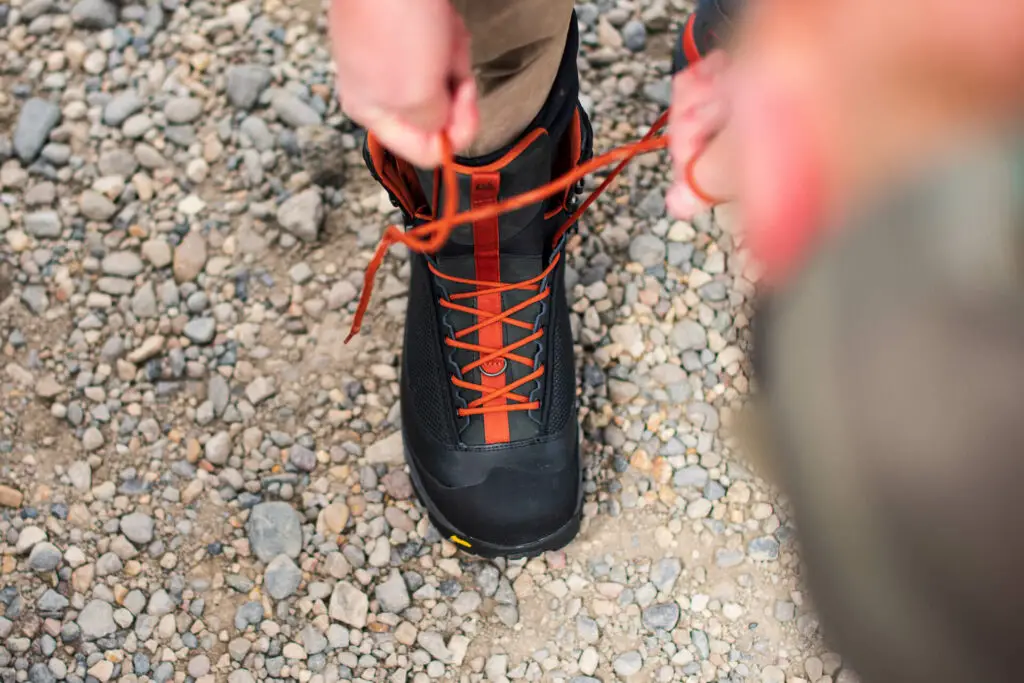 The Simms G4 Pro runs true to size, making it easy to find the perfect fit. The boot is also relatively lightweight, which is a bonus for anglers who need to cover long distances on foot. We found the lacing system to be straightforward to operate and you can play around with how tight you want your lacing to be. On the front portion of the boot, you'll find a small D-loop where you can attach your waders to keep the gravel out.
Durability
From my first impression I am pretty sure I'll be fishing the Simms G4 Pro for a long time to come. The whole built of these boots is rock solid and even when we put it to the test on these really rocky banks in Montana, it felt great to be walking around in these. Like I said before with the boots becoming a bit warm, don't expect the Simms G4 Pro to be a particularly lightweight wading boot. It's built to last and focuses on durability rather than reducing weight. Don't get me wrong, it's still somewhat lightweight but would definitely not win this category.
Traction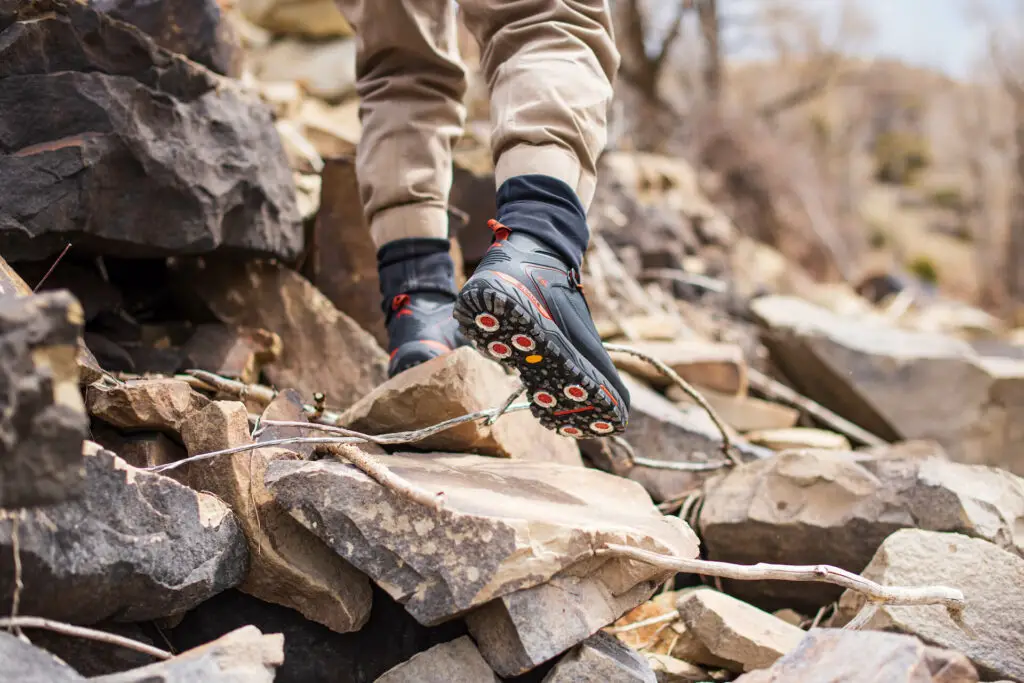 Another word on traction: We first tested the boot without the cleats and it did a good job there already. If however, you are looking for the utmost in traction and non-slip qualities, I recommend going for the aluminium cleats and even the felt sole. Only downside on the felt sole from my experience is the fact that snow for example tends to stick more easily to it than to a rubber sole. Hence, be aware of that fact if you're fishing areas with snow and ice in the winter. In that case I'd recommend the rubber version for sure.
Comfort
Despite their tough built, we didn't find the Simms G4 Pro to compromise on comfort. The thick EVA sole provides excellent support from below and the solid rubber outer soles make sure you get enough stability from the sides which is an important feature if you make your way down steep river banks like we did for this review (see photo below). A loop on the back heel makes is easy to get in and out of these boots.
How Does it Compare to Other Simms Boots
I briefly mentioned the Simms Flyweight Access before as the ideal lightweight boot. If you're a fan of the boa lacing system and are looking for a Simms Wading Boot that's similarly sturdy as the Simms G4 Pro, make sure to check out the Guide Boa. It does not quite have the same bullet proof upper material as the G4 but is also a boot that we've used for multiple seasons. And if you're a fan of traditional laces, the G3 Guide Boot could be worth a quick look for you.
Competitors
If we look outside the Simms hemisphere, the first boot that comes to mind in this weight class, is the Patagonia Danner. It also features a Vibram soles and can be pimped with different kinds of cleats. Compared to the Simms G4 Pro Powerlock Wading Boots, the Danner features more leather upper material and an overall more traditional look. Apart from that the Korkers River Ops provide a similar degree of durability plus the added bonus of interchangeable soles.
Final Verdict on the Simms G4 Pro Powerlock Wading Boot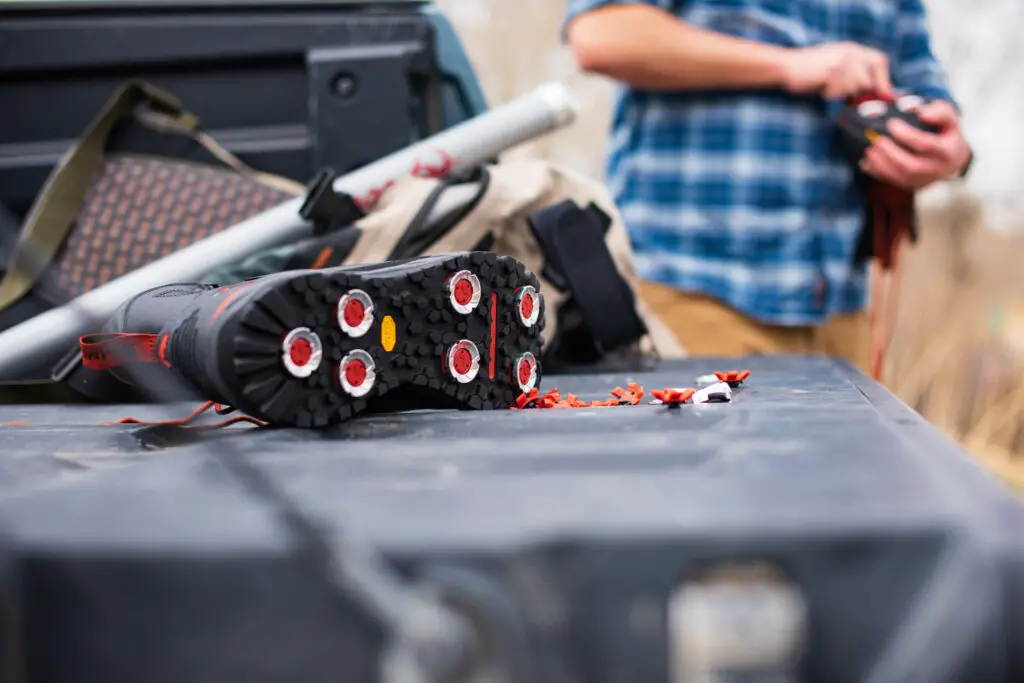 Now what do we make of the Simms G4 Pro overall and how do we answer the question whether it's worth its hefty price tag? I have to say I was impressed with the overall built quality of Simms' new signature boot. I mean they've always made high quality wading boots but this one raises the bar even a little more. What I like most about the new wading boot is the innovate Powerlock system. It was about time that Simms stepped up their game a little regarding traction and cleat systems.
That's exactly what they did with the new Powerlock system. If you're looking for the utmost in traction across all surfaces, I'd recommend going for the Felt Sole paired with the aluminum cleats. In case you want to still be able to enter any house and not destroy the floor, exchange the aluminum cleats for the TPR ones. And if you want great traction without any thoughts about which cleats to put on, you'll be well off with just going for the vibram soles. And best thing about these boots, you can always change your mind later and add cleats if you want.
Rely on Our Experience
Leonard Schoenberger and his team spend plenty of days out fishing. Their goal is to test and review products for you so you can make a solid purchase decision and improve your fly fishing game. We always express our honest opinions, never get paid for reviews and are proud of our editorial independence.