Last updated on October 5th, 2023.
Latest posts by Leonard Schoenberger
(see all)
Wading boots have to strike a balance between traction, stability and weight. Can the Simms Flyweight Access shine in all categories?
Design and Durability
Disclaimer: Some of the links in this article are affiliate links. If you click on one of them and end up purchasing a product we earn a small commission at no extra cost for you. We only recommend products we believe in ourselves. Learn more here.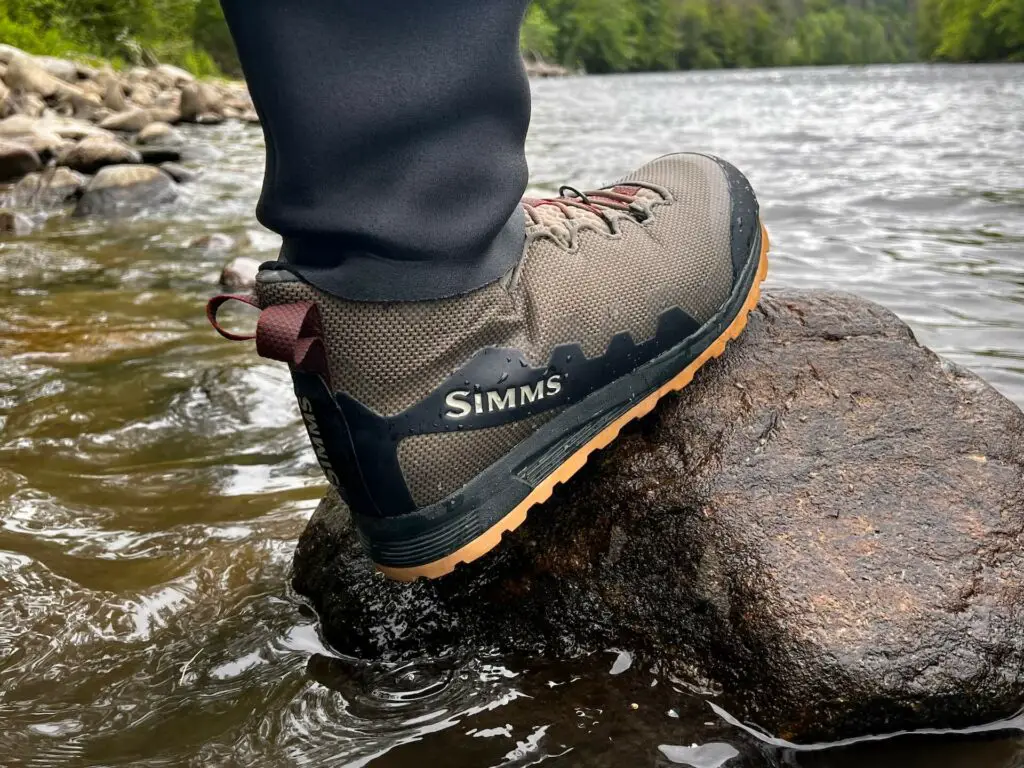 Right out of the box, the Simms Flyweight Access' design strikes a balance between lightweight agility and rugged toughness. And let me tell you, they look just as good in action as they do in the shop.
But looks aren't everything, right? These boots are built to last. I've bumped into my fair share of rocky riverbeds and hidden underwater obstacles, but these boots just shrug it off like it's no big deal. The synthetic upper not only looks tough but lives up to that appearance. I've yet to see a scratch or tear, and that's saying something.
Traction That Won't Let You Down (Most of the Time)
Now, let's talk traction, arguably one of the most crucial aspects of wading boots. The Vibram® Idrogrip outsoles provide solid traction. From my experience, they are not on the level of the Simms G4 Pro Wading Boot or the Patagonia Danner. However, for most wading environments they are totally fine. I've hopped from slimy river rocks to submerged logs without a second thought. These boots give you the confidence to wade through challenging riverbeds without that nervous shuffle we all know too well.
Comfort for Long Days
Comfort – that's a word that resonates with all of us anglers, especially when we're out there for the long haul. The Flyweight Access boots know how to treat your feet right. Straight out of the box, they cradle your feet like old friends. The lacing system isn't just minimalist for looks; it's pure practicality. You can dial in your fit just the way you like it, ensuring your feet stay happy all day long. And that padded collar? It's like a little cloud for your ankles, adding that extra cushioning for those marathon fishing sessions.
Real-World Performance
Let's get down to brass tacks – how do these boots perform out in the wild? I've taken them everywhere, from those intimate mountain streams (where you need to do a lot of hiking) to vast, big rivers with fast currents (where you need an extra degree of stability). The standout feature, no doubt, is the comfort. I had absolutely no issues even after intensive wading sessions. The vibram sole also does a good job at providing traction.
The lightweight design is a real game-changer. You don't feel like you're lugging around bricks on your feet. That agility is priceless when you're on your toes, casting and navigating through the water. And here's a bonus – these boots dry out fast. Nobody wants to deal with soggy feet, and these boots make sure that's not part of your angling experience.
Strengths and Weaknesses
Strengths:
Very lightweight
High level of (all-day) comfort
Secure lacing system
Sturdy toe cap
Weaknesses:
Low ankle support
Vibram sole could provide a little more traction
Metal eyelets are not ideal for saltwater
How They Compare
Now, how do the Simms Flyweight Compare to other wading boots on the market? First off, if you're a Simms fan, you might also consider the Simms G4 Pro Powerlock Wading Boots. Yes, you're right it's a bit like comparing apple and oranges since the G4 Pro have a much sturdier (and therefore heavier) built. Yet, you might be considering getting just one pair of wading boots and in this case I'd recommend putting a few extra bucks on the counter and going for the Simms G4 Pro Powerlock since they really impressed us with their extremely tough built.
If you want to take a peek outside the world of Simms, the Patagonia Forra Wading Boots might be worth a look. Their focus is on low weight as well, yet they provide a little better traction and significantly more support around the ankles.
The Simms Flyweight Access Boot in a Nutshell
So, in the grand scheme of things, where do these boots land? For me, they've become an essential part of my fishing gear when I want to go ultra lightweight. They are extremely comfortable and have hence earned their place on my angling journeys. If you're in the market for wading boots that'll make your time on the water smoother and more enjoyable, you'd be wise to give these a shot. If you want a little more stability and ultimate traction, there are better products out there.
Specs of the Simms Flyweight Access Boot
Weight: 42 oz (1191g)
Studs: available ($ 34.95)
Sole options: Vibram (rubber)
Price: $279.95
Resolable: Yes.
Frequently Asked Questions
Are these boots true to size, or should I order a size up or down?
With wading boots the rule of thumb is to go one size up from your normal shoe size since neoprene socks of stocking foot waders take up more space than normal socks.
Can I use these boots for saltwater fly fishing, or are they designed solely for freshwater applications?
While these boots are versatile and perform exceptionally well in freshwater environments, it's best to consider boots specifically designed for saltwater conditions if that's where you'll primarily be fishing. Saltwater can be harsh on gear, so dedicated saltwater boots may provide better longevity.
Do the Flyweight Access boots have a warranty against manufacturing defects?
Simms stands by the quality of their products and offers a one-year limited warranty against manufacturing defects. If you encounter any issues, don't hesitate to contact Simms' customer support for assistance.
Can I resole these boots when the outsole wears out, or will I need to purchase a new pair?
Yes, Simms offers a resoling service.
Disclaimer: Some of the links in this article are affiliate links. If you click on one of them and end up purchasing a product we earn a small commission at no extra cost for you. We only recommend products we believe in ourselves.