Last updated on September 25th, 2023.
Latest posts by Leonard Schoenberger
(see all)
Patagonia set the standard for durability with their re-solable Danner Wading Boots. Now they've released a new wading boot: the Forra.
I've put these boots through the wringer, so let's dive into the nitty-gritty and share some real-world experiences.
Disclaimer: Some of the links in this article are affiliate links. If you click on one of them and end up purchasing a product we earn a small commission at no extra cost for you. We only recommend products we believe in ourselves.
Solid as a Rock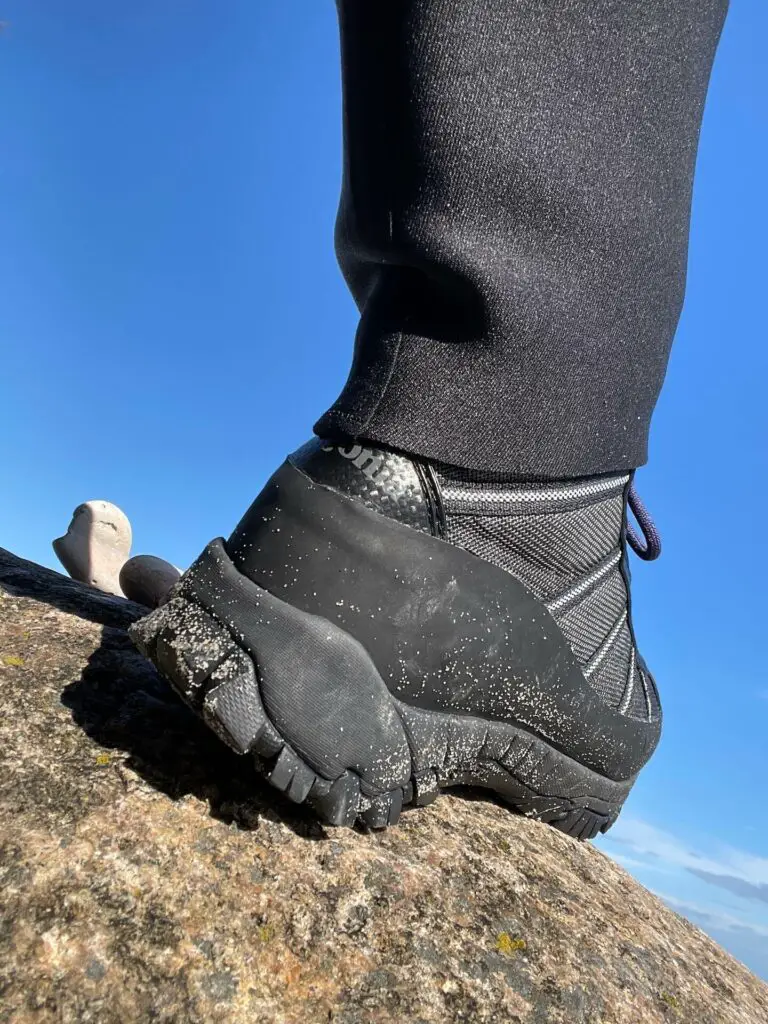 First off, let's talk about the basics. These boots are built to last. They are a great combination of sturdiness and lightweight. The synthetic leather upper is no pushover; it's tough and dries in a jiffy. When you're constantly switching between water and terra firma, you'll appreciate that. These boots have gone toe-to-toe with rocky riverbeds, and they've held their own.
Traction That Inspires Confidence
When you're wading through water, one thing matters above all – traction. The Vibram® sole on these boots is like industrial-strength Velcro for your feet. It's a grip that doesn't quit. I've gallivanted across slippery river rocks and danced on submerged logs without a single slip-up. It's the kind of grip that gives you peace of mind in unpredictable terrain. If you want you can even upgrade your traction by adding studs to your Forras. Personally, I am a big fan of ease of use and studs sometimes make it hard to walk into a shop hence I am fishing without them. Of course, if you're fishing extremely slippery riverbeds, use them.
Comfort for the Long Haul
Comfort is paramount on those marathon fishing trips, and the Forra boots understand that. They give your toes room to breathe with a spacious toe box, ensuring you won't get those dreaded cramped toes. Padding around the ankle area is your extra cushioning, and the lace-up system lets you customize the fit to perfection. Trust me; you can wear these boots from sunup to sundown without a hint of discomfort.
Built for the Rough and Tumble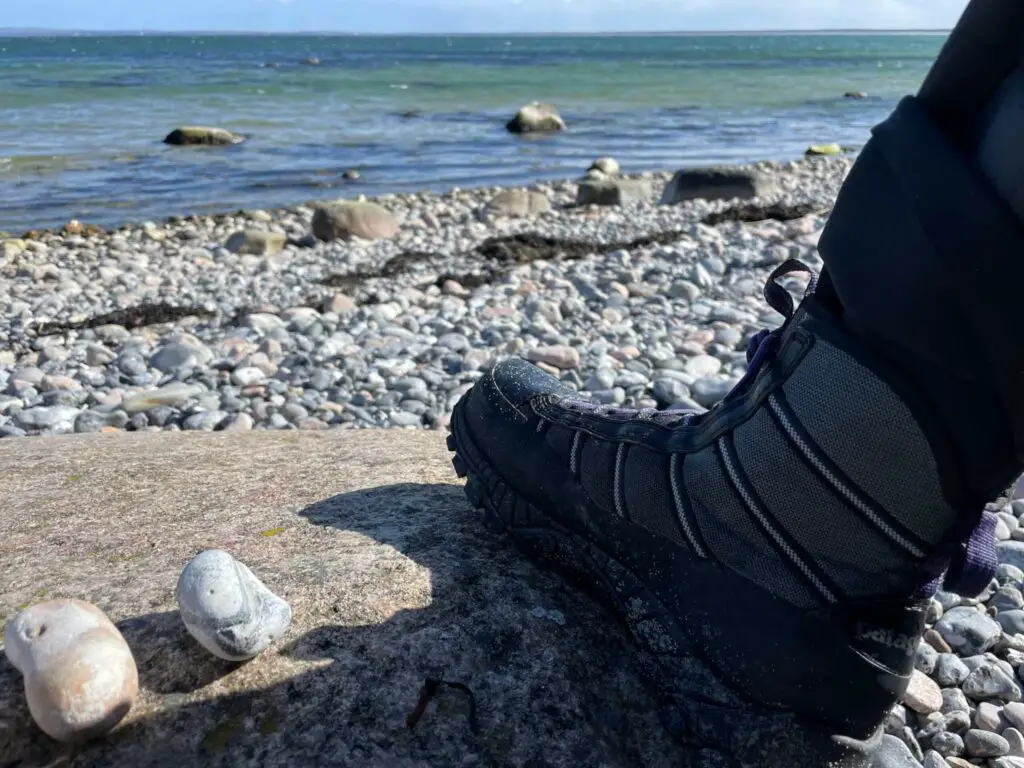 Durability is a deal-breaker for me when it comes to gear. These boots have taken on sharp rocks, abrasive riverbeds, and unforgiving terrain – and they've emerged without a scratch. They're not just built to last; they're built to laugh in the face of adversity. Particularly the toe and heel caps do a great job here as they really protect you from sharp rocks and can take some abuse. This is where you can tell these boots are made in Italy – it's simply great craftsmanship.
The Real-World Test
Now, let's talk turkey – how do these boots fare out in the wild? I've worn them in every fishing condition you can think of, from babbling mountain streams to mighty rivers, and they've never let me down. That Vibram® sole? It's been a lifesaver on unpredictable terrains, providing unwavering stability.
Comfort hasn't been an issue either. The roomy toe box is a godsend on long fishing days, and the adjustable fit means you can fine-tune it for a bespoke feel. Quick-drying? Works quite well since the entire upper part of the boot features a mesh fabric.
But here's the kicker – these boots are for the adventurers. The ones who chase fish in the tightest creeks, hike for miles to remote fly fishing spots, and need boots that are as light as they are sturdy. These boots are your lightweight, reliable partners in crime.
Another aspect I want to mention about the Forra is their lacing system. The eyelets are made of cloth as well which is a great asset when you're fishing in saltwater since there's nothing that can corrode. I have hence used these wading boots during my saltwater fishing for coastal sea trout and they've done a great job. Make sure to rinse them afterwards since the salt is aggressive on any fabric on the long run.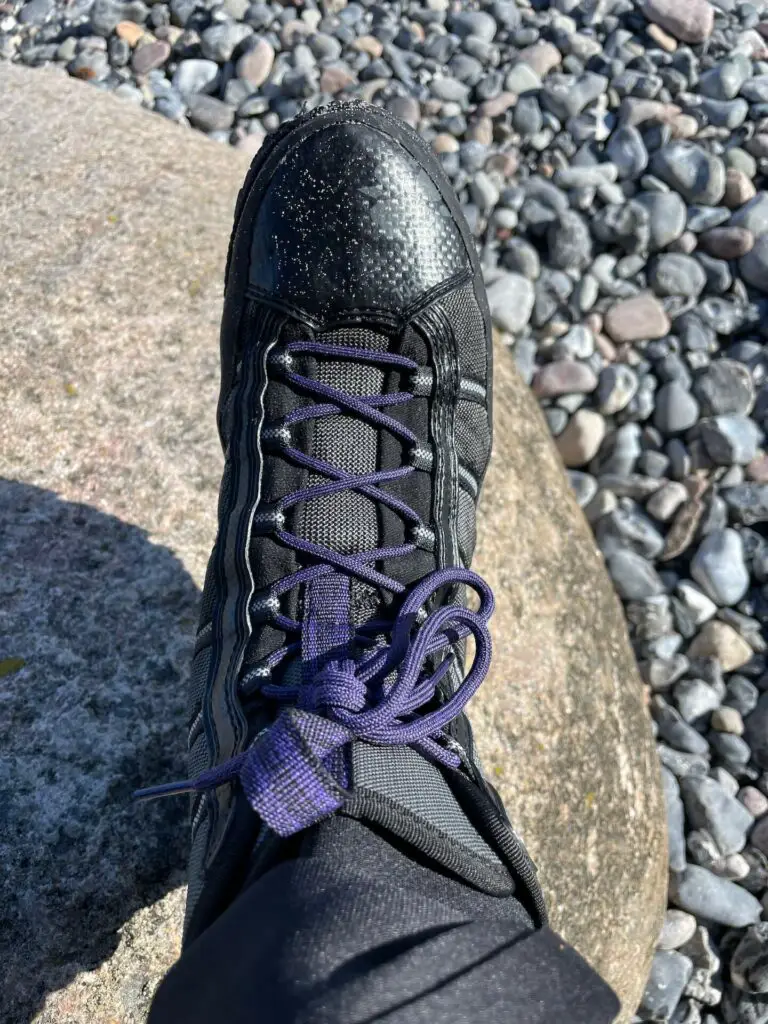 How Do the Forra Wading Boots Compare?
Compared to the Patagonia Danner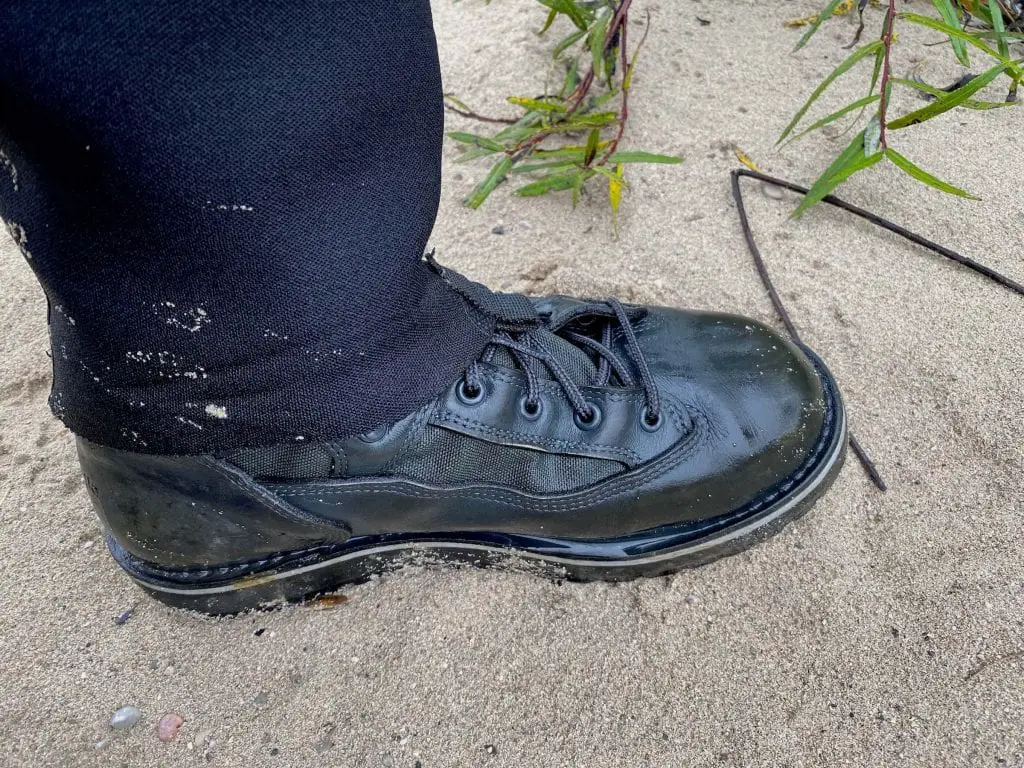 A few years back, Patagonia introduced their Danner Wading Boot in cooperation with hiking boot maker Danner. These leather wading boots are the ultimate standard in toughness and are fully re-solable. The downside being the fact that they get quite heavy. This is where the Forra shine since Patagonia really managed to combine toughness and lightweight with their new wading boot and all of that at a very fair price of $299.
Compared to the Simms Access Flyweight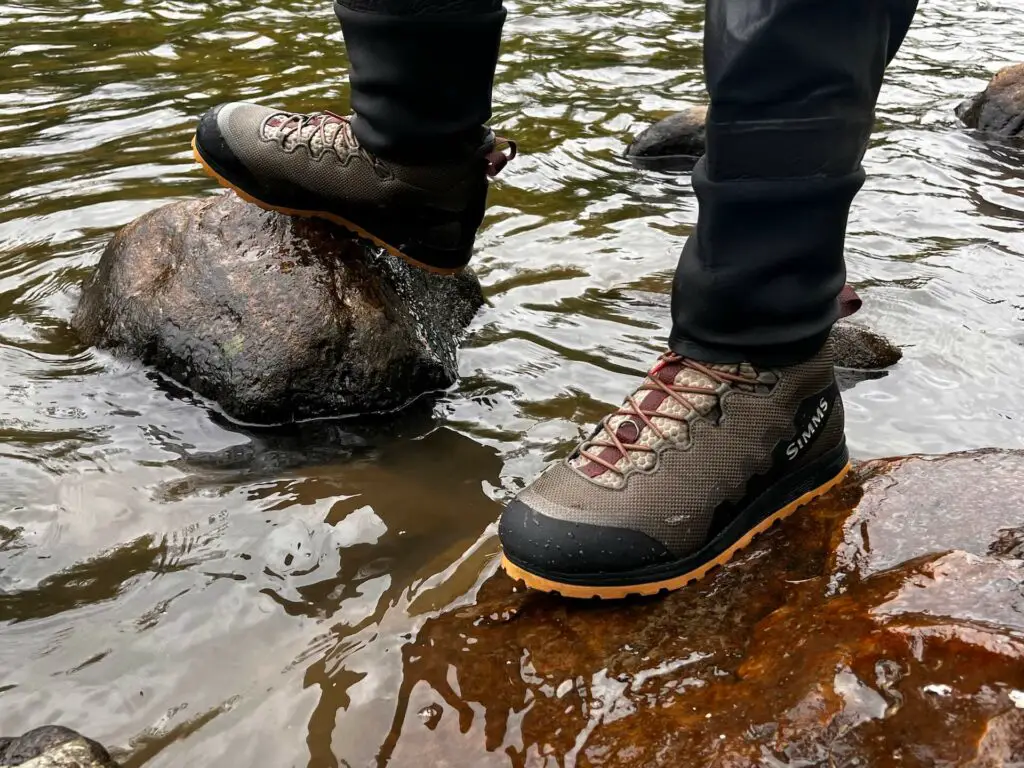 The Forra's direct competitor from Simms is the Flyweight Access boot. These lightweight boots are also aimed at fly fishermen who do a lot of hiking to get to their fishing spot or often travel and value the lower weight of their boots. Compared to the Simms Flyweight Access, the Forra offer more stability around the ankle from my experience and the reinforcement around the toe cap and the heel is a level above the Simms. The Simms are a fraction softer overall, so if that's your priority go for the Flyweight Access.
Simms G4 Pro Wading Boot
Simms premiered their new flagship wading boot this spring, the G4 Pro Powerlock. I wanted to mention this boot in comparison to the Forra, since their heel and toe protection is on a similar level. They both feature a vibram sole and are great for long hikes. The Forra does and excellent job here while remaining lightweight. The Simms G4 Pro Powerlock proofed to be even tougher and provided more ankle support during our testing but with the downside of being heavier.
Specs
Weight: 1,162 g (41 oz)
Size: 5 – 14 (US)
Stud kit available
Vibram Sole
Made in Italy
Final Verdict: Who Are the Patagonia Forra Wading Boots for?
With so many wading boot options out there on the market, who are the Forra a good choice for? The Forra shine with a combination of sturdiness and lightweight. Hence, if you often find yourself walking some distance to get to your fishing spot or tend to cover significant distances due to your style of fishing (steelhead fishing, coastal fishing, etc). the Forra are a great option.
They are also a great choice if you're (somewhat) budget conscious but still want a pair of wading boots that you can wear hard and still get many seasons out of them. I admit it, the Forra have become my go to boots since I've added them to my lineup a year ago.
FAQs (Frequently Asked Questions)
Can these boots be used for saltwater fishing?
Yes, absolutely. Since the Forra don't feature any metal parts these wading boots are actually ideal for saltwater environments. Due to the added stress of salt to any fabric, make sure to rinse them afterwards.
Can I wear neoprene wading socks with these boots for added warmth?
Absolutely. These boots play nice with neoprene wading socks, which are a godsend when the water gets chilly. However, remember to size up if you intend on wearing neoprene socks.
Do these boots have drainage ports to prevent waterlogging?
Yep, they've got that covered. These boots feature drainage ports that keep the water from overstaying its welcome, especially when you're transitioning from water to land.
Can the Vibram® Megagrip sole be replaced when it wears out?
Technically, they can. A skilled cobbler can work their magic and give these boots a new lease on life when the sole eventually wears down.
How do the Forra compare to Patagonia's Danner Wading Boots?
The Forra are Patagonia's new lightweight wading boots while providing excellent sturdiness. However, if you want the utmost in durability and sturdiness go for the Danner boots that are made from leather and basically indestructible and fully re-solable.