Last updated on October 25th, 2023.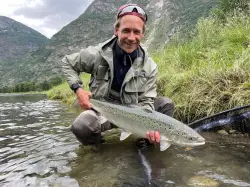 Latest posts by Leonard Schoenberger
(see all)
The name Grundéns is synonymous with fishing gear, particularly those tailored to withstand the harshest of conditions.
Expanding on this legacy, Grundéns has introduced the Bankside Wading Boot, and in this review, we dissect its features and compare it to some of the big players in the wading boot industry.
Specifications & Features
Sizes: 8 – 14 (US)
Price: $249.99
Optional stud pack available
Disclaimer: Some of the links in this article are affiliate links. If you click on one of them and end up purchasing a product we earn a small commission at no extra cost for you. We only recommend products we believe in ourselves. Learn more here.
Design & Durability
Constructed with hydrophobic materials, the Grundéns Bankside Wading Boot embodies resilience. This means faster drying times, which can be a godsend after a long day on the water. The upper part of the boot is made from very durable Nubuck leather (which in turn increases the weight of the boot compared to full nylon/mesh fabric options such as the Simms Flyweight Access).
On the front around the toes and also in the back around the heel the Grundens Bankside features caps for extra protection and to prevent abrasion where it matters most. On the outside of the boot, drainage holes make it easier for excess water to drain from the boot.
Sole Dynamics
Equipped with Vibram Idrogrip outsoles, the Bankside offers an impressive grip, making it ideal for those slippery terrains. The boot is also designed to be compatible with studs, which means anglers can further enhance traction based on their needs. Only downside here is the fact that there is no felt sole option available.
Comfort & Fit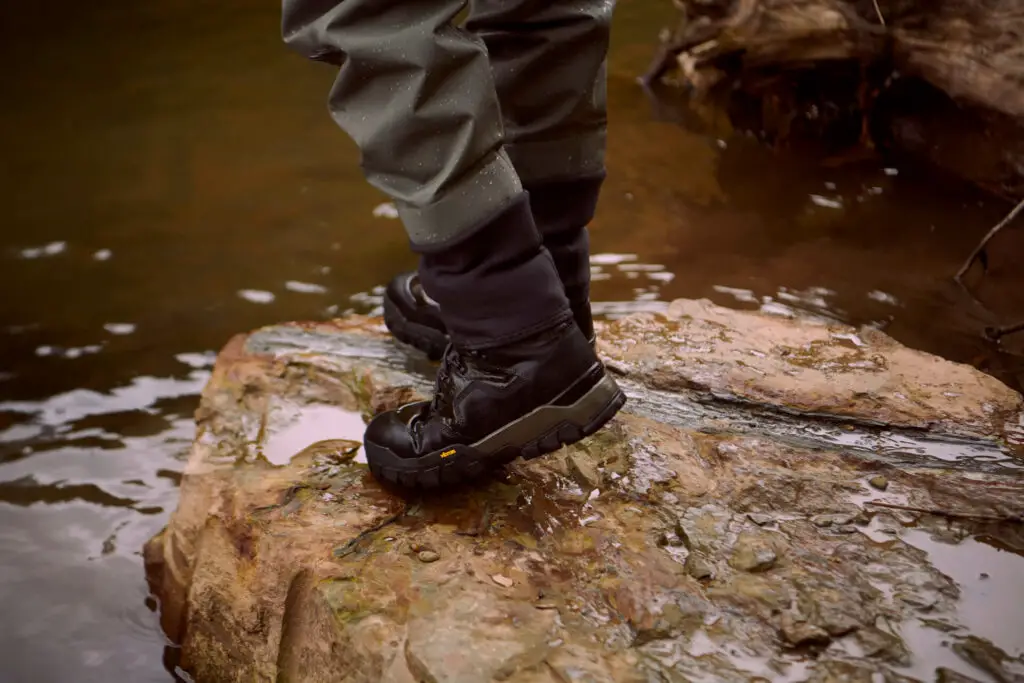 An EVA midsole promises comfort, ensuring fatigue-free adventures for anglers. The integrated drainage system in the boot allows water to escape, preventing that dreaded "waterlogged" feeling. Moreover, the traditional lace-up system ensures a snug fit, allowing for adjustments as needed.
Personally, I really liked the padded inside of the boot around the ankles. They provide all day comfort when walking to and from the river and while wading and enough support when climbing over rocks or up and down a river bank. Size wise I had the impression that the Bankside are definitely on the larger side. I usually wear a US 10 and these rather felt like a US 11.
Comparison with High-End Wading Boots
Simms G4 Pro Powerlock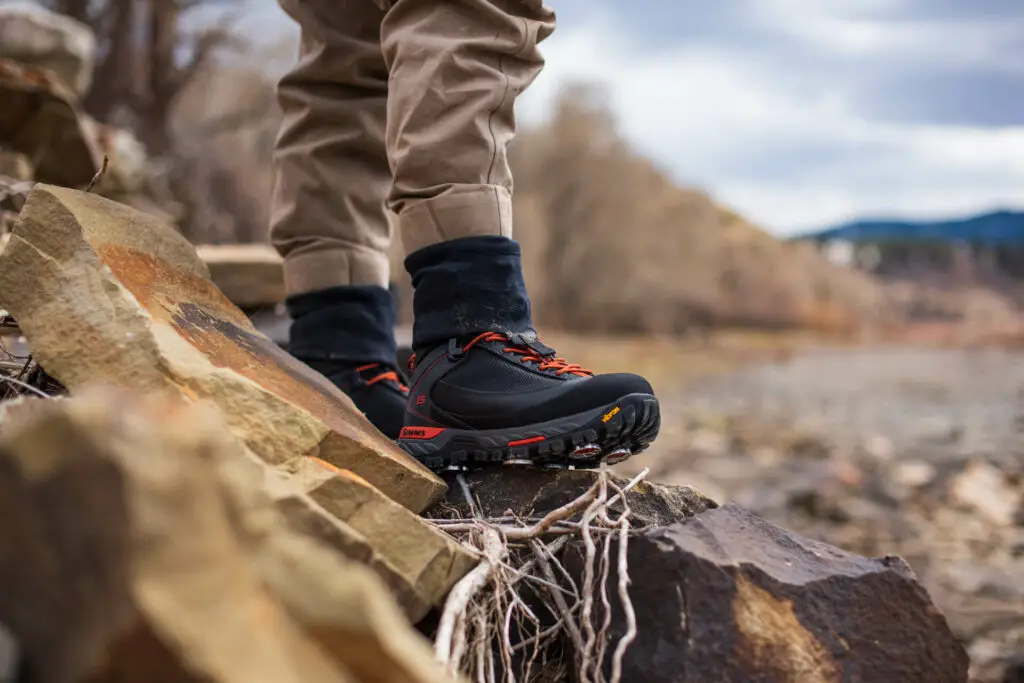 Material & Build: The Simms G4 Pro offers a formidable build with PU-coated leather. Although both boots are designed to be durable, the Grundéns Bankside might have an edge in drying times with its hydrophobic materials.
Sole System: The Vibram® soles of both boots are testimony to their commitment to traction. Both are also compatible with studs, making this a tie in terms of sole dynamics.
Closure System: The traditional lacing system is a common feature for both these boots, providing reliability and adjustability.
Patagonia Danner Foot Tractor
Material & Build: The Foot Tractor boasts full-grain leather, which makes it a durable choice. However, in terms of quick drying, the Bankside's hydrophobic materials might give it a slight advantage.
Sole System: While the Foot Tractor offers sticky rubber and felt sole options, the Vibram Idrogrip outsole of the Bankside is specifically designed for superior grip on wet surfaces.
Closure System: Both boots employ a traditional lacing system, ensuring a customizable fit.
Korkers River Ops Boa
Material & Build: The Korkers River Ops is enveloped in an abrasion-resistant exoskeleton, making it a tough competitor. While both boots have hydrophobic properties, the interchangeable sole system of Korkers gives it an edge in versatility.
Sole System: The OmniTrax® Interchangeable Sole System of Korkers stands out for its adaptability. However, in terms of grip, the Vibram Idrogrip of the Bankside matches up quite impressively.
Closure System: Korkers employs the BOA® lacing system, which offers quick adjustments. This might appeal to those looking for speed and convenience over the traditional lacing of the Bankside.
PROS:
Made from premium materials
Excellent comfort
Very good value for money
CONS:
Limited sole options
Sizing rather on the larger side
Optional stud pack is too expensive at $89.99
In Conclusion: Grundens Bankside Wading Boots
The Grundéns Bankside Wading Boot holds its own amongst giants in the industry. While it might not have the interchangeable sole system of the Korkers or the full-grain leather finesse of the Foot Tractor, it's a perfect blend of durability, comfort, and traction. The Vibram Idrogrip outsole and hydrophobic materials make it a top contender for those seeking reliability and performance in their wading adventures. Plus, let's not forget it's great value for money ratio: at $249.99 this combination is hard to beat.
FAQ Corner
Is the Grundéns Bankside Wading Boot suitable for both freshwater and saltwater fishing?
Yes, it's designed for both. However, it's always a good practice to rinse with fresh water after saltwater use.
How does the integrated drainage system work in the Bankside boot?
Strategically placed drainage channels allow water to flow out, ensuring the boots don't retain excess water.
Is there a break-in period for the Grundéns Bankside boot?
Most wading boots have a break-in period. It's advisable to wear them for short durations initially before embarking on longer fishing excursions.
How do the sizes run for the Grundéns Bankside boots?
It's generally recommended to order one size up from your regular shoe size to accommodate for wader socks or neoprene booties.