Latest posts by Leonard Schoenberger
(see all)
Let's dive headfirst into one of the most important accessories when heading out to fish on a river: a landing net.
And our star of the show is the Brodin Tailwater Landing Net. As someone who's spent more hours on the water than I can count, I've come to understand the critical role a reliable landing net plays in every angler's arsenal. So, let's break down this net, from its specs to how it's held up in the field, and everything in between.
Disclaimer: Some of the links in this article are affiliate links. If you click on one of them and end up purchasing a product we earn a small commission at no extra cost for you. We only recommend products we believe in ourselves.
Craftsmanship That Turns Heads
First things first, let's talk about craftsmanship. You know that feeling when you pick up a piece of gear and can immediately tell it's made with love and care? Well, that's precisely what you get with the Brodin S2 Tailwater. I particularly like the wooden frame, crafted from wood that is sustainably grown in Costa Rica. The wooden Brodin nets are little pieces of art in my eyes that only get more beautiful over time putting on a nice patina. It's sturdy, it's solid, and it oozes quality, showing Brodin's dedication to making a net that's not just a tool but also a thing of beauty.
Mesh Magic: A Closer Look at the Basket
Now, let's dive into the basket – the heart of any landing net. The Brodin S2 Tailwater doesn't disappoint here. Its clear rubber mesh is like a gentle giant; it cradles your catch with care while being tough enough to last season after season. The net's fabric is designed to minimize stress on fish and to protect their slime layer, ensuring safe catch-and-release practices.
Only downside I've experienced is that although the mesh has decent stretch it can tear when you get stuck in bushes and keep walking – so be careful here. Brodin has gotten rid of all PVC materials years ago and the mesh of their nets is made from a silicone fabric.
Size Matters: Ideal Dimensions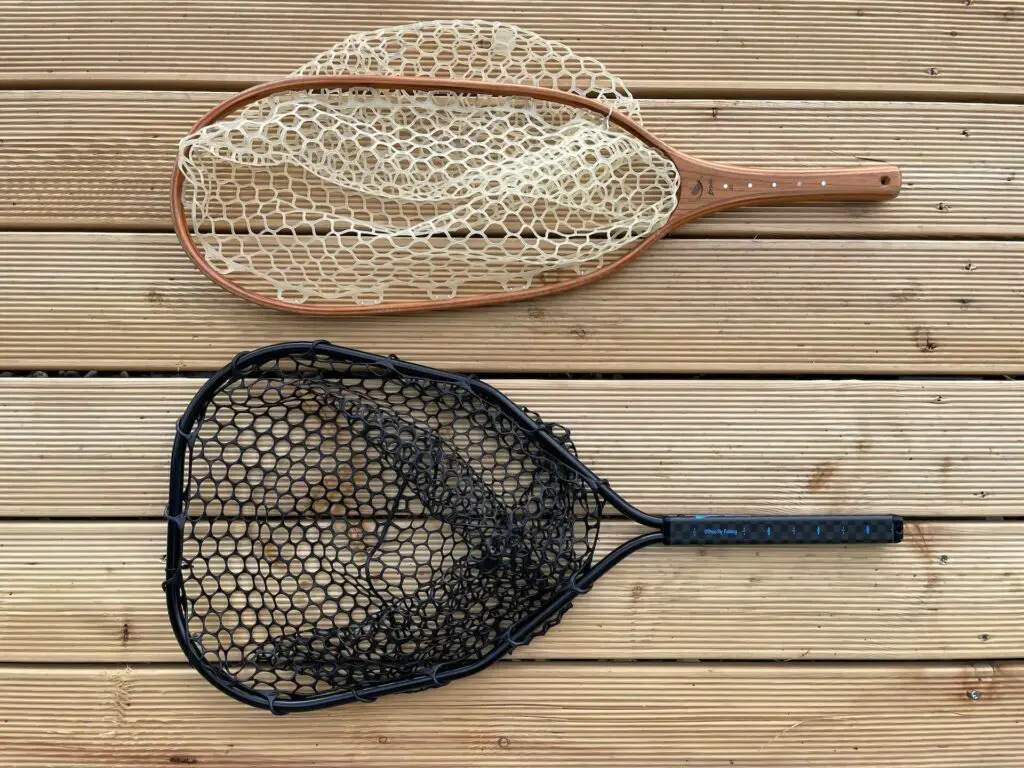 With an overall length (including the handle) of 30 inches and a hoop size of 20 x 9 inches, the S2 Tailwater lands in the sweet spot. It's large enough to handle trout and other medium-sized fish without being a bulky burden. The handle's length is just right, striking a balance that lets you reach those tricky spots without feeling like you're wrestling with your net.
Specifications
Overall length: 30 " (76 cm)
Hoop size: 20″ x 9″ (50cm x 23 cm)
Depth of the net: about 14″ (35 cm)
Weight: 10 oz (290 gr)
Grip That Doesn't Slip
A landing net's handle is more than just a handle – it's your connection to the fish. The S2 Tailwater's handle is comfortable and easy to hold onto, even when wet. Made from the same hardwood as the frame I've never had an issue with it slipping out of my hand. Plus, the all wooden construction makes it easy to clean.
Balancing Act: Weight vs. Maneuverability
One of the most critical aspects of a landing net is its balance – the sweet spot between weight and maneuverability. The Brodin S2 Tailwater nails this balance. It's light enough that it won't weigh you down during long days on the water, but it's substantial enough to give you stability when you need it most – like when you're reaching for a spirited trout in swift waters.
The Extra Mile: Retractable Tether
Now, let's talk about a feature that's all about convenience – the retractable (to some degree) tether. Attach it to your vest or wading belt, and you'll never have to worry about losing your net in the current. It's one of those features that once you have it, you can't imagine fishing without it. I've decided to get rid of the tether since I tend to tug my net in between my hip bag and my waders. This way I always have it stored safely and easily reachable when my catch comes close – but that of course comes down to personal preference. 
The Brodin S2 Tailwater in Action: From Stream to Net
Now, you might be wondering, "How does this net perform in the real world?" Well, let me tell you; it's been my go-to for a variety of fishing conditions, and it's consistently impressed me. Whether I'm chasing trout in mountain streams or exploring slow-moving tailwaters, the S2 Tailwater has been a reliable companion.
The rubber mesh is a great feature if you practice catch and release. It's gentle on fish, and I've noticed a significant decrease in fish stress compared to traditional nylon nets. Hooks are less likely to get tangled in the mesh, which means more efficient and stress-free releases. Personally, I really think this should be the standard.
The S2 Tailwater's ideal size strikes a balance between functionality and portability. It's not too big to be unwieldy but large enough to handle a good-sized trout (I've caught fish of 20″+ with this net). The handle length is just right, allowing me to reach out and scoop up fish without putting my back into it.
Alternatives to the Brodin Tailwater Landing Net
Since landing nets are an important piece of gear when fly fishing, there are many alternatives on the market today. Make sure to check our big buyer's guide. Direct competitors of the Brodin are the very popular fishpond nets and Simms' new daymaker net.
Visit Brodin for more information.
Frequently Asked Questions (FAQs)
Can this net handle larger fish species like salmon or steelhead?
While the Brodin S2 Tailwater is excellent for medium-sized species, such as trout, it may not be the best choice for consistently landing larger fish like salmon or steelhead.
How does the rubber mesh compare to traditional nylon nets in terms of durability?
The rubber mesh of the Brodin S2 Tailwater is designed for both fish safety and durability. It's less likely to tangle with hooks, reducing wear and tear compared to traditional nylon nets. With proper care, it can last for many fishing seasons.
Does the Brodin S2 Tailwater Landing Net float if accidentally dropped in the water?
Unfortunately, the Brodin S2 Tailwater does not float. If dropped in the water, it will sink. It's advisable to use the included retractable tether to prevent accidental loss.
What is the weight of the Brodin S2 Tailwater Landing Net?
The Brodin S2 Tailwater is designed to be lightweight and easy to carry. It weighs around 10 oz (290 gr).
Is the Brodin Tailwater Landing Net suitable for use in saltwater environments?
The Brodin S2 Tailwater is primarily designed for freshwater use. Saltwater environments can be harsh on fishing gear due to the corrosive nature of saltwater. For saltwater angling, it's advisable to use nets specifically designed for such conditions.