Last updated on September 2nd, 2023.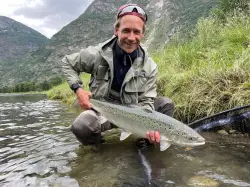 Latest posts by Leonard Schoenberger
(see all)
I admit it – I'm a trout reel enthusiast. I simply cannot get enough of these little pieces of art and just added another one to the collection.
A trout reel is probably the reel that most fly fishermen and women take their first steps with. It was the same for me. Ever since I started fishing, I had a fascination for these reels. Maybe it's their size that makes them not as intimating as big salmon or saltwater reels. Maybe it's the fact that even nowadays trout reels still come as click and pawl reels.
Amongst my favorite trout reels in my collection are a Hardy duchess that a dear friend of mine gave to me for Christmas a few years back together with an incredible bamboo fly rod made by Robert Stroh.
Then there's my vintage Orvis CFO that I fish in combination with an Epic fiberglass fly rod I built myself with the Epic Fly Rod Building Kit.
Earlier this year, I came across a post of my friend Christian Hörgren, architect turned rod builder, on instagram that featured a beautiful reel on a custom made fly rod. I reached out to him to inquire about the reel and he told me that it was built by a Ukrainian aeronautical engineer, named Vladimir Rachenko. It turned out Vlad had had to leave his home country, Ukraine, and had recently moved his workshop to Southern Germany.
With the recommendation of Christian, Vlad and I started a conversation about trout reels and he kindly offered to send over two of his reels for an upcoming trip of mine to Iceland. Besides his Salar Incomparabile that I hope to put to the test a little later this year when fishing for salmon, he also sent a Trutta Perfetta Aluminium reel for trout fishing.
Specs of The Trutta Perfetta Aluminum
Vlad manufactures the Trutta Perfetta in two versions, as an aluminum reel and as a titanium reel. We got our hands on the 3″ aluminum version with the brass accents. It features a beautiful engraving of a trout on one side of the reel and brass accents on the center and the handle on the other side. The reel seat is also made of brass on the model we tested. There are several other color options available such as an all silver version with black accents on the handle and a dark olive and champagne gold colorway.
Before talking about Trutta Perfetta's performance, I want to spend a minute talking about its appearance. I can tell you that this reel will get you looks no matter where you go. Its beautifully simplistic, traditional trout reel design works well with any trout fly rod no matter whether you're fishing vintage bamboo or a modern fly rod (as we did on our trip, pairing the Trutta Perfetta with the Nam Original #6). There's also a 2 3/4″ version if you're into small creeks and are heading out with a #2 or #3.
Performance
I fished the Trutta Perfetta on a recent trip to Iceland targeting brown trout, sea trout and artic char in a small river and lake in Iceland. Many modern fly reels boast impressive drags, even for trout fishing. The Trutta Perfetta on the other hand is a classic click and pawl reel where you will have to use the palm of your hand to gently apply pressure to the reel to slow down a running fish. Personally, I am a big fan of such reels for trout fishing since you learn this craft instead of cranking up your drag and let the reel do the job.
Now you can tell the VR Trutta Perfetta has the looks to impress. But what really makes this reel stand out for me is its sound. There's hardly a better sound than a screaming trout or salmon reel, and the Trutta Perfetta is music to my ears in that regard. It features two distinct sounds, one when a fish is running and a slightly different one when you're reeling in. Particularly when lake fishing, this is pure joy, since the fish often make long runs since there is no bank stopping them.
VR Fly Reel Review: Who's This Reel For?
As you can tell, the Trutta Perfetta is not your average trout reel. I can assure you that you won't come across many fly fishermen or women sporting this trout reel. The Trutta Perfetta is for the individualist who's looking for something special and (almost) unique. The craftsmanship of Vlad's reels is second to none. You can feel the build quality the moment you lay your hands on it. And all of this comes at a surprisingly modest price. The clear silver/bronze version of the Trutta Perfetta starts at EUR 369. To top it off, Vlad ships these little beauties in a small bag made from Italian leather which makes this reel the perfect gift for any fly fishing friend.
Reel Weight (Oz / Grams)
| | |
| --- | --- |
| With Titanium Foot | 4.23 / 120 |
| With Brass Foot | 4.58 / 130 |
Spool Size (inch / mm)
| | |
| --- | --- |
| Working Diameter | 2.67 / 68 |
| Arbor Diameter | 0.71 / 18 |
| Width | 0.90 / 23 |
| Volume | 4.6 inch3 / 75 cm3 |
Approx. Capacity for Line and Backing 20# (yds / m):
| | |
| --- | --- |
| DT4 + | 65 / 59 |
| DT5 + | 50 / 45 |
| WF5 + | 65 / 59 |