Last updated on August 22nd, 2023.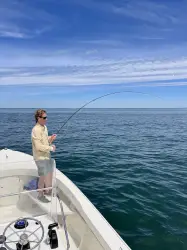 Latest posts by Leonard Schoenberger
(see all)
One of the most popular types of fly fishing is salmon fishing. However, if you want to enjoy it to the fullest, you need to invest in the right type of equipment.
This primarily includes a fly reel. In this comprehensive fly reel buying guide, we're going to talk about the best products available from a myriad of brands in the market.
You see, because there's so much variety, it can be a bit overwhelming to pick and choose the best fly reel for salmon. Fortunately and through diligent research, we've been able to compile a list of some of the top-most fly reels in different price ranges. This guide is all about the functionality and features of sought after reels for salmon fishing. We're going to discuss some critical factors that go into buying the right product – for example, value for money, the weight of the fly reel, drag, line capacity, etc.
But first…
Important Features to Look for in the Best Fly Reel for Salmon
Weight
There are different species of salmon – and they come in different sizes. This means you'll need a fly reel that is optimal for the type and weight of salmon you're fishing for. King salmon, for example, is a heavier species, which means you'll need a heavy fly reel combined with a sturdy fishing line to ensure you catch the fish with minimal effort as soon as it bites. 
Balance
The fly reel you use should always be balanced in line with the rod. You can only compromise on balance when you use a spey reel, which is when it becomes critical to go for more rod length. If you want to use a spey rod, it's better to opt for a heavier reel. 
Streamlined Drag 
Always choose a fly reel that offers maximum and durable drag. You need something that remains functional all year round. For example, conventional cork drags will end up quickly freezing when temperatures drop or fluctuate in performance when the weather is mild or hot. So, it's vital you go for a product that has an enclosed drag mechanism. 
Good Backing Capacity
When targeting bigger and heavier types of salmon you need to have a fly reel that has maximum spey capacity with adequate backing. For example, some fly reels come with a backing capacity of 230-360 meters, which is ideal for bigger salmon fishing.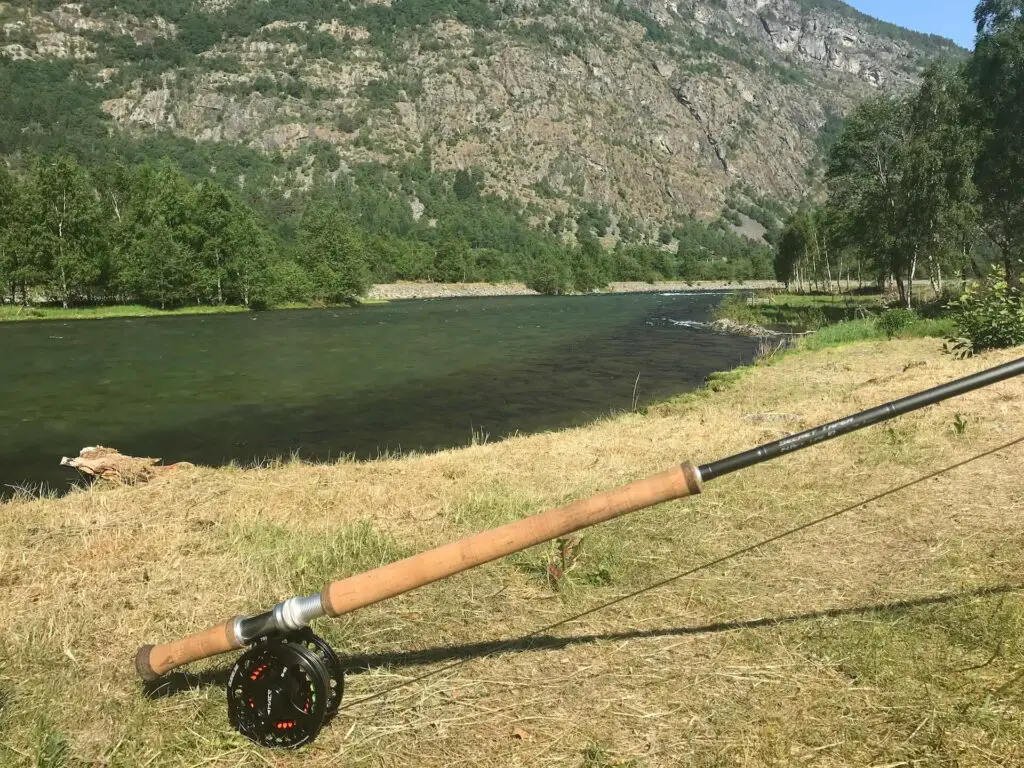 Best Fly Reel for Salmon Fishing: Entry Level (Under $300)
Taking into consideration these important factors, we've compiled a list of the top 10 best fly reel for salmon. All these products come with multiple features and great design. So, let's jump right into it. 
Notice: We take part in affiliate programs such as the amazon associates program. If you click on one of the links in the text and end up purchasing a product we earn a small commission at no extra cost for you. We only recommend products we are convinced of. Thanks for supporting our business. All images courtesy of the manufacturers.
The Lamson Liquid reels have undoubtedly transcended expectations. The Waterworks-Lamson Liquid provides an adequate amount of consistency – and that too at an affordable price. So, if you're looking for something on a budget, it doesn't get any better than Lamson. The fly reel is made with pressure cast aluminum, which does offer durability – however, they aren't designed with high grade steel. It's cost-effective primarily because it's made with liquified aluminum. But there's no question the fly reel offers reliability and durability for novice and avid salmon anglers. 
Moreover, the Waterworks-Lamson Liquid comes with an impressive drag mechanism, offering a limitless adjustment range. This basically means you won't hear that clicking sound most fly reels make when turned. The Lamson offers streamlined functionality and a smooth dial adjustment system, allowing users to quickly and flexibly adjust to the best level of resistance. 
In addition, the Waterworks-Lamson Liquid is also different from many other products because it features a cone design instead of a layer of stacked rotors. This fly reel uses a conical design as a braking system. The cone presses against the drag mechanism allowing for a stronger and reliable drag in a small and portable design. 
Pros 
Lightweight and easy to carry
Precision-based quality control
Very simple to use
Sealed drag system
Less than normal maintenance required
Durable aesthetics
Cons 
Lacks high-end features for veteran anglers
The Orvis Hydros edition provides a stronger and a completely machined reel structure, offering impressive drag capability. It's safe to say that the 2020 Orvis Hydros is a massive improvement over their previous products. The new Hydros offers more features and improvements compared to the SL edition, which is now discontinued. 
The Orvis Hydros comes with newly designed drag seals with a rounded reel foot, which enables anglers to quickly and safely wrap the leader around the rod. It also features a Delrin handle – providing even more tolerance. The reel is lightweight and is also designed with a unique rib channel to help maintain the structural integrity of the spool, adequately allowing for enhanced back-knot positioning. The new drag mechanism offers rapid turning from min to max. 
The Orvis Hydros is also built-in with 16 stainless steel and carbon plated discs, ramping up the drag – this means you won't feel any inertia in the beginning. Although the new edition comes with streamlined consistency, it's safe to say that it isn't completely smooth. However, the Delrin handle is thinner, providing a comfortable grip when you start cranking the reel. 
Pros
Lightweight 
Thinner Delrin handles for comfortable cranking
Rounded drag seals
16 stainless steel and carbonized discs
Cons
The drag knob needs massive improvement
Lacks high end features and capabilities 
The Redington Grande 7/8/9 is a massive improvement over the company's previous model – the Behemoth. Plus, the Grande comes in different colors such as champagne, black, and marine. It's beautifully crafted and has anodised finishing. 
The first thing you'll notice is that the fly reel doesn't have inward spooling. This means that it's going to be a lot simpler for you to spool with backing. Moreover, it considerably minimizes the backing bounce when retrieving the fish (the spool isn't going to tangle when you aggressively retrieve your catch). In addition, the fly reel has an impressive line retrieval and is built to accommodate up to two hundred yards of Dacron. 
The Redington Grande comes with a completely sealed drag mechanism, which means it doesn't require any maintenance. This is a very important feature for salmon fishers or anglers that fish in murky waters, sandy or messy landscapes. When it comes to stopping power, the new 7/8/9 Grande comes with a powerful, completely sealed "Super-Torque" drag mechanism with carbon plating. While this drag system isn't 100% water-sealed, it does handle beautifully in saltwater. 
You could even comfortably fish in sandy environments or areas where there's a lot of grit. Although you're going to feel some initial inertia and resistance of the spool, otherwise, the Grande handles even big fish flawlessly. The drag feels strong and reliable. 
Pros
Beautiful design and aesthetics
Available in different colors
Reliable drag
Plenty of capacity and sealed drag
Cons
It's a bit expensive
Best Fly Reel for Salmon Fishing Mid Range($500-700)
The Sage Fly Fishing- SPEY is another magnificent piece of great engineering and design. It's one of the few professional spey reels that are made for two-handed angling. The reel is specifically manufactured for wrangling big game fish such as King Salmon and Steelhead. Moreover, the fly reel has a cutting-edge porting design that helps brilliantly balance the overall weight of the rod and has an intelligent SCD drag knob mechanism, undoubtedly making it one of the best fly reels for salmon fishing. 
Made for two handed fishing action, the spey fly reel is comparatively bigger to help you target bigger fish. The spey reel has a bigger arbor design and comes with long-lasting materials and a better finishing. It has a hard-anodized body, making the rod equally durable. You won't have to worry about corrosion due to frequent wear and tear. More specifically, the Sage Fly Fishing- SPEY is made from top grade aluminum for increased durability and rigidity adding significantly more resistance. 
The drag system of the spey reel is truly magnificent. It comes with a fully sealed carbon mechanism that helps quickly minimize kinetic energy from when you're wrangling or putting immense pressure on the drag mechanism. The drag mechanism is built with high-end carbon for extra strength.
Pros
Lightweight two handed fly reel
Carbon drag mechanism
Superior control
Designed for tight-space reel casting
Cons
Expensive
The Tibor Billy Pate is one of the best fly reels for big game salmon and professional fishing. The new fly reel comes with an anti-reverse mechanism. For avid and professional anglers, it doesn't get any better than the Tibor Billy Pate. It's durable and you can rely on it for an enjoyable fishing experience any time of the day, all year-round. With a top-class precision reel design, the fly reel is made for all sorts of fishing environments. It's durable and features a sealed drag system and is quite literally maintenance-free. 
By far one of the best features of the Tibor Billy Pate is its top-grade anti-reverse handling. The fly reel comes in Satin Gold (frame) with a black spool. You will also notice the classic Tibor Billy Pate engraving on the spool. Plus, the fly reel also comes with advanced rim control, providing maximum yet smooth braking. 
Pros
Solid aluminum frame
Durable and responsive rim control for solid braking
Sealed drag system
Anti-reverse design for double-handed fishing
Cons
Expensive
For professional game fishers
With superior and visually aesthetic design, the Loop Classic Fly Reel comes with an incredible drag mechanism – that offers streamlined durability and handling. It provides a unique and pleasant balance between performance and aesthetics. Whether you're a professional or an avid angler chasing steelhead or salmon, the Loop Classic is one of the best fly reels out there. 
With a traditional design and modern aesthetics, the Loop Classic Fly Reel has an elegant retro design with cutting-edge Power Matrix Drag mechanism for enhanced handling and matchless braking power. The body's made of anodized aluminum, which makes for a durable and long-lasting exterior, making the fly reel perfect for fishing in both saltwater and freshwater. Moreover, the screws on the fly reel are water-sealed, tightened with Loc-Tite, adding more durability. The drag disc is made from durable, marine-grade carbon for reliable and powerful braking. The Power Matrix Drag system is completely waterproof, even in saltwater. 
Pros
Beautiful aesthetics
Lightweight fly reel for superior handling
Power Matrix Drag mechanism with carbon braking discs
Loc-Tite screws
Made with anodized aluminum
Cons
Expensive
Best Fly Reels for Salmon: Premium ($700+)
One of the best things about the Hatch Iconic Fly Reel is the fact that it's superbly designed to accommodate the needs for just about every type of angler – from beginner to professional. This is specifically why the fly reel comes in different sizes (3-11). It features a carbon-based drag mechanism with a non-sealed design and provides unparalleled stopping power. The fly reel feels durable and smooth and is quick-drying. 
The Hatch Iconic Fly Reel comes with a one-piece design, which means the body provides smoother and flexible handling. You will never have to worry about reel seat loosening, which is a typical problem with most fly reels because of galvanic corrosion. The fly reel comes with a brilliant Bright Dip anodized finish, different from the company's previous models. The anodized finishing helps keep corrosion at bay and provide more durability especially for saltwater fishing. 
The drag mechanism is carbon-based. It's built at the top of the fly reel for added braking and overall smoothness when it comes to big fish wrangling and pulling. The discs are designed to quickly minimize friction. And because the drag system is integrated into the fly reel, it helps significantly minimize axial runout. 
Pros
Versatile and large arbor
One-piece body design 
Body integrated drag system for superior handling
Available in different sizes 
Carbon brake discs
One of the best salmon fly reels 9/10
Cons
Expensive
The Nautilus NV-Spey Fly Reel offers prominent balance thanks to its precision-based weighting and design. It's a durable fly reel for saltwater fishing, making it a strong and long-term fly reel. The spey design is deeply functional with an aesthetic design and it comes in two sizes as well as two retrieval rates. The best thing about the fly reel is the fact that it provides lightweight handling without any compromise on drag power. 
The Nautilus NV-Spey comes in two styles, brushed titanium and anodized black. Both types of styles guarantee minimal maintenance and excellent durability against saltwater corrosion. The body is made with CNC aluminum, which means the fly reel is both abrasion-proof and corrosion-free. So, even if you have to dip your reel or ding it a little, you won't have to worry about any abrasion. Plus, both types of finishing are weatherproof. 
The Nautilus NV-Spey Fly Reel features one of the strongest drag systems in the market. The brake discs are carbon-based and incredibly strong, perfect for wrangling bigger salmon and steelheads. The fly reel also has a bigger arbor, known as the "Giga", which provides enhanced line pickups allowing you to comfortably fight the fish and win. With superior line management technology, you won't have to fret about where your line ends up on the reel when wrangling the target. 
Pros
Carbon braking discs 
Available in two finishes
Large arbor 
Abrasion and corrosion-free design
Lightweight handling
Weighted balance
Cons
For professional or avid anglers
Expensive
The Hardy Cascapedia Reel is a perfect and precision-based tool for catching the aggressive Atlantic salmon, featuring a carbon disc drag mechanism with a top class click-check system to give a more classic feel. Plus, it features an indent calibrated system that helps maintain your drag exactly where you want it. 
The Hardy Cascapedia Reel has a traditional reel featuring a classic arbor size, designed specifically for fishers that want all the good stuff but in a classic body. The craftsmanship on the fly reel is flawless, it's truly a masterpiece. 
The body comes with hand-polished and CNC finish for maximum durability and speed. The bar stock is made with aluminum, offering formidable performance when the reel is dinged or dropped in water. Also, with an aluminum forged bar stock, the fly reel offers a more rugged feel, providing all year-round durability and resilience. The drag mechanism is made on bigger reels with carbon brake discs for quick heat dissipation and enhanced durability. Moreover, the click-check drag system is made with titanium parts for added performance and minimal maintenance. 
Pros
Click-check titanium system 
Carbon brake discs
Aluminum bar stock
Class arbor size
Lightweight
S-shaped handle
Cons
Made for veteran fishers
Pricey
The Rove is Abel's brand new reel for the 2023 season. It comes it various sizes (5/7, 7/9, 9/11, 11/12+) to cover a large variety of species. We put our hands on it to fish for Atlantic Salmon in Norway with the 7/9 version.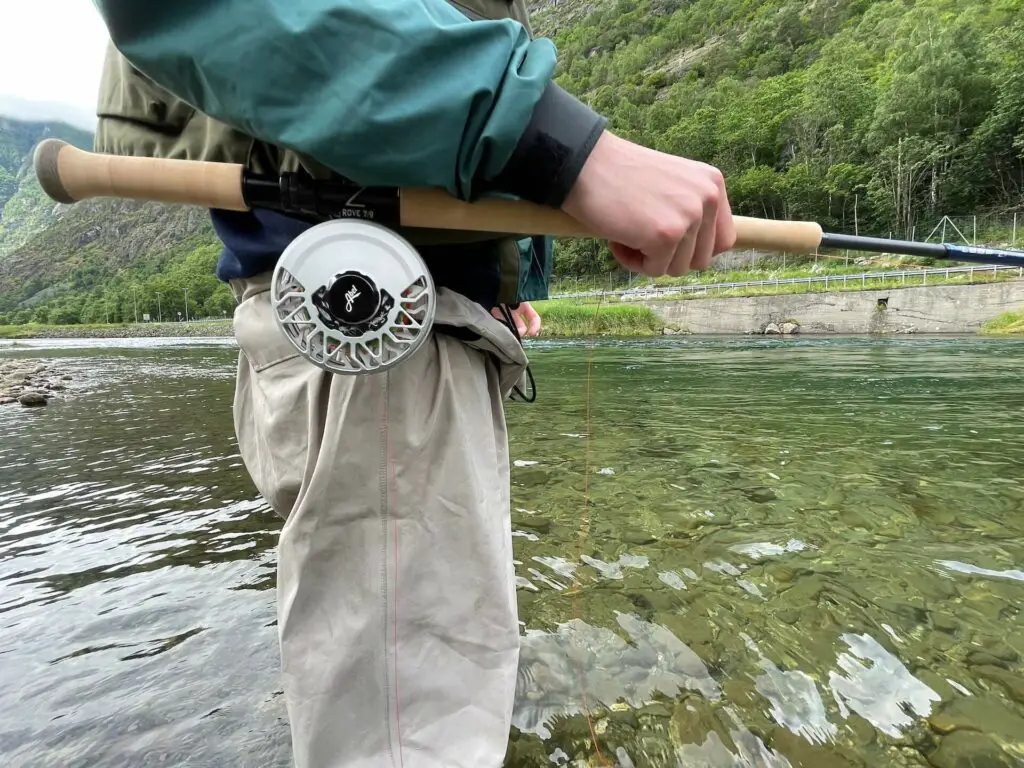 The new Abel Rove features state-of-the-art engineering and a functional yet beautiful design with powerful durability. With a light and exceptionally balanced design, the Abel Rove features an incredible cork drag system which is crucial to stop big fish. We also really like the sound of the reel when picking up line. It is subtle, yet distinct.
The Abel Rove is saltwater safe, which means you will never have to worry about frequent wear and tear. The design is corrosion and abrasion-free. You can easily switch it from left to right hand retrieve by opening the fly reel and adjusting the two small knobs attached to the cork break system.
The Abel Rove features a caged frame to make sure your line stays where it's supposed to be. The large arbor makes a quick line pick up easy. The reel is entirely made in USA and comes with a
Pros
Lightweight design, yet ultra durable
Strong braking power
Quick change spool
Bigger arbor for picking up more line 
Cons
Pricey
Bottom Line Best Fly Reels for Salmon Fishing
So there you have it – a comprehensive look into some of the best fly reels for salmon in different price categories. When it comes to picking out the best product, it's important to understand the decision will always be preference-based. Also, it will depend on the type of budget you have. For example, if you're an avid angler with a low budget then it's smart to go for the Orvis Hydros.
The fly reel comes with an impressive drag mechanism and comfortable handling yet lacks the finishing, drag power, and durability of high-end fly reels. If you have a big budget, then you should go for the Abel SDS hands-down. The SDS has the best industry rating out of all products and comes with a 20-lbs drag power, it truly remains unmatched.
Frequently Asked Questions: Best Fly Reels for Salmon
Should I go for a reel and rod combination?
It's highly preferable to opt for a reel and rod combination to make sure you maximize your experience and don't compromise on performance. Most anglers fish with a conventional reel, but things get frustrating when the reel doesn't fit the spinning rod. So, going for an optimal reel and rod combo will automatically translate into a more pleasant fishing experience. Always pick a combination suggested by the manufacturer. 
Should I use a baitcaster reel to target salmon?
When it comes to specifically fishing for salmon, baitcaster reels can play an instrumental role. They help maximize precision and accuracy, especially when you talk about using jerkbaits or crankbaits. And if you find the right spot to target salmon, baitcasters will certainly give you an edge. 
Are there different fly reel sizes?
Yes. Fly reels are essentially categorized by weight – and they come in different weights and sizes with the 3-wt the smallest and the 12-wt the largest. 
3-wt is basically designed for creek fishing -bream and trout
5-wt reels are for mid-size trout fishing
8-9-wt is for bigger fishes such as king salmon and steelhead or redfish
10-12-wt reels are for targeting bigger saltwater fish such as tarpon
So depending on what type of fish you're targeting, it's vital to pick a fly reel that's designed for the fish's weight and size. 
Notice: We take part in affiliate programs such as the amazon associates program. If you click on one of the links in the text and end up purchasing a product we earn a small commission at no extra cost for you. We only recommend products we are convinced of. Thanks for supporting our business. All images courtesy of amazon.