Last updated on August 24th, 2023.
The Olympic Peninsula in western Washington is home to big rain, big trees and big fish. Steelhead thrive on rivers like the Sol Duc, Calawah, the Bogachiel, the Hoh, the Queets and the Quinault.
Big Rain for Rainforest Steelhead
The peninsula is drenched by 14 feet of rain each year. The Olympic mountains strain the moisture out of the clouds which head inland from the Pacific Ocean. It sometimes rains every day in November. I've taken many trips to the peninsula and these pictures come from the only trip when it didn't rain. Rain can play havoc on a fishing trip. You fly across the country and drive several hours to the peninsula. Then spend several days looking into rain swollen rivers with a foot's visibility. Then watch the state's river gauges and head for the peninsula when rivers are falling after a big rain.
Big Trees
The rain creates a temperate rainforest of moss, fern, lichen, hemlock, cedar and douglas fir. Sometimes even the air seems green. The world's largest western red cedar and largest sitka spruce are in the rainforest. Much of the interior of the peninsula is national park. That means old growth timber which supports elk and bear and cougars. The Olympic National Park has been reintroducing fishers (small carnivorous mammals from the weasel family) to the rain forest. They had almost been hunted and trapped to extinction.
Big Rainforest Steelhead
Six rivers run west through the rainforest to the ocean. They are home to sea-run rainbow trout or steelhead which can weigh in excess of 30 pounds. These fast glacial-sourced rivers aren't capable of producing enough food to sustain a large population of huge fish. So most of the rainbows run to the sea. Just like Scottish brown trout which flee the sterile peat stained lochs and burn for the fertile bays of the Atlantic.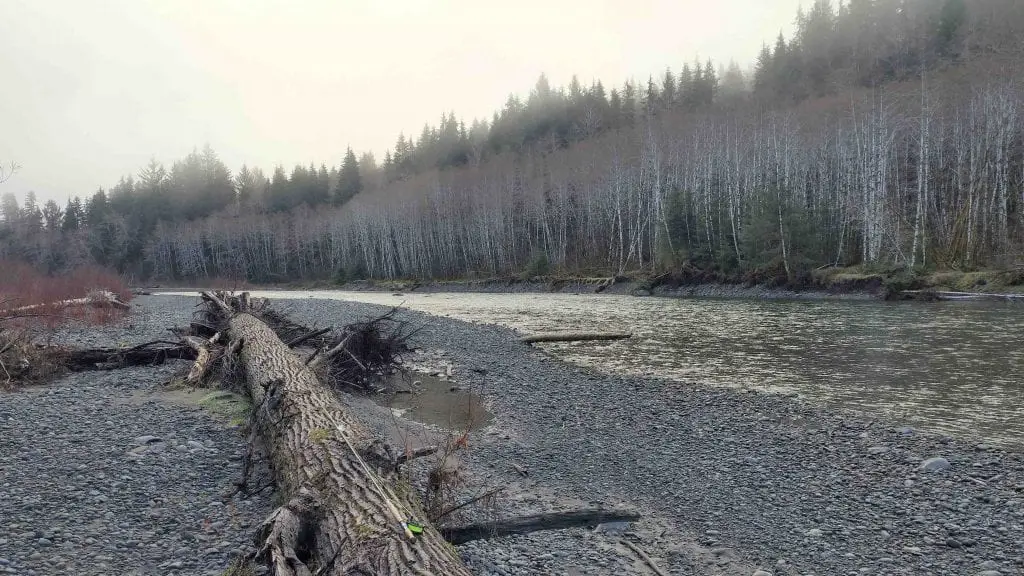 Best Time for Rainforest Steelhead Fishing
The largest runs of steelhead trout enter nose into freshwater to spawn between December and April. Spawning occurs in April and May. A small number of steelhead enter rivers in the summer but there aren't enough to justify the angling effort. Better to chase sea-run cutthroat in the late summer and fall and maybe a summer-run steelhead will surprise you.
Where
The major steelhead rivers (north to south) have magical Indian names. The Sol Duc, Calawah, the Bogachiel, the Hoh, the Queets and the Quinault. When the fish are in the lower reaches, these rivers can get crowded with gear anglers. They use plugs, eggs and yarn flies.  A 30-45 minute walk away from a road may put you on a riffle. That riffle will take you an hour to fish. It also helps to fish the higher reaches of steams above boat launches.
Tackle for Steelhead Fishing
There is a simplicity to winter tackle. Most of what you need can fit into a couple pockets of a shorty Patagonia rain jacket. A 15 foot spey rod is ideal for the long casts and mends necessary for presenting large flies on a downstream drift. Most northwest steelheaders use a type V or type VI 15′ sink tip line. The rest of the line floats. A sinking tip is handy when you need to mend the fly to slow the swing across the current. Leaders consist of 4 feet of 12-15 pound Maxima Ultragreen or Fluorocarbon. You don't want anything longer than that because your fly will be fishing above your fly line. Low and slow and close to the bottom is where you want to be.
Great Rods for Steelhead Fishing
There are two schools of thought on flies: the pragmatic and the romantic. The pragmatist uses flies which are easy to tie because they'll get snagged on the river bottom. Hence my friend fishes a 2/0 white marabou spider and catches more than his fair share of steelhead. I like to fish elegant spey flies. They were invented by Syd Glasso, a high school teacher in Forks, a small timber town in the middle of the rainforest. I've written before about the Black Heron and the Sol Duc Spey. I also enjoy fishing Syd Glasso's version of a polar shrimp.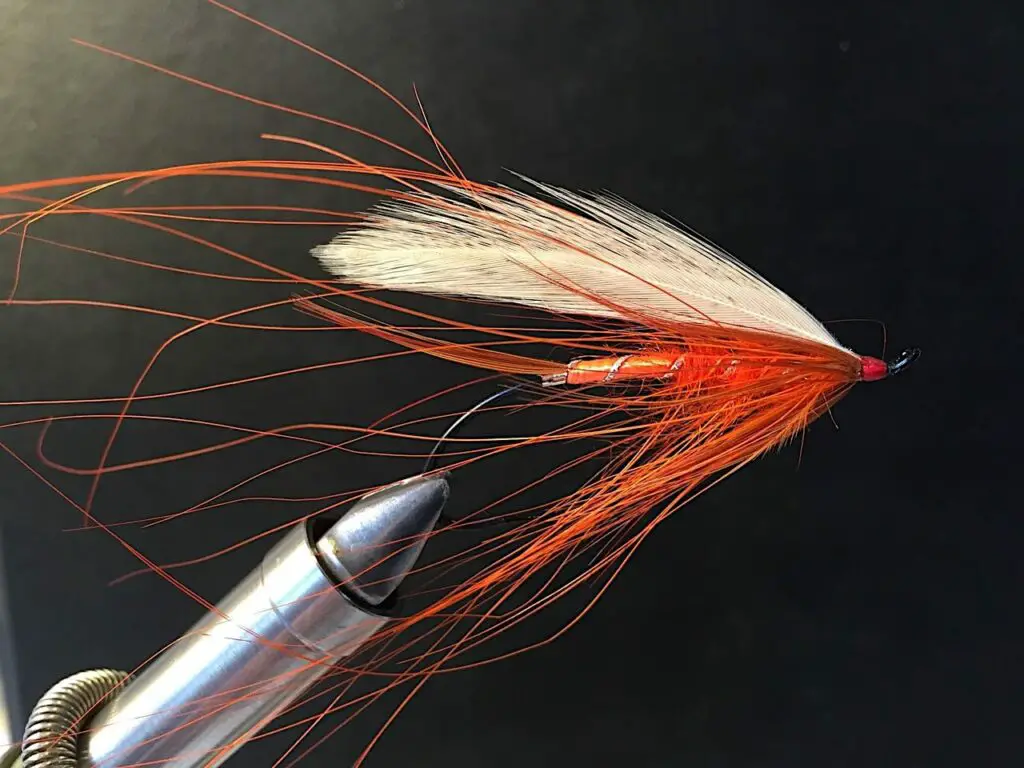 How to Tie the Syd Glasso Polar Shrimp
Syd Glasso Polar Shrimp Spey Fly
Hook: Size 1.5 or size 3 Daiichi Alex Jackson Spey hook
Tag: Flat silver tinsel
Tail: Reddish orange hackle fibers
Rib: Oval silver tinsel
Body: Rear 2/3rds hot orange floss. I use fluorescent floss. Front 1/3: hot orange seal's fur.
Body Hackle: Orange dyed heron, orange schlappen or orange dyed blue eared pheasant.
Throat: Red golden pheasant flank feather.
Wing: Four white hackle tips tented and set low over the body. It's best to use the slightly curved hackles from the outside edge of the neck. They cup the body. Purists will criticize this tying because the wings are too long. Glasso's wings rarely exceeded the body length. I like long wings because they act as a rudder to keep the fly upright and have more action.
Thread: Red.
Technique for Rainforest Steelhead Trout
The key to winter steelhead is identifying good water. A nice steelhead run will be 4-6′ deep and moving about walking pace. It also helps if there's a log or rock which breaks the flow and creates a current seam between fast and slow water. Riffles are great habitat because the broken water gives the fish a feeling of security. There will be a fish on the current seam just in back of the downed tree in this picture.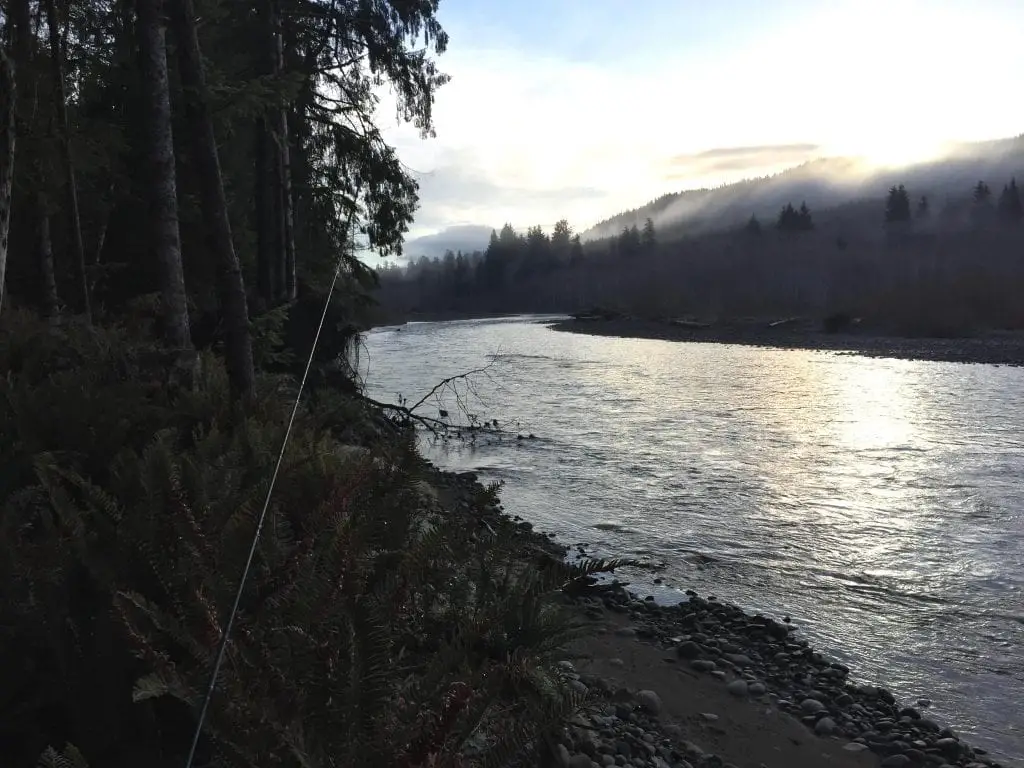 A long diagonal spey cast down stream followed by an aerial mend and a long slow swing across the current will do the trick. The water is cold and winter fish won't move far for the fly so low and slow is the way to fish. It doesn't hurt to fish through a run a second time using a fly with a different color or profile. A bright fly followed by a dark fly or a spey fly followed by a general practitioner.  I've caught enough fish on a second or third pass through a pool to always fish a good run more than once before giving up.
Read more about steelhead fishing here:
SOL DUC CABIN – A PRIVATE STEELHEAD FLY FISHING CABIN
Disclaimer: If you click on an affiliate link on this page and end up making a purchase we earn a small commission at no extra cost for you.