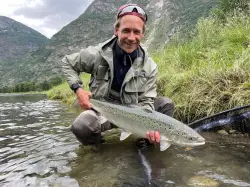 Latest posts by Leonard Schoenberger
(see all)
Bad weather is a constant companion in fly fishing, solid protection should be too.
Enter the Patagonia SST Jacket – your go-to shield against whatever nature decides to throw at you during a day of fishing. Picture it as your trusty companion, promising not just to keep you dry but to do it in style. So, let's dive into the nitty-gritty of this wading jacket and discover why it's more than just gear; it's an essential part of your angling adventures.
Note: Some of the links in this article are affiliate links. If you click on one of them and end up purchasing a product we earn a small commission at no extra cost for you. We only recommend products we believe in ourselves and would recommend to our friends and family. Learn more here.
Getting Personal with the SST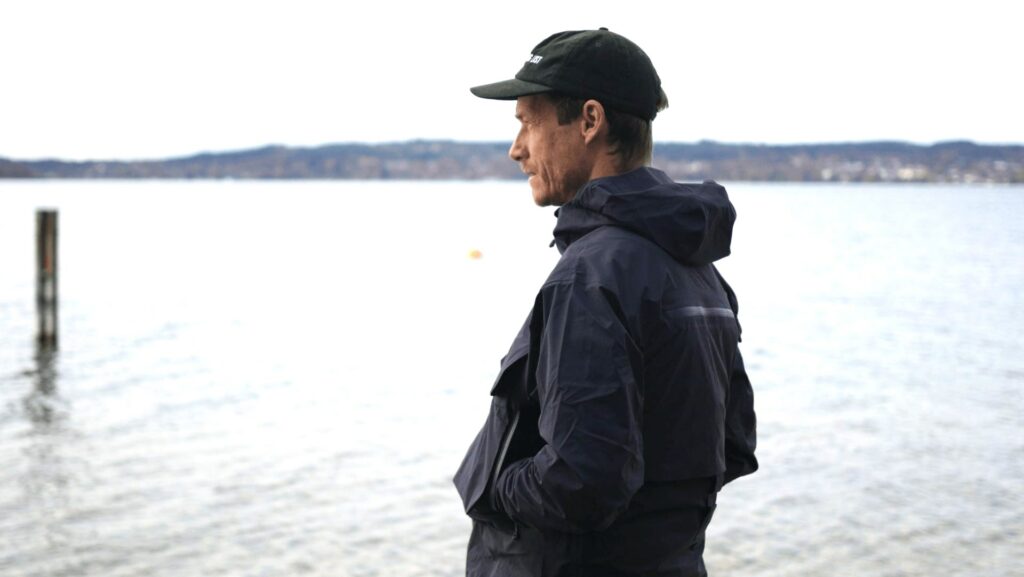 What you get:
Color: Smolder blue – which is a beautiful dark blue in real life
Sizes: XS to XXL
Fully adjustable hood
Neoprene cuffs
Handwarmer pockets
Integrated belt loops
Weight: 17.5 oz (496gr)
Price: $399
Designed with Anglers in Mind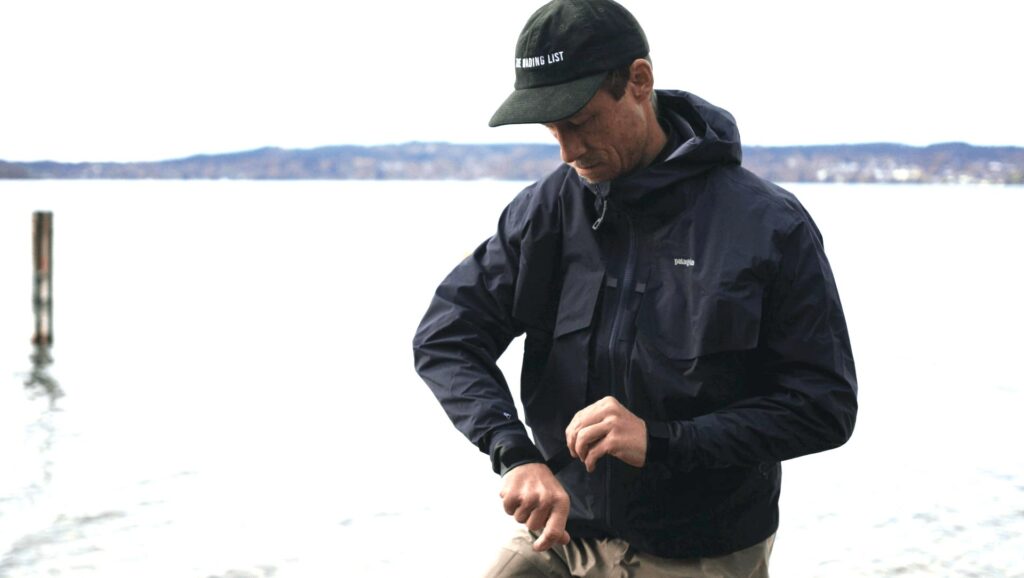 First off, this jacket feels solid in your hands. It's not just about repelling water; it's about durability and standing up to the toughest conditions Mother Nature can muster. Plus, I'm a big fan of the dark blue colouring. It's not your standard fly fishing jacket color but I think Patagonia did a really good job here. It looks cool, classy and since it's a dark blue it still offers enough "camouflaging" when out fishing.
But the SST Jacket doesn't just look good; it's designed for us anglers. The H2No™ Performance Standard fabric is like your personal force field against rain and splashes. Don't be fooled, this jacket is all about providing a durable layer against water. There's no insulation that comes with it. What's great about that is the fact that you can wear it in the summer and, if you layer beneath accordingly, also during the winter time.
Performance Check on the Water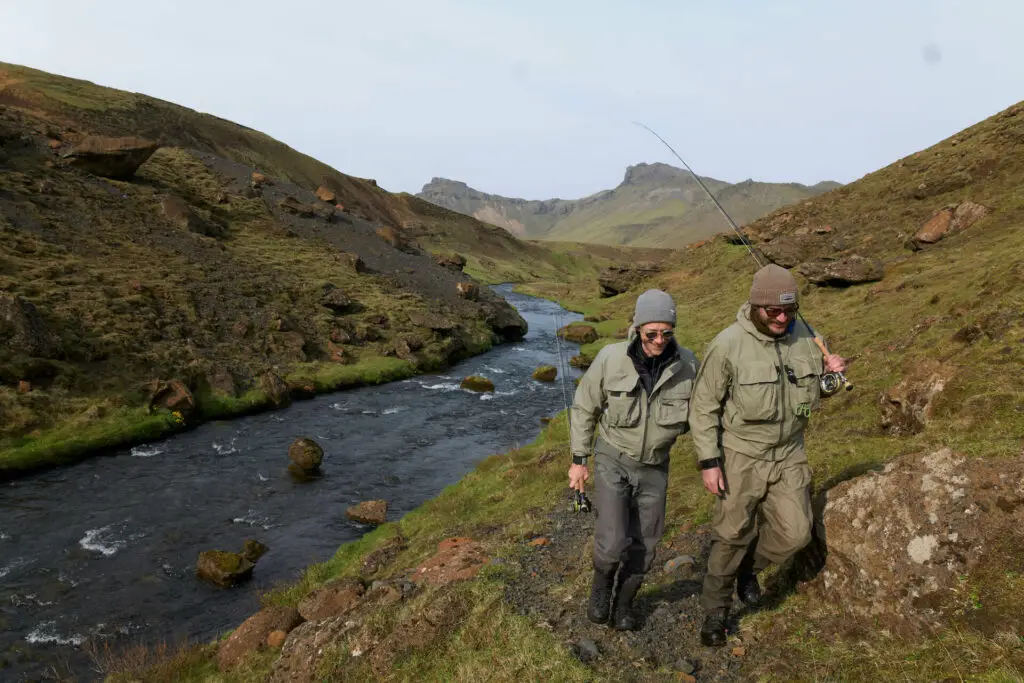 The SST (which stands for Salmon, Steelhead and Trout) has a long tradition in Patagonia's lineup as their premiere wading jacket. Over the years they've only refined it marginally. Compared to the latest predecessor (pictured above), the main difference is the color. Apart from that Patagonia stuck with the motto "never change a winning team".
Now, does it live up to the hype on the water? Absolutely. This jacket doesn't just shield you; it breathes with you. Those vents strategically placed? They're the secret to staying cool when the action heats up. And the articulated sleeves? It's like the jacket understands our casting rituals, giving us the freedom to move without restriction.
Need pockets? The SST's got you covered. It's not just about having them; it's about having them in the right places for easy access to your fly boxes and leaders – essentials that shouldn't be a hassle to reach. The SST even features a zippered pocket on the back. I've used it for a packed lunch or even to carry a catch (I'd recommend a plastic bag to put the fish in before putting it into the pocket).
Always On the Move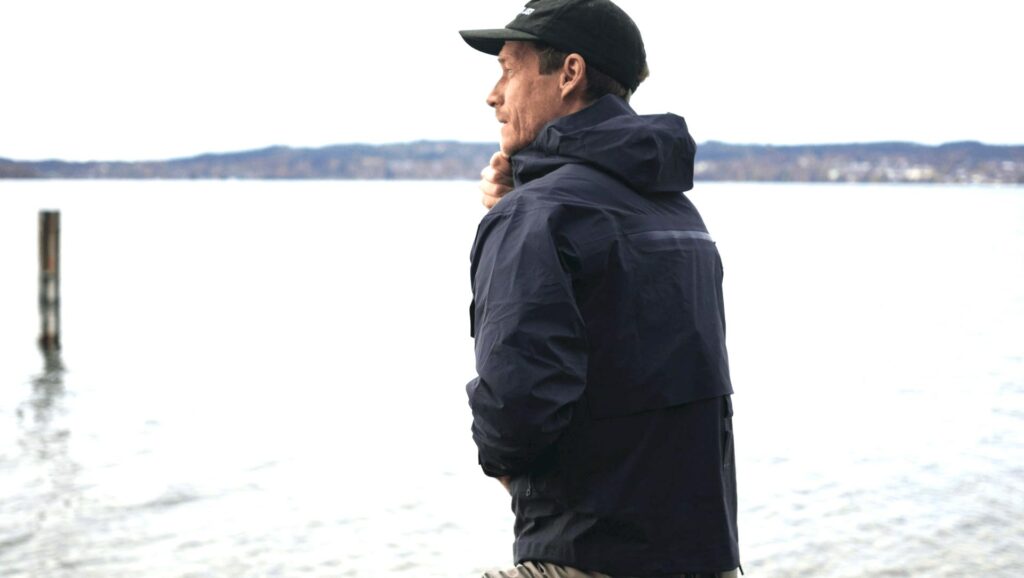 We know anglers are nomads, always on the move. The SST Jacket gets it. It's easily packable, ready to be stowed away when not in use and whipped out at a moment's notice when the weather decides to play tricks on you. The jacket also features a highly adjustable hood that is the essential tool to keep you dry when it starts pouring.
The Real Talk – Pros and Cons
Pros
Dry and Breathing: The three layer fabric provides excellent protection against the rain while being very lightweight.
Your Fit, Your Way: Adjustable cuffs and hem for a fit that's just right for you.
Built to Last: I've fished my prior SST jacket for more than 7 years and it still holds up great
Move Freely: Articulated sleeves for unrestricted casting movements.
Gear at Your Fingertips: Thoughtfully placed pockets for easy access to your fly boxes and leaders.
Cons
While I'm a fan of the dark blue coloring, I'd like to see another colorway added to the lineup.
This is a highly specialised (deep) wading jacket due to its short cut. If you're on the lookout for a fishing jacket with higher versatility, make sure to check out the Filson Skagit and Schoeffel Salar II.
Final Thoughts on the Patagonia SST jacket
The SST is legend in the field of wading jackets and it's definitely one of the best premium wading jackets out there. In fact, at $399 it provides excellent value for money in my eyes. That is if you know what you're getting out of it. This is a highly specialised deep wading jacket tailored at serious fly fishermen who don't want to compromise on quality and performance.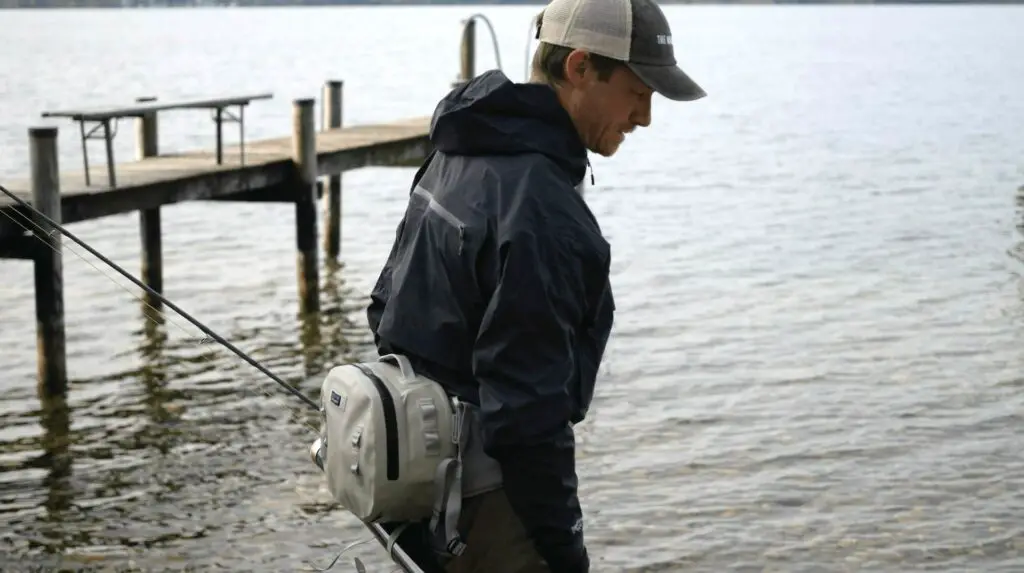 Burning Questions Answered: Patagonia SST Jacket Review
Can the SST Jacket handle a downpour and hours of wet conditions?
Absolutely. The H2No™ Performance Standard fabric laughs in the face of heavy rain, keeping you dry even in prolonged exposure.
How chill is the jacket during energetic activities like hiking or wading?
It's like a breath of fresh air. The vents are there for a reason, ensuring you stay cool even during the most energetic moments.
Can the pockets actually fit my chunky fly boxes?
You bet. The pockets are roomy enough to comfortably house your chunky fly boxes, leaders, and whatever else you need.
Is it an all-season jacket or more geared towards colder days?
This jacket is your versatile buddy. It rocks in colder weather if you layer underneath accordingly and stays breezy in warmer conditions, thanks to its clever ventilation design.
How easy is it to pack, and does it come with a handy carry bag?
It's packable, no doubt. While it doesn't come with a fancy carry bag, it's designed to be your travel-friendly companion.