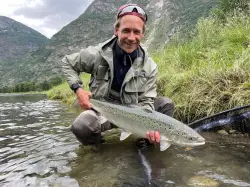 Latest posts by Leonard Schoenberger
(see all)
When it comes to braving the elements while fly fishing, having the right gear can make all the difference.
The Filson Skagit Rain Jacket is a piece of high-quality outdoor apparel designed to withstand the challenges of wading in rivers and streams. In this review, we'll explore the jacket's specifications and features, what makes it an excellent choice for fly fishing, and how it stacks up against other high-end wading jackets in the market.
Specifications and Features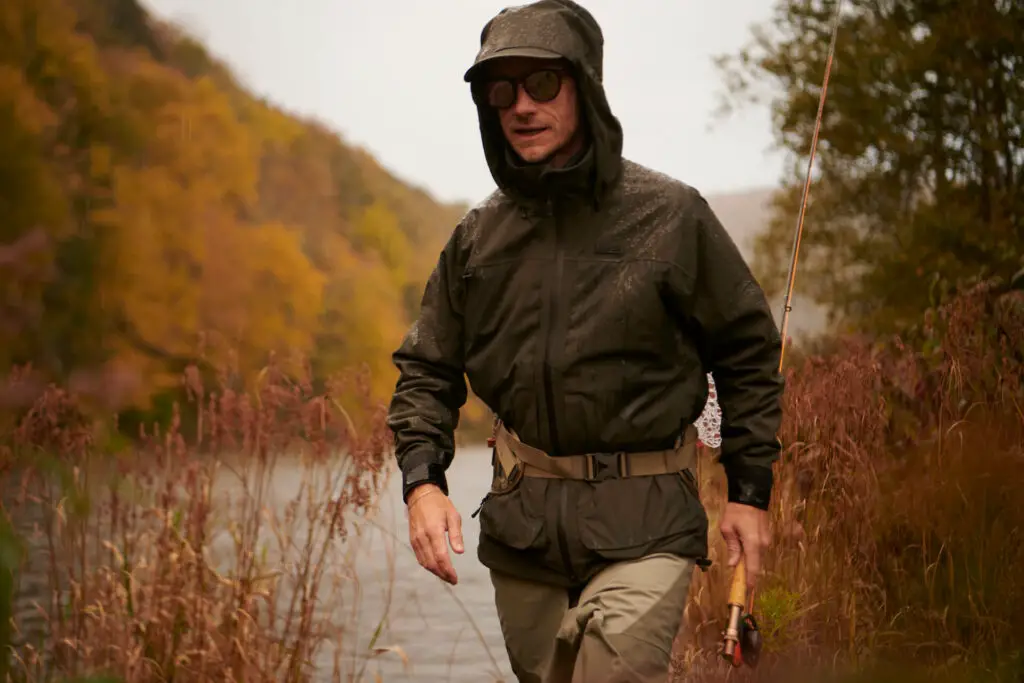 Let's begin by examining the key specifications and features of the Filson Skagit Rain Jacket:
Main features:
Made from highly durable, waterproof nylon fabric
Fleece-lined handwarmer pockets
Neoprene cuffs at sleeves
Big, adjustable hood
Price: $455
Disclaimer: Some of the links in this article are affiliate links. If you click on one of them and end up purchasing a product we earn a small commission at no extra cost for you. We only recommend products we believe in ourselves. Learn more here.
Material and Construction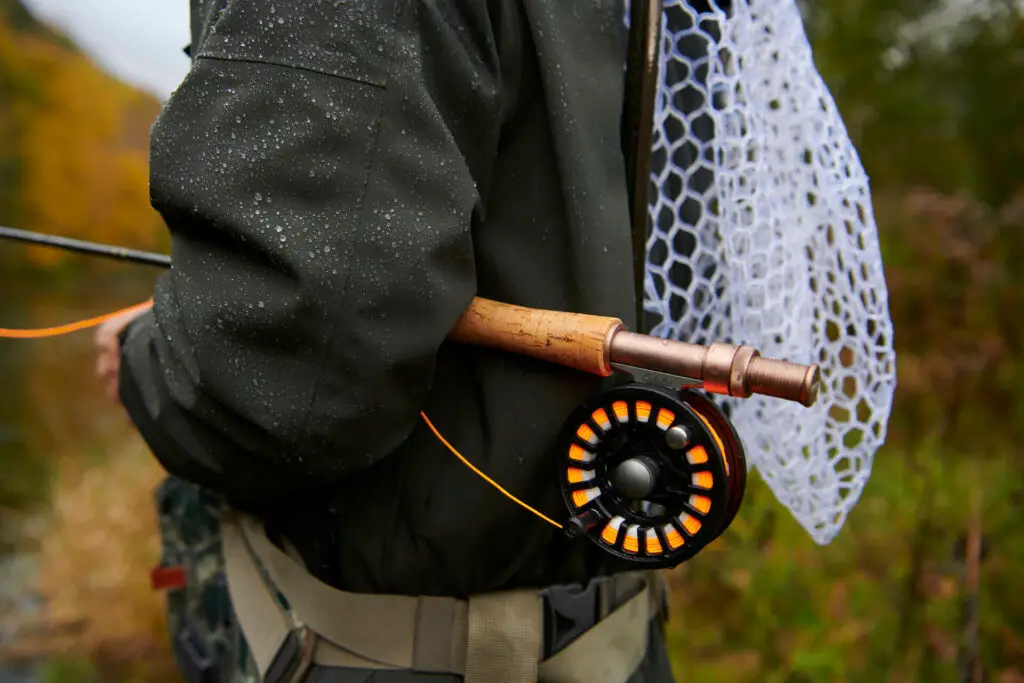 The Skagit Rain Jacket is crafted from Filson's highly durable, thick nylon fabric. This material is known for its durability, providing long-lasting protection against rain, wind, and splashes while maintaining breathability to keep you comfortable.
Design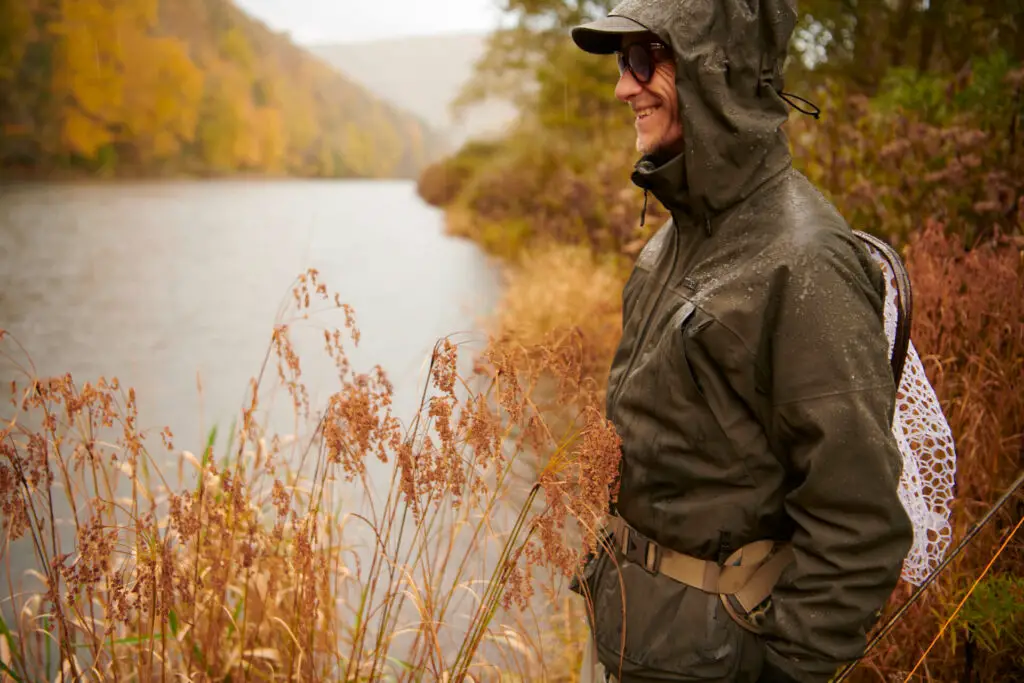 This jacket features a streamlined design with minimal bulk, allowing for ease of movement while casting or wading. The articulated sleeves and gusseted underarms further enhance mobility.
Waterproof Zippers
The YKK® AquaGuard® zipper on the main closure and pockets are fully waterproof, ensuring that no moisture penetrates the jacket's interior. From my experience, when it rains heavily for hours, these zippers remain a weakness and at some point some water might penetrate.
Adjustable Hood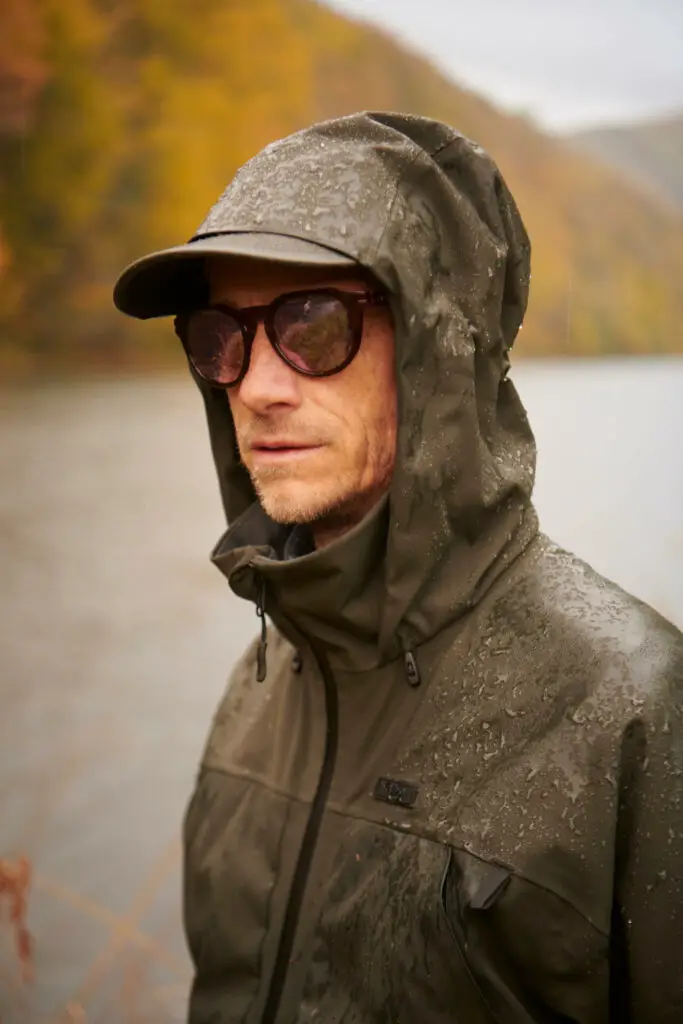 The hood is fully adjustable and designed to fit over a cap or hat, providing excellent protection from rain and wind. It can also be rolled up and secured when not in use.
Pockets
The Skagit Rain Jacket is equipped with multiple pockets, including a zippered pockets around the waist that can hold a lot of gear and handwarmer pockets. The lower pockets provide convenient storage for essentials like fly boxes, leader material, and small tools.
The only thing that could be improved in terms of storage and pocket options, would be velcro chest pockets. These often facilitate access to gear like pliers or a forceps when using only one hand. On the other hand, the pocket design on the Filson Skagit prevents the jacket from getting too bulky when loaded.
Fabric
First and foremost the Filson Skagit comes in a beautiful moss green nylon fabric. What's great about this membrane is its balance between breathability and durability. This jacket is designed for harsh fishing environments in the Pacific Northwest. Hence the fabric is particularly puncture resistant – an important feature when you have to work your way along the bank of a steelhead river and can't pay too much attention to branches.
Weight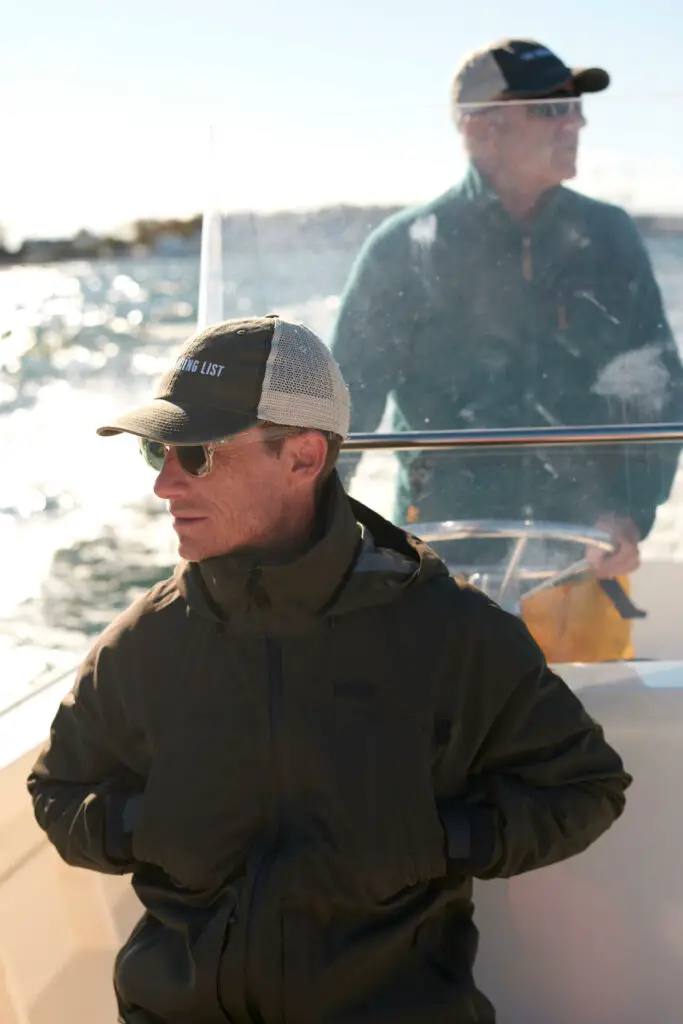 The Filson Skagit Jacket strikes a balance between durability and weight. It's lightweight enough not to hinder movement but substantial enough to withstand tough conditions. Compared to other wading jackets like the Patagonia SST, it's definitely a tad heavier which is also due to its longer cut compared to the Patagonia SST for example.
Why the Filson Skagit Rain Jacket is Great for Fly Fishing
The Filson Skagit is designed with fly fishermen in mind. Here's what makes it a standout choice for those passionate about fly fishing:
Durability: Filson is known for its rugged outdoor gear, and the Skagit Rain Jacket lives up to that reputation. It can handle the abrasion of wading through rocky riverbeds and brushy banks.
Waterproofness: With Filson Rain Cloth fabric and waterproof zippers, this jacket keeps you dry even in heavy rain, making it ideal for extended days on the water, no matter whether you're wading a river or fishing from a boat.
Mobility: The jacket's design prioritizes mobility, ensuring that it won't restrict your casting or wading movements. The same holds true for the hood from my experience.
Fly-Fishing Specific Features: Features like the adjustable hood and waist bands and ample pockets make it easy to carry and access your essential fly-fishing gear.
Comparison with Other High-End Wading Jackets
Patagonia SST Wading Jacket vs Filson Skagit Jacket
Both the Filson Skagit and Patagonia SST are top-tier wading jackets. The SST jacket boasts a slightly lighter weight and more minimalist design, while the Skagit offers additional storage options. The Filson Skagit features a little different pocket design with all pockets being accessed sideways and closed by zippers.
The Patagonia SST features two big chest pockets for bigger fly boxes accessible with velcro top closures. For easy access, I like the Patagonia pocket design a little better. The Skagit on the other hand has more storage space. Both jackets feature hand warmer pockets. The Patagonia SST also features a zippered pocket on the back for a lunch for example.
In terms of the cut, the Patagonia SST is clearly aimed at wading deep. It features a belt loop on the back so you dial in your setup for maximum wading joy. The Skagit on the other hand is the better overall choice if you're looking for a high-end waterproof and breathable fishing jacket because of its slightly longer cut.
Both jackets feature great velcro neoprene closures at the sleeves to prevent water from getting in when releasing a fish. The hood design of the two is also quite comparable with excellent adjustment options. Last but not least they play in a similar league when it comes to their price: The Patagonia SST comes in at $399 and the Skagit at $455.
L.L.Bean Men's Emerger II Wading Jacket
The L.L.Bean Emerger II Wading Jacket is a solid wading jacket with similar functionality as the Skagit. Best thing about it is the fact that it comes in at almost only a third of the price of the Skagit ($159). The Emerger is a wading jacket that pays great attention to detail.
Just like the Skagit it features neoprene hand cuffs and an adjustable hood. In terms of the front pockets in comes with a similar design as the Patagonia SST. Besides the chest pockets it features retractors on each side – a feature I personally like a lot since you can attach a nipper or a forceps. The small fly patch is another handy feature, just like the D-ring to attach a landing net on the back of the jacket.
The biggest difference (and an explanation for the big price difference) is the fabric of the Emerger II. While the Filson Skagit is meant for the harshest conditions of the Pacific Northwest, the Emerger is a great wading jacket for occasional downpours. From my experience it can protect you from the elements for a while but far not as long as the Skagit. The Skagit's fabric is also much more puncture resistant. However, like I said, the Emerger II is very affordable at $159 and hence a great option for people that are not die-hard fly fishermen but need solid protection from the elements. Overall it's a great, very thought-through wading jacket.
Pros and Cons of the Filson Skagit Rain Jacket
PROS:
Exceptional durability and rugged construction
Big hood is great with all kinds of hats
Longer cut makes the Skagit a great overall fishing jacket
Excellent cuffs at the wrists
CONS:
Heavier than competitors like the Patagonia SST for example
Velcro chest pockets for easier access would be an upgrade for the Skagit
Size down one size size the Skagit runs big
Conclusion
The Filson Skagit is a testament to the brand's commitment to durability and functionality. For fly fishing enthusiasts who demand a reliable wading jacket that can stand up to the rigors of the sport, the Skagit Rain Jacket is a top-notch choice. Its waterproofness, mobility, and fly-fishing-specific features make it a valuable companion on any fishing expedition. While it may come at a premium price, its quality and performance are worth the investment for those who take their fly fishing seriously.
Frequently Asked Questions
Is the Filson Skagit Rain Jacket suitable for cold-weather fishing?
While the jacket provides excellent protection from the elements, it is not insulated. Layering underneath is recommended for cold-weather fishing.
Can I machine wash the Skagit Rain Jacket?
Yes, the jacket is machine washable. Follow the care instructions provided by Filson for best results.
What sizes are available for the Skagit Rain Jacket?
The jacket is available in a range of sizes, from XS to 3XL, ensuring a proper fit for a wide range of body types. Be aware that the jacket runs rather big.