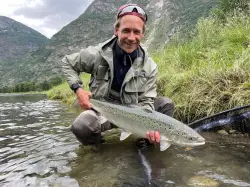 Latest posts by Leonard Schoenberger
(see all)
A waterproof waist pack can make a big difference when out fishing.
But not just any hip pack will suffice when you're wading through rivers or casting under the sun. Enter the Patagonia Guidewater Hip Pack, a testament to the advantages of a waterproof waist pack in the world of angling.
Note: Some of the links in this article are affiliate links. If you click on one of them and end up purchasing a product we earn a small commission at no extra cost for you. We only recommend products we believe in ourselves and would recommend to our friends and family. Learn more here.
The Advantages of a Waterproof Waist Pack
In my eyes, a waterproof waist pack offers distinct advantages over its non-waterproof counterparts, especially in fly fishing:
Protection: A waterproof waist pack keeps your gear safe and dry, even in wet conditions. Whether you're wading through rivers, enduring unexpected rain showers, or splashing through the surf, your valuables remain protected.
Durability: Waterproof packs are typically constructed with rugged materials designed to withstand harsh environments. They can handle the rigors of outdoor adventures, ensuring longevity and reliability. I like the fact that you don't have to worry about scratching a branch or rock.
Convenience: With a waterproof waist pack, you have easy access to your essentials without the worry of water damage. It allows you to focus on the fishing experience rather than constantly guarding against moisture.
One of the best waterproof, fully submersible waist packs on the market is the Patagonia Guidewater. We've put it to the test in real life and tell you about its strengths and weaknesses.
Patagonia Guidewater Hip Pack Overview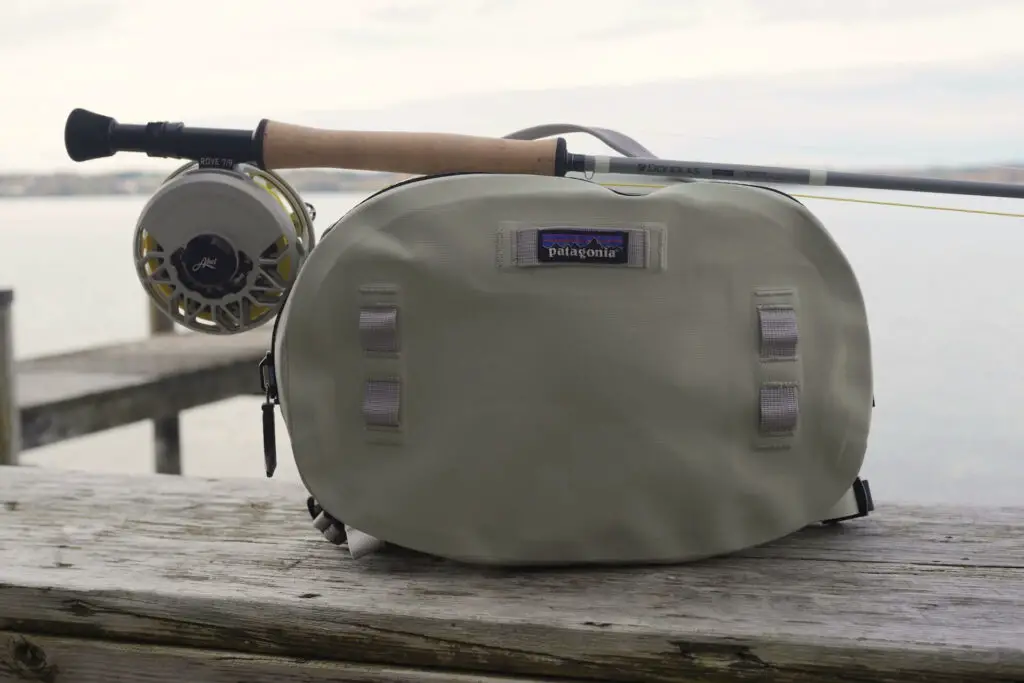 Capacity: 9 liters.
Material: 100% recycled nylon with a YKK waterproof zipper.
Weight: 1lb, 6oz (which translates to 610gr).
Waterproof: Yes, even fully submersible with fully welded seams and a waterproof zipper.
Adjustable Waist Belt: Padded and adjustable for a comfortable fit. Additional shoulder support strap when loaded heavily.
Main Compartment: Features a waterproof, fully-submersible zipper for secure storage. Organisational mesh pocket on the inside (removable).
Exterior Pockets: None.
Daisy Chains: Webbing loops for additional attachment options.
Rod tube holder on the bottom.
Price: $239.
Main Features
Waterproof Design: The standout feature of the Patagonia Guidewater Hip Pack is its fully waterproof construction. It boasts a durable nylon fabric with fully welded seams. This means you can wade through rivers, endure heavy rain, or even submerge the pack without worrying about water seeping in. It's a game-changer for anglers who demand the ultimate protection for their gear. Already when first laying hands on the bag, I could tell how sturdy its build was.
Spacious Main Compartment: The pack's main compartment is accessed via a waterproof, fully-submersible zipper. Inside, you'll find ample room for your fly boxes, leaders, tippets, and other essentials. The waterproof zipper ensures your gear stays dry even in challenging conditions, making it a reliable storage solution.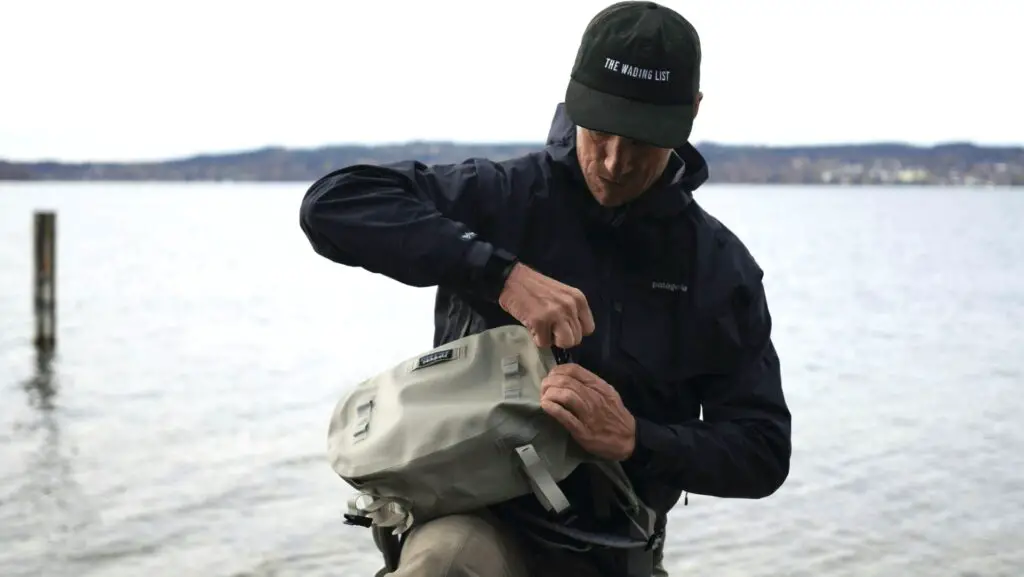 Exterior Pockets and Attachment Points: The Guidewater Hip Pack doesn't skimp on organization. It features a mesh pocket on the inside (which is removable). Additionally, daisy chains provide attachment points for additional tools and accessories, ensuring you're well-equipped on the water. The only thing it's missing is an outside pocket for quick access to tools that don't need waterproofness. This way you always have to open the main zipper (which I managed to do only when using both hands) to access your tools.
Comfortable and Adjustable Fit: The padded, adjustable waist belt ensures a comfortable fit, even during long days on the water. The belt can be customized to your size, and the padding helps distribute the weight evenly, preventing discomfort or fatigue. What's nice about the Guidewater is the fact that it comes with an additional strap that you can sling around your shoulder for increased weight distribution.
Integrated net slot: Between the main pack and the padded waist strap, you'll find a sleeve to slide in your fly fishing net if you want to wear it behind your back. I've become a big fan of using my waist pack to hold my net as it ensures quick and easy access when landing a fish.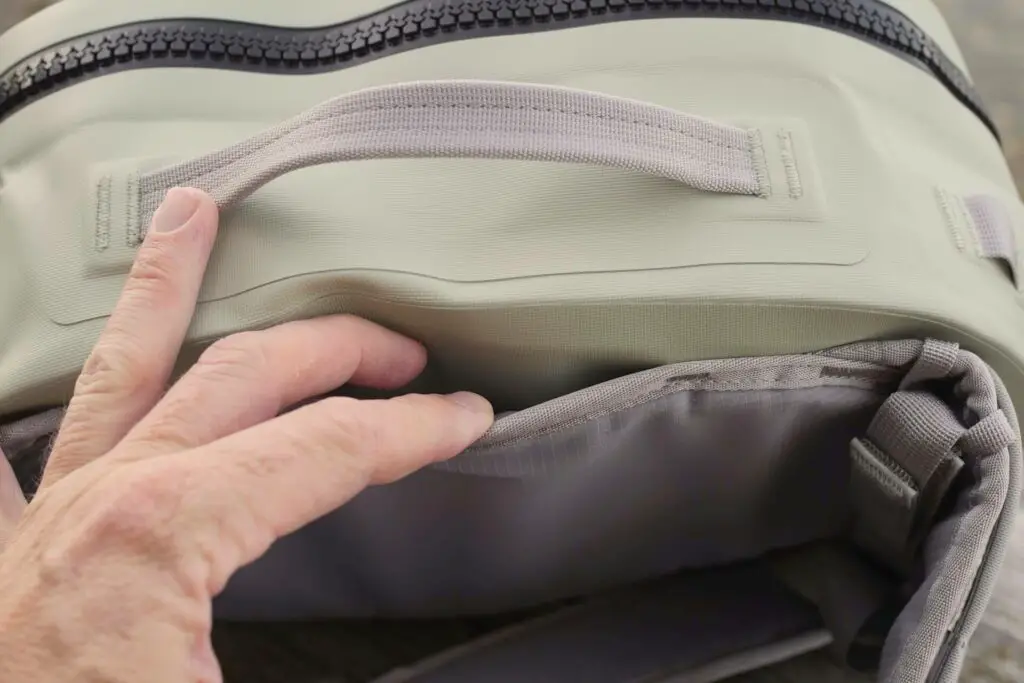 Pros and Cons
PROS:
Superior Waterproofing: fully waterproof design with welded seams ensures your gear remains dry, no matter the conditions.
Comfortable Fit: The adjustable, padded waist belt offers a great fit for long days on the water.
Durable Construction: Made from 100% recycled materials, this pack is not only eco-friendly but built to last.
Conclusion: Embrace the Elements with Confidence
The Patagonia Guidewater Hip Pack is more than a fishing accessory; it's a statement of confidence in the face of challenging conditions. Its fully waterproof design, spacious compartments, and comfortable fit make it a trusted companion for anglers who refuse to let the elements deter them from their passion.
Frequently Asked Questions: Patagonia Guidewater Hip Pack Review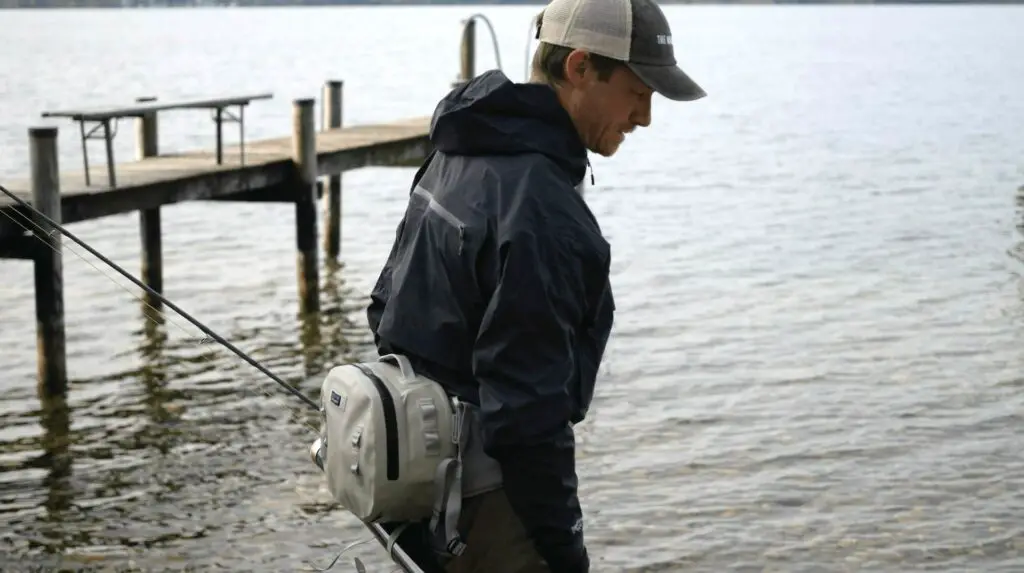 Is the Patagonia Guidewater Hip Pack submersible?
Yes, the pack is fully waterproof with welded seams, making it submersible and capable of withstanding wet conditions.
Can it fit larger fly boxes?
Yes, the main compartment can accommodate larger fly boxes, and the pack offers various exterior pockets for additional storage.
Is the waist belt adjustable for different body sizes?
Yes, the waist belt is adjustable and padded for a comfortable and secure fit, accommodating a range of body sizes.
Can I attach a fishing net to the pack?
Yes, the Patagonia Guidewater Waist Pack has a dedicated net holster.