Last updated on November 22nd, 2023.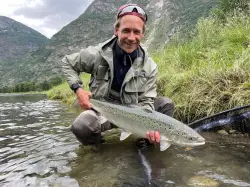 Latest posts by Leonard Schoenberger
(see all)
In the world of fly fishing every moment by the water counts.
It is a chance to connect with nature, it's the little things that make all the difference. Imagine a day on the riverbank, with the soothing sounds of flowing water and the thrill of casting your fly line to eager trout. To make this experience truly seamless, you need the right gear, and that's where the Fishpond Thunderhead Submersible Lumbar steps into the limelight. This isn't just any hip pack; it's your reliable sidekick, designed to keep your gear dry and organized while allowing you to focus on the art of fly fishing. Join me in this review as we explore the Thunderhead's specifications, features, and why it's the perfect companion for your angling adventures.
Disclaimer: Some of the links in this article are affiliate links. If you click on one of them and end up purchasing a product we earn a small commission at no extra cost for you. We only recommend products we believe in ourselves. Learn more here.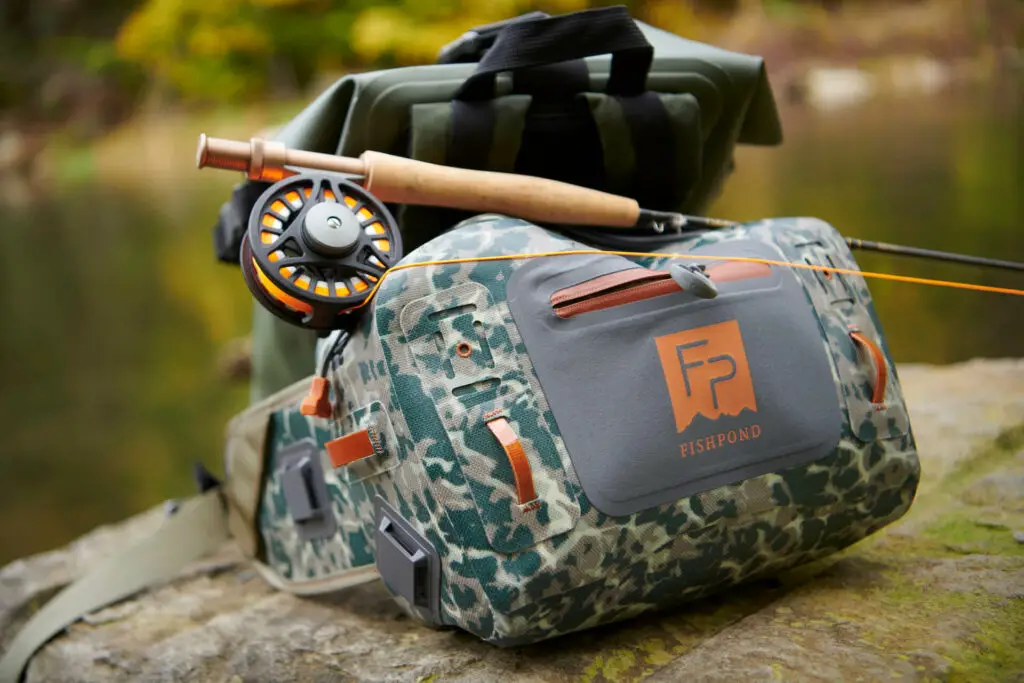 Hands on with the Fishpond Thunderhead Submersible Hip Pack
At first glance:
Colors: Eco Yucca, Riverbed Camo (pictured in our review) & Eco Shale
Capacity: 10L
Weight: 1.9lbs
Material: 100% recycled nylon
Price: $249.95
Before we embark on our angling journey, let's get to know the star of the show—the Fishpond Thunderhead Submersible Lumbar. This hip pack is engineered to meet the unique demands of fly fishing.
Submersible Design: The Thunderhead Lumbar boasts a fully submersible construction, meaning it can handle complete immersion in water without compromising the gear inside. Say goodbye to the worries of sudden rain or accidental drops into the river. I've become a big fan of full submersiveness since you don't have to worry no matter the conditions. Yes, a fly box or extra tippet spool can get wet but if you want to bring a camera for some memorable shots on the water, you don't want to risk that valuable equipment getting wet. Fully submersible packs such as the Thunderhead are more expensive than traditional fly fishing hip packs but in my eyes the extra dollar is worth it since all your worries will disappear at once.
Ample Storage: Despite its compact size of 10L, this hip pack offers ample storage space, featuring a large primary compartment, an exterior zippered pocket, and a stash pocket with water-resistant zippers. There's a place for everything, from fly boxes to tools. What's practical about the Thunderhead is the fact that you can expand it's capacity: for example with the Thunderhead Water Bottle Holder that can be attached to the waist strap and will prevent your drink from taking up space on the inside of the hip pack.
Comfortable Carry: The adjustable waist belt and padded lumbar support ensure a comfortable and secure fit. Whether you're wading in a river or hiking to a remote fishing spot, this pack stays comfortably in place. Also, when fully loaded you can distribute the weight further by using the padded shoulder strap that comes with the hip pack.
Durable Build: Crafted from TPU-coated recycled nylon, the Thunderhead Lumbar is not only rugged but also environmentally conscious. It's a durable pack that can withstand the rigors of the outdoors. The zipper on the main compartment ensures full waterproofness and submergibility. The outside zippered pocket is only water resistant but not fully waterproof.
Why the Fishpond Thunderhead Submersible Lumbar is Ideal for Fly Fishing
The Thunderhead Submersible Lumbar is more than just a hip pack; it's your gateway to uninterrupted fly fishing experiences. Here's why it's a must-have for anglers:
Waterproof Peace of Mind: The submersible design ensures that your gear remains dry, even in the face of unexpected downpours or an accidental dip in the river.
Thoughtful Organization: With multiple compartments and pockets, you can keep your fly boxes, leaders, tippet spools, and tools neatly organized and easily accessible. On the outside you'll also find many attachment opportunities for extra tippet spools, pliers, nippers and floatant.
Streamlined Mobility: The lumbar pack design keeps your arms free for casting and ensures a low profile, allowing you to move freely and comfortably in tight spots. It also features an integrated net slot so you can safely carry your landing net behind your back (see photo below) without it getting in your way when you're walking to the river through bushes or trees.
Eco-Friendly Choice: Made from recycled materials, the Thunderhead Lumbar is a sustainable choice for environmentally conscious anglers.
Versatility: While designed for fly fishing, this pack's versatility extends to other outdoor activities like hiking, kayaking, or even travel. It's a pack that adapts to your adventures.
Pros of the Fishpond Thunderhead Submersible Lumbar
PROS:
Fully Submersible: Keeps your gear dry in the wettest conditions.
Comfortable to Wear: Adjustable waist belt and padded lumbar support for a secure and comfortable fit.
Durable and Eco-Friendly: Built to last and made from recycled materials.
CONS:
Outside zippered pocket is not fully waterproof.
Price: The submersible technology and quality materials come at a higher price point compared to standard hip packs.
Final Thoughts
The Fishpond Thunderhead Lumbar isn't just a hip pack; it's your steadfast ally in the world of fly fishing. Its submersible design, thoughtful organization, and durable build make it an invaluable companion for anglers who seek uninterrupted moments by the water. Whether you're exploring a remote stream or casting into the heart of a river, this pack keeps your gear dry and readily accessible, allowing you to focus on what truly matters—the art of fly fishing.
Frequently Asked Questions (FAQs)
Can I wear the Thunderhead Submersible Lumbar as a chest pack?
No, this pack is designed to be worn around your waist or as a sling pack and is not intended for use as a chest pack.
How do I clean and maintain the pack to ensure its longevity?
Rinse the pack with freshwater after use to remove any dirt or salt. Allow it to air dry completely before storing it. Avoid exposing it to excessive heat or prolonged UV exposure.
Is the waist belt adjustable for different body sizes?
Yes, the waist belt is adjustable to accommodate a range of body sizes. It can be cinched down for a secure fit or loosened for comfort.
Can I fit a hydration bladder in the pack for longer trips?
No, the Thunderhead Lumbar is not designed to accommodate a hydration bladder. It's primarily intended for fly fishing gear.
Can I wear this pack over waders or a fishing jacket
Yes, the adjustable waist belt allows you to wear the pack over waders or a fishing jacket, providing flexibility in your layering system.