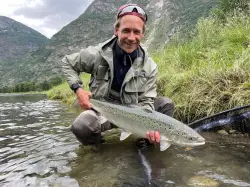 Latest posts by Leonard Schoenberger
(see all)
As an avid fly fisherman, I've come to understand the crucial role of a high-quality wading jacket.
When it comes to reliable protection against the elements and an abundance of essential features, the Schoeffel Salar II Wading Jacket shines brightly in the realm of fly fishing jackets.
Main Specs and Features
Disclaimer: Some of the links in this article are affiliate links. If you click on one of them and end up purchasing a product we earn a small commission at no extra cost for you. We only recommend products we believe in ourselves. Learn more here.
The facts:
Colors: Green and grey
Fabric: 3 layer Gore-Tex®
Machine washable
Price: GBP 599.95
Material: Crafted from Gore-Tex® fabric, this jacket boasts exceptional waterproofing and breathability. Despite a three layer fabric it's also lightweight, ensuring you stay comfortable during long days on the river. Schoeffel premiered their first version of the Salar a few years back. Now they have released their second edition of this wading jacket with only marginal changes. Whereas the first edition only featured a green version, this jacket now comes in a modern grey colorway as well. In terms of waterproofness and features there's no difference between the two versions.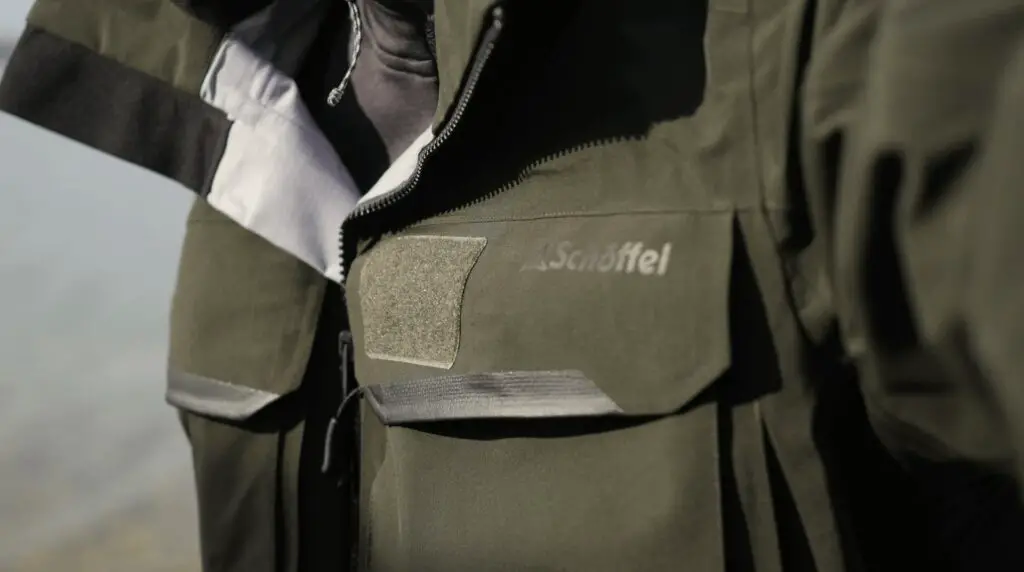 Design: The forest green color (which is the nicer color of the two in my eyes) not only looks great but also blends seamlessly with natural surroundings. The jacket features a full-length front zipper, adjustable cuffs, and a storm flap to keep wind and rain at bay.
Pockets: Multiple pockets, both inside and outside, provide ample storage for essential gear like fly boxes, tippets, and snacks. The handwarmer pockets are a welcomed addition on chilly days.
Hood: The adjustable hood (that can be rolled up and stowed in the collar) offers extra protection against rain and wind, and it's also designed to fit comfortably over a cap or hat. At the bottom of the hood you'll find a D-ring to attach a landing net.
Durability: Schoeffel is known for its quality, and the Salar II doesn't disappoint. The entire design and fabric are meant to keep you fishing even when it's pouring. First off, the Gore-Tex® fabric has proven time and time again to be one of the best when it comes to waterproofness. The big, adjustable storm hood keep the water out and even fits over a (big) hat. The cuffs on the sleeves feature a smart mechanism that makes sure you can close them tightly to prevent water from getting up your arms. This not only helps when releasing a fish but also when casting for hours in the rain.
Fit: Available in various sizes, the Salar II offers a comfortable fit that allows for easy layering without restricting movement. Its cut is rather long for a wading jacket which makes it a great multi purpose fishing jacket and highly versatile, for example when fishing from a boat. Overall, I'd say the cut and fit is very similar to the Filson Skagit Jacket.
Experience Beyond the Facts
Beyond the technical specifications and features, the Salar II Wading Jacket offers an unparalleled experience that enhances every aspect of your fly fishing adventures.
Comfort and Freedom of Movement: One of the standout qualities of this jacket is its comfortable fit that allows for a full range of motion. When you're waist-deep in the river, casting your line, or negotiating tricky terrain, you don't want your jacket to feel restrictive. The Salar II feels like an extension of your body, allowing you to move naturally and effortlessly. It's as if it was tailor-made for the active fly fisherman.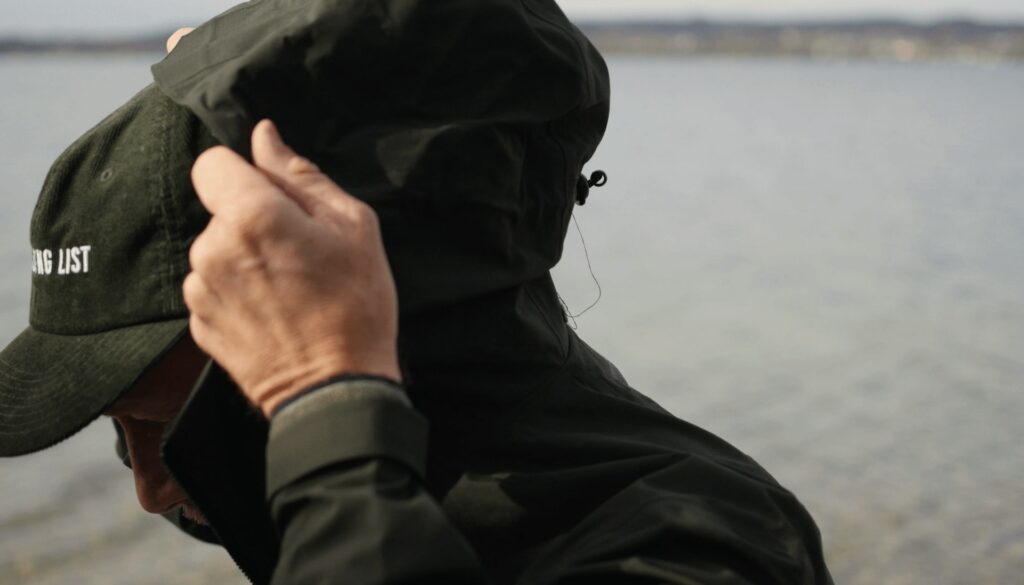 Protection Against the Elements: When Mother Nature decides to throw her worst at you, this jacket stands as your shield. The Gore-Tex® fabric reliably keeps you dry, whether you're enduring a sudden downpour or wading through a frigid mountain stream. There's a certain peace of mind that comes with knowing you can stay out on the water, even when the weather turns against you.
Convenience and Accessibility: The multitude of pockets may seem like a minor detail, but they make a world of difference in practice. Having quick access to your fly boxes, leaders, and other essentials means less time fumbling around and more time with your line in the water. Plus, the handwarmer pockets are a welcome feature on those chilly mornings when you need to thaw your fingers.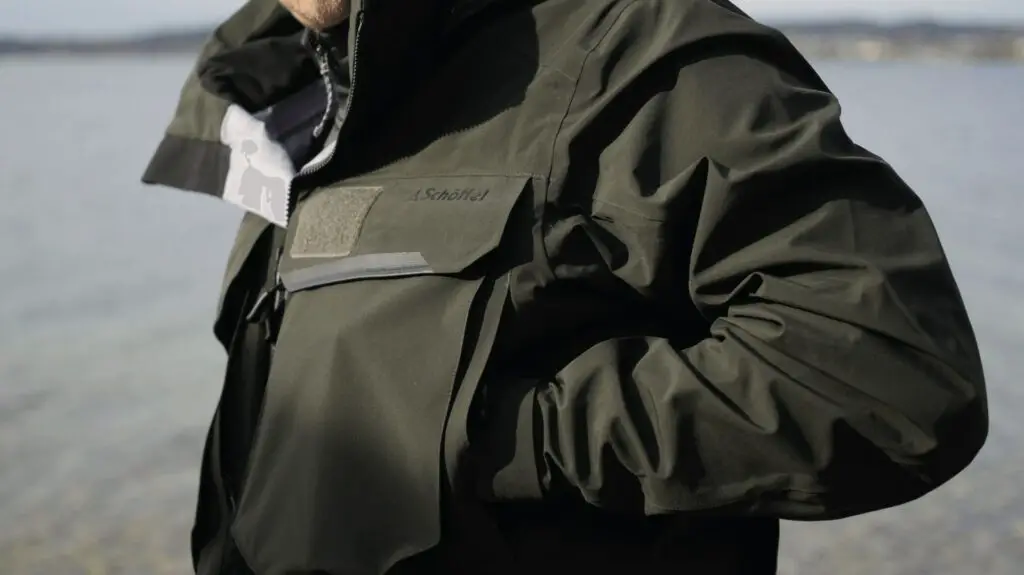 Adaptable to Different Seasons: Fly fishing is a year-round pursuit for many, and the Salar II proves itself adaptable to various seasons. In the heat of summer, you can wear it comfortably with just a t-shirt underneath, and in winter, it accommodates layers without feeling bulky. This versatility means you can rely on this jacket for your angling needs throughout the entire year. The high breathability of the Gore-Tex® fabric further adds to the versatility of the jacket.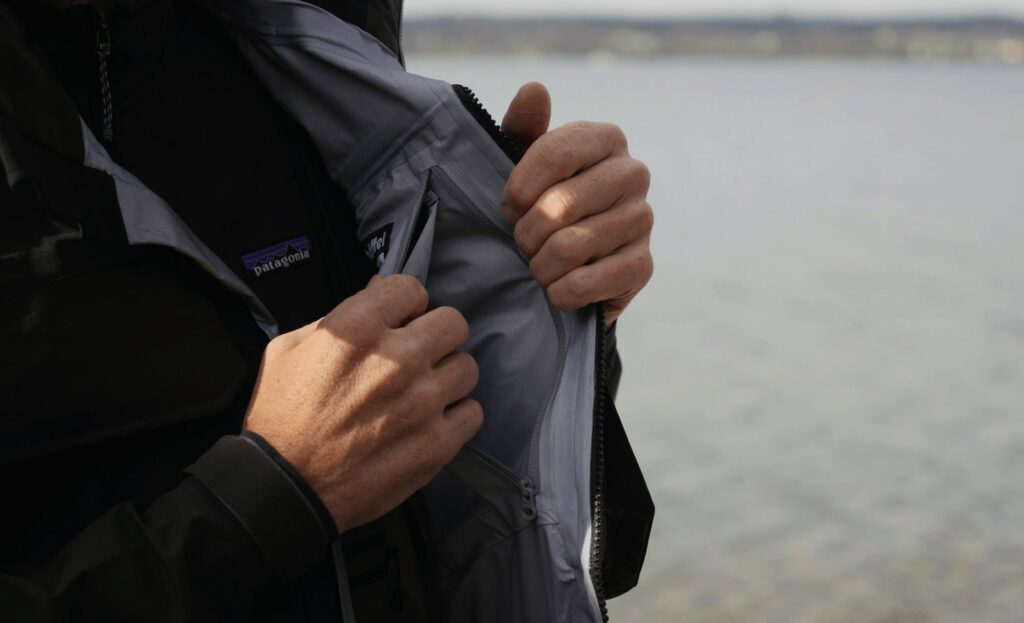 Durability and Confidence: I find it a reassuring feeling knowing that your gear can take a beating and come out unscathed. The 3-layer fabric of the Salar II instill a sense of confidence that this jacket can handle the rugged conditions often encountered in fly fishing. You won't be second-guessing its ability to stand up to the elements.
Strengths and Weaknesses
PROS:
Exceptional Waterproofing: The Gore-Tex® material keeps you completely dry
Breathability: You won't overheat in this jacket thanks to its excellent breathability
Ample Storage: The abundance of pockets allows you to carry all your essentials without the need for a separate vest.
Comfortable Fit: The jacket's design and sizing options ensure a comfortable and flexible fit.
CONS:
The cut of the Salar II is rather long which means this jacket will get wet from below when you're wading deep
Cleaning and Maintenance: Gore-Tex® material requires special care to maintain its waterproofing
Final Thoughts on the Schoeffel Salar Wading Jacket
In conclusion, the Salar II Wading Jacket is a top-tier choice for fly fishermen who demand the best in performance and durability. While it comes with a price tag, the investment is worth every penny for those who are serious about their craft. With exceptional waterproofing, breathability, and thoughtful design, it's a game-changer that will enhance your fly fishing adventures.
FAQs
Is this jacket suitable for cold weather fly fishing?
Yes, the Schoeffel Salar II can be layered for cold weather conditions, and its handwarmer pockets help keep your hands warm.
How do I clean and maintain the Gore-Tex® fabric?
Cleaning instructions are usually included with the jacket, but typically, a gentle wash with a specialized cleaner and reapplying a DWR (Durable Water Repellent) treatment can help maintain its performance.
Can I wear this jacket in warmer seasons without overheating?
Absolutely! The jacket's breathability ensures you can comfortably wear it in various weather conditions.
Does it come with a warranty?
Schoeffel offers a limited warranty for their products. Be sure to check the specific terms and conditions.