Last updated on September 30th, 2022.
Log cabins, woodsmoke and Kamloops trout go together. I visited a rustic fishing camp in the British Columbia interior twice this summer. 
The camp's lakes are between 4,000 feet and 5,000 feet in elevation so fishing holds up through the summer.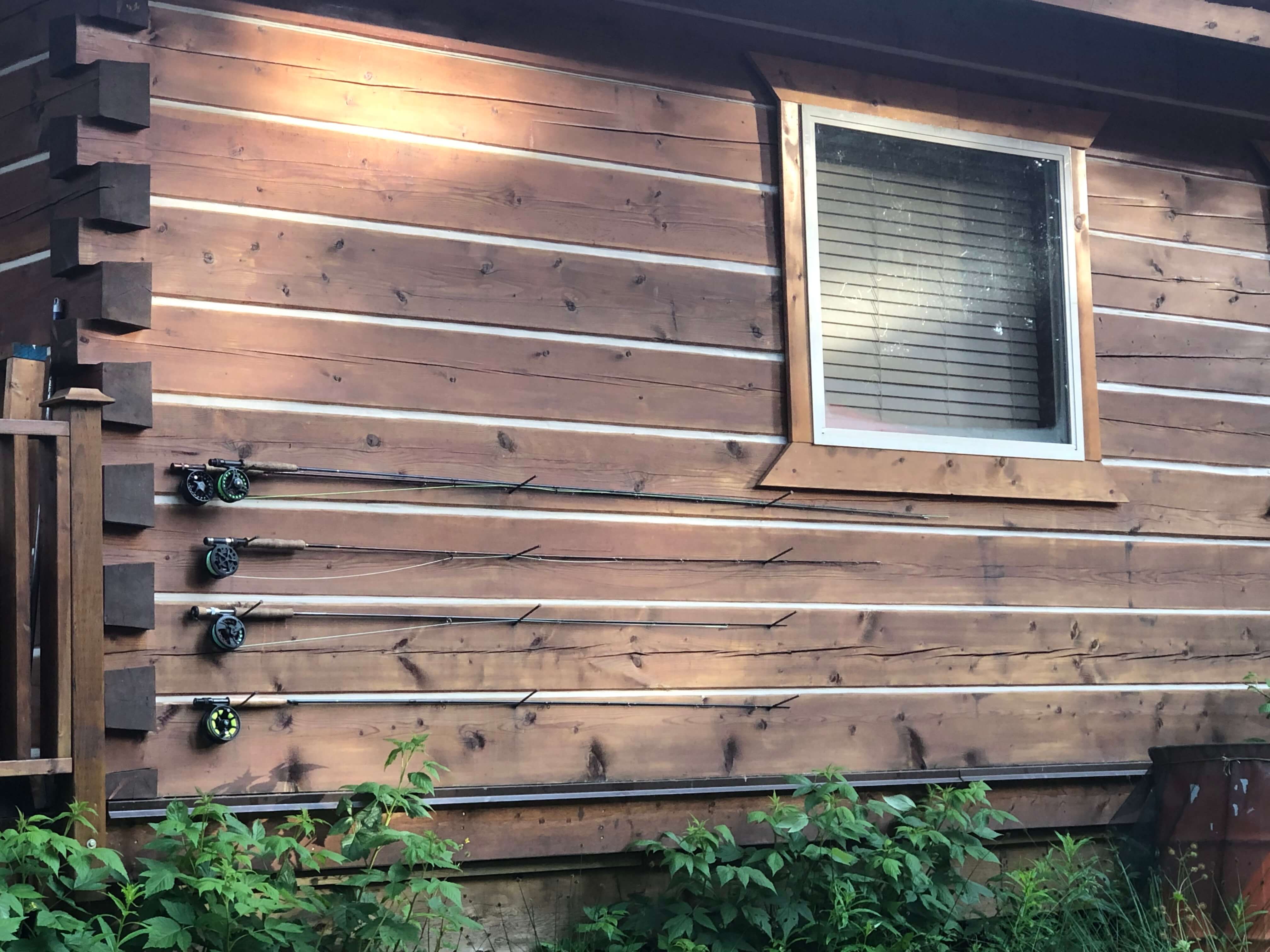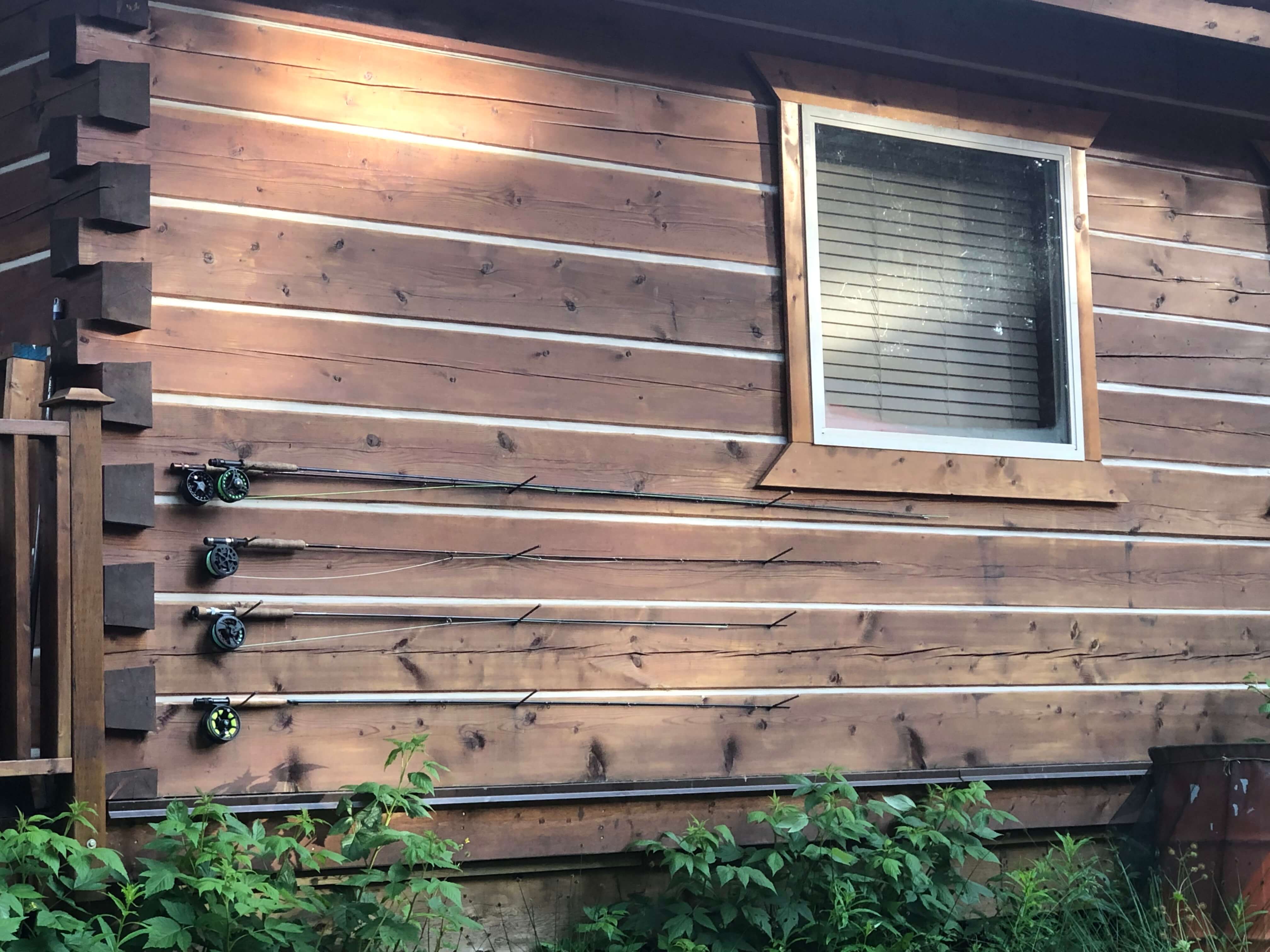 Fly rods ready to fish for Kamloops trout
The Fishing Camp
Meadow Lakes Fishing Camp is run by Francesco Pahlevan, a former actor turned log cabin builder. Francesco was born in Rome, acted on the stage and in movies in Germany and moved to British Columbia to run a fishing camp. Don't let anyone tell you that the life of a fishing camp owner is easy. When the guests go fishing, Francesco rebuilds the camp's log cabins.  
Camp routine was rustic but carefree. There was a satellite phone to connect with the outside world, solar power electricity and wood stove heating. Coffee in the lounge at 7 am. Breakfast at 8 am followed by a discussion of who would fish where. The lakes are rotated among guests to avoid over-crowding. We didn't see any non-lodge anglers.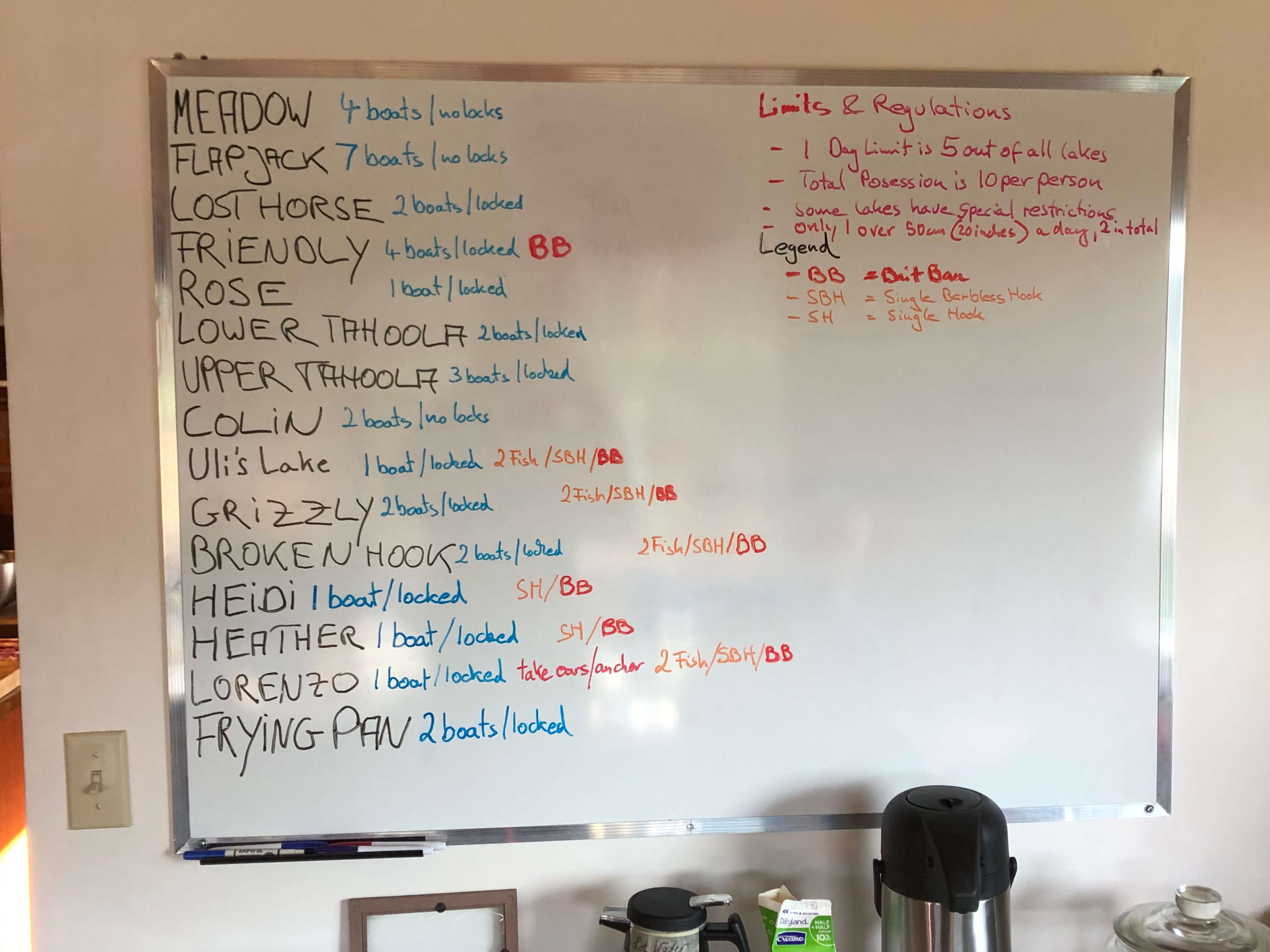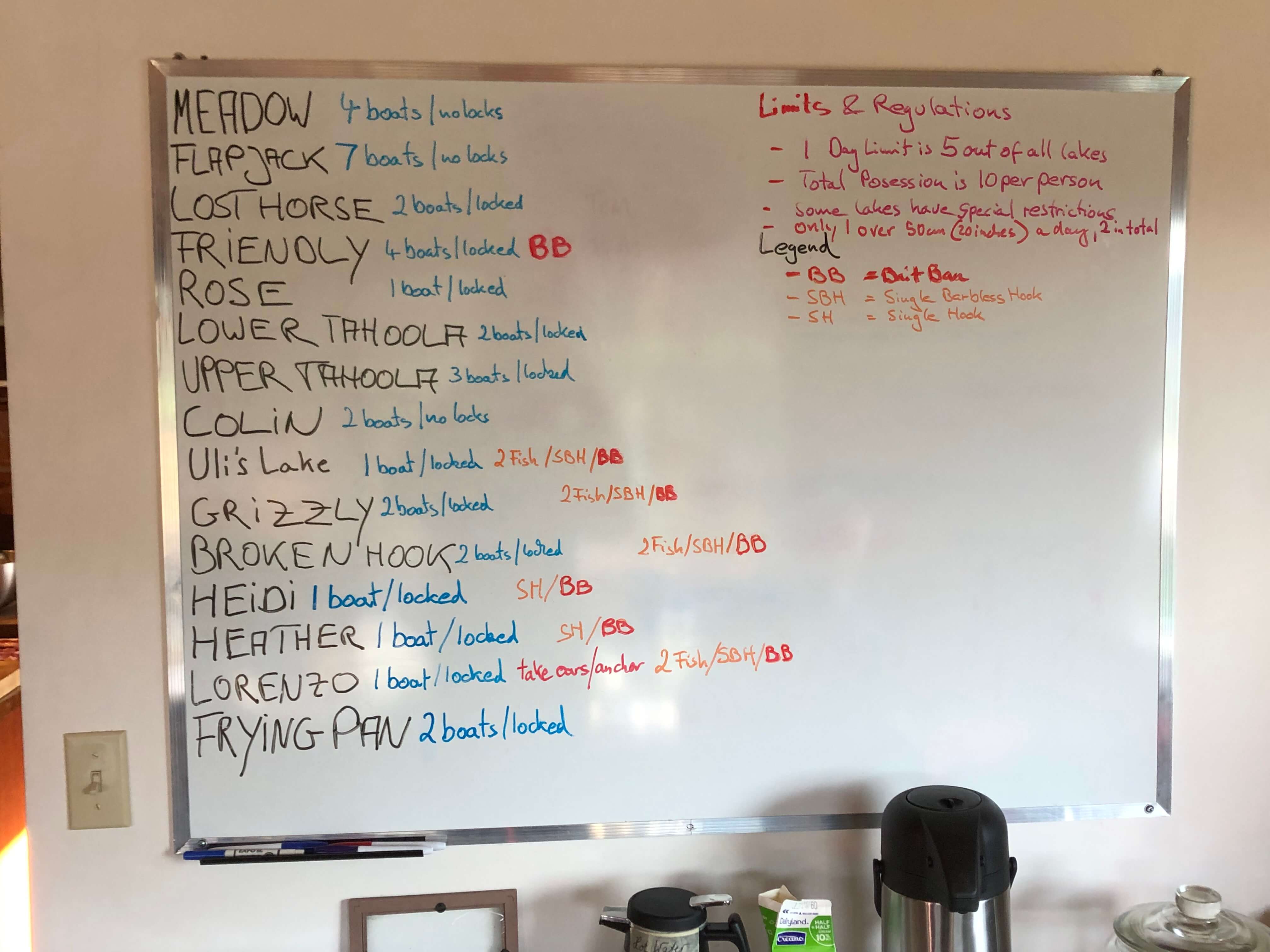 Rotation schedule at fishing camp
Then we'd grab our lunches and walk 5-45 minutes to one of the 15 lakes on which the lodge keeps boats. A few of the lakes require a drive as well. We'd fish until 5pm, return to camp for dinner and head out to fish the evening rise from 8pm to 10pm.  
The Fish – Kamloops trout
Kamloops rainbow trout differ from other trout in that they have more scale rows because they spawn in water which is much colder than most other trout. Mature Kamloops rainbow trout look a lot like salmon. Steve Raymond says in Kamloops: An Anglers Study of the Kamloops Trout: "By its third year a typical maiden Kamloops trout is a thing of real beauty, with strength and grace of every curve in its streamlined shape. Kamloops trout in clear-water lakes typically are deep blue green with black spots on their backs… The dark color gives way to a bright nickel finish on the flanks and a snow white belly beneath."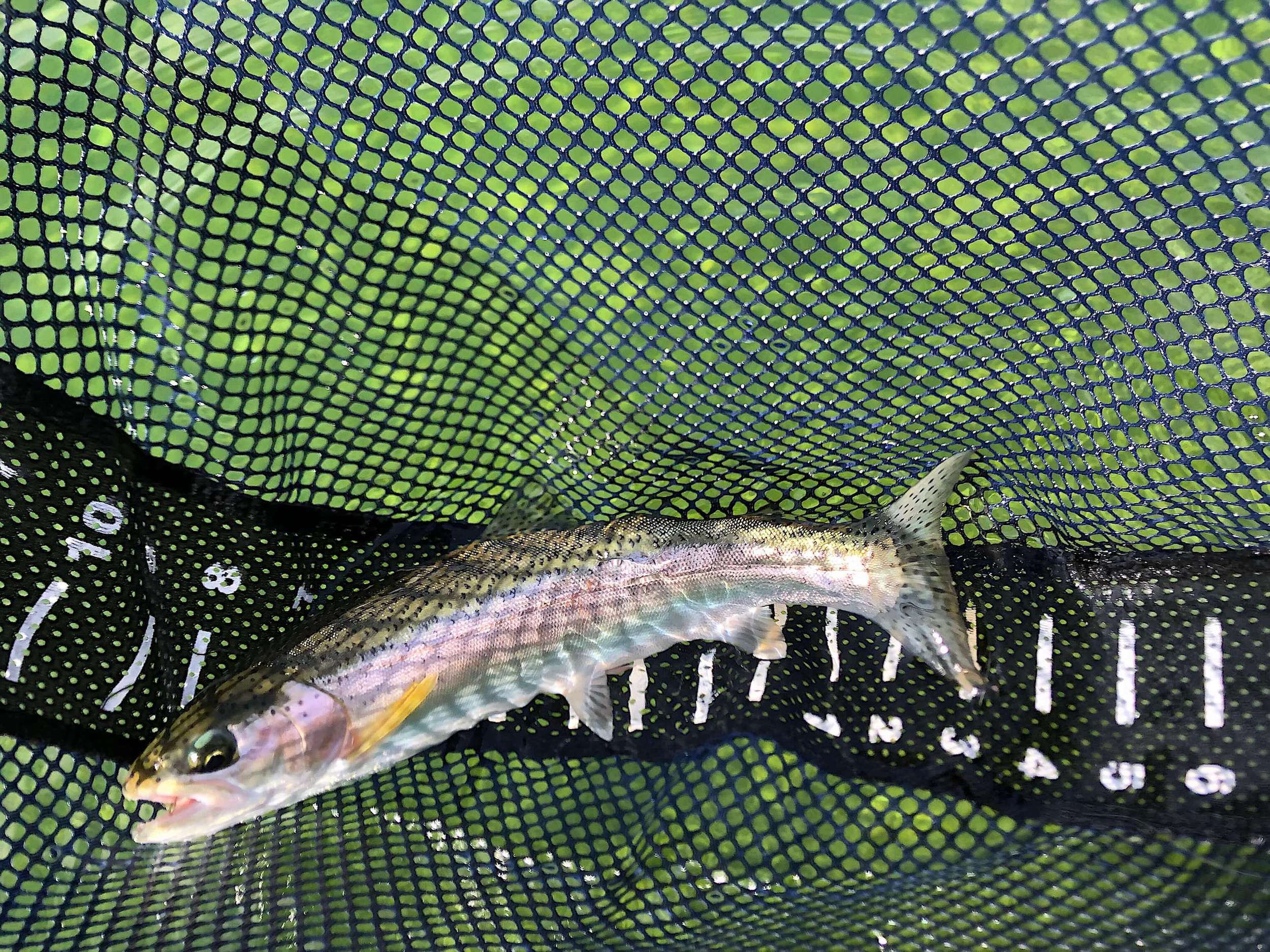 A Kamloops trout in the net
Most of the camp's 15 lakes have fish which are 12-18 inches. The kamloops rainbow trout are almost all native. A few of the lakes with limited spawning have larger fish. The camp memorializes fish larger than four pounds with a silhouette wall fish in the lobby.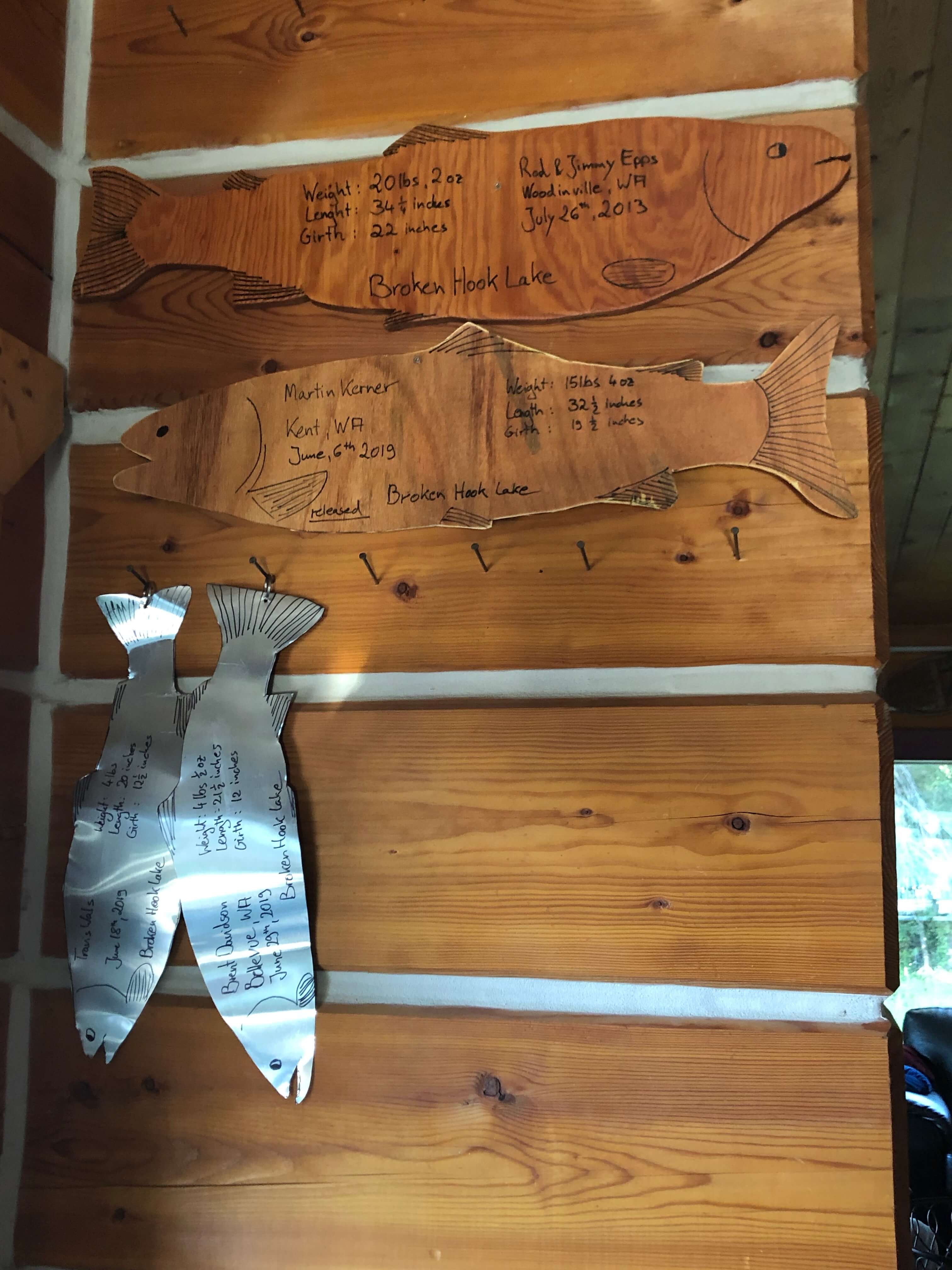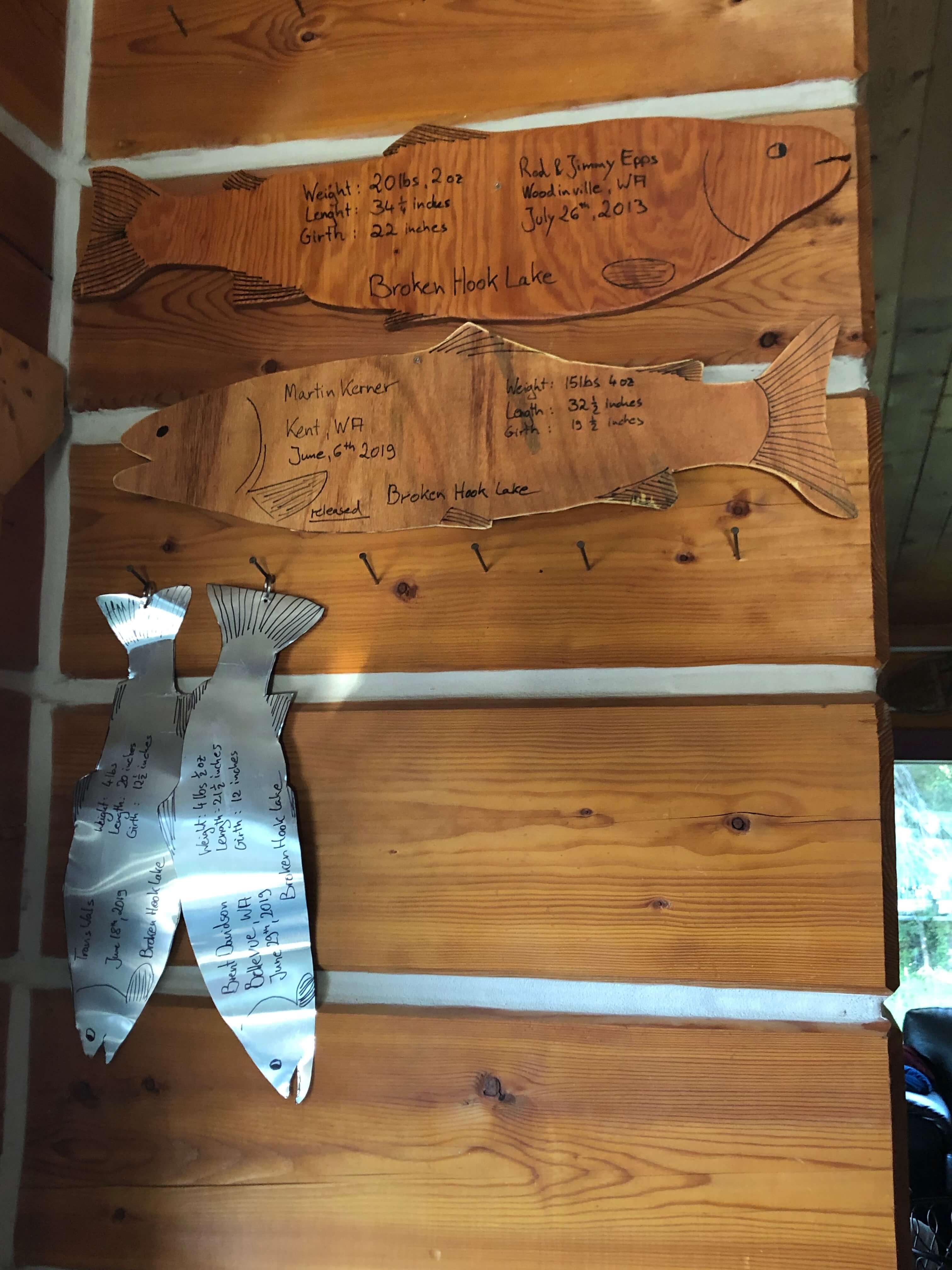 Wall fish at fishing camp
This little lake produced a 15 pound and two 4 pound trout earlier this summer. We only caught smaller fish on our July visit but the clear water and remote setting made for a pleasant day.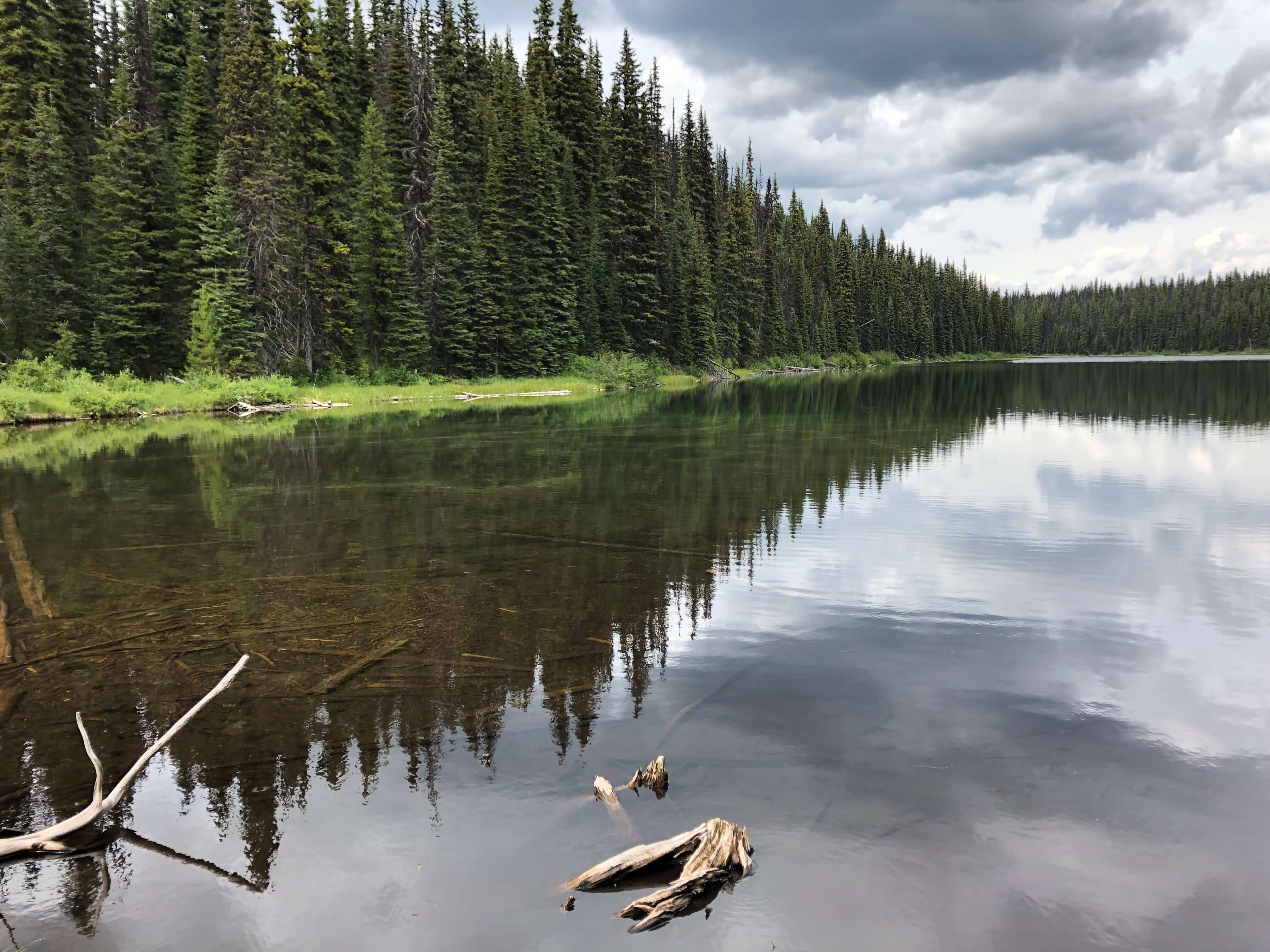 A small lake which produces big kamloops rainbow trout
The Fishing for Kamloops Trout
Kamloops trout feed mainly on chironomids in the early spring, caddis in the early summer and gammarus shrimp in the summer and fall. I visited for the travelling sedge hatch. These large caddis flies hatch in early summer on the Kamloops lakes. They are imitated by a size 8 or 10 caddis dry fly.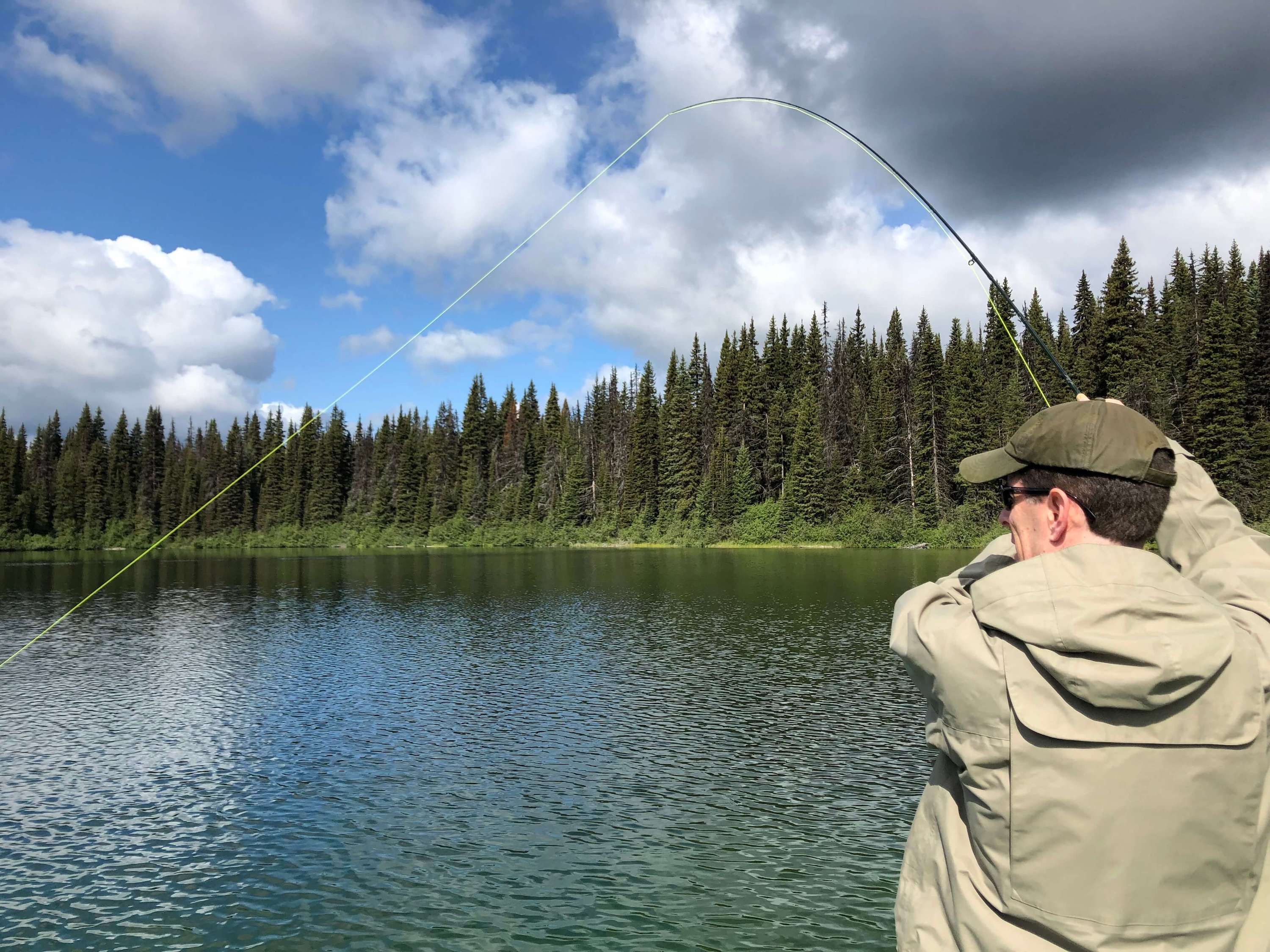 Fly fishing kamloops with large caddis dry flies and a floating line.
They are big enough to draw even the largest fish out of the depths and the fish remember them and respond to a large sedge dry fly for weeks after the hatch has ebbed. Travelling sedges flutter and hop across a lake after they hatch in order to dry their wings. The best way to fish the sedge dry fly is to make a long cast over a drop off and then retrieve the fly just fast enough to create a slight v-wake on the water. I caught three-quarters of my fish on dry flies. The Olive Sedge dry fly was the best pattern.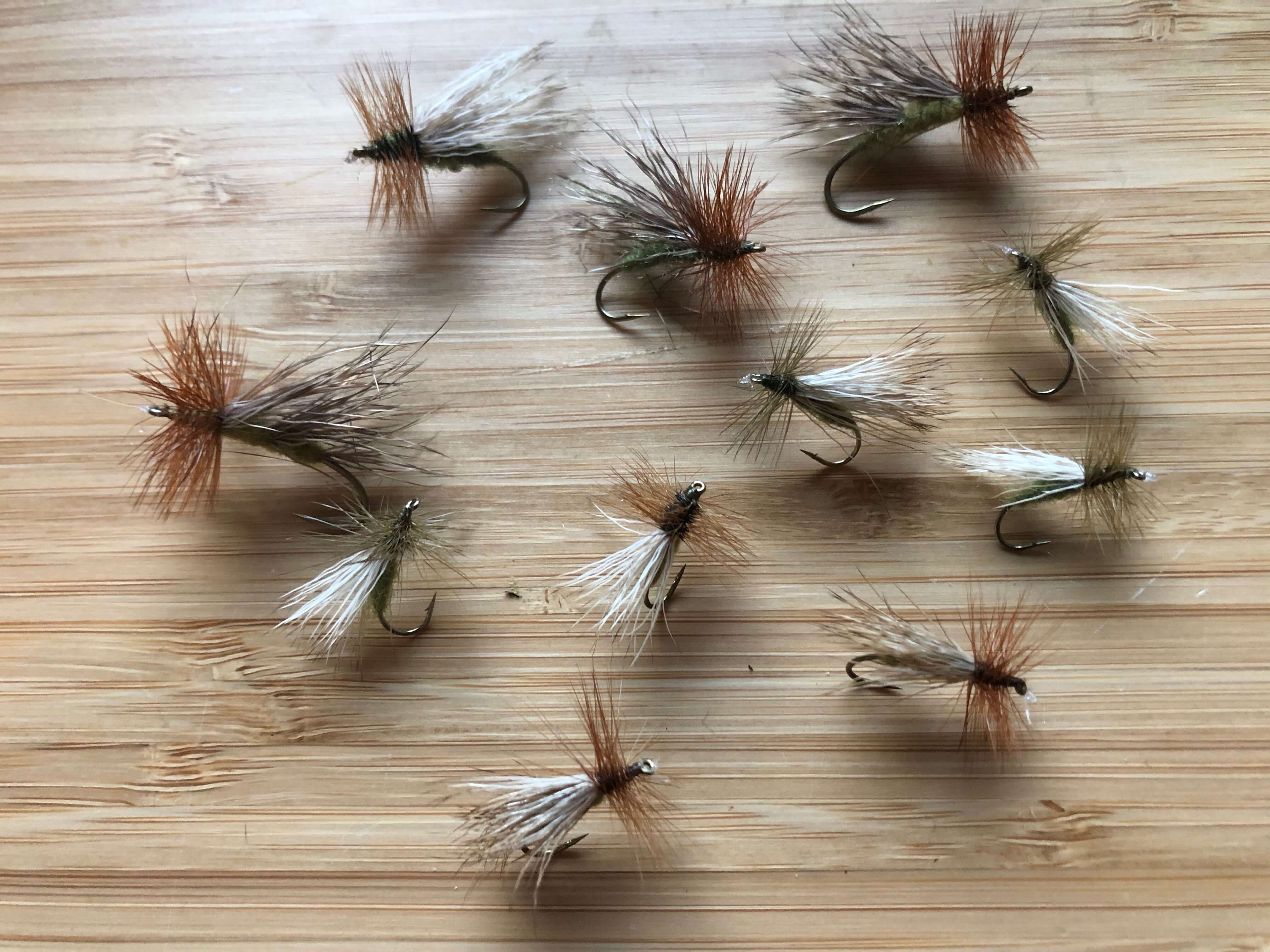 Fly fishing kamloops – Olive Sedge Dry Flies fished in BC.  
Olive Sedge dry fly
Hook: Size 8 or 10.
Thread: Olive 6/0 or 8/0.
Body: Olive green polypro dubbing which aids the flies buoyancy.
Wing: Deer Hair, heavy.
Hackle: Brown as many wraps as possible over the front third of the hook.
For more information:
Steve Raymond's Kamloops Trout: An Angler's Study of the Kamloops Trout is the authoritative guide to the history, habits and waters where Kamloops trout thrive.  Everything you need to know about where to go and what techniques and fly patters to use.  
Morris and Chan Fly Fishing Trout Lakes goes into detail on techniques and fly patterns but doesn't tell you where to go.
Meadow Lakes Fishing Camp is located in Little Fort, British Columbia about a 6.5 hour drive from Seattle, Washington and a 5 hour drive from Vancouver, British Columbia.  
Francesco Pahlevan
Meadow Lake Fishing Camp Ltd
Box 38, Little Fort BC  V0E 2C0, Canada  
1-604-629-9860