Last updated on September 30th, 2022.
Forks is a scruffy town of 3,800 people named for three steelhead fly fishing rivers which join outside town: the Sol Duc, the Calawah and the Bogachiel.
We arrived in Forks on a dark 28 degree March day. Snow crunched under our tires in the hotel parking lot. We were after rainforest steelhead. We hiked into the rainforest headwaters on the first day. Our trip put us above boat ramps and we didn't see another fisherman.
There were scattered patches of snow on the ground and snow covered the mountains but the river was very low due to the freeze. We could cross the river at will, something which is impossible to do at higher water. We fished hard all day without a strike.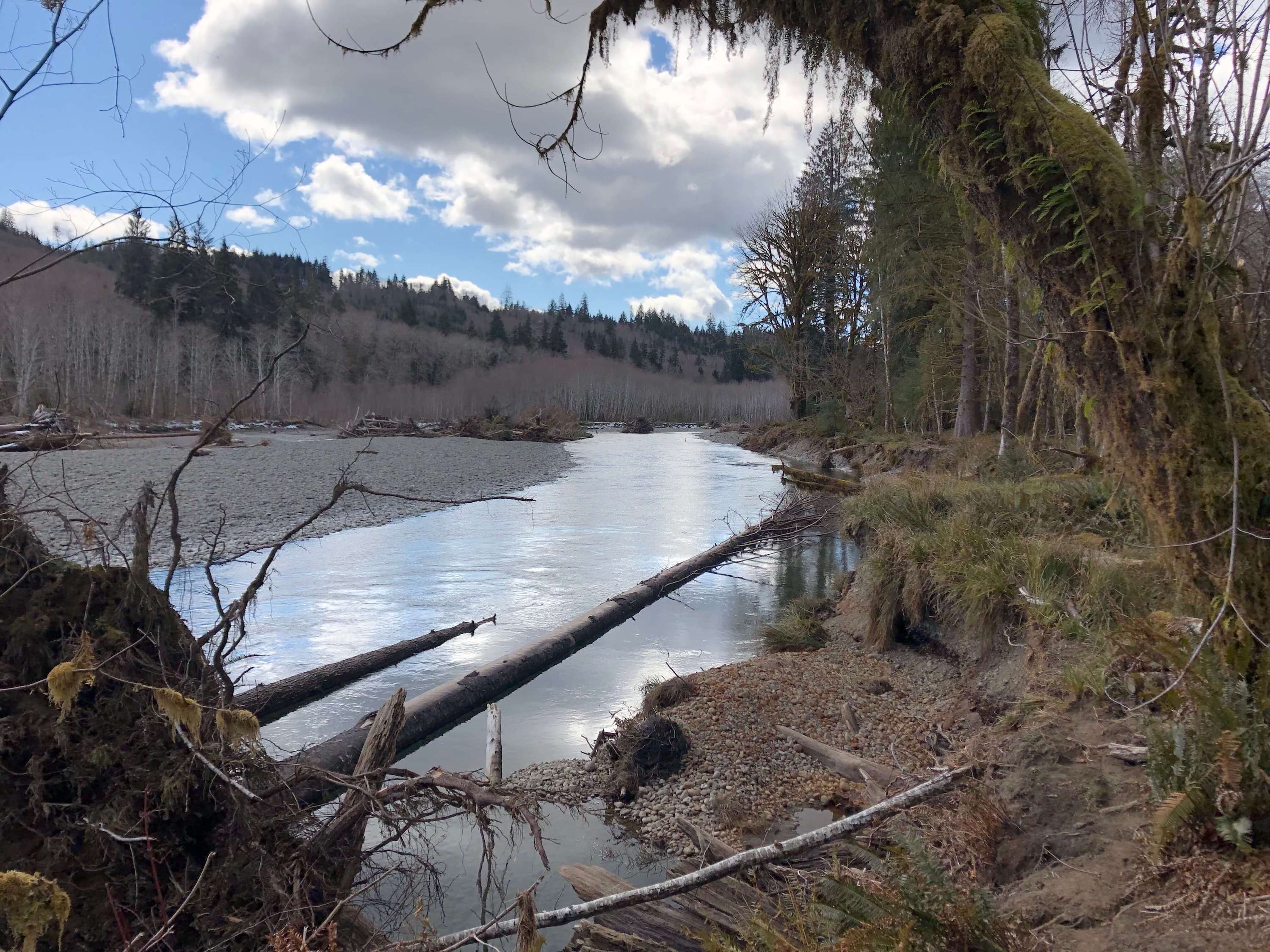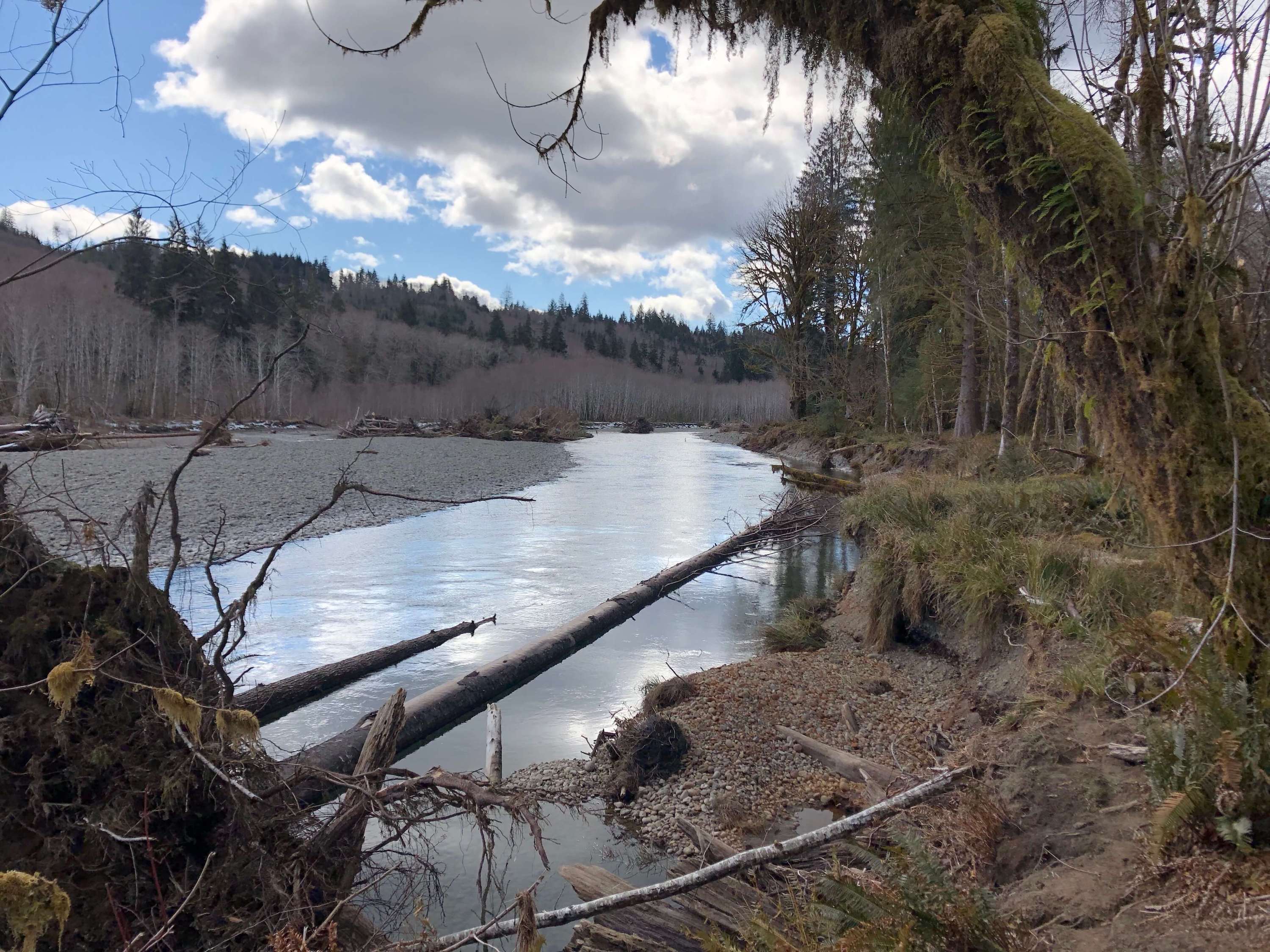 On the Tracks of Syd Glasso
On the second day we started the morning on a riffle where Syd Glasso first fished the Sol Duc Spey on March 30, 1958. Glasso was a high school English teacher in Forks and the first northwest angler to realize that classic spey flies work for winter steelhead fly fishing. Glasso caught five fish that morning. We weren't so lucky but the riffle is beautiful fly water, almost unchanged after 50 years.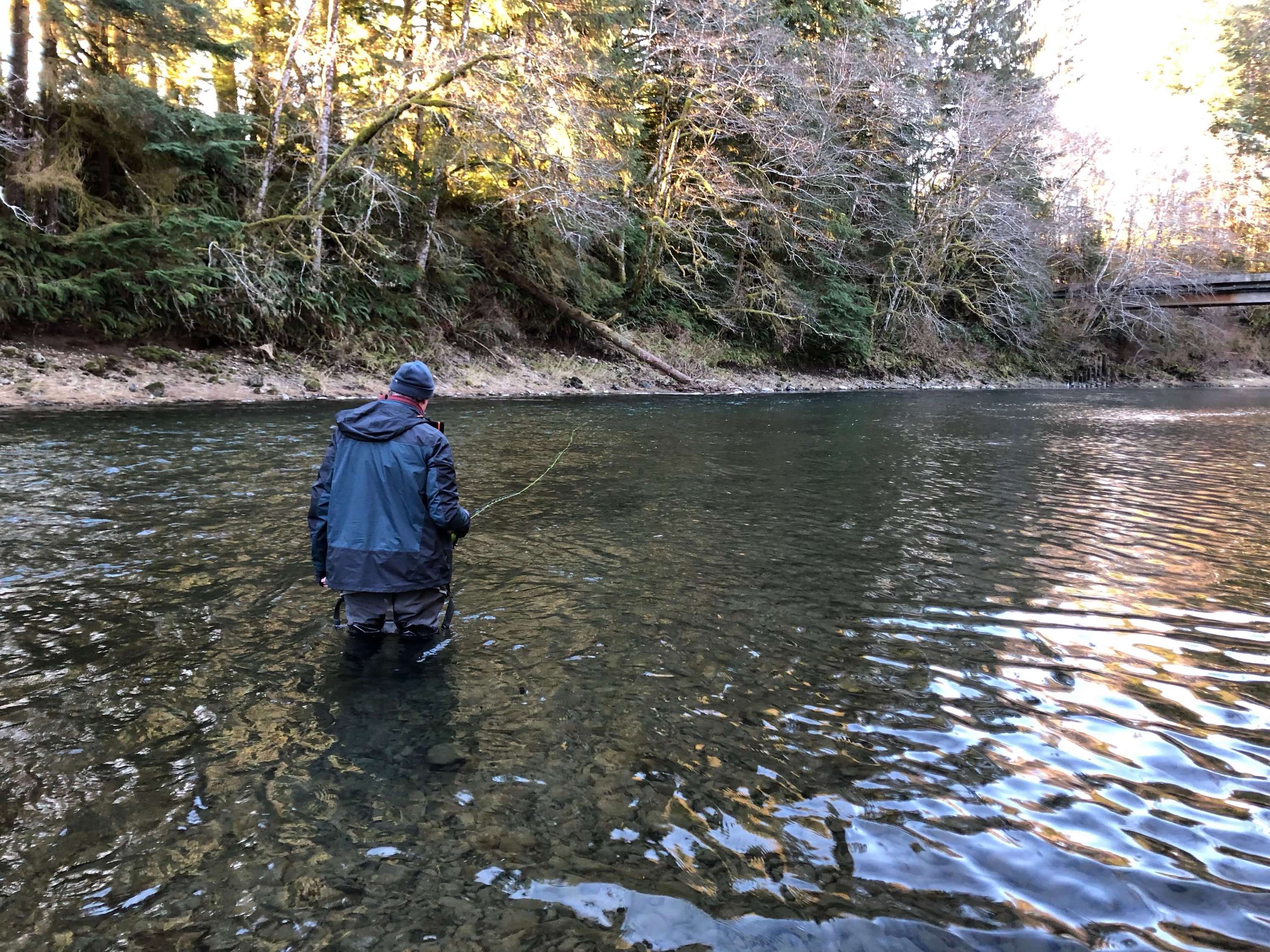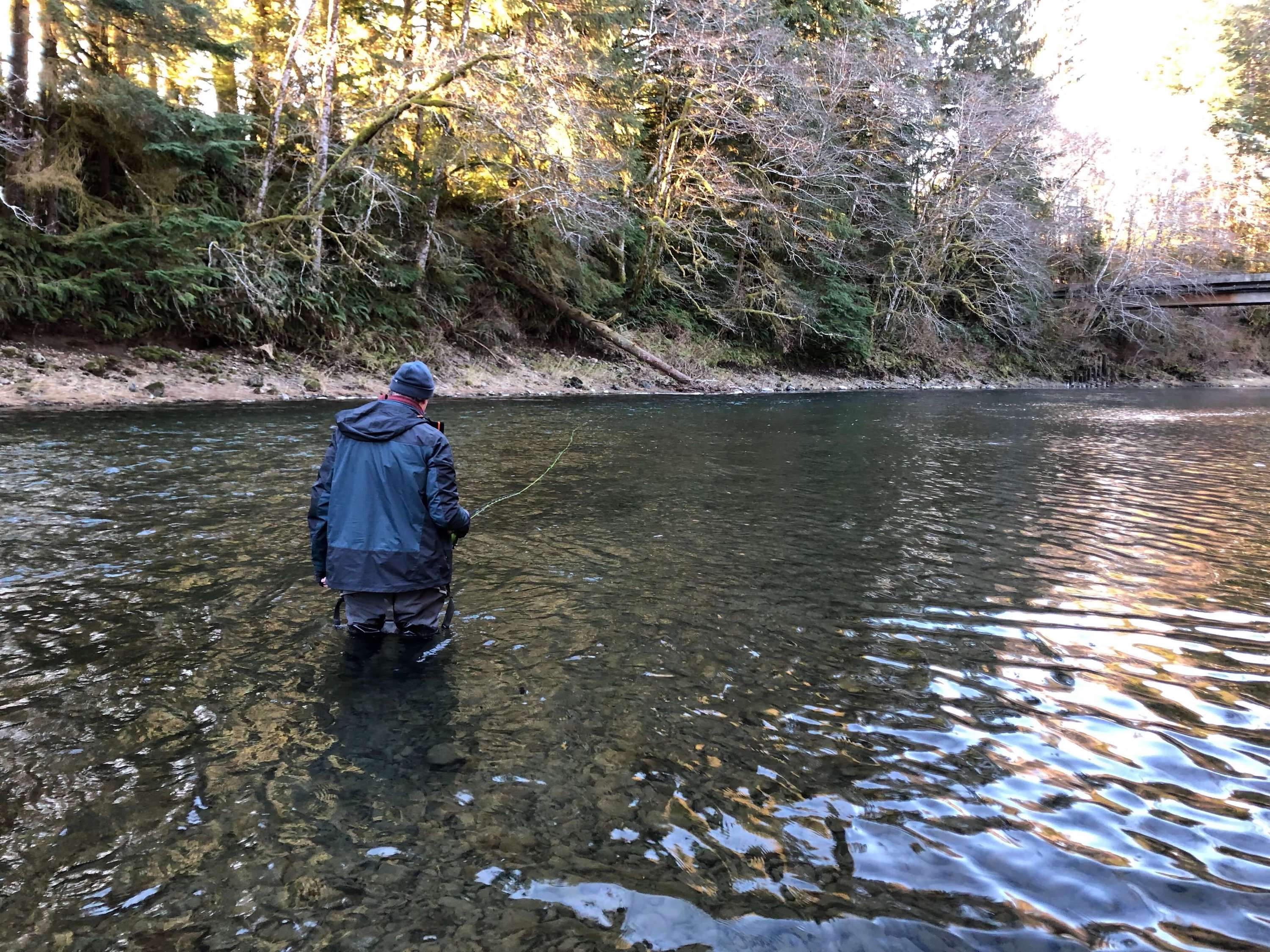 We ended the day on another river whose low gradient riffles and open banks are perfect for spey casting and swinging a wet fly. Halfway down a riffle I hooked a bright steelhead. I battled the fish for ten minutes and then the hook came away. A common state of affairs. I land about one in every two fish I hook steelhead fly fishing.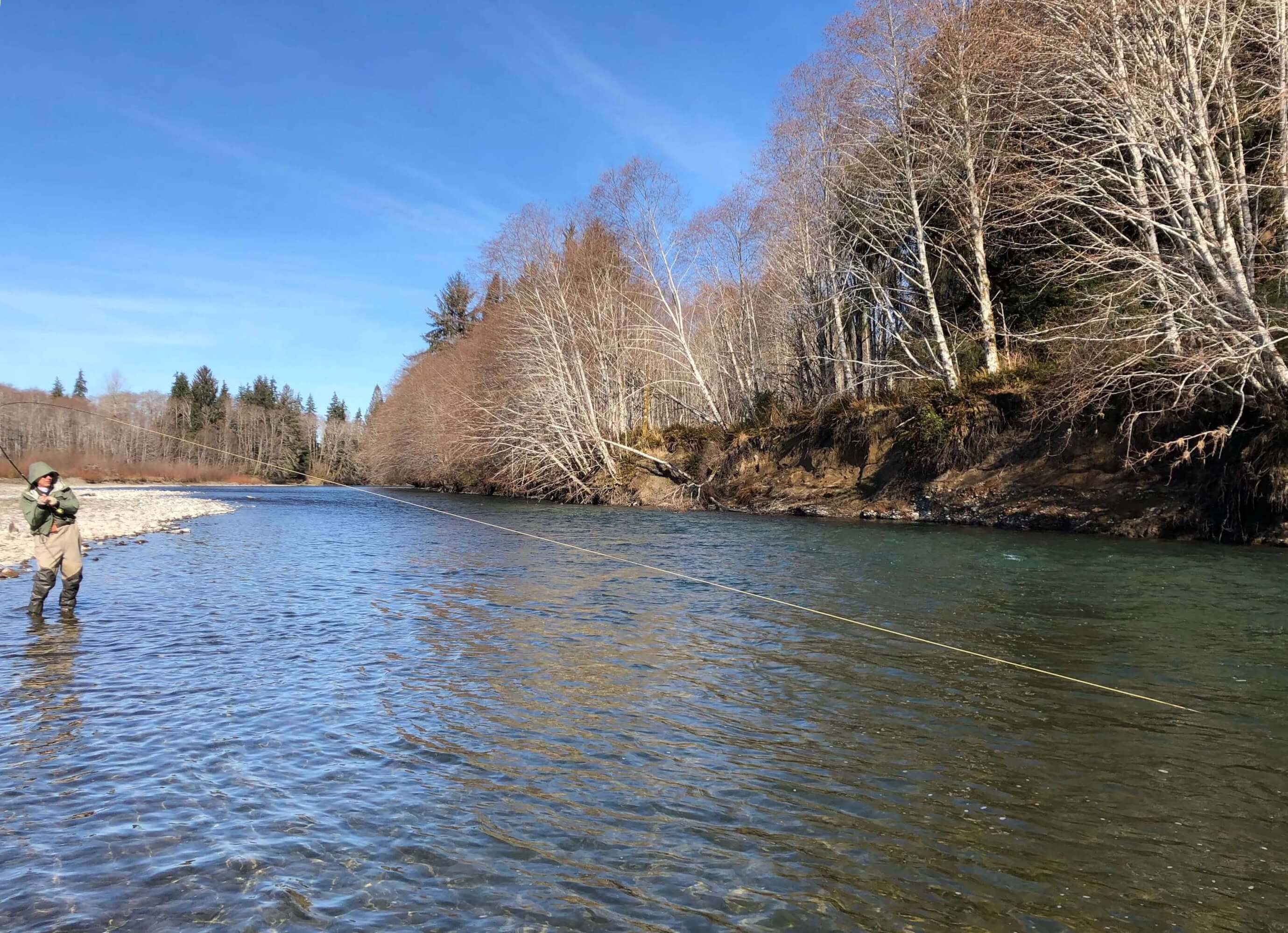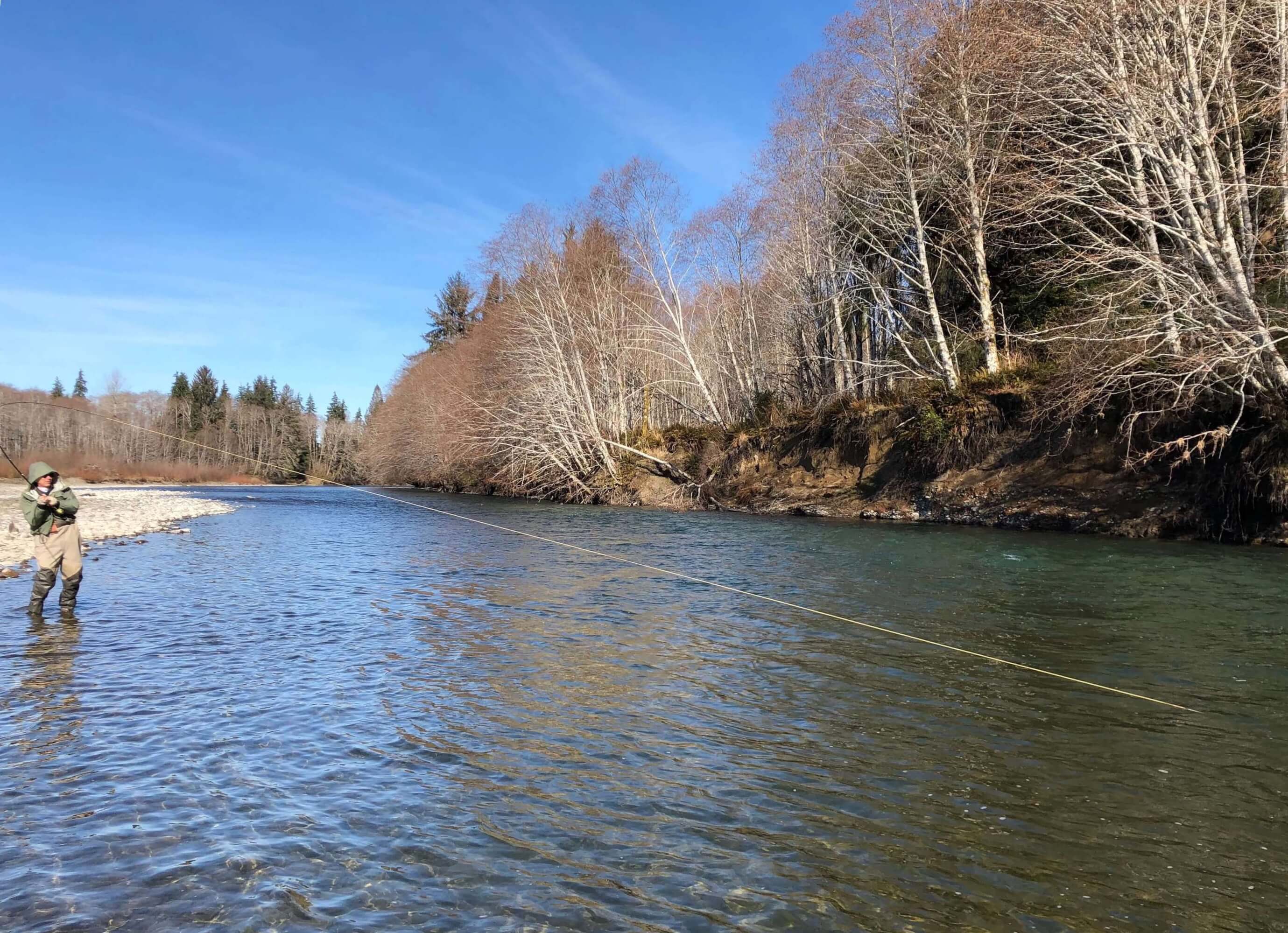 I hooked my fish on a Sol Duc wet fly. The Sol Duc is a Syd Glasso winter steelhead fly fishing pattern dressed in bright colors to stand out in colored winter water.
Classic Wet Flies are the Way to Go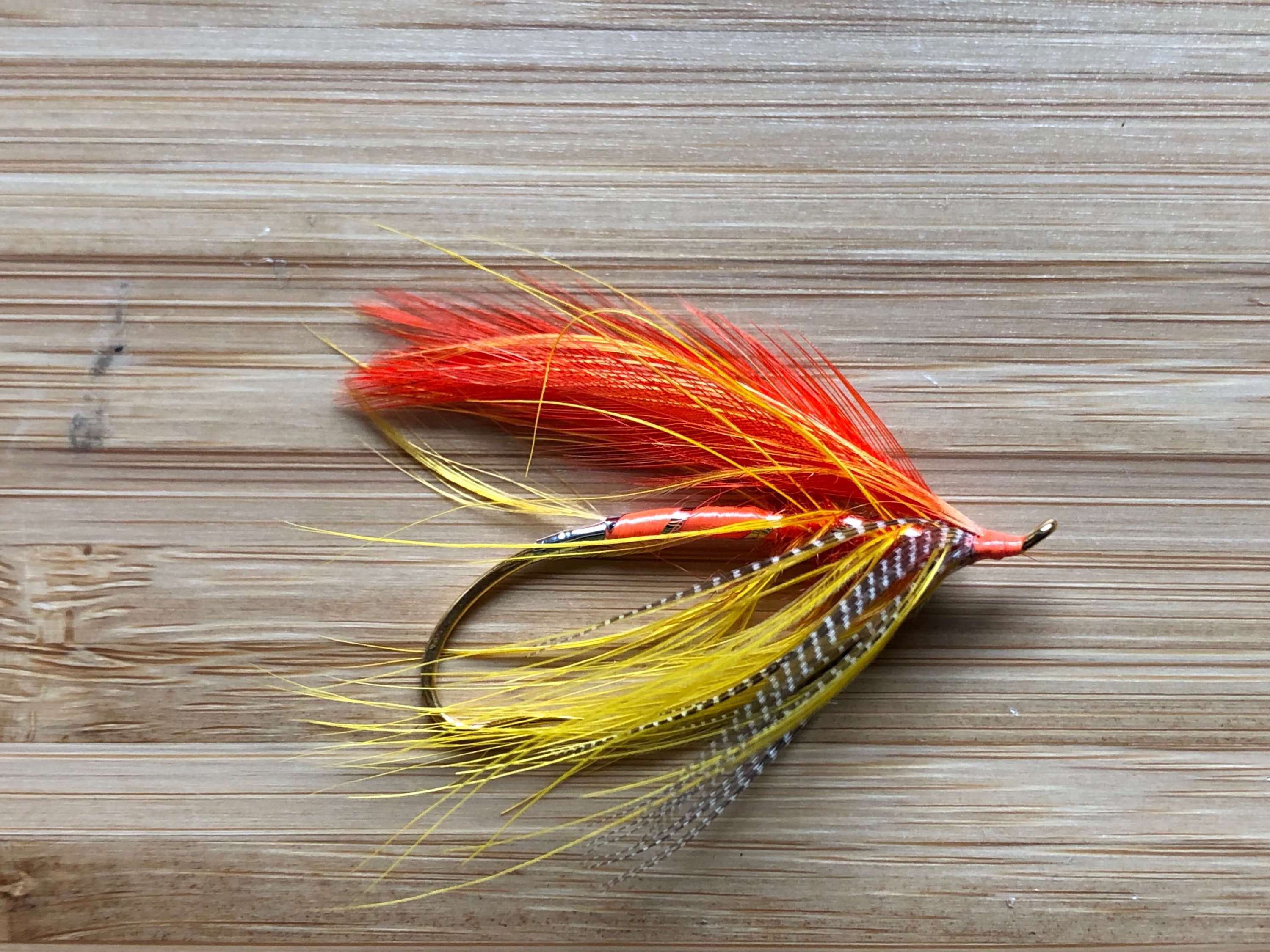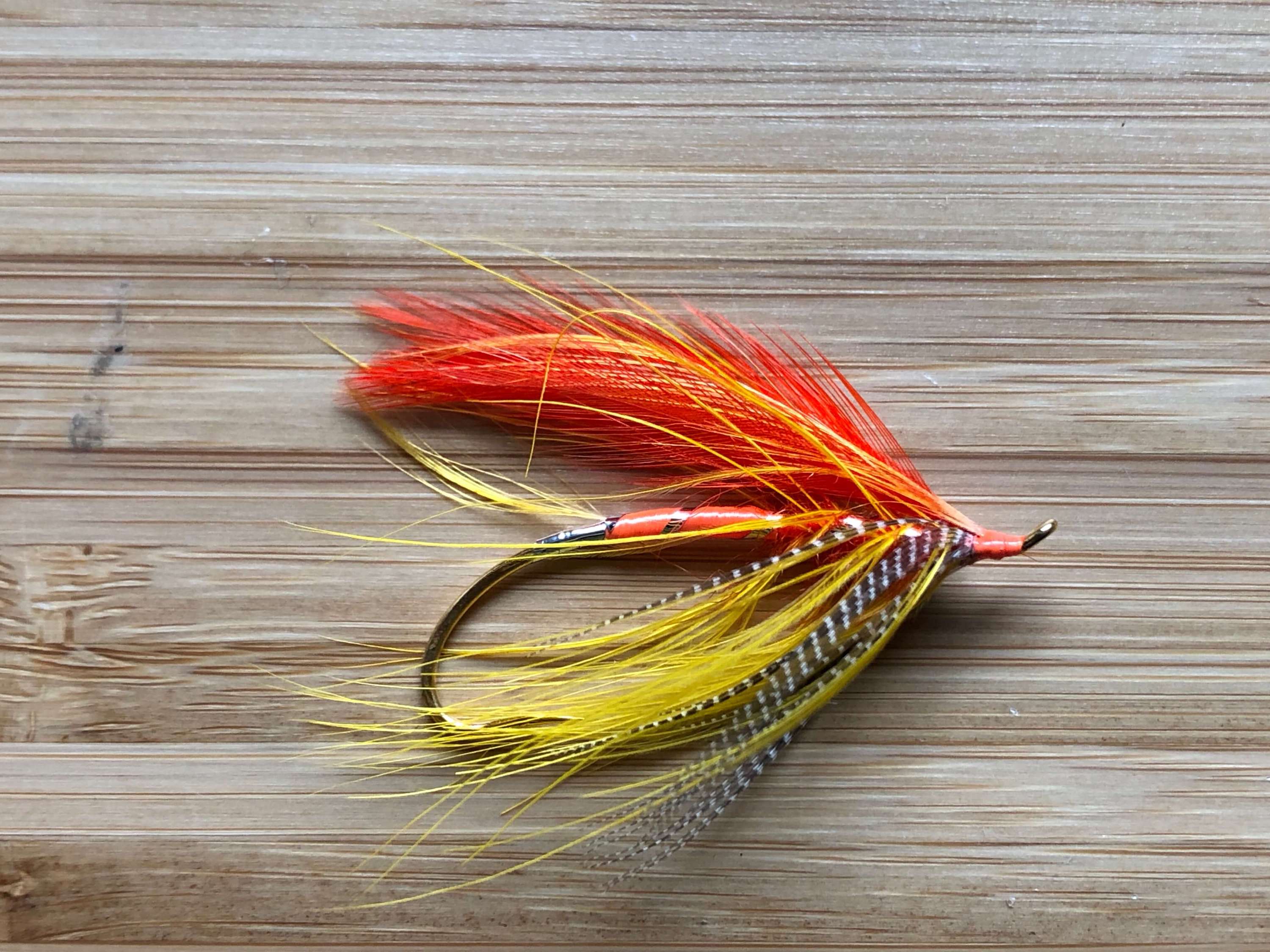 Thread: Fluorescent orange 6/0 or 8/0. You'll want orange threat under your body so that the floss and dubbing maintain their correct color.
Hook: Alec Jackson spey hook, size 1.5 or 3.
Tip: Silver Tinsel.
Tail: Golden Pheasant Crest
Body: Rear 2 fifths, Fluorescent orange floss. Front 3/5ths orange seal fur.
Rib: Silver Tinsel, five turns.
Hackle: Yellow dyed blue eared pheasant or yellow schlappen, from second turn of tinsel.
Throat: Teal, two turns.
Wing: Four hot orange matches hackle tips, cupped over body.
Topping: Golden pheasant crest.
Head: Glasso finished his flies with red heads. I sometimes use the fluorescent orange thread which I started the fly with and sometimes change to red thread after tying the body. The Sol Duc Spey is similar to this fly except that it has no tail or topping and the throat hackle is two turns of long black hen neck or black dyed blue eared pheasant.
Before you run out to book a trip to the rainforest, four cautions are in order.
The Odds when Steelhead Fishing Washington Rivers
The Olympic peninsula's wild steelhead runs are currently running at 20% of historic abundance. There are fewer fish to go around and you can't be assured of success. I average one hookup for every four days fishing swinging a wet fly. 
The Weather for Washington Steelhead
Weather can ruin your trip. My records show that weather impacts one in every three trips I take to the Olympic Peninsula. It rains an average of 212 days a year in Forks. A heavy rain can unlock glaciers and clay banks, raise a river several feet and make the water milky.
You might want to throw a 6 weight in your car so you can head over to Hood Canal for coastal cutthroat fishing if the rivers blow out. Snow and ice can make the roads treacherous. There's a stretch of Highway 101 along Lake Crescent between Port Angeles and Forks which doesn't see the sun all winter. Use care if you drive this stretch. It can be icy.
The Crowds when Steelhead Fishing Washington
Olympic Peninsula rivers can be crowded, especially on their lower stretches. There are 40 members of the Olympic Peninsula guides association plus lots of other out of town guides who book trips on the peninsula. Lots of western Washington anglers head to the peninsula in the spring because many local rivers close at the end of February due to low escapement. To avoid the crowds seek the upper river water above the highest boat ramp. There may be fewer fish but there will also be a lot fewer fishermen and no drift boats.   
Swung fly versus bobber for Washington Steelhead
I like to catch steelhead fly fishing with a swung wet fly. Many Peninsula guides want their sports to "fly fish" with yarn flies or beads fished with short casts under a bobber while the guide lines the boat up along the sweet spots of the river. This is effective but too close to spin fishing or bait fishing for my tastes. If you want to swing a wet fly, and I think you should for these noble fish, make sure your guide knows even if it means fewer fish.
To learn more about steelhead fly fishing:
Doug Rose, "Finding Grace in the Rainforest", November 22, 2016
Doug Rose Fly Fishing Guide To The Olympic Peninsula, 2008, Frank Amato Publications
Disclaimer: If you click on an affiliate link on this page and end up making a purchase we earn a small commission at no extra cost for you.