Last updated on August 18th, 2021.
Latest posts by Leonard Schoenberger
(see all)
You've seen pictures of big pacific salmon in sports magazines. Chinook salmon can hit 20-40 lbs.

They are deep water fish. They will take a fly but it requires heavy tackle, fast sinking shooting heads and a boat. Mature coho salmon are smaller at 5-15 pounds. They venture into shallower waters and can be taken on a 7-8 weight fly rod especially in the fall when they seek their spawning streams. I landed an 8lbs coho last October while seeking coastal cutthroat.
But one of my winter highlights is the chance to take juvenile chinook and coho salmon on light tackle. Juvenile coho and chinook salmon cruise the sheltered bays of Puget Sound and Hood Canal during the winter. They are 10-20 inches and troutlike. They chase amphipods, euphausiids and small fish and tip off an alert angler by jumping and swirling. When you find a school the action is fast, unlike steelheading where one hookup on a three day trip is a success.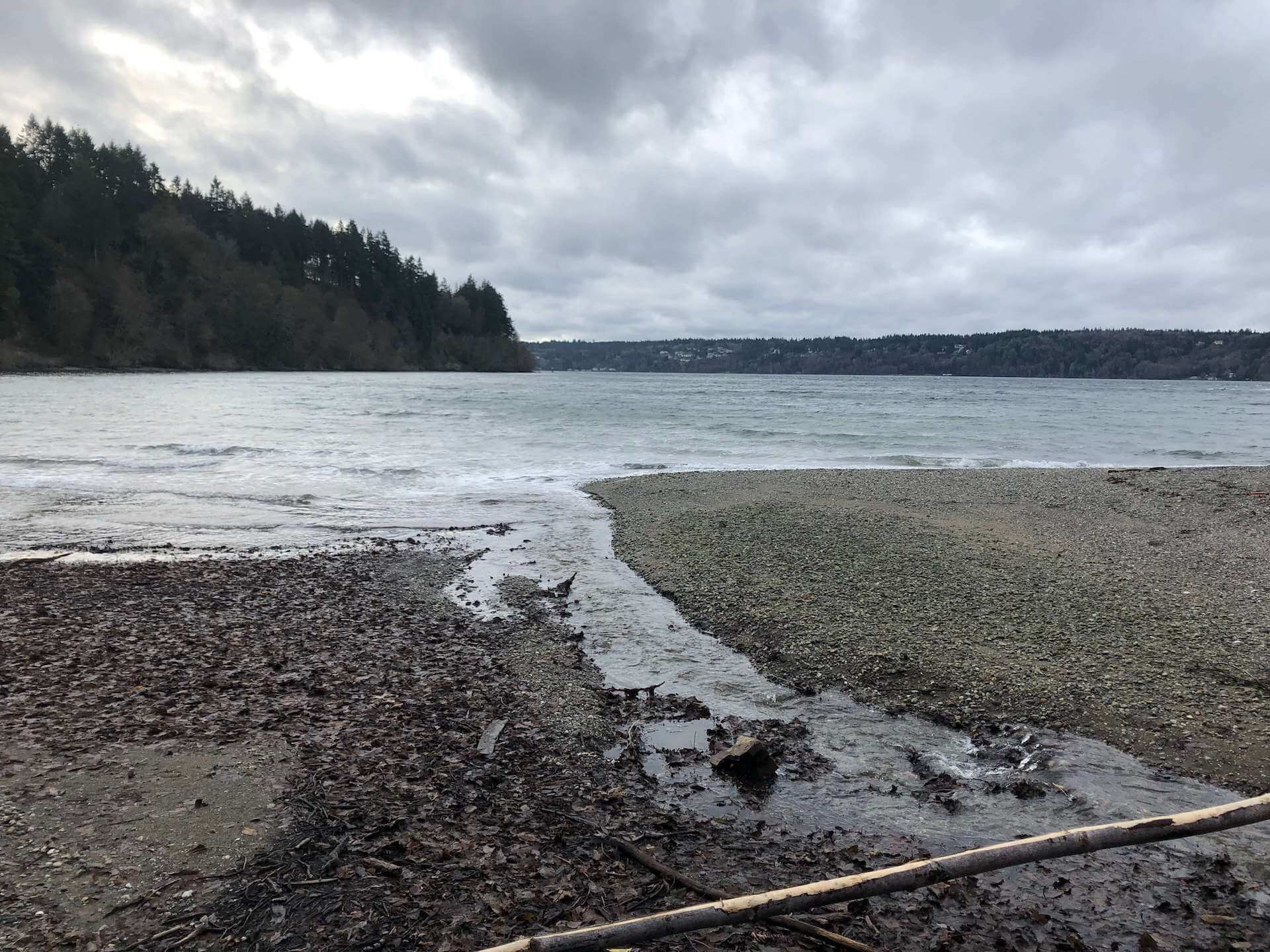 The Bay: Fishing Puget Sound
I'd seen fish jumping in a shallow Puget Sound fishing bay a couple days earlier on a New Year's Day fishing outing. My fast sinking 6 weight line was unsuited to the bay. I fished deeper water nearby but made a note to come back with a floating line and a 5 weight fly rod.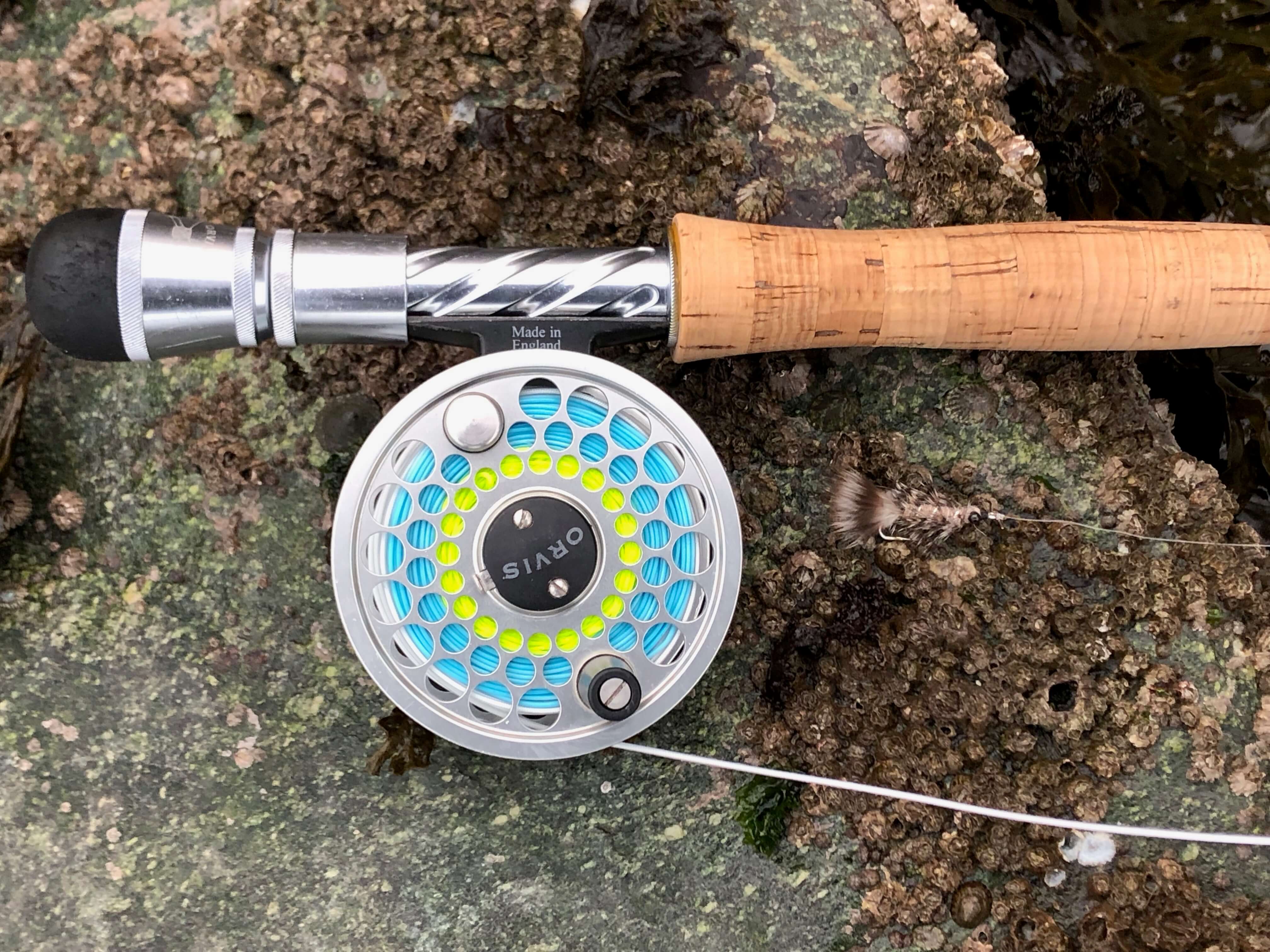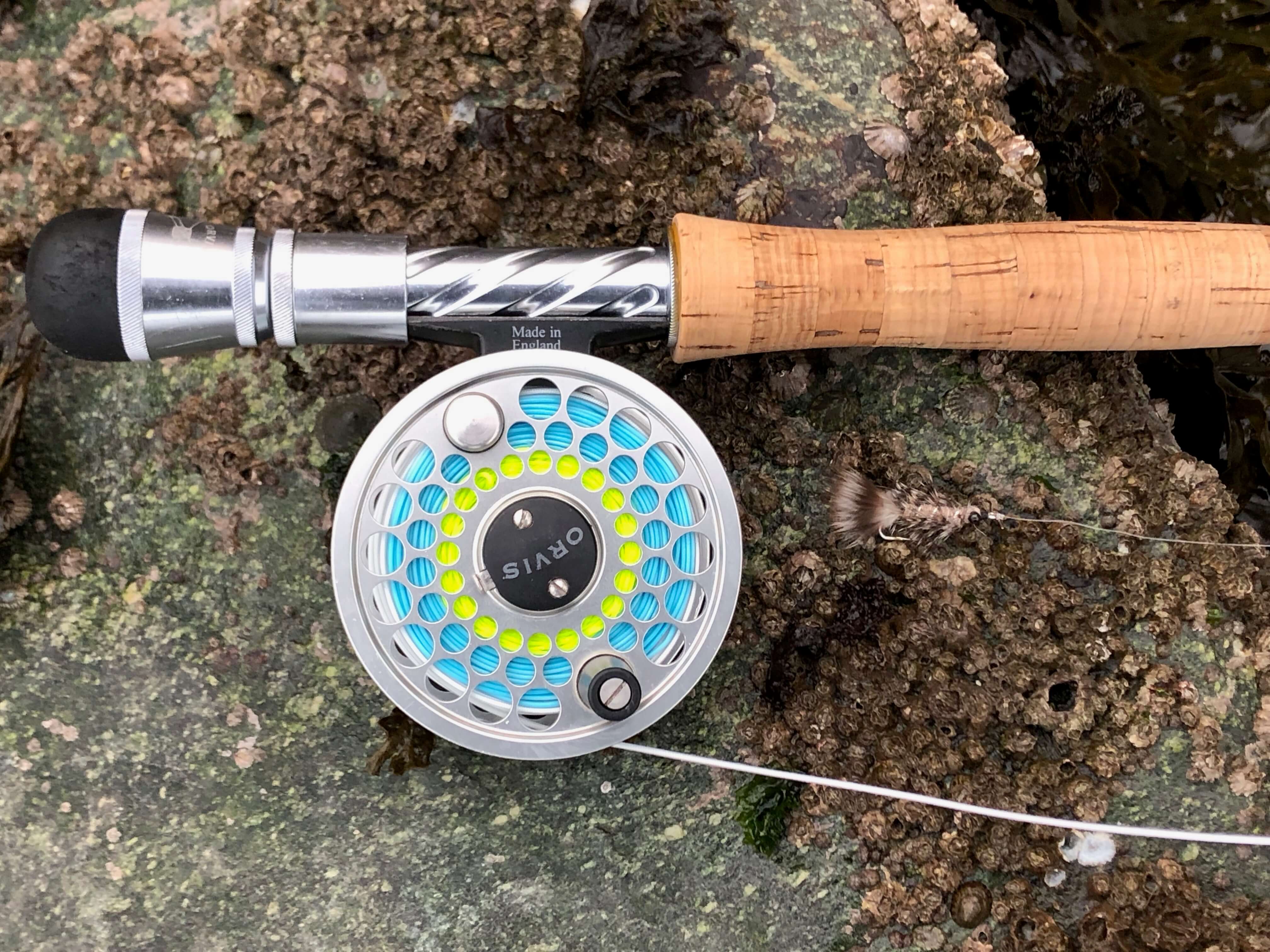 Puget Sound Fishing: winter salmon set up
Today was rainy and windy with foot high waves. I found sheltered water inside the bay and started double hauling casts with a 10 foot fast action 5 weight fly rod, a floating fly and an 8lb fluorocarbon leader. Fish began to show. We were joined by a seal. In a couple hours I landed four salmon and four coastal cutthroat. I cast to swirling and jumping fish much like you'd do on a shallow trout lake
in the middle of a hatch.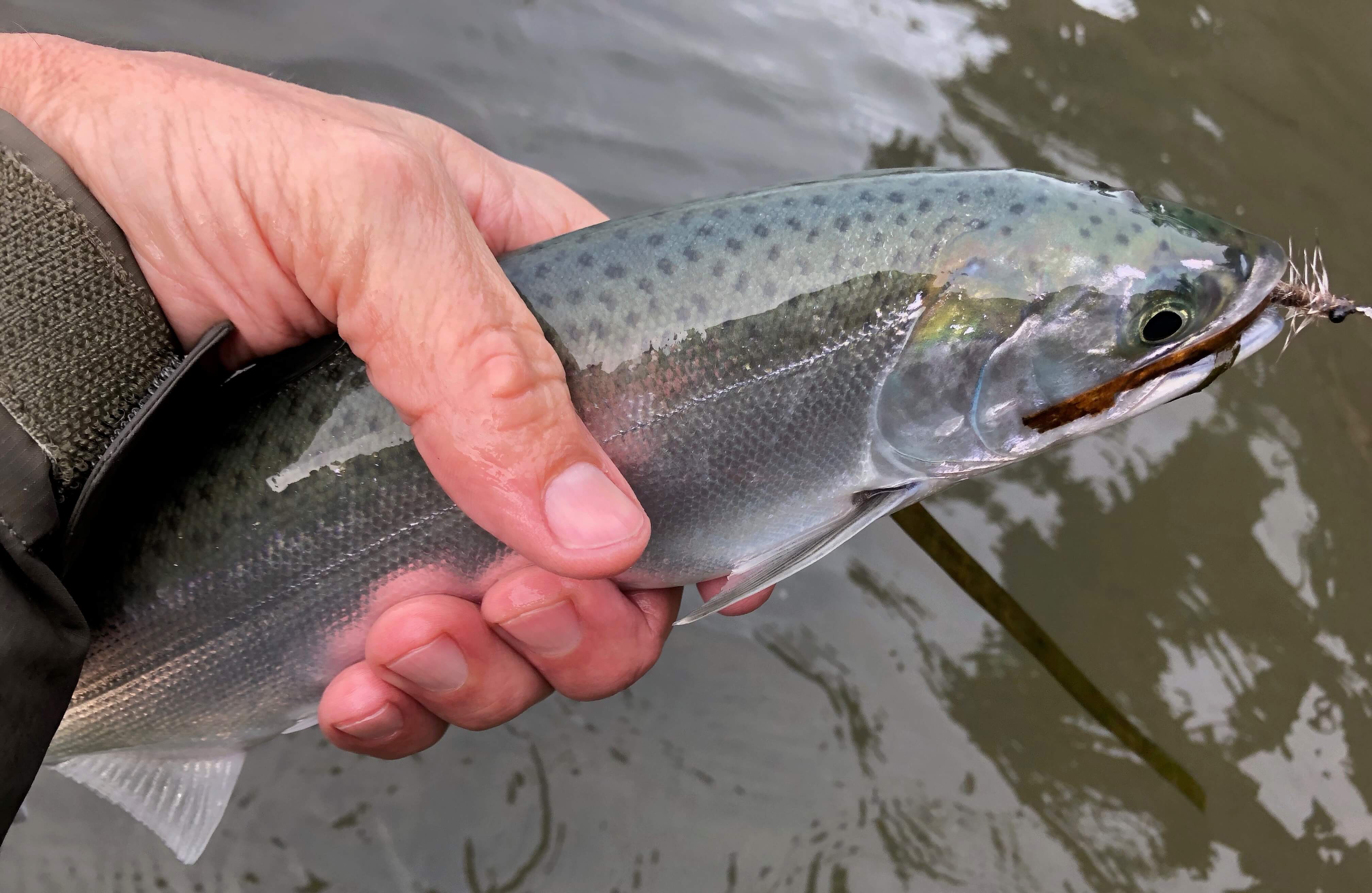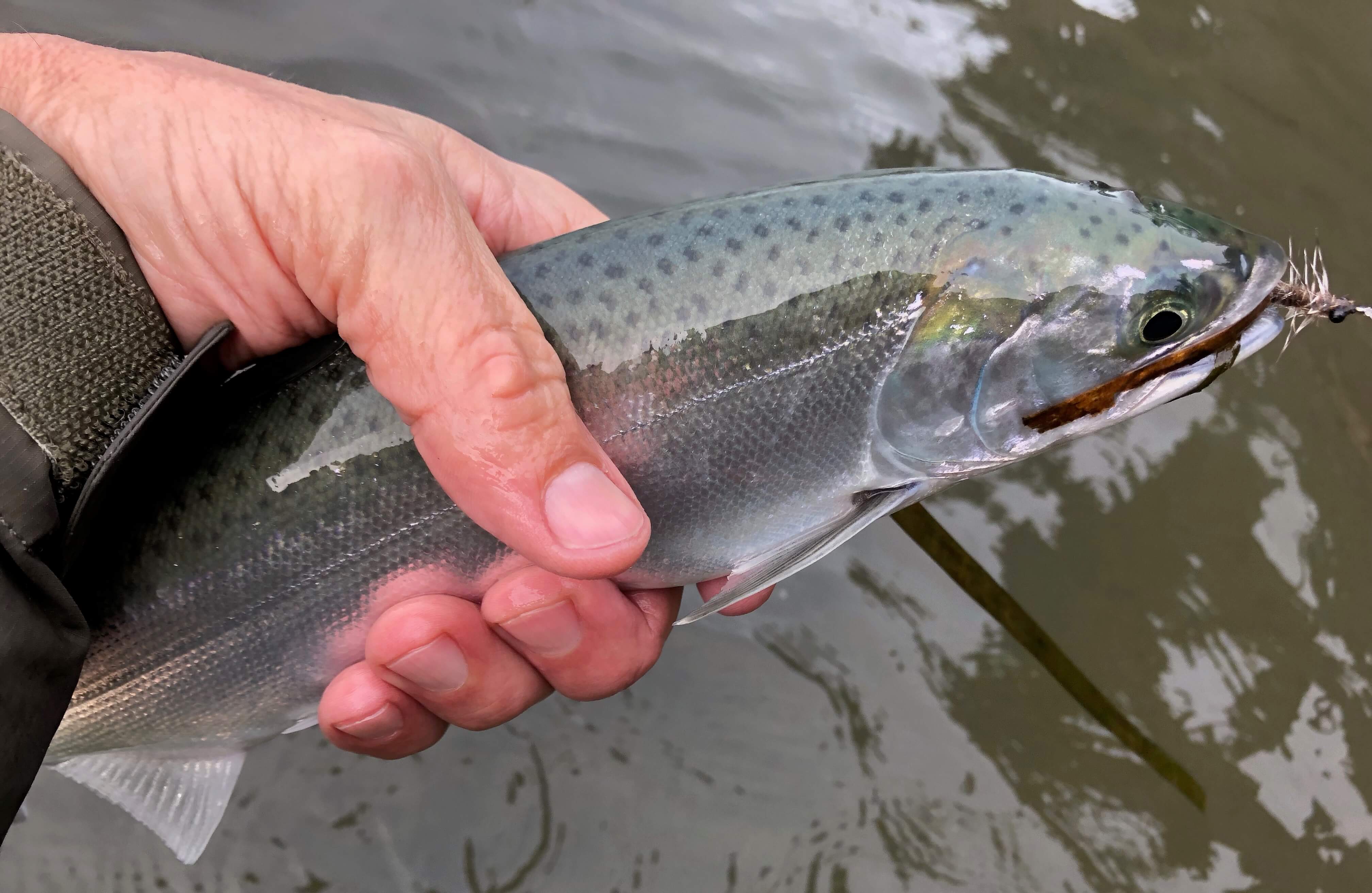 Puget sound fishing: salmon on 5 # rod.
Half of the fish took a small white soft hackle pattern called the Delia's Ghost. It's an imitation of small euphasiids and amphipods which salmon feed on during the winter. I let this fly drift with the tide or retrieve it with a "euphasiid hop" – a series of short, sharp, three inch pulls.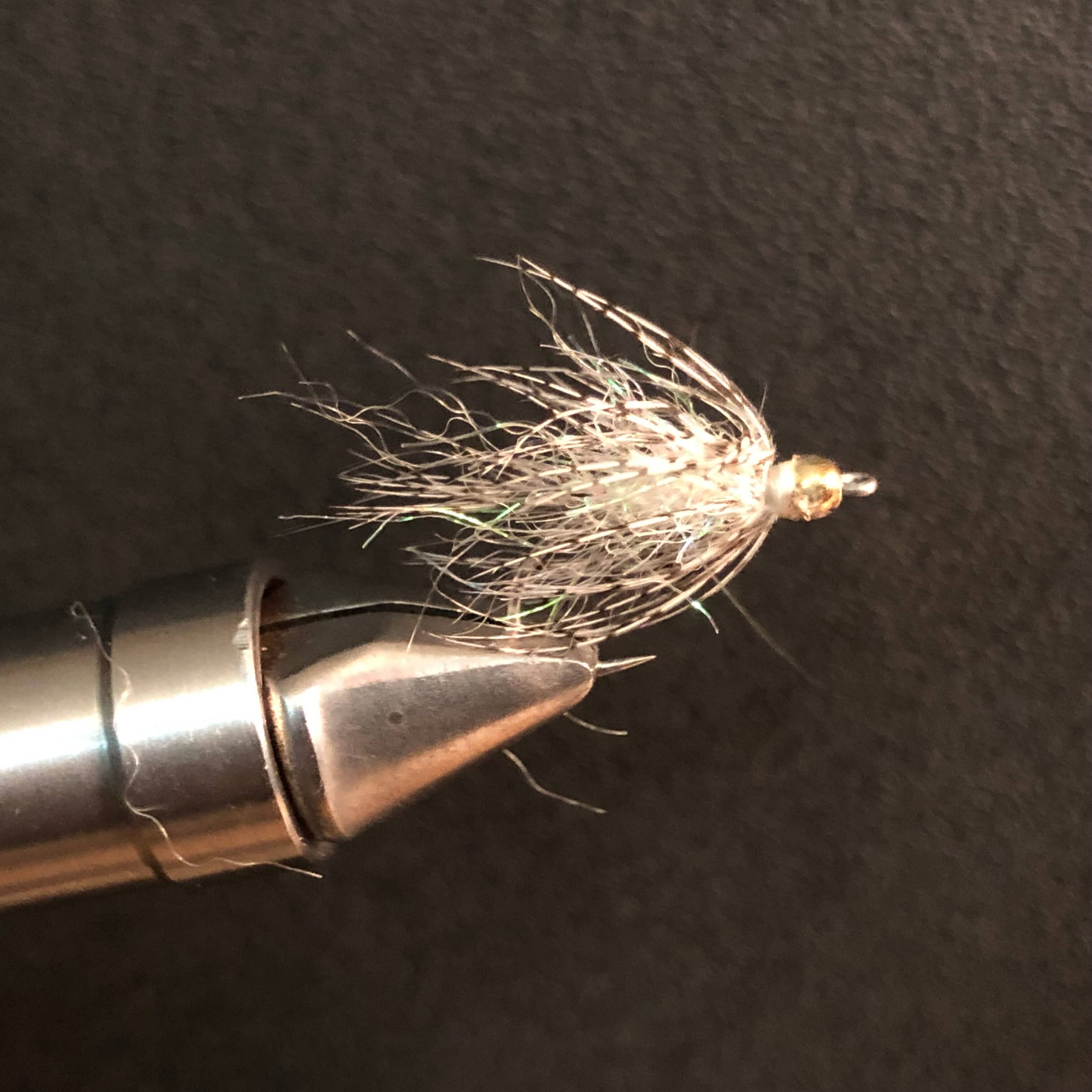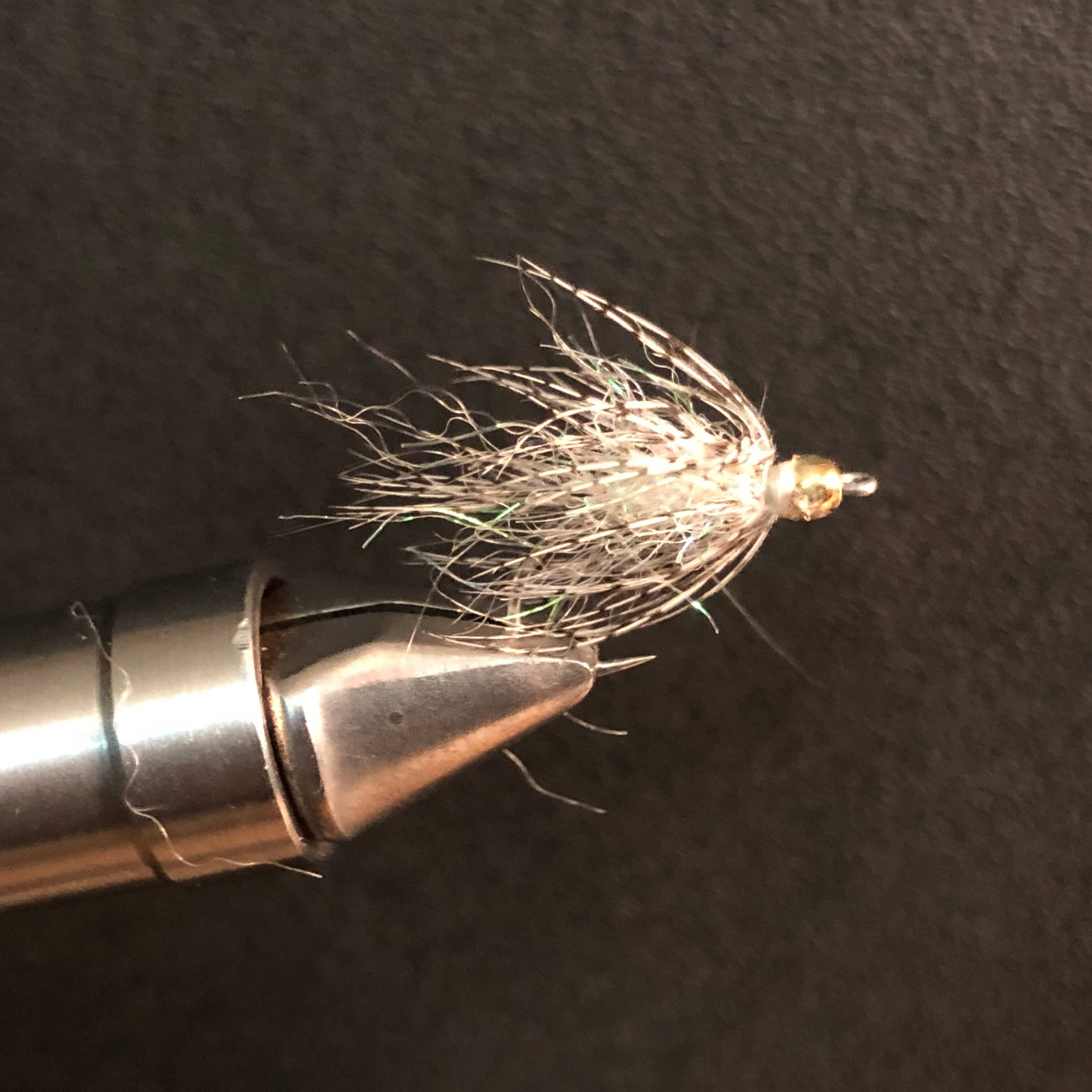 Delia's Ghost for Puget Sound Fishing
Hook: Gamakatsu SC15 size 6 or 8. The SC15 is about two sizes smaller than a regular hook which means an SC15 size 6 is equivalent to a size 10 wet fly hook and an SC15 size 8 is equivalent to a size 12 freshwater wet fly hook.
Tail: Natural partridge fibers.
Body: Dubbed white or polar flash dubbing. I mix natural colored seals fur with which polar flash.
Hackle: Natural partridge.
Head: Gold bead. The bead gives flash to the fly and also an erratic jigging action on the retrieve.
The other half of the fish came to a my version of the Grey Frede, a Danish saltwater sea trout fly. Pacific salmon and trout like the Grey Frede just as much as the Baltic trout! It can be an imitation of sculpin, a stickleback or even a marine worm.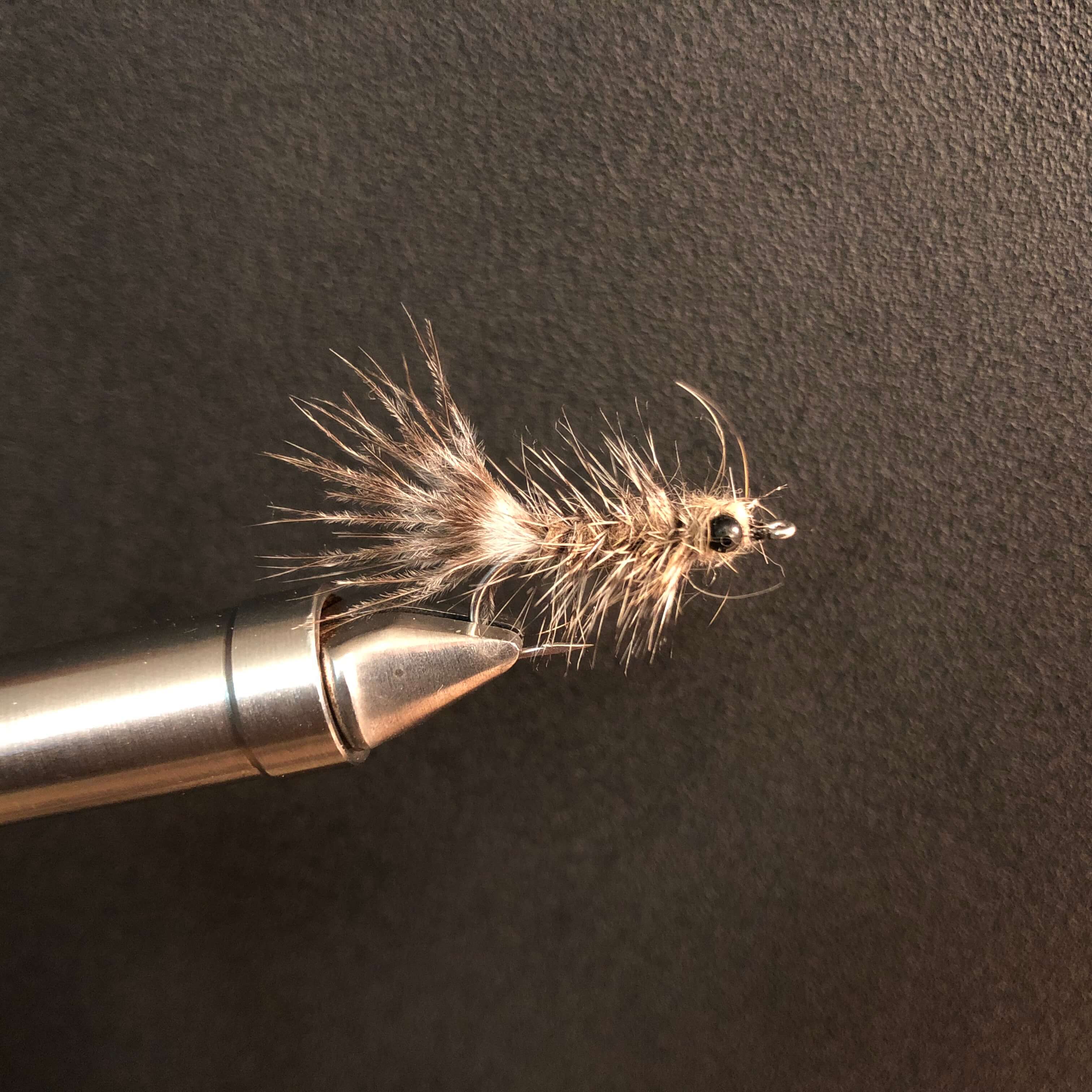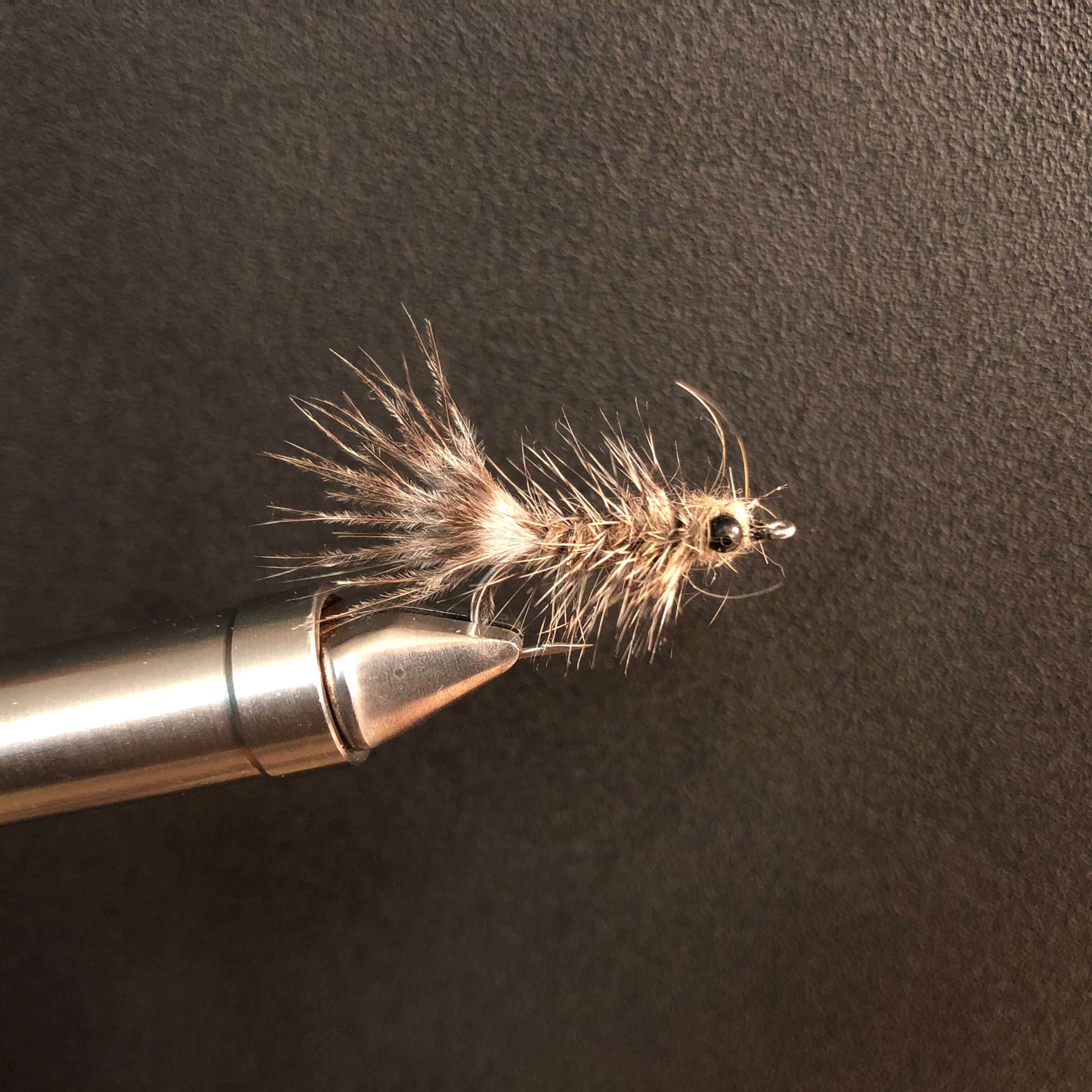 Pacific NW Version of Grey Frede
Hook: Size 10 or 12 Nickel Plated long shank hook. I use small hooks to limit mortality because I practice catch and release.
Tail: Grizzly Marabou
Body: Hares ear dubbing. The Grey Frede calls for dubbed grizzly marabou but I find natural hares ear works just as well without the mess.
Hackle: Grizzly. Five turns. Short and tapered.
Ribbing: Silver tinsel or copper wire. Counter-wrapped over the grizzly hackle to protect it.
Eyes: Silver or Black bead chain eyes. The bead chain eyes will make the fly dip on a retrieve, especially if you pause between pulls. Cutthroat love to pick up the fly on a pause.