Last updated on November 22nd, 2023.
Latest posts by Leonard Schoenberger
(see all)
There are few products in fly fishing offering more variety than fly fishing nets. Today we want to take a look at an aluminum net. 
Disclaimer: Some of the links in this article are affiliate links. If you click on one of them and end up purchasing a product we earn a small commission at no extra cost for you. We only recommend products we believe in ourselves.
As someone who's clocked countless hours on the water, I've learned that having the right gear is like having a trusty fishing buddy – it enhances the adventure. I like carrying a net (Read our buyer's guide here) when fishing on my own since it gives me confidence to land even a big fish safely without the help of someone else. 
Craftsmanship that Speaks Volumes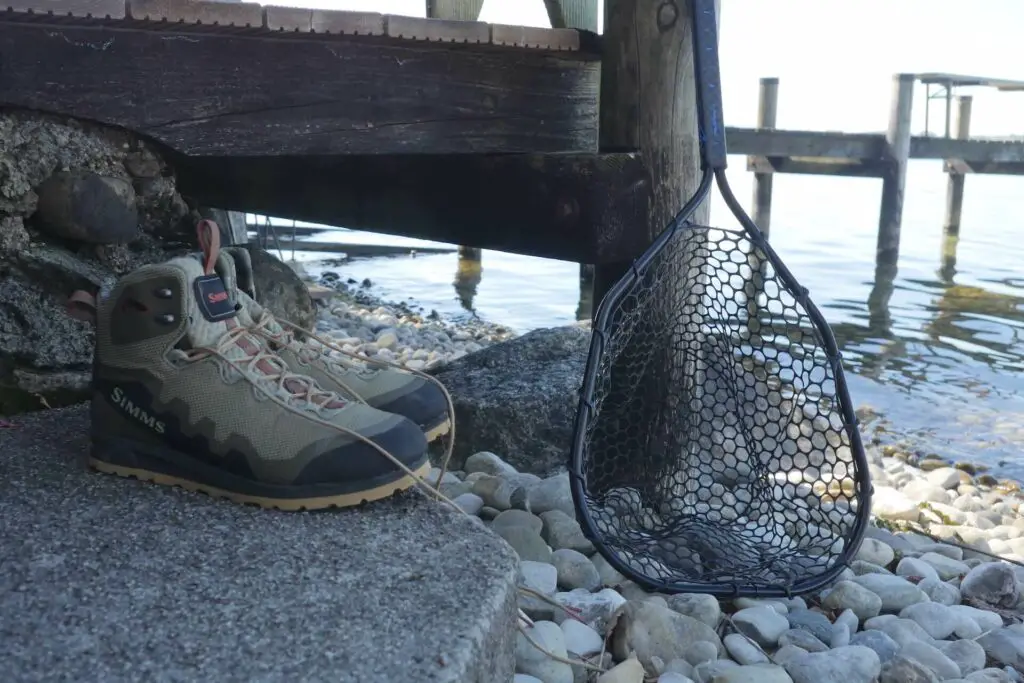 First things first, craftsmanship matters. The Driftless Dry Fly Net (Learn more on O'Pros Landing Nets) is a looker. Its black aluminum frame not only gives solid support but also adds a touch of modern beauty. The elastic black mesh netting is easy on your catch, ensuring they swim away unscathed. Using this net feels like you're handling a piece of gear that's been made with precision and care.
The Handle's the Right Length
That 9″ handle hits the sweet spot between convenience and functionality. It offers enough reach, especially when you're wading into deeper waters, without feeling like you're lugging around a giant net. This is the kind of handle that just makes sense. A longer handle when wade fishing on your own wouldn't help from my experience as you can't handle it with one hand (while holding your rod in the other hand). 
Your Streamside Partner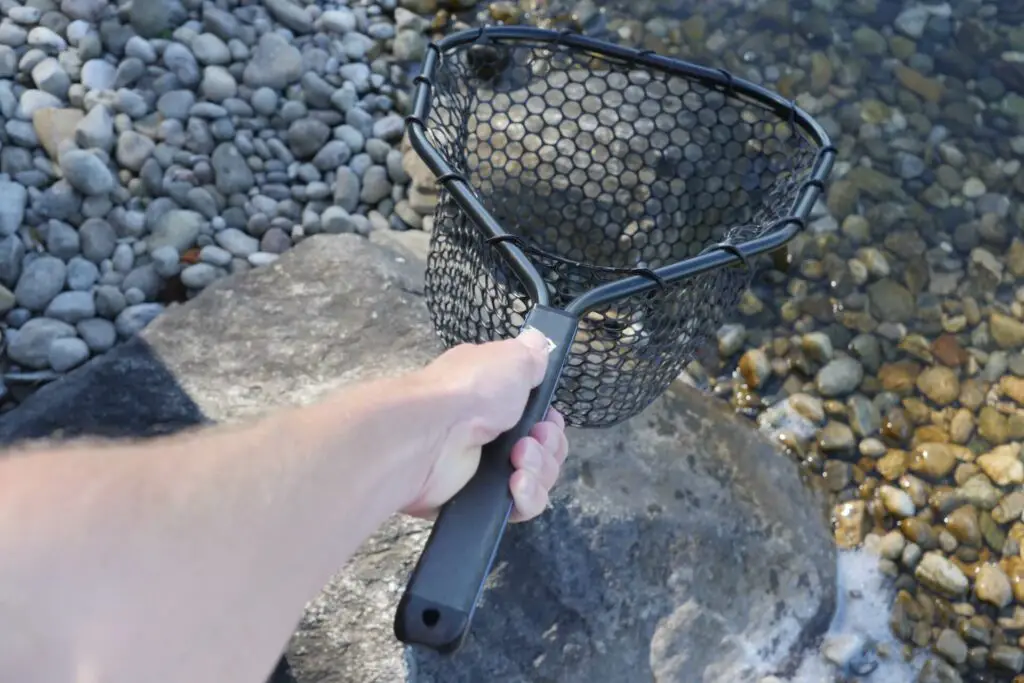 The O'Pros Dry Fly Net is your trusty companion by the water's edge. It's compact and light thanks to the materials used (composite carbon fiber for the handle and aluminum for the basket). It's the kind of net that elevates your fishing game without adding any extra baggage.
Field Testing the O'Pros Driftless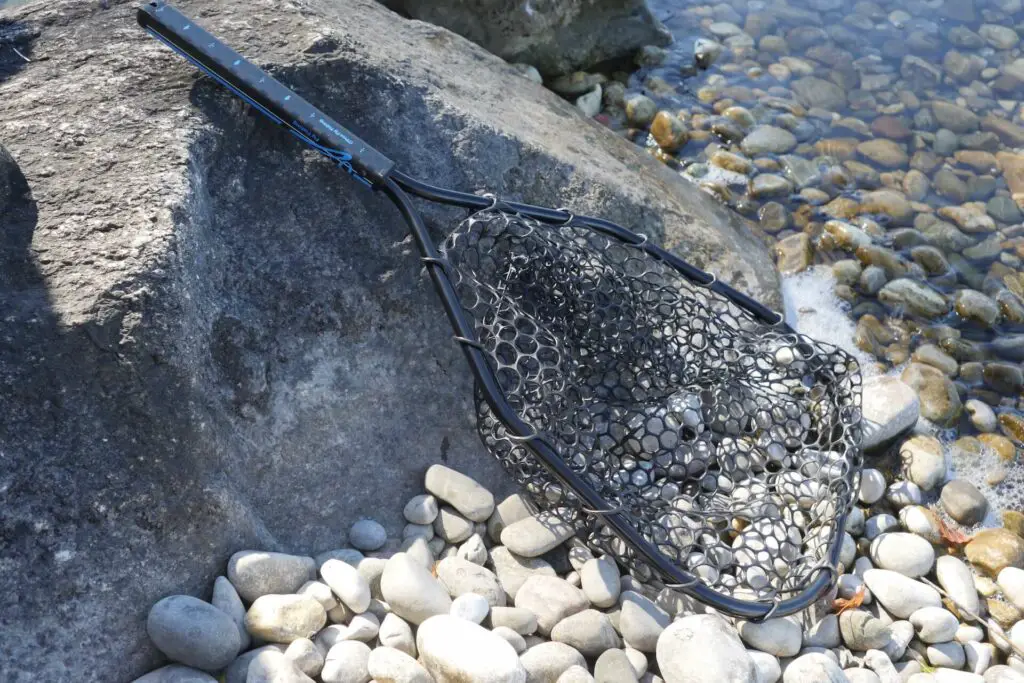 I've used it in various fishing situations, from tight creeks to bigger rivers with faster currents. The sturdy rubber netting does a solid job, especially if you're into catch-and-release since its fabric is soft and elastic. It's like a soft pillow for your catch, minimizing the risk of harm and ensuring they swim off unharmed. The aluminum frame adds a touch of class to the whole process, making each catch feel a bit special. We've tested the version with the black net which looks great with the carbon fiber handle and the black aluminum frame but personally I've become a fan of ghost nets especially when fishing in clear water. 
How Does the O'Pros Compare to Other High End Options
Simms Daymaker Landing Net
Let's compare this net to the Simms Daymaker Landing Net Small. Both are top-notch choices. The O'Pros features an aluminum frame and a carbon composite handle, while the Simms Daymaker goes for an all around carbon fiber design. In terms of the basket design they are very similar offering wide openings for easing netting. The O'Pros hoops dimensions are 19″ x 14″ whereas the Simms Daymaker comes in at 15″ x 11″ making the O'Pros the better choice for bigger fish.
The bigger dimensions result in the O'Pros weighing in at 16 oz compared to the 12″ of the Simms Daymaker small. Hence if you're looking for the utmost in low weight capabilities, go for the Simms.
Brodin S2 Tailwater Landing Net
The Brodin S2 Tailwater is another great high end version of a landing net. It features similar specs as the O'Pros when it comes to overall length and handle length. Other than the O'Pros however its shape is more oval which makes it a great choice when you want to carry your between your waders and a hip bag for example or also when attaching it to your back with a magnetic net release. The slimmer silhouette prevents getting stuck in branches and bushes when heading out to the river. 
The O'Pros on the other hand offer the advantage of easier netting of a fish since the opening of the basket is wider. While the Brodin comes with an all wooden design, the O'Pros features more "modern" materials with a handle made from carbon composite and an aluminum frame. 
Final Verdict
The O'Pros Driftless Dry Fly Net with its 9″ handle is a blend of classic craftsmanship and modern functionality. Its 9″ handle strikes the perfect balance between reach and portability, making it ideal for various fishing scenarios. Whether you're navigating tight creeks or casting lines in vast rivers, this net's got your back.
PROS:
Cool, modern look
High quality components
Wide hoop size for easy netting
CONS:
Wide hoop can get stuck in branches
On the heavier side
Specs
Size overall: 29" (20" basket, 9" handle), also available with an 18" handle and a 27" handle
Handle options: stealth black and fish camo
Basket size: 19" x 14"
Frame material: aluminum
Frame color options: black and blue
Handle material: carbon composite
Net colors: clear and black
Net depth: 12 " and 16"
Lifetime warranty
Floating
FAQs (Frequently Asked Questions)
Is this net suitable for larger fish like salmon or steelhead?
While it's excellent for trout and other small to medium-sized fish, this net may not be ideal for larger species like salmon or steelhead. For those, you might want to consider a larger net with a more robust frame.
Does it come with a clip or attachment for easy carrying?
This net does not come with a clip or attachment for carrying. You may want to consider a net holster or other carrying solutions for added convenience.
How easy is it to replace the netting if it gets damaged?
Yes, the net is replaceable. You can order a replacement net from O'Pros.
Does the O'Pros come with different handle options?
Yes, you can choose from different handle lengths. There is a 9″ handle, a 18″ and a 27″ for extra reach for example when fishing from a boat.
Does the O'Pros Driftless come with a bag?
While O'Pros used to ship that net with a bag they no longer offer that option.