Last updated on September 19th, 2023.
Latest posts by Leonard Schoenberger
(see all)
Landing nets are an important piece of gear when heading to the water, particularly when practising catch and release.
In my eyes, it was only a matter of time until Montana-based manufacturer Simms would produce their first fly fishing net. With the new Daymaker net that comes in a medium sized and small version, you can choose from another high quality option when looking for a landing net. We put it to the test and tell you what we think.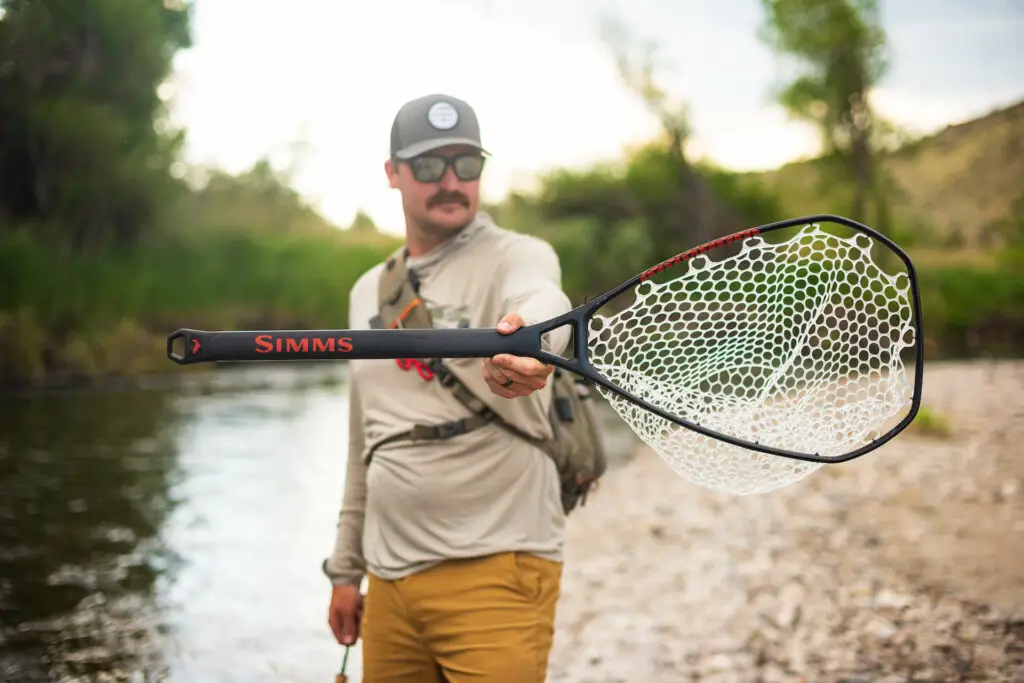 Features of the Simms Daymaker
Right out of the box you can tell that the Daymaker is a high quality landing net. Every detail, from its ergonomic grip to its well-sized hoop, speak of a design that was well-thought-out for the practical angler. Crafted from composite carbon, this net marries lightweight utility with rugged durability. I've used it in sun, rain, and everything in between without any signs of wear and tear, a testament to its weather-resistant build. And, weighing little more than a pound, this net never added any strain during those long fishing days.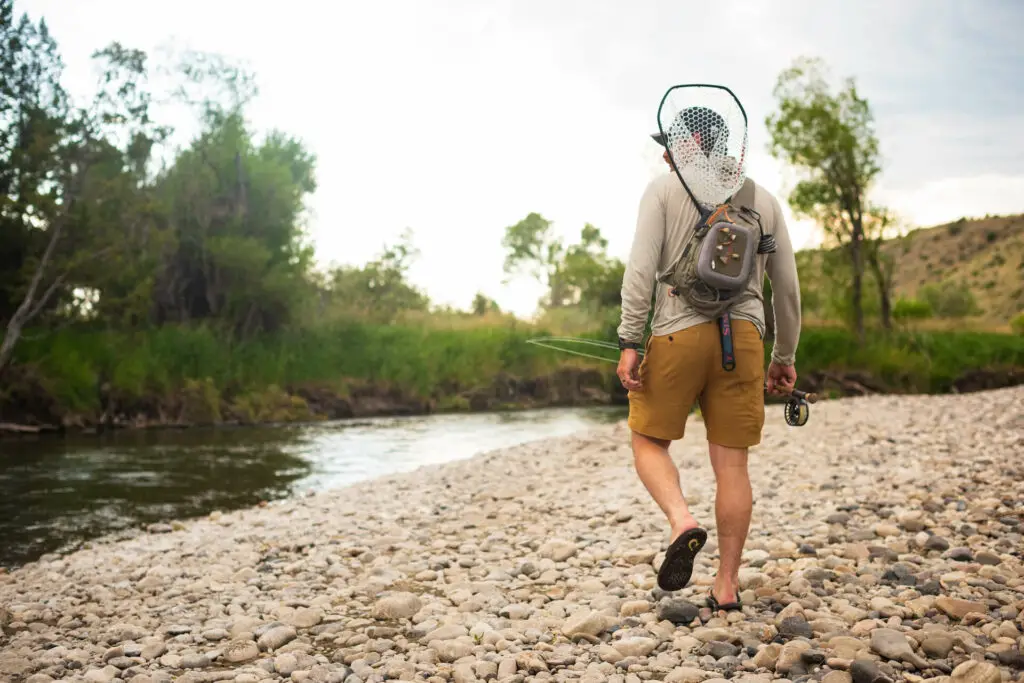 The clear rubberized netting, which has become my favorite feature, is not just gentle on fish, reducing their scales and slime loss, but also minimizes the risk of tangling. As an ardent advocate of catch-and-release fishing, this is crucial for me. In addition, the underwater invisibility of this netting worked like a charm, even with the most skittish of fish.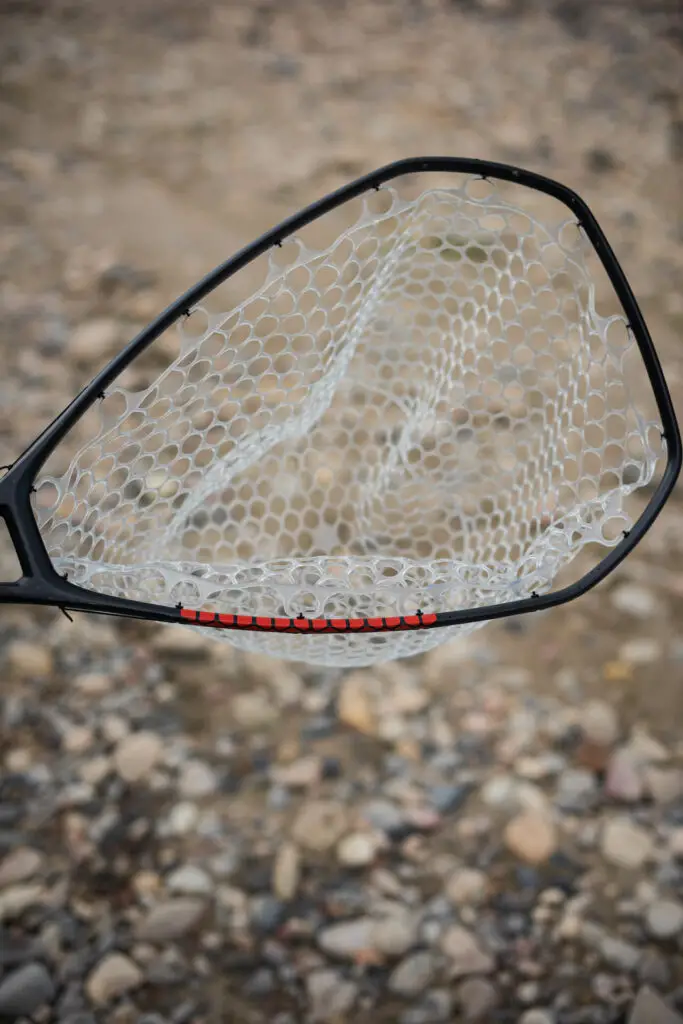 The net's dimensions, a hoop size of 18″ x 13″ (15″ x 11″ on the small version), and a net depth of 12″, proved perfect for a wide range of medium-sized species I commonly target. Its total length of 38″ (23″ on the small version) extended my reach considerably but was compact enough to store easily in my boat or carry around.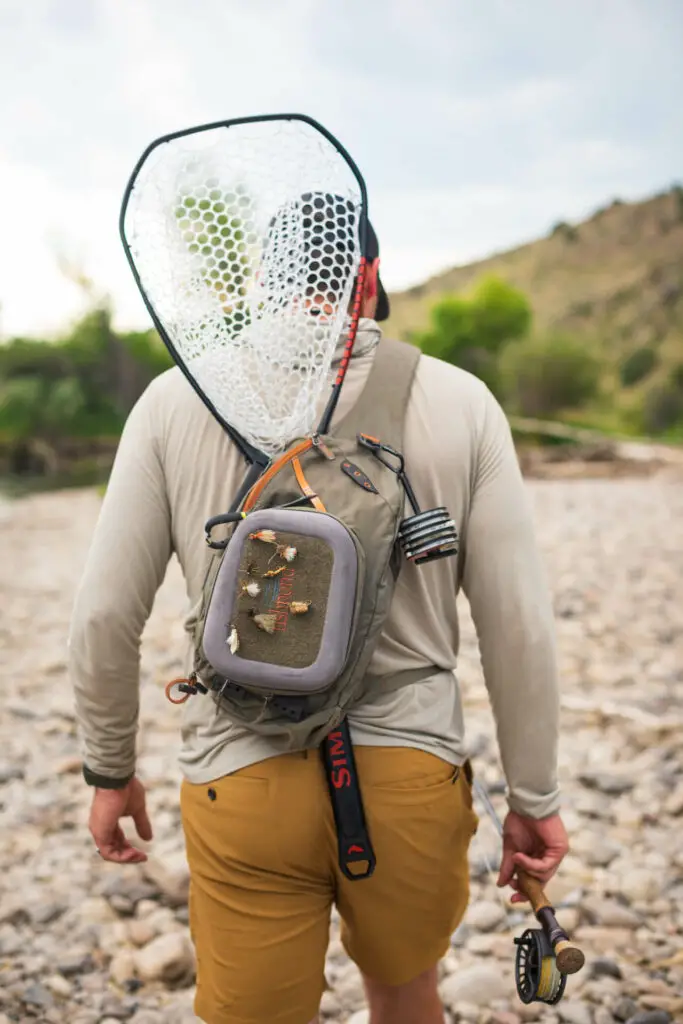 Performance
The Daymaker has truly lived up to its name on several of my fishing trips. Whether I was wrestling with a feisty trout in a fast-flowing river or scooping up a large bass from a still lake, this net was up to the task. I found the robust carbon fiber frame sturdy enough to bear the weight of my most substantial catches. At the same time, the net's clear rubberized design, practically invisible underwater, gave me a significant edge, especially with more elusive fish.
Its versatile size and depth made it an indispensable tool in various environments, whether I was waist-deep in a local stream or fishing from the side of my boat on larger bodies of water.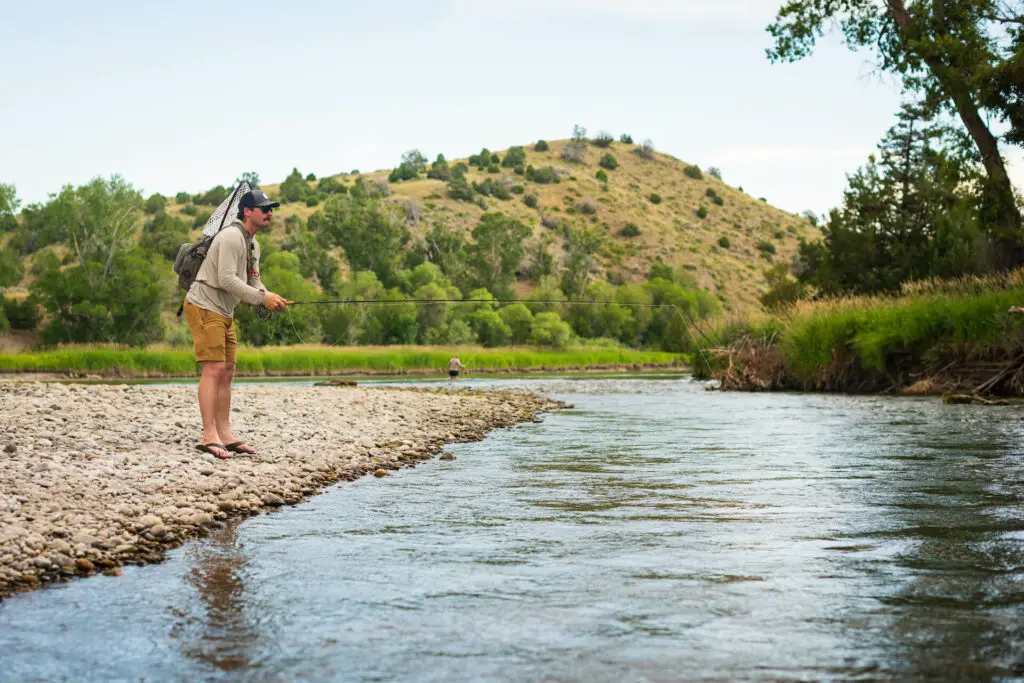 Pros, Through My Eyes:
The net's carbon composite build pairs durability with lightness like no other, making long fishing sessions more comfortable.
The clear, rubberized netting is not only gentle on the fish but also virtually invisible underwater.
The medium-sized net was a catch-all for a diverse range of species, from trout to bass.
The net's size struck a balance between a good reach and compact storage.
Minor Quibbles:
I did find that the depth of the net was sometimes a little on the lower end. When you land a big trout it has happened to me that the fish flips out of the basket. Make sure to pay attention to that when landing a trophy trout.
The handle is quite big around making this a great net for big hands – but make sure to check if it might be too big for you
Personal Conclusion on the Simms Daymaker Landing Net
All things considered, the Simms Daymaker – Medium has become a reliable companion on many of my angling adventures. Its thoughtful design and superior performance make it an invaluable addition to my fishing gear. While it might not be the perfect choice for larger species, it excels at landing medium-sized fish and ensures they can swim off healthy after the catch.
Yes, the Daymaker doesn't come cheap ($159.95 for the small version and $ 199.95 for the medium version) but it's a product that will last you for year to come.
Alternatives
There's a vast variety of landing net options out there from wading nets to boat nets, from folding to wooden to carbon fibre. If you want to get a good overview of the best fly fishing nets out there read our big guide here. If you're looking for a wooden alternative to the Simms Daymaker, make sure to check out the Brodin Ghost net.
FAQs
Can I use this net in saltwater?
Absolutely! I've used the Daymaker Landing Net in both freshwater and saltwater settings. The aluminum build handles all conditions brilliantly.
No, this model doesn't have a telescopic handle. It's a fixed 38″ length, which I found adequate for most scenarios.
Can I replace the netting if it gets damaged?
The netting is not officially replaceable. However, I can vouch for its durability – with proper care, it should last you a good long while.
Disclaimer: Some of the links in this article are affiliate links. If you click on one of them and end up purchasing a product we earn a small commission at no extra cost for you. We only recommend products we believe in ourselves.
Why You Should Trust Our Reviews
Leonard Schoenberger and his team spend plenty of days out fishing. Their goal is to test and review products for you so you can make a solid purchase decision and improve your fly fishing game. We always express our honest opinions, never get paid for reviews and are proud of our editorial independence.