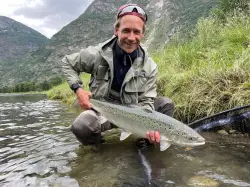 Latest posts by Leonard Schoenberger
(see all)
In the world of fly fishing, every angler knows the importance of a reliable landing net.
It's not just a tool; it's an extension of your skill and an essential part of the catch-and-release process. The Fishpond Nomad Emerger Net is a landing net that has gained a reputation among fly anglers for its exceptional performance and quality. In this comprehensive review, we'll explore the specifications, features, and unique attributes of the Nomad Emerger Net. Discover what sets it apart from the competition and why it's the ideal landing net for fly fishing.
Disclaimer: Some of the links in this article are affiliate links. If you click on one of them and end up purchasing a product we earn a small commission at no extra cost for you. We only recommend products we believe in ourselves. Learn more here.
Specs and Features of the Fishpond Nomad Emerger Net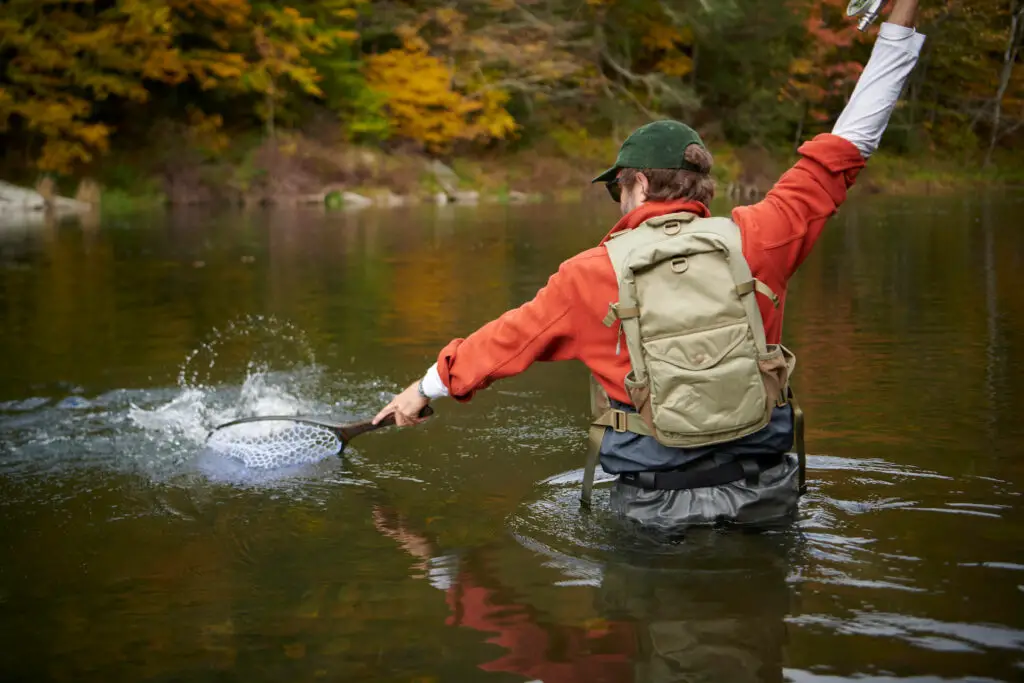 The Fishpond Nomad Emerger Net is a testament to quality craftsmanship and thoughtful design. Here's a closer look at its specifications and standout features:
Quick overview:
Overall length: 32″
Depth of the net: 12″
Size of the basket: 9.8″ x 19.8″
Overall weight: .95 lbs
Handle features a scale for easy measurement
Price: $159.95
Material: The net frame is constructed from a combination of carbon fiber and fiberglass, making it incredibly lightweight yet remarkably durable. You can choose between two colors: original which I'd describe as a dark grey and brown trout featuring a cool brown trout pattern (pictured in all photos of our review).
Rubberized Net Bag: The net bag is made of a soft and fish-friendly rubberized material that minimizes harm to the fish's scales and fins while ensuring easy hook removal. The fact that the net is clear (ghost net) facilitates catch and release fishing since the transparent color doesn't spook fish as easily.
Attachment Options: The net features a hole at the end of the handle that allows for the attachment of a magnetic clip. My preferred way of carrying a landing net is to simply tuck it in between my back and a hip pack. You can also tuck it into your wading belt for example.
Innovative Shape: The Emerger Net features a unique elongated shape with a wider head and narrower tail. This design allows for easier fish handling and minimizes the chance of the fish rolling or tangling in the net. The basket size on the Emerger is 9.8″ x 18.8″ which is the right size for all trout fishing scenarios from my experience. Small bass can also be easily handled with this net.
Built-in Ruler: The net handle incorporates a measurement ruler, allowing anglers to quickly assess the size of their catch without needing an additional tool. This comes in handy particularly when practising catch and release since it reduces the time you need to measure a fish.
Versatile Size: Available in a variety of sizes, including mid-length and long-handle options, catering to the preferences of different anglers.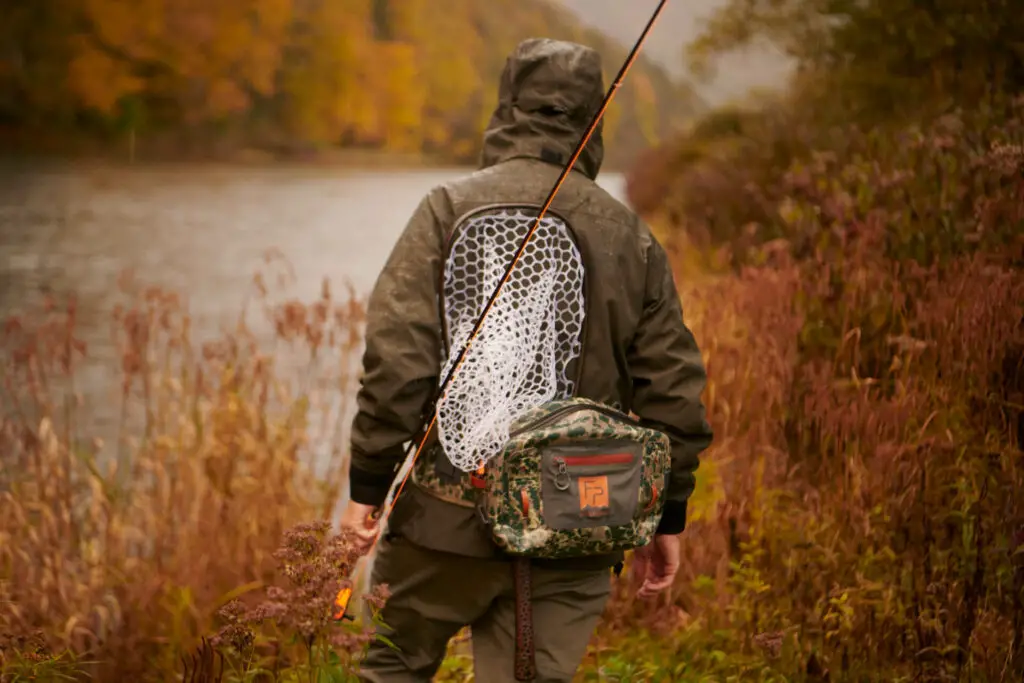 What Sets the Nomad Emerger Net Apart
The Nomad Emerger Net stands out in a crowded field of landing nets for several reasons:
Durability: The carbon fiber and fiberglass construction ensures that this net can endure years of use in demanding fishing conditions. It's built to last. Other manufacturers have jumped onto the hype train of carbon fiber nets but nothing beats the original in my eyes. The cool brown trout print further adds to the unique style of the Nomad Emerger.
Fish-Friendly: The rubberized net bag is gentle on the fish, reducing the risk of injury or stress during landing and release. It's a net that cares about the well-being of the fish. What I like I particular is the fact that the Nomad has just the right amount of stretch.
Unique Shape: The elongated, tapered design of the net head is a game-changer for fly anglers. It allows for easier netting and reduces the chances of the fish escaping or getting tangled. Plus, the handle has a great shape as well as the varying width allows anglers with hands of different sizes to grab the net securely.
Built-in Ruler: The integrated ruler on the handle streamlines the process of measuring your catch, eliminating the need for an additional measuring device.
Fishing Situations where the Nomad Emerger Net Shines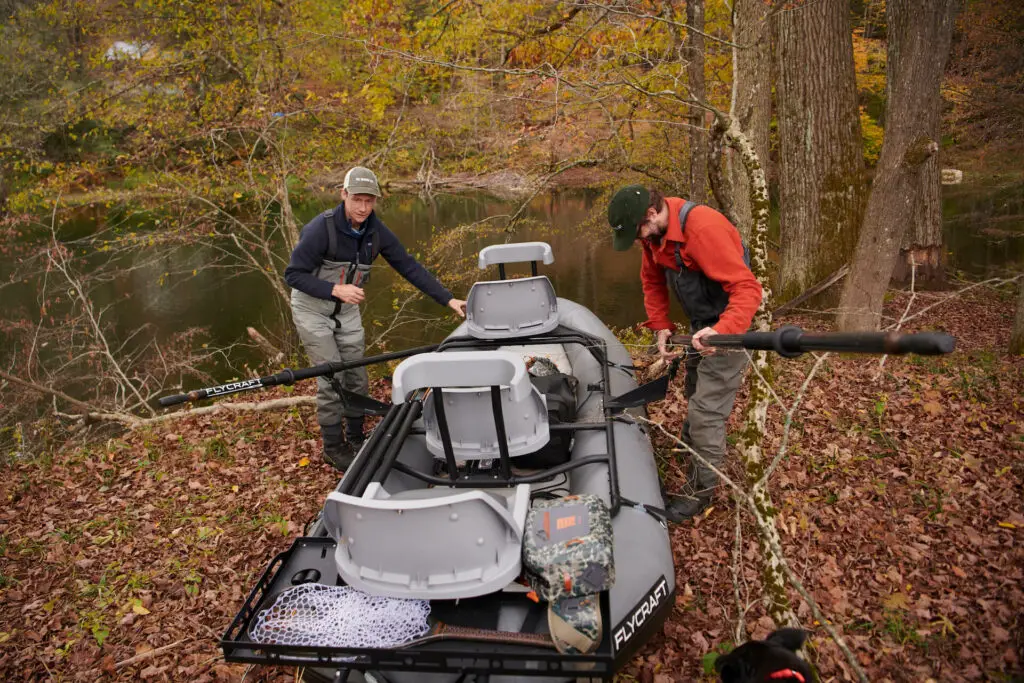 The Nomad Emerger Net excels in various fly fishing scenarios, making it a versatile and valuable addition to your gear:
Stream and River Fishing: Its lightweight design and elongated shape make it ideal for navigating through flowing waters and landing fish with precision. The reduced width of the net ensures you won't get tangled in bushes or branches when heading to the river while carrying your net tucked behind your back.
Stillwater and Lake Fishing: Whether you're fishing from a float tube, kayak, or the shore, the Nomad Emerger Net provides a reliable and fish-friendly landing solution. The handle on the Nomad Emerger net proved long enough during our testing even when fishing from a drift boat (pictured above).
Catch and Release: For anglers who prioritize catch-and-release, this net's rubberized bag ensures that fish are handled gently and safely.
Fly Fishing Travel: Its compact size and durability make it an excellent choice for fly anglers who explore various fishing destinations. If you want to make sure it fits into your luggage you might consider the version with the shorter handle.
Pros and Cons
PROS:
Exceptional durability with a carbon fiber and fiberglass frame.
Fish-friendly rubberized net
Innovative shape for easier fish handling.
Versatile size options to suit different preferences.
Cool brown trout print option
CONS:
The 32″ version will most likely not fit into your check in luggage. Consider going for the version with the shorter handle.
A leash or magnetic release option would be a great upgrade
Wrapping Up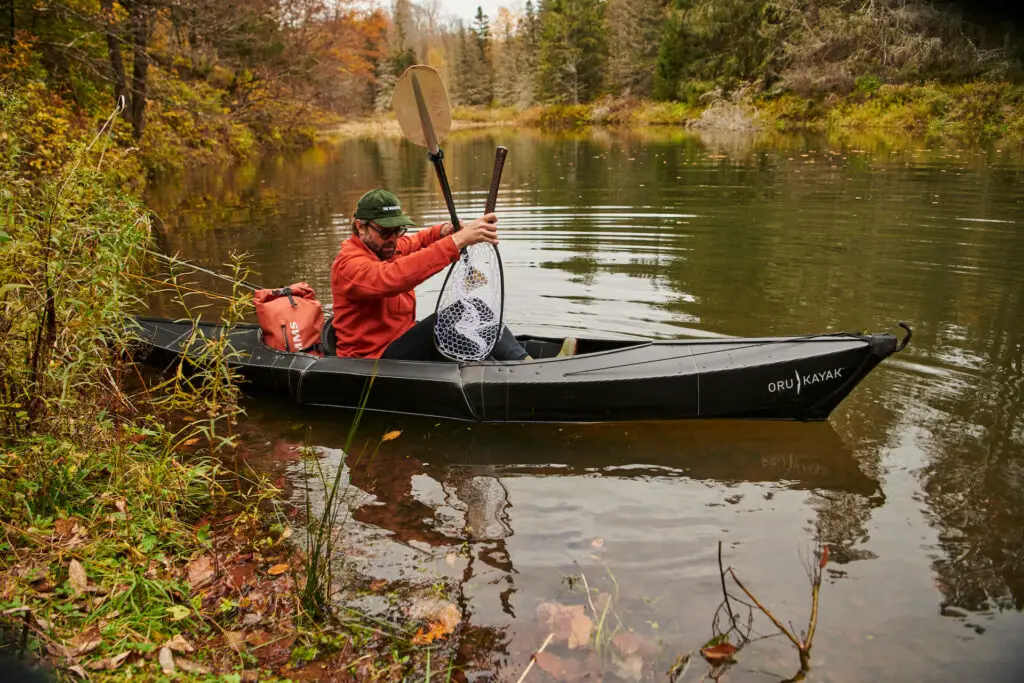 The Fishpond Nomad Emerger Net is not just a landing net; it's a testament to thoughtful design, quality materials, and a genuine commitment to the well-being of the fish we catch and release. Its durability, fish-friendly rubberized net bag, innovative shape, and built-in ruler make it a standout choice for fly anglers seeking the best in landing nets.
While it comes at a premium price, the performance and longevity it offers are worth every penny for those who value the harmony between successful angling and responsible fishing.
Make sure to read our comprehensive "Buyer's Guide on the Best Fly Fishing Landing Net" if you're on the lookout for a new landing net.
FAQs
Is the Nomad Emerger Net suitable for saltwater fly fishing?
Yes, the materials used are corrosion-resistant, making it suitable for saltwater environments.
Can I attach the net to a fly fishing vest or pack?
Yes, the included rubberized lanyard allows for easy attachment to various gear.
How do I clean the rubberized net bag?
Simply rinse it with freshwater after use to remove any debris or algae. It's easy to clean and maintain.
Are replacement net bags available for the Emerger Net?
Yes, Fishpond offers replacement net bags if needed.
What size should I choose for my fishing needs?
The size choice depends on your personal preferences and the type of fishing you do. Consider the waters you frequent and the species you target when making your selection.