Last updated on September 21st, 2021.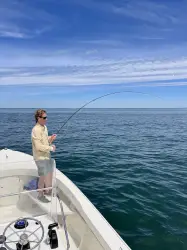 Latest posts by Leonard Schoenberger
(see all)
In his new book The Optimist: A Case for the Fly Fishing Life, David Coggins, author of the NYT bestseller Men and Style talks about a life built around fly fishing.
In his new book The Optimist: A Case for the Fly Fishing Life, David Coggins travels around the world targeting different species in different places reaching from trout in Montana to bonefish in the Bahamas and Atlantic salmon in Canada. We sat down with him to talk about his new book that was recently published by Scribner.
David, in the beginning of "The Optimist" you talk about your fly fishing education. Do you have a younger friend you teach nowadays?
David Coggins: I have some friends who are new to the sport who I try to help catch a fish. But nothing as
extended as what I learned from the old timers who taught me in Wisconsin. That was a real
ongoing education that I'm still grateful for.
In your book you write about fly fishing Meccas around the world such as Patagonia, the Bahamas and Montana. Which of these places has changed the most since you first went? Which one stayed the same?
David Coggins: Well there are a lot of people fishing in Montana, that's just a fact of life now. There were a lot
when I started going twenty years ago, but it seems like there's even more pressure on the water
now. The Bahamas faces a lot of threats from tropical storms and hurricanes. But when you're on
the flats it feels like you're in a very timeless place, away from everything else.
The global pandemic slowed International travel down considerably. Do you think fly fishing travel
will be the same as before?
David Coggins: Well a lot of people took up the sport during the last year or so. It was such a perfect antidote to
being inside. I'm not sure all those people will continue down the path. But I think there will be a
big desire for special destinations and I think people will be fishing here in America too.
You pursue different species with different tactics. If you had to choose one species to target til
the end of your fly fishing life, which one would it be?
David Coggins: Oh this is a big question, Leonard. I'm a trout angler above all else. And I think that's my true
passion. But I've been in the middle of a bonefish obsession for the last few years and I would be perfectly happy chasing them on the flats.
What does fly fishing mean to you beyond fishing?
David Coggins: To me fishing is the entire day. The anticipation, putting together the rods on the bank, looking
forward to time on the water when everything is still full of possibility. Then of course the fishing,
but also the remembering and the misremembering afterward. It's all these things.
What fishing adventure is still high on your list?
David Coggins: Oh I'd like to go salmon fishing in Europe very much. To Norway or Iceland. And I wouldn't say
No to Scotland either!
Which author inspired your style of writing about fly fishing the most?
David Coggins: Well he doesn't write about fly fishing that much (a bit about shad fishing), but John McPhee has
been a big influence on me. His approach to storytelling and his style are so impressive. I also
love Ian Frazier (who's also an angler) his writing is so wide-ranging and funny and full of life.
If you could choose to spend a day fly fishing with anybody in the world – who would it be?
David Coggins: I'd love to fish with Tom Stoppard. Another writer I admire and a serious angler. I'd be happy
spending the day with him whether we caught anything or not.
Thanks a lot for the interview, David.