Last updated on August 21st, 2023.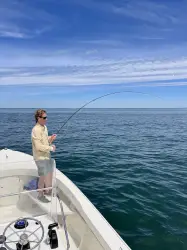 Latest posts by Leonard Schoenberger
(see all)
If you plan to venture deep, a great way to make your experience more enjoyable is a pontoon boat for fly fishing.
A lot of designs today provide anglers with a myriad of functionalities and features. Pontoon boats are durable, portable, inflatable, and are really enjoyable to use. Moreover, they're far more durable and offer more safety compared to inflatable kayaks.
If you're planning to buy a fly fishing pontoon boat and have absolutely no clue where to start, don't worry, we've got you covered. This in depth review is going to talk about some of the best pontoon boats at different price ranges and the factors you should consider before making a final decision. And because there a lot of different models in the market, making a short but sweet list of pontoon boats can be a bit difficult. This is exactly why we've made a list of the best products you can opt for in different price ranges. 
Table of Contents:
Best Fly Fishing Pontoon Boats Quick Answer List
What to Keep in Mind Before Buying
Best Fishing Pontoon Boats Reviewed
Best Fly Fishing Pontoon Boats Quick Answer List
1. Classic Accessories Colorado Pontoon Boat
2. Orvis Outcast Fish Cat Scout
3. Sea Eagle 285 Frameless Pontoon Boat
4. Classic Accessories Colorado XTS
5. AQUOS Heavy-Duty for One Series FM
6. Outcast PAC 1000 FS Pontoon Boat
Some factors to Keep in Mind When Buying a Fishing Pontoon Boat
If you're interesting in investing in a pontoon boat to maximize your fly fishing experience, there a couple of important things you should keep in mind. Such as:
How Durable Should Fly Fishing Pontoon Boats Be?
Like it is with practically all types of products, the price of any product will primarily depend on the types and quality of materials used. When it comes to pontoon boats, bladder materials are important. There are essentially two types of materials modern pontoon boat bladders are made of:
Vinyl 
When It comes to affordability, vinyl is by the far the most affordable choice. However, overtime, vinyl bladders will start to leak. Why? Well, that's because vinyl isn't a very elastic material. And that means as the material starts to expand, it will continue expanding without taking its original shape. So, overtime, as it expands, it's structural integrity will weaken and this in turn, will lead to leaks and holes. 
Urethane
Urethane is by far the best material you can opt for – however, urethane pontoon boats will be expensive. However, if you're up for investing in one, you'll never have to worry about replacing your pontoon boat anytime soon. Urethane pontoon bladders are highly durable and can withstand considerable wear and tear. This is exactly why some pontoon companies provide customers with a 10-year warranty on their urethan pontoon boats. The material is significantly more elastic than vinyl and if somehow, a leak does occur, it's very easy to repair it on the water. 
Pontoon Boat Frames
Modern pontoon boats come in two frames – steel and aluminum. Sure, steel is more durable and stronger, it does however, put a lot of weight on the boat. For more balance and functionality, anglers usually opt for aluminum frames that come with anti-rust materials. 
Added Functionalities
You'll come across a variety of pontoon boats that come equipped with multiple add-on features like oars and seats. However, it's important to keep in mind that when you're opting for a pontoon boat, always go for the quality of the boat as opposed to type and amount of additional components that can be added on the boat. 
The Number of People on the Boat
If you have a fly fishing buddy who wants to accompany you on the fishing trip, you should go for a bigger pontoon boat – at least a 12-footer with 18-inch pontoons (diameter).  Bigger boats will provide comfortable space for multiple occupants and will also have enough storage capacity to store all the gear. Moreover, bigger boats will also allow you to fish standing up on the boat, especially if the boat is designed with an upright frame. If there are three people, go for a 14-footer.
Notice: The Wading List is reader-supported. We take part in the Amazon Associates Program and other affiliate programs and earn a small commission at no extra cost for you if you end up making a purchase. We only recommend products we are convinced of and use ourselves. Thanks!
The Best Pontoon Boats for Fly Fishing on the Market in 2023
Here's a list of some topnotch fly fishing pontoon boats. We've narrowed it down to 7 products in terms of price and features.
When it comes to affordability, it doesn't get any better than the Classic Accessories Colorado Pontoon Boat. It's an inflatable pontoon boat with PVC bottoms. However, unlike most entry level boats, the Classic Colorado comes with an abrasion-resistant PVC bottom, adding to its durability. The tops are made with nylon and has bronzed oarlocks and a sturdy, steel-tubed frame. The pontoon bladders are made with both heat and cold-resistant materials with quality valves. 
Setting up the Classic Accessories Colorado is simple enough, however, compared to most mid and high-range boats, it takes longer to set up. So, it's recommended that you have a friend help you out. The Colorado Classic has a detachable frame that you will need to manually attach, which takes a lot of time. But if you read the instructions and do it in a step by step manner, it's not difficult to set it up. Similarly, the boat is quick to deflate and pack – so there's some degree of portability to it. 
The boat weighs over 70-lbs, which means you won't be able to carry it and transport it yourself. The Colorado Classic comes with multiple accessories such as an anchor system, a foam fly patch that can be detached, a battery platform, wire rear storage, 2-position motor mount, comfortable seats, and footrests. 
Pros
The bottoms are abrasion-resistant 
Nylon tops
Sturdy steel tube frame
Affordable
Good storage space 
Easy to paddle
Compact
Cons
Can be heavy to transport
Takes too long to set up
Complaints regarding its oar lock system
If you're looking for durability, balance, and streamlined functionality, then look no further than the Orvis Outcast Fish Cat Scout. One of the best things about this pontoon boat is that comes in a frameless design that provides seamless portability and a less time-intensive set up process. As one of the best pontoon boats for fly fishing, the Outcast Fish Scout has a low-profile design and is excellent for still water fishing. The boat is considerably lightweight, weighing no more than 35-lbs.
It's designed to be highly portable, and you can easily carry it with you, even if you're travelling in an airplane. Moreover, the pontoon boat comes equipped with IGS (integrated gear system) that offers anglers a lot of options when it comes to gear and pocket positioning. 
The Orvis Outcast Fish Cat Scout allows unfettered functionality and access to both veteran and novice anglers weighing significantly lighter than their previous models – offering streamlined stability and comfortable rowing motion. The pontoon inflates faster and is simple to transport. 
Pros
Frameless, lightweight design for easy transport
Kayak-style seating – you can fish standing up on the boat
Sturdy PVC outer body
Vinyl bladders
Good storage capacity
Cons
Expensive
The Sea Eagle 285 is another excellent fly fishing pontoon boat that boasts a frameless design. With a U-frame built, the Sea Eagle offers total convenience when it comes to still water fishing and provides a reduced level of hull weight. The pontoon boat comes with a ton of features ensuring you maximize your fishing experience. 
From 360 oarlocks to rod holders, durable hardwood surface, impressive storage space, 2-point motor mount, and a swivel seat – the Sea Eagle truly has everything modern anglers require. The pontoon boat offers streamlined portability and can be wrapped up and stored in a bigger backpack. Moreover, you can use the fishing boat in multiple ways. For example, you can use the oars that come with the boat, or you can rig it up with a motor. The comfortable swivel seat is designed with a 360-degree rotation, which means you'll have excellent view of the environment. Lastly, the pontoon boat is lightweight, weighing in at only 42-lbs.
Pros
Lightweight design with seamless balance and performance
The hull is made from 1,000 denier which is durable and prevent damages 
The 1000D hardwood surface is elevated for speed and responsiveness
Cons
Expensive
When it comes durability and reliability, the Classic Accessories Colorado XTS is the way to go. The top of the pontoon boat is built with strong 840-denier nylon and the bottom is designed with 1,100-denier PVC. The total load capacity of the XTS is 400-lbs, excellent for larger individuals. The frame is even more durable and is coated with powdered steel, boasting a cotter pin build. 
Unlike so many other Classic Colorado pontoon boats, the XTS features a more comfortable swivel seat designed with topnotch padding materials that offer streamlined ergonomics as well as unmatched mobility and flexibility. The swivel seat has a rotation range of 180-degrees, allowing for uninterrupted visuals of your surroundings. 
The Classic Accessories Colorado XTS comes with a bunch of excellent accessories that mainly include increased storage units, gear bags you can easily attach, cupholders, and a myriad of pockets. 
As for the accessories on the XTS, you get a gear platform that is mounted behind the seat with tons of room for storage. There are also gear bags that attach to the side with insulated cupholders and a variety of pockets. 
Pros
Durable frame and overall build 
Impressive storage capacity 
Ultra-comfortable swivel seat
Powdered steel coated frame
Cons
Expensive
If you're looking for something lightweight, durable, and flexible, look no further than the AQUOS Heavy-Duty for One Series FM pontoon boat. Weighing only 52-lbs, the One Series is designed to be portable, which means you can easily transport it using a bigger boat, in a pickup, or in an RV. The pontoon boat also features a grab bar made from stainless steel, which provides more security and stability. 
The AQUOS Heavy-Duty for One Series FM also features a super-comfortable swivel seat that comes with adjustability features. You can adjust the height of the seat from 9.6 inches to 13 inches for a more precision-based fishing experience. The pontoon boat also comes with attachable paddle oars (5.4-ft). 
The total weight of the pontoon boat can hold is 350-lbs and is built with a durable, aluminum floor measuring 27.5 inches by 47 inches. This means anglers will have plenty of space to comfortably maneuver and can easily transform the pontoon boat into an angler fishing platform. The floor is also integrated with cutting-edge, EVA-textured anti-skid padding that helps prevent slips and falls. Moreover, the surface is also built with cold and heat-resistant materials. 
Pros
Lightweight and portable design
Swivel seat with height adjustability
Comes with paddle oars
Larger surface space 
EVA-textured anti-skid padding 
Cons
Expensive
The Outcast Pac 1000 FS is a big boy indeed – designed to handle loads of up to 500-lbs! However, what's really interesting is the fact that despite its size and load bearing capacity, the pontoon boat is extremely lightweight, flexible, and maneuvers like a charm. The 1000 FS is ideal for anglers that want to go on a big fishing trip with plenty of fishing gear and accessories. Touted as the most durable and sturdy pontoon boat by Orvis, the boat offers seamless strength with quality tubes measuring 10 feet long and 18 inches in diameter. 
Moreover, the Outcast Pac 1000 FS comes a flexible hard shell swivel seat. It has a low steel frame build. The pontoons are lightweight and are made with super strong 1,100-denier and 27-oz PVC outers welded in place with two urethan air cells inside the pontoons. One of the best pontoon boats for fly fishing, the 1000 FS also comes with two inflation valves (one-way) and an impressive storage unit allowing anglers to pack a ton of gear. Moreover, the pontoon boat also features two saddle bag storage compartments that are easy to reach.  
Pros
500-lbs load bearing capacity
Lightweight 
Diamond-plated storage capacity
1,100-denier PVC outers 
Urethane air cells 
Saddle bag compartments
Cons
Expensive
If you're looking for a two-person pontoon boat for fly fishing, it doesn't get any better than the Orvis Outcast Pac 1200. As a matter of fact, it's by far the best boat for the job. The Outcast 1200 is 13 feet long, is inflatable, and comes with a detachable shelf. Plus, it has excellent storage – it features gear bags that can be easily removed. But one of the most interesting things is that the pontoon boat can be converted into a one-seater thanks to its aluminum frame. 
The Orvis Outcast Pac 1200 is also considerably lighter than the Pac 1000 and has plenty of storage space – you can load your gear, fishing essentials, and food and water and go for multi-day fly fishing trips with your fishing buddy. 
The pontoon is also the most durable when comparing it with similar models. The Orvis Outcast Pac 1200 is built with 1670-denier, strong PVC material (37-oz thick). The bottom of the boat is manufactured with the same materials with a 43-oz thickness, making it a strong, sturdy, yet flexible boat for fishing on rivers. Moreover, the boat also features air chambers designed with urethane and topnotch valves, which are going to come in handy when the rapids get quick. 
Pros
Two-person seating 
Strong build with urethane air chambers
Top quality valves
Massive storage capacity
Can be converted into a one-seater
Cons
Really expensive
Bottom Line on Fly Fishing Pontoon Boats
So there you have it – an in depth review of some of the best pontoon boats for fly fishing. However, at the end of the day, the boat you select will primarily depend on your preferences. For example, if go on fly fishing tips once or twice a month and are on a budget then the Orvis Outcast Fish Cat Scout is a better option.
It has decent storage capacity and comes with a relatively sturdy build. However, if you're a habitual and veteran angler, and want something that will last longer, then you should definitely go for the Orvis Outcast Pac 1200. 
Notice: The Wading List is reader-supported. We take part in the Amazon Associates Program and other affiliate programs and earn a small commission at no extra cost for you if you end up making a purchase. We only recommend products we are convinced of and use ourselves. Thanks!