Last updated on September 4th, 2023.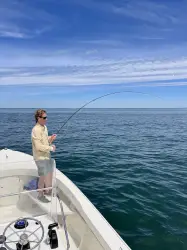 Latest posts by Leonard Schoenberger
(see all)
The last thing you want is your essential gear to get wet. That's why you should get a fly fishing backpack.
That's why you need a waterproof fly fishing backpack. Imagine yourself in a remote place on a long planned trip somewhere in the wilderness. What is the last thing you need out here? Worries about your gear being kept dry. The solution is a waterproof fly fishing backpack that you can haul anywhere. Everything inside will stay dry even when fully submerged. This is crucial if you want to bring a camera or other electronic equipment along on a trip.
Table of Contents:
Best Fly Fishing Backpack Quick Answer List
Best Fly Fishing Backpacks Reviewed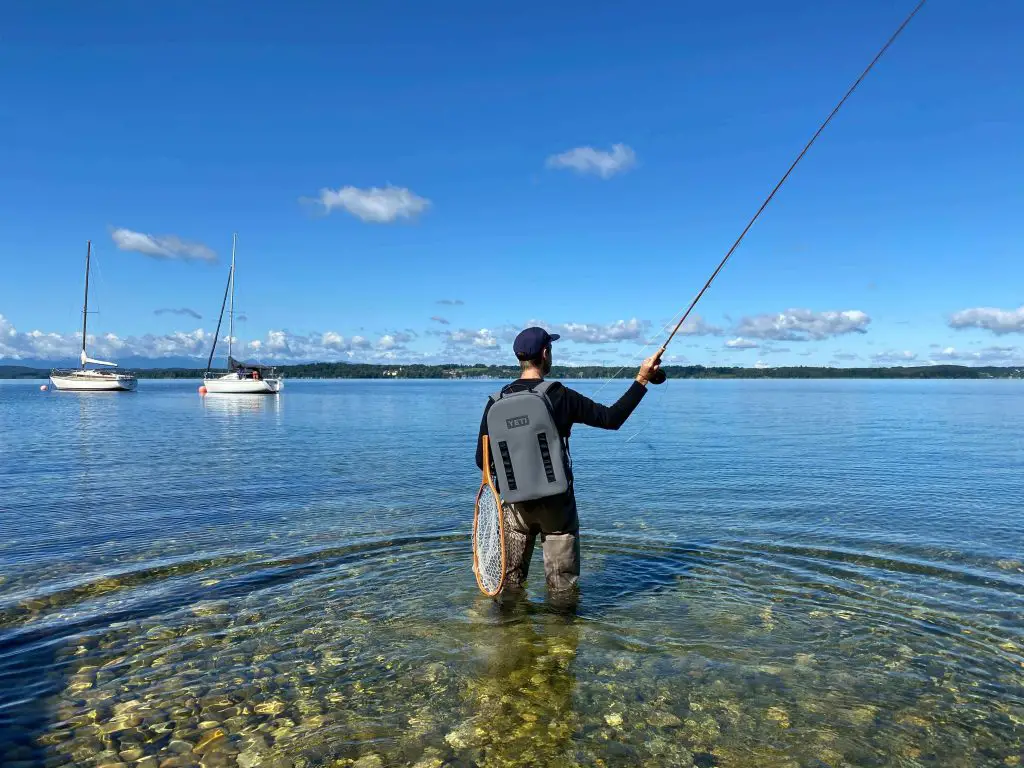 Best Fly Fishing Backpacks Quick Answer List
4. Simms Flyweight Fishing Backpack
6. Fishpond Thunderhead Submersible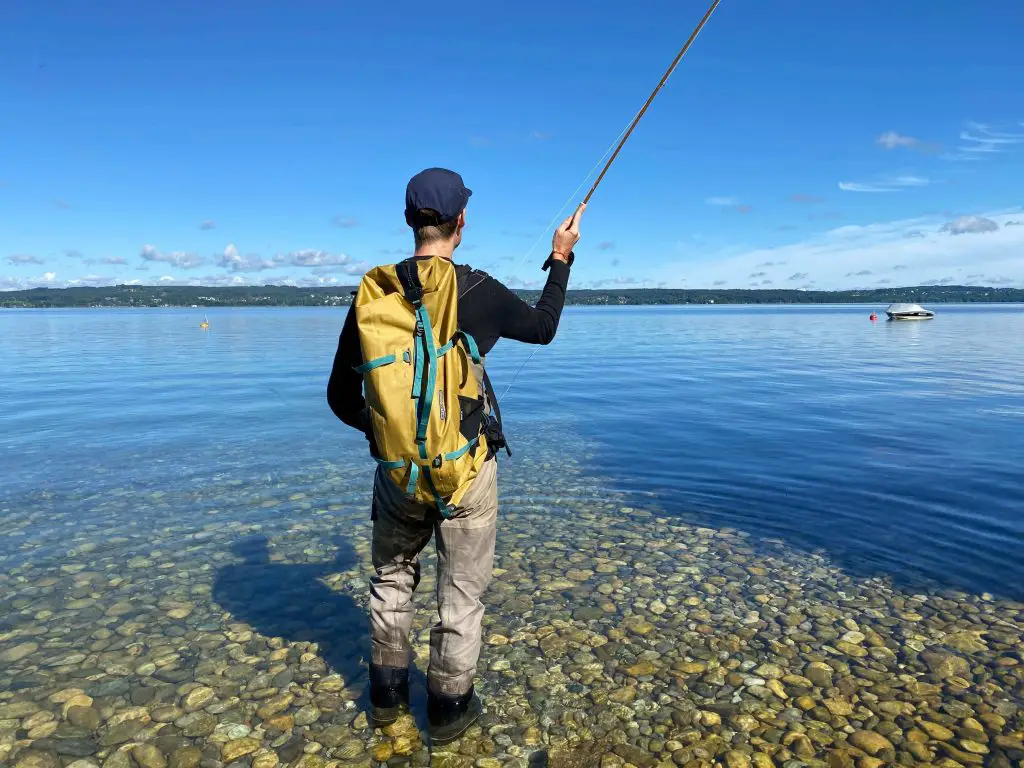 Best Backpacks for Fly Fishing in 2023
Notice: We take part in various affiliate programs. If you click on a link in this article and end up purchasing a product we earn a small commission at no extra cost for you. We only recommend products we use ourselves.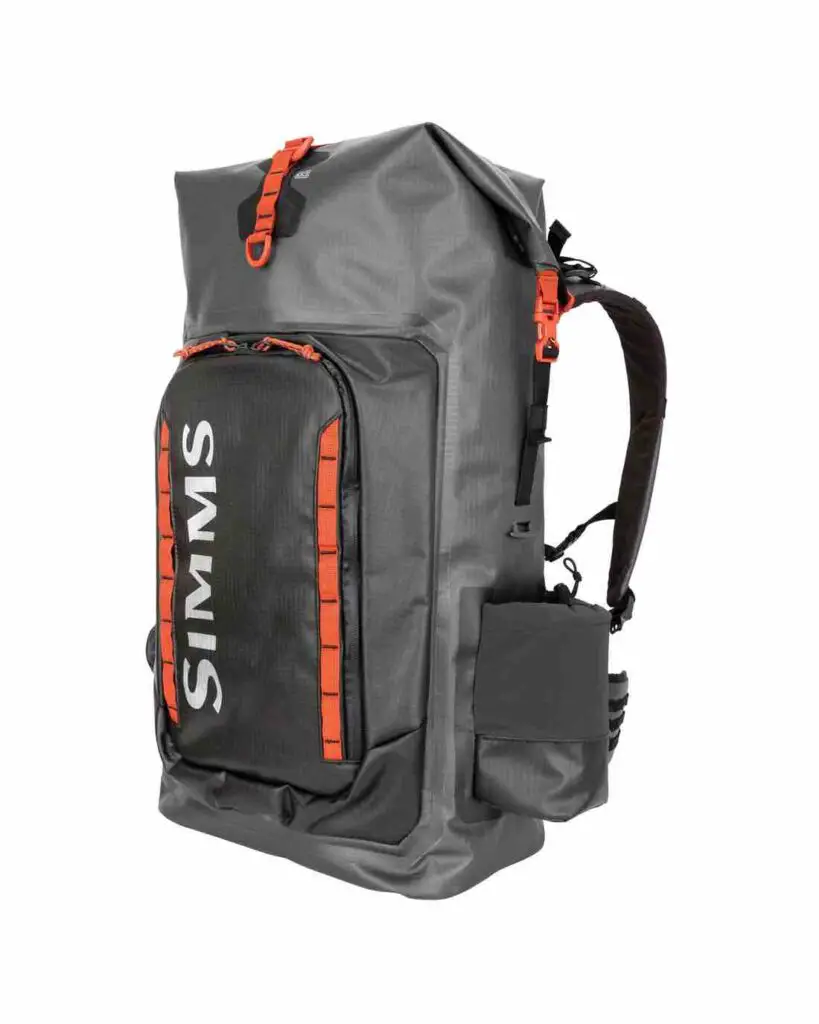 A new arrival for the spring season, the Simms G3 Guide Backpack is a completely new product and not a rework of the popular brand from Montana. An wide roll top closure allows for easy access to the inside of the backpack. A large pocket on the outside enables you to bring a lot of gear (careful with the outside pocket though since it's water-resistant but not fully waterproof).
On the side, the Simms G3 Guide Backpack features water bottle pockets for you to stay hydrated during long days out on the water. These can also be used as rod tube holders – a great and very practical feature. Adjustable webbing lash straps make sure every piece of gear you bring stays where it's supposed to be.
Additional lash points and daisy chains on the Simms G3 Guide Backpack make it easy for you to attach more gear such as tippet spools, a lanyard, nippers and co. A molded back panel and breathable shoulder straps ensure great comfort even when your backpack is fully loaded.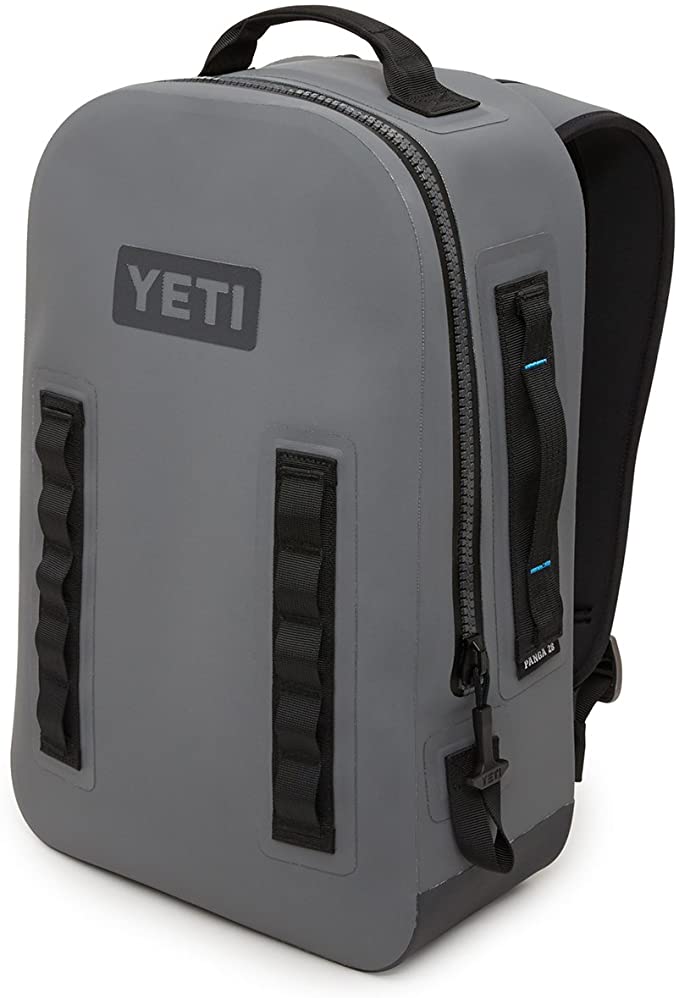 American brand Yeti has made a big name for themselves in the industry in recent years. They have gained a huge fan base amongst outdoor lovers, in particular for their great coolers. But their bags are not less impressive and are used by fly fishing guides all around the globe. Why is that?
The Yeti Panga focuses on the essentials. Its shape seems a bit bulky at first but the upside of this design is the huge space inside the backpack. Yeti calls the shell fabric "Thickskin Shell" – rightly so. The material almost feels like an elephant skin and is extremely durable. It is highly puncture and abrasion resistant so you can literally haul it anywhere in the wild.
In combination with the HYDROLOK Zipper the Yeti Panga 28 is guaranteed to keep your gear bone dry. To understand how tough the zipper is, Yeti added a little note to the handle reading "pull hard". If you've never used such a waterproof zipper before you will be surprised how hard you have to pull indeed.
The inside of the Yeti Panga 28 fly fishing backpack is just as simple as the outside. It features a laptop sleeve pocket that can hold a 15″ laptop. You can tell that professionals rely on the Yeti Panga when they absolutely need to make sure their gear is safe from rain and moisture. A small mesh pocket inside can be used to store essentials such as a fishing license.
On the outside the Yeti Panga 28 features a number of loops to attach extra gear such as a landing net for example. On the top and side of the backpack are handles that make the backpack easy to carry around when not worn on your back.
The wide DryHaul shoulder straps make the Yeti Panga 28 very comfortable to wear even after hours on the water. If you need extra support there is a removable waist belt and chest strap.
The Yeti Panga 28 is a great option if you want a large waterproof backpack that can hold a lot of gear. It is the right choice for professionals who want to bring electronic gear such as a camera or laptop on a trip. Due to its rock solid construction it is a piece of equipment that will last you a long time. For smaller people it can be a bit bulky when wearing it while casting. Overall an excellent choice.
The Grundéns 30L Rumrunner is another great fly fishing backpack with a roll-top closure that guarantees all your gear stays dry no matter how torrential the downpour may be. It is not quite as feature rich as the Simms G3 Guide Backpack but still offers great variability.
The Grundéns 30L Rumrunner features one big main department that is protected by a 100% waterproof rolltop closure. On each side, the Grundéns 30L Rumrunner has an integrated mesh pocket that can hold a can or other small accessories (not protected from the elements). Welded seams make sure everything stays dry on the inside.
Just like the Simms, the Grundéns 30L Rumrunner comes with padded shoulder straps to ensure all-day comfort even when your backpack is loaded with heavy gear. When the rolltop closure is closed, it provides another practical handle to grab the backpack. Comes in two colors and one size (30L).
American manufacturer Simms came out with a whole range of new flyweight products. The latest edition to their lineup features a fly fishing backpack that is a great choice for the minimal fly fisher: the all new Simms Flyweight Fishing Backpack.
The new Simms Flyweight Fishing Backpack is the perfect choice if you want to get a few casts in after or before work and just need to carry the essentials. Other than the rest of the backpacks in this test, the new Simms Flyweight Fishing Backpack is not waterproof.
It provides a great level of versatility with many storage options on the inside and outside. It features fully padded, adjustable shoulder and sternum straps making it very comfortable to carry around all day. You can also pair it with other items from the new flyweight collection.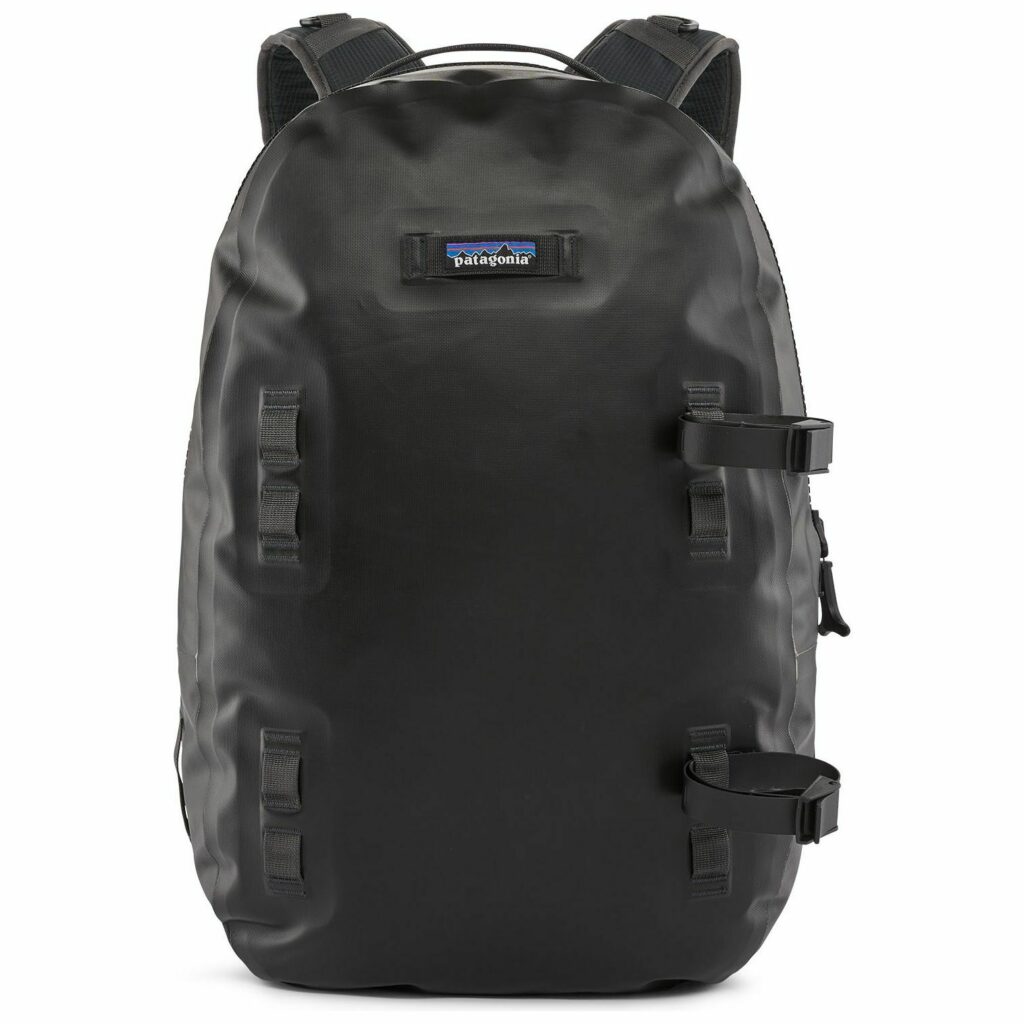 The Patagonia Guidewater has been in the market for years (has been renamed Guidewater now, was the Stormsurge before – see picture above) and proven its durability over and over again. The Patagonia Guidewater comes in black and blue and features a TIZIP® zipper that has an excellent reputation for providing 100% waterproofness. With its 29L it's about the same size as the Grundéns 30L Rumrunner.
Its main compartment can hold a 15″ laptop or other electronic equipment such as an underwater camera or a fish finder. Padded shoulder straps and a removable waist belt ensure excellent comfort even for the longest days on the water. On the outside the Patagonia Guidewater Backpack 29L features two gear straps to attach a fly rod tube or some other gear. A new feature of the reworked Patagonia backpack is the organiser pocket that can also be attached to the external lash points. A neat, little feature.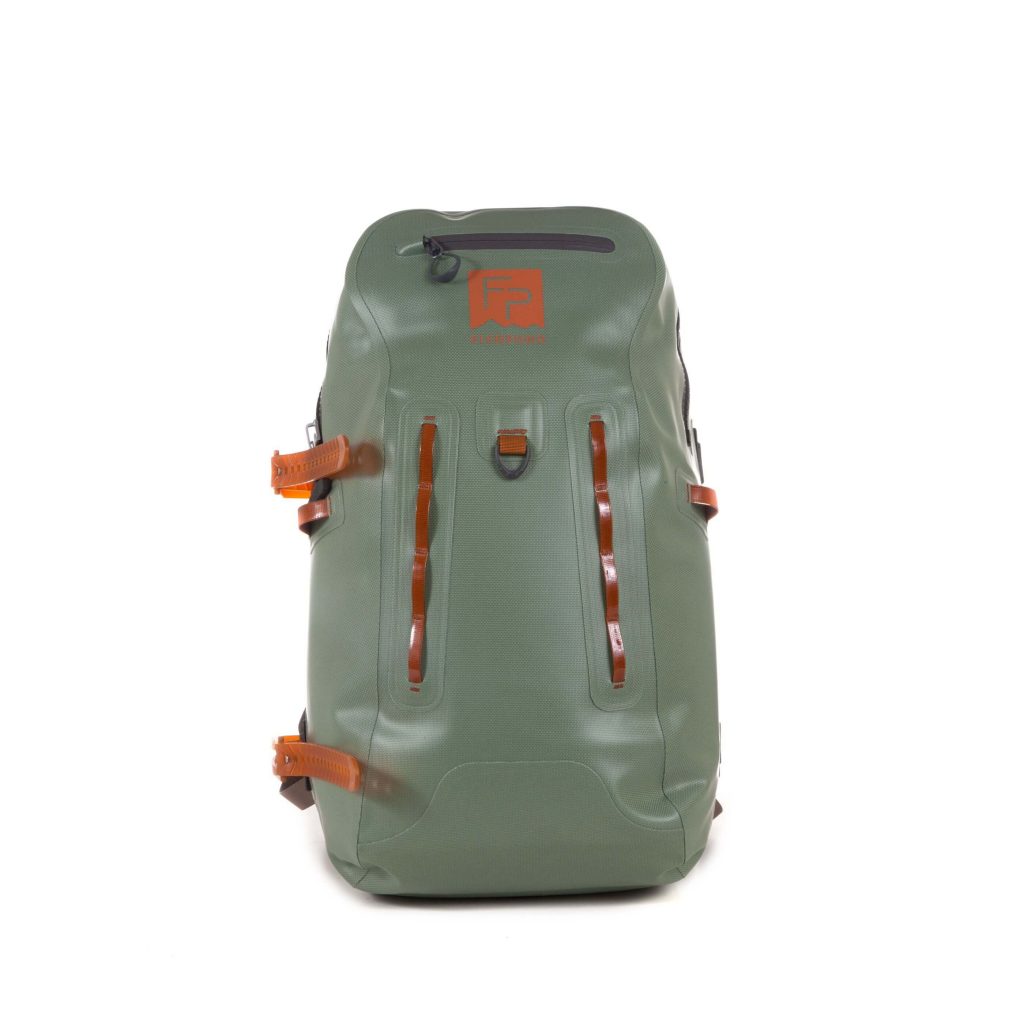 Fishpond is a brand that has made a name for itself as an innovative fly fishing gear company. Their Tacky fly boxes are hugely popular. Their waterproof backpack are of great quality as well. The Fishpond Thunderhead Submersible has all the features you ask for in a fly fishing backpack. It is fully submersible and hence keeps your most precious gear such as a camera dry at all times. Made from 1680d TPU coated recycled Cyclepond nylon it also features the indestructible T-Zip Zipper.
You can comfortably carry the Fishpond Thunderhead Submersible Backpack all day since it features padded shoulder straps. For additional comfort it comes with two straps, one at the waist and one around your hip, to ensure a tight fit. On both sides the Fishpond Thunderhead Submersible features straps to attach additional gear such as a fly rod or fly fishing net. On the front it features a small outer pocket to hold essentials. This pocket is water resistant but not waterproof.
The Fishpond Thunderhead Submersible is compatible with other Fishpond products such as the Fishpond Thunderhead Chest Pack. It comes in three colors: Yucca, Cutthroat Orange and Riverbed Camo.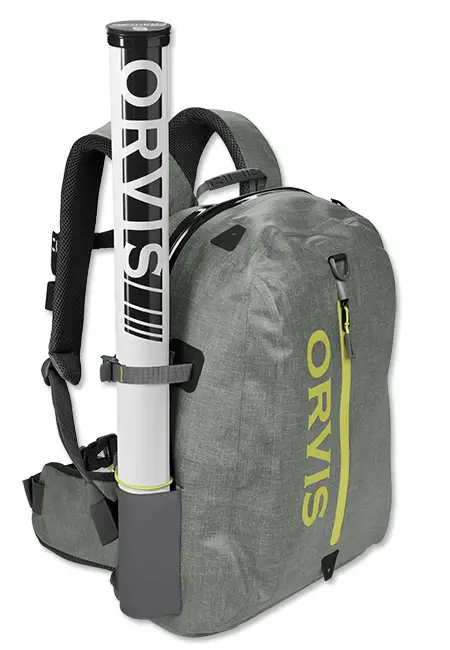 The Orvis Waterproof Backpack has been on the market for a few years and is still one of the most popular fly fishing backpacks out there. There is a reason for that: it has everything you need in a fly fishing backpack and Orvis' quality has a long reputation. Made from TPU coated 500D nylon, the Orvis Waterproof Backpack features a waterproof YKK® Flexseal zipper that ensures everything inside stays dry no matter the conditions. The additional outer zip pocket comes in handy to store small items. It is water resistant but not waterproof.
Like all of the other brands, the Orvis Waterproof Backpack features a great shoulder strap system that provides comfort for a long day on the water. Additional straps at the waist and hip ensure a solid fit when needed. The Orvis Waterproof Backpack is very thought through. On the shoulder straps you can attach additional gear such as a pair of pliers or extra tippet spools. On the side it features several other storing options for a water bottle or to attach an extra rod. The inside pocket system is elaborate as well when compared to other brands. Most waterproof fly fishing backpacks only have one separate inside pocket. The Orvis Waterproof Backpack features a number of zippered pockets which is great if you want to store your phone and your keys separately to prevent scratches.
At this year's ISPO (the world's biggest sports fair in Munich, Germany) we strolled by the booth of Ortlieb, the famous manufacturer of waterproof bike bags. I have always been a fan of their long lasting products. When taking a closer look the Atrack caught my eye. It is the first waterproof backpack that opens like a travel bag taking a completely different approach than conventional backpacks. It makes accessing gear deep down in the backpack a lot easier. Besides the different access system with a number of zippered pockets inside, the Atrack features a great shoulder and waist strap system making it the most comfortable to wear.
The Atrack boasts a number of outside pockets that are very thought through. A bottle holder on the side, and zippered pockets on the outside of the waist straps to store essentials. These pockets are not waterproof of course but provide easy access to things like a car key, a wallet or smartphone. The Ortlieb Atrack was not specifically designed for fly fishing. It features a number of straps that make attaching gear very easy. If you like skitouring in the winter the Atrack is a great choice since you can attach your skis using the strap system. The padded shoulder straps make it a fantastic overall backpack choice for various activities.
Conclusion on Fly Fishing Backpacks
We hope this review gave you a good overview of some of the best backpacks for fly fishing money can buy in 2023. As you saw, all of these products are a little different. If you want the utmost in waterproofness make sure you go for a submersible one, such as the Fishpond Thunderhead, the Yeti Panga 28 or the Patagonia Guidewater. The backpacks feature zippers that you can submerse under water and they will still protect your precious gear.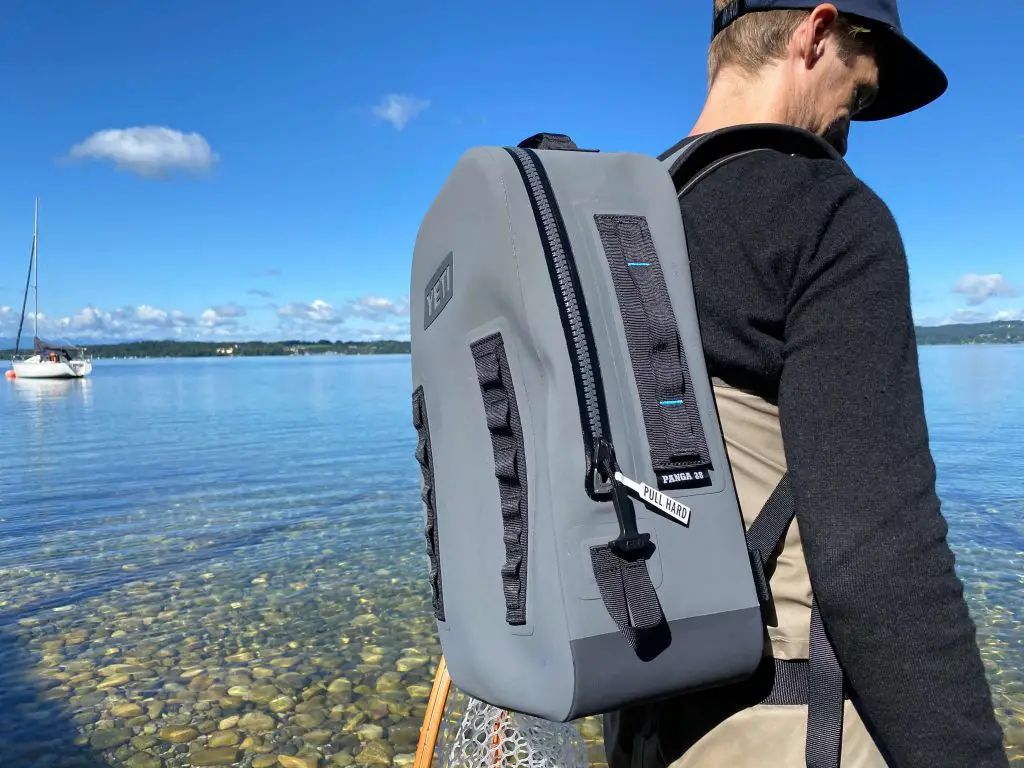 Our Expertise
Why you should trust us: Leonard Schoenberger and his team have tried and tested hundreds of rods, reels and other fly fishing gear over the years. We always express our honest opinions about a product to help you make a solid purchase decision. We never get paid for reviews and are proud of keeping our editorial independence. Our focus is on bringing you the latest in gear so you can have a great time at the water. Thanks for being a reader of The Wading List.
Frequently Asked Questions: Best Fly Fishing Backpack
What should I look for in a fly fishing backpack?
When searching for a fly fishing backpack, consider the storage capacity, waterproofing or water-resistance, comfort, and accessibility. Pockets for specific gear like flies, lines, and tools are also important. Some backpacks may also feature rod holders and hydration reservoirs.
What's the difference between a regular backpack and a fly fishing backpack?
A fly fishing backpack is specifically designed to cater to the needs of anglers. It has specialized compartments for fishing gear like reels, flies, and lines, and it's usually made with water-resistant or waterproof materials. Some models may also have a built-in rod holder.
What are some top brands for fly fishing backpacks?
Some top brands that manufacture fly fishing backpacks include Simms, Fishpond, Patagonia, and Orvis. These brands are well-regarded in the angling community for their quality, durability, and functionality.
Is it necessary for a fly fishing backpack to be waterproof?
While it's not always necessary, having a waterproof or at least water-resistant fly fishing backpack can be beneficial. It helps protect your gear from rain and splashes and could potentially save your belongings if your backpack accidentally falls in the water.
Can I use a fly fishing backpack for other outdoor activities?
Yes, a fly fishing backpack can be versatile enough to use for other activities like hiking or camping. However, keep in mind that it's specifically designed for fly fishing, so it might have specialized compartments that may not be needed for other activities.
How do I clean and maintain my fly fishing backpack?
Most fly fishing backpacks can be cleaned with mild soap and warm water. Avoid harsh detergents, as they can damage the materials. For maintenance, ensure that all zippers and closures are functioning properly and check for any signs of wear and tear.
How do I pack my fly fishing backpack efficiently?
To pack efficiently, first, lay out all the gear you plan to bring. Place heavier items at the bottom and closer to your back for better balance. Make use of specialized compartments for smaller items like flies and tools. Always ensure easy access to the gear you'll use most frequently.