Last updated on August 22nd, 2023.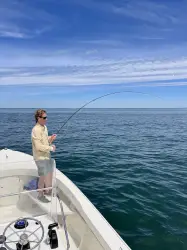 Latest posts by Leonard Schoenberger
(see all)
Fishing may be a hobby, but it requires skill, knowledge, and the proper equipment.
Today, thanks to technology we can make it a lot easier to catch fish. Anglers can make use of underwater fishing cameras that can help them visualise what lies underwater and help them see what's happening below. Also, of course, you can take fantastic snapshots of the fish you caught and will have memories that last a lifetime.
Underwater fishing cameras are very versatile and can be deployed in various ways when fishing. Whether you're on the bank or on a boat, it mimics the movement of the bait. If you are fishing in waters that are murky and dark you can use cameras with infrared capabilities to help you see in low lights. These underwater fishing cameras can be connected to your phone via an app to help you see underwater with clarity. 
Table of Contents:
Best Underwater Fishing Cameras Quick Answer List
Important Features in Underwater Fishing Cameras
Best Underwater Fishing Cameras Reviewed
Let's take a look at a top 10 of the best fishing cameras that you can buy. Whether you are simply hoping to work on your skills, determine which species of fish is underwater, or simply locate the fish, an underwater fishing camera is perfect for you. 
10 Best Underwater Fishing Cameras Quick Answer List
1. Dragon Touch 4K Action Camera
2. Waterproof Camera 10 FT 2.7K Full HD
4. MOOCOR Underwater Fishing Camera
5. GoFish Cam Wireless Underwater Fishing Camera
9. Underwater Fishing Camera, 360° IP68
10. Chasing F1 Underwater Drone
Features to Consider When Buying an Underwater Fishing Camera
Screen Resolution 
The screen resolution refers to the clarity of the image and text that shows up on your screen. The image underwater is already murky and the screen resolution is important to ensure that you see a clear image on your screen. The higher the screen resolution, the clearer the image. But, if you do decide to opt for an underwater fishing camera with a higher resolution, the more expensive they are. Higher resolutions also use up higher battery powers, but they are definitely worth the investment. 
Quality
The quality of the camera itself is as important as the smaller features of the underwater fishing camera. We have to focus on the video resolution as well to ensure we get a clear image of the fish. The video resolution will decide the number of pixels that is used in each frame of the video, and also the number of frames that are used in each second of the video. You may have heard of 1080p, or 720p, which simply means that every frame of the video is 1920×1080 pixels or 1280×720 pixels. Frame rates are commonly either 30 frames per second or 60, both of which are suitable for fishing purposes. 60fps, the higher option will take up more space in your storage, but will look much more fluid. 
Viewing Angle
Viewing angles refers to the maximum angle at which the user can still see the display. In underwater fishing cameras, the wider the angle, the greater the chance for you to spot the fish underwater. Different models offer different viewing angles, and most anglers require a viewing angle of no more than 130 degrees. 
Screen Size
The size of the screen on your underwater fishing camera depends on the angler. There are a lot of factors that you consider when you decide what screen size would suit your needs. It depends on the space you have and what the size you think you need. Anything that is around the size of a smartphone screen, should be good enough. 
Storage capabilities
Many of the best fishing cameras also offer storage capabilities to the users. When you use the camera, you can record the scene and save the video in the internal SD card. You can record and store the video simultaneously as well. If you want to study the footage at a later day or simply share it online, this feature is very important. 
Battery Life
You don't want your underwater fishing camera to die out on you in the middle of a fishing trip. Battery life is very important when you are searching for the perfect model. As we have mentioned already, the higher the number of features, higher screen resolution, and higher frame rates can use up a lot of your battery power. If you plan on using these features, you need to find a model that can stay charged for at least 6 hours, or you can find one with USB charging ports. 
Water Resistant
The most obvious feature of the underwater fishing camera is its ability to resist water. The camera will spend a lot of its time underwater and should be able to tolerate the pressure and submersion for long periods. Keep an eye on the waterproof rating on your fishing camera and avoid lowering it to greater depths than it can handle. 
Notice: The Wading List is reader-supported. We take part in the Amazon Associates Program and earn a small commission at no extra cost for you if you end up making a purchase. We only recommend products we are convinced of and use ourselves. Thanks!
Best Underwater Fishing Cameras in 2023
The Dragon Touch 4K Action Camera is fitted with a bunch of features such as 4K Ultra HD video quality, image stabilization, and a 16MP resolution. It also comes with a write remote control, a 170 degree wide angle camera, and a waterproof case to store it in. 
For the very low price, the Dragon Touch 4K Action Camera works optimally and efficiently. It can take pictures in 16 megapixels, record videos in 1080 at 60 fps. Apart from this it also provides users with options such as driving mode, time-lapse, and slow motion. You can also connect the Dragon Touch to Wi-Fi and have an SD card reader. This budget camera functions as well as any camera in the market. 
It is not common for cheaper models to have as many features as the Dragon Touch 4K Action Camera. In comparison to other underwater fishing cameras, it is almost hundreds of dollars cheaper and rivals them in its capabilities. You also get two additional batteries that you can keep charged in case of emergencies. You don't have to worry about longer fishing trips as you'll be secure in the knowledge that you have your backup. This camera offers great value for its modest price. 
The Waterproof Camera 10 FT is another low-budget underwater fishing camera that is perfect for beginners. It offers users 2.7K super high video quality that allows you to easily record video underwater with a lot of clarity. It also offers a new and upgraded 48MP HD photo quality that can help you take pictures underwater. Whether you are on a boat or on the shore, this waterproof camera can help you capture every moment. It is also equipped with a flash that can really brighten up images in darker and murkier waters.
You can use this camera as far below as 10 feet to shoot videos or capture images. The camera is waterproof and you don't require any protective gear for the device. All you need to do is ensure that the battery door is secured and you are free to begin using it under water. 
The camera is fitted with a small, 2.7-inch screen that is able to display the images in bright and sharp colors. You can also record videos while you are charging the device. You can store the videos easily as it supports micro SD cards to save your content. 
Another low-priced underwater fishing camera that you could opt for is the Eyoyo Portable 7 inch LCD Monitor Fish Finder Waterproof. With a definition of up to HD 1000TV lines, the images that you capture will be a lot clearer than those found in HD 800TV lines cameras. 
The camera is fitted with 12 pieces of infrared LEDs that make it very easy to see the fish in the darker and deeper waters. However, when you use the infrared feature, you will see the image in black and white. It has a long battery life, of up to eight hours, which allows you to use it without any dangers of it stopping midway through fishing. This long-lasting battery can be recharged easily with the help of a USB port. 
The Eyoyo Portable 7 inch LCD Monitor Fish Finder Waterproof has a 7-inch monitor that is large enough for you to see the images clearly. The camera also comes with a visor that can be really helpful in brighter lights. 
This is one of the first products on our list that comes in the two pieces; the camera and the monitor. This is very useful for anglers who would like to avoid going underwater themselves. You can place the MOOCOR Underwater Fishing Camera in the water and view the images on your screen from the comfort of your boat. The wire that attaches to the camera is waterproof as well and completely safe for use. 
The camera is of great quality with a definition of up to HD 1000TV lines. You can see the plants and the fish clearly on the monitor. The monitor itself is 4.3-inches that is large enough for the image to show clearly and small enough to fit comfortably in your hands. Use the monitor to see how the fish are interacting with your bait, and instead of feeling for it to bite, you can be sure by looking at your monitor. 
If you're going to be using the MOOCOR Underwater Fishing Camera for longer, you need to use the power-save mode that can help you save your battery, and let it work for longer. 
The GoFish Cam allows you to get as close to the bait as it's possible. You can see the way the fish interacts with your bait and allows you to improve your skills gradually. It also allows you to study the fish in their habitat and learn more effective ways to fish. 
You can connect the GoFish Cam to your line and are able to connect to your phone through a Wi-Fi connection. It is not too heavy and doesn't sink your line. You also can record everything that it sees underwater and share the recorded data with your friends and family as well. You can live stream the image as well and see everything in real time. The camera is also usable in the dark with the help of green LED lights that give it night vision abilities. 
You can get everything you need with the help of the Aqua Vu Micro Stealth 4.3 Underwater Camera. It provides you with a color video that is absolutely crystal clear on a monitor that is the size of a smartphone. The underwater features have a high resolution, and come with a waterproof cable that is 50 feet long and a camera that is as small as the size of your thumb. 
The Aqua Vu Micro Stealth comes equipped with infrared capabilities that also allows you to capture images and videos in the dark. It is also fitted with a lithium-ion battery that works for over 6 hours continuously at any time. 
You can use the camera to live stream the images to your monitor. The camera also comes with a removable fan that allows you to steer it easily underwater. 
The GoPro HERO7 is a wonderful camera that is perfect for all types of uses. It's a durable and waterproof camera that offers the users 4K crystal clear video and photos. You can see all objects distinctly in the recordings and make everything appear vibrant, and as clear as the real thing. With the help of the GPS you can track how fast and far you travelled with the camera. 
You are also able to use the GoPro HERO7 to capture time lapse videos to bypass the boring moments from a video and capture the highlights. You can also save these videos to show to others later and allow them to share the experience with you. The GoPro HERO7 comes with a touch screen that is user-friendly, which you can learn to control easily. With a simple swipe or tap, you can control all the features of the GoPro. The camera provides you with 10MP photos of all types of lighting. With the use of the Burst mode, you can capture 15 photos every second. 
You can shoot vertically and capture images in different orientations that can easily be shared on various social media platforms. With the aid of the photo-timer you can also grab a selfie or group shot if you have the time or need for it. 
The MarCum Recon 5 is a small, lightweight, and portable device to locate fish underwater. The image quality of the Recon 5 is easily one of the best in the market. In cloudy conditions, murky waters, or evenings, it can be very hard to get a good image of the fish. The Recon 5 is perfect to help you get a really good view of what's happening below the boat. 
The size of the screen is perfect and at 5-inches is large enough to see the image clearly, but small enough to keep it portable. You are also able to record the images and videos and save the data on the SD card. With all the features that it offers, the MarCum Recon 5 is a great bargain for its price. 
The 360° IP68 Waterproof Ice Video Fishing Camera is a high-quality camera that allows you to capture high-definition images and videos. It is a lightweight and portable device and coms with a 9-inch monitor to really bring the underwater image to life. You don't have to squint at the screen and instead see all fish and plants distinctly to help you fish. 
The 360° IP68 Waterproof Ice Video Fishing Camera comes with an 8GB SD card that allows you to save the videos and images to review later. The camera can rotate 360-degrees to see all around your fishing area. 
The Chasing F1 Underwater Drone is the first of its kind as it is equipped with a vector layout propulsion system. The all-directional movements in the water make it easier to find fish in all bodies of water. 
The Chasing F1 Underwater Drone has a built-in sensor that allows the user to capture high-quality images and videos. Infrared abilities can also help you in capturing images and videos in the dark. 
Conclusion on the Best Underwater Fishing Camera
Underwater fishing cameras are really useful if you are a beginner or an expert. You come face to face with the fish and learn more about what's happening in the waters. Why wouldn't you want to make things easier for yourself and catch fish efficiently?
The list consists of the best underwater fishing cameras based on their process and features. The more features a camera has, the higher it is bound to cost. Thankfully, the wide variety allows you to opt for an affordable option, instead of spending hundreds of dollars on your hobby. If you don't already have a fishing camera, you should consider buying one and seeing your hobby in a whole new light. 
Notice: The Wading List is reader-supported. We take part in the Amazon Associates Program and earn a small commission at no extra cost for you if you end up making a purchase. We only recommend products we are convinced of and use ourselves. Thanks!