Last updated on August 22nd, 2023.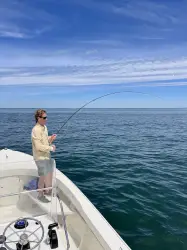 Latest posts by Leonard Schoenberger
(see all)
Fishing always comes with the responsibility and the need to ensure that every angling adventure is an enjoyable one.
With that said, anglers are always looking for more ways to elevate their experience by equipping themselves with the right gears and tools for a more convenient and pleasurable journey. 
Different techniques require appropriate tools, and for fly fishing enthusiasts, a lanyard is one of the most important things to equip themselves with. Fly fishing lanyards allow anglers to spend time in the water a lot more conveniently and without fail.
When you have been fly fishing for a while now, you may have learned that less is more when going out into the waters. Even if you had a vest, to begin with, sometimes lanyards are a lot more efficient in ensuring that you have a great experience, all while still providing you ample assistance in holding important fishing items. 
Indeed, for some, vests are the way to go, but when you have been fishing for a while, you will eventually realize that lanyards can still hold your items as much and as securely as your vests do. Especially with fly fishing, there is no question that lanyards are now a lot more preferable to use with the kinds of movements this technique requires. Investing in a great quality lanyard will certainly benefit you in the long run, which is why you must wisely choose the appropriate and suitable fly fishing lanyard in the market today. But how would you know which one to choose?
Table of contents:
10 Best Fly Fishing Lanyards Quick Answer List
Important Features To Look For In A Lanyard
Best Fishing Lanyards Reviewed
10 Best Fly Fishing Lanyards Quick Answer List
1. River Canyon Fly Fishing Lanyard
2. Ultimate Fly Fishing Lanyard Green
4. Loon Outdoors Neckvest Lanyard
7. Creative Angler Lanyard with Tools
10. Orvis Fly Fishing Lanyard Loaded
Important Features To Look For In A Fly Fishing Lanyard
Like any other fishing gear and equipment, finding the right fishing lanyard must always come with the knowledge of the features that are deemed suitable for you and all your angling needs. When it comes to buying stuff for your fishing ventures, investing in high-quality ones is always preferable to buying knock-offs especially when you are a regular fisherman. Here are some of the most important features to consider when choosing the right fishing lanyard for you:
Materials and durability
When you frequently go out into the water, you would want to have a lanyard that can withstand the raging weather and water conditions and won't be torn easily. Remember, the lanyard would be holding most of your important fishing accessories, so do invest in one that is durable enough to hold all your stuff without them falling every once in a while. 
Size and adaptability
Fly fishing always expects you and your gear to be versatile and adaptive, and you must choose the kind of lanyard that could allow you to be free on the move. It must also be well-suited, so you will be comfortable wearing it around your neck for long periods of time. With that said, try to find one that is also adjustable so you can customize it to your most comfortable length.
Style
While this preferably comes last in choosing quality gear, you cannot deny that the style and colors will always matter when it comes to deciding which one to buy. Pick one that's close to your aesthetic wants, but never overlook the quality that it provides!
Review of the Best Fly Fishing Lanyards 2023
Now that you know some of the things that you need to consider when choosing the right fishing lanyard for you, here are some of the best fly fishing lanyards on the market today. Scroll through and find out which one you think suits you best!
Notice: The Wading List is reader-supported. We take part in the Amazon Associates Program and earn a small commission at no extra cost for you if you end up making a purchase. We only recommend products we are convinced of and use ourselves. Thanks!
Starting with the more affordable ones, this River Canyon Fly Fishing Lanyard is perfect if you are only an occasional angler and don't want to spend a lot of money when you are just starting out.
It features a lightweight and adjustable cord with a big split ring for all of your accessories and tools. One downside is that it does not include nippers, so if you don't mind spending some extra dollars for that, then this one is the way to go. 
This 22.5-inch Ultimate Fly Fishing Lanyard Green provides ample comfort and security with its larger and sturdier clips and foam neck pads. At roughly $20, you can get this brand's PRO version of fishing lanyards that feature high-quality stainless hooks for a more premium experience and feel. 
It is also ultra-lightweight and adjustable, the perfect lanyard that will not go pull against your neck and cause you discomfort while out into the water and under the scorching heat. The Ultimate Fly Fishing Lanyard Green features four hooks on the sides for you to hang your tools, such as floatants, nippers, thermometers, forceps, and the like. Not only that, but it also provides you with a lot more room to clip on any other accessories and it also comes with two foam fly hoarders so you won't need to carry your fly box with you if you're a minimalist. 
For additional security, the Ultimate Fly Fishing Lanyard Green also features a clip at the bottom that you can fasten to your shirt and prevent unnecessary interruptions when you move. The lanyard also comes with a high-quality cord lock at the nape, which enables you to adjust the lanyard to your liking. 
If you are looking for a more versatile laynard all while still sticking to a decent budget, then this Kodiak Fly Fishing Lanyard might be the one for you. It comes with a comfortable strap that can be adjusted from 38 to 48 inches, which can cater to men, women, or even children while fishing. It's fairly easy to use and holds tools efficiently, including flies, nippers, and tippets, among other things. The clips are also retractable, so you can customize it and the tools you bring as much as you need to. 
The Kodiak Fly Fishing Lanyard is also durable enough to withstand every season you bring it to, with its quality of construction and durability. This was initially designed for fishing during peak salmon seasons which usually requires anglers to be always on the move. The lanyard comes in a gift-ready blue and yellow box in the mail, which is great if you plan to give this as a present to someone. 
The Loon Outdoors Neckvest is perfect for those who love a more minimalistic style without sacrificing attention to detail. At $25, you can now get a lightweight, versatile and sturdy lanyard that features a light paracord construction with five Nite Ize attachments that will ensure you a secure and comfortable experience while angling. With that said, it also features secure storage around your neck with maximum convenience. 
The Loon Outdoors Neckvest is perfect for all fly fishing sessions, as it will give you optimum accessibility for all your tools. It also comes with a bottom up floatant holder, and a tippet holder, along with its adjustable and padded straps and quick release feature.
This Samsfx Fly Fishing Lanyard comes with an ergonomic design that allows you to hold everything you need around your neck effortlessly, such as scissors, tippets, flies, nippers, and pliers, among other things. It is ideal not only for fishing, but for hunting, hiking, wading, backpacking, and other outdoor activities as well. Its 550 braided paracord comes with fishing zinger retractors and a fly patch made of weightless cork to easily carry and dry flies. 
The Samsfx Fly Fishing Lanyard also comes with a foam neck pad for maximum comfort in longer journeys and an adjustable cord to suit men, women, and even children. The nape part also features a safety break-away joint. It has 5 snap swivel hooks and a shirt clamp to fasten to your shirt, perfectly designed for fly fishing under all seasons and weather conditions. 
Handcrafted Mountain River Lanyards offer you custom beadwork at a reasonable price of roughly $30. It has a padded neck for maximum comfort that comes with a safety release. The lanyard also comes with a shirt clip to fasten your lanyard in place, making you free to move at any pace without it getting in the way. The lanyard also offers fly/sunglass chamois, and four snaps to clip on your accessories to, including nippers, floatants, and all other fishing gadgets. It also includes a horizontal tippet holder that allows you to carry your spooling tippet a lot more efficiently. 
The Mountain River Lanyards is built simple enough to make your tasks at hand easier, all while giving you a comfortable angling experience. It also has a quick-release system that's strong enough but releases easily when you need it to. 
The Creative Angler Lanyard with Tools is your best bet when you want something that is easy to wear and durable enough to withstand any conditions when you are catching fish on the fly.
This braided paracord lanyard is already equipped with the most essential fishing accessories, including nippers, forceps, leader straightener, fly patch, file sharpener, floatant bottle holder, and retractor—the perfect fly fishing lanyard kit to purchase when you want something that's already set for angling right after you receive it. 
This one is crafted from the highest quality nylon and plastic materials that is perfect for any angler out there. The Scientific Anglers Lanyard features a floatant caddy, horizontal tippet holder, chamois for drying and carrying flies, accessory snaps, and a shirt clip to keep it in place.
It has an adjustable foam neck strap that provides maximum comfort with a break-away joint for safety purposes. The lanyard also has tubular foam fly patches on both sides, perfect for a long day of fly fishing.
Leaning more on to the premium ones, this Slick Fully Loaded Lanyard is as slick as it gets. It comes with an adjustable elastic shock cord with a padded collar for optimum comfort, as well as a tippet spool caddy, two RPD retractors, a waterproof fly box, and a floatant holder. It can also perfectly hold all your other tools, fly boxes, and gears for fly fishing.
This lanyard also features a 10 lb. break-away safety connector and "O" ring clips for portability, as well as a shirt clip to keep it in place while you are on the move. It also includes an NSJO Nipper, a C5G Clamp, a Bug Jelly floatant, and an HFG4 Hook File.
A great price comes with great quality, and this Orvis Fly Fishing Lanyard comes in both. It is one of the most efficient lanyards out there for fly-fishing tool storage and workflow. It has a flat nylon webbing design that lies flat on your body, so you can say goodbye to tangled and twisted lanyards while fishing on the move. The lower portion of the strap allows you to customize it to your liking, with enough place for tool storage. It features six paracord loops for easy docking and attachment. 
Its upper forceps dock is made to keep it from swinging, while the lower fly dock offers convenient storage for flies. The Orvis Fly Fishing Lanyard Loaded also comes with a built-in shirt clip to keep it in place even when you are bending or moving around while catching fish. This loaded lanyard comes with Comfy Grip Nippers, Comfy Grip Forceps, Floatant Holder, Tippet Holder, and three spools of 30-meter SuperStrong Plus Tippet.
Conclusion on the Best Fly Fishing Lanyards
Lanyards are certainly more than just straps that are plastered all over your chest for style—it's one of the most important pieces of equipment to have when fly fishing, and it's certainly a lot more convenient than some vests and fanny packs. With all these options laid out, which one do you think is the most suitable one for you?
FAQs Fishing Lanyard
Is a fly fishing lanyard better than a vest?
Lanyards are a lightweight option compared to fly fishing vests. They can hold all the essential tools like nippers, forceps and zingers. Yet a bigger streamer fly box for example is better kept in a vest. It really comes down to your personal preferences in the end.
Is a loaded fly fishing lanyard better?
Here again, it comes down to personal preference. If you are just starting out a loaded lanyard can make sense since you get all the essentials tools with it. If you know which tools you really need, it makes more sense to get an unloaded lanyard and add the tools you consider essential.
Notice: We take part in the Amazon Associates Program and earn a small commission at no extra cost for you if you end up making a purchase. We only recommend products we are convinced of and use ourselves. All photos courtesy of amazon.