Fishing pliers are one of the most important tools when hitting the water. They can remove a hook, cut a line or even the shank of a hook. Here is what you should look for.
There are different kinds of pliers for different situations. They can be grouped into two basic categories. Multifunctional, sturdy pliers and more simple fly fishing pliers with longer arms aimed mainly at removing hooks.
We took a look at several options and tell you the advantages and disadvantages of each model. We'll start out with the multifunctional fishing pliers that can serve different purposes.
For our test we picked two pairs of fishing pliers. There are several manufacturers that you can choose from depending on your budget. The form of these pliers doesn't differ much however no matter which manufacturer you choose.
Piscifun Aluminum Fishing Pliers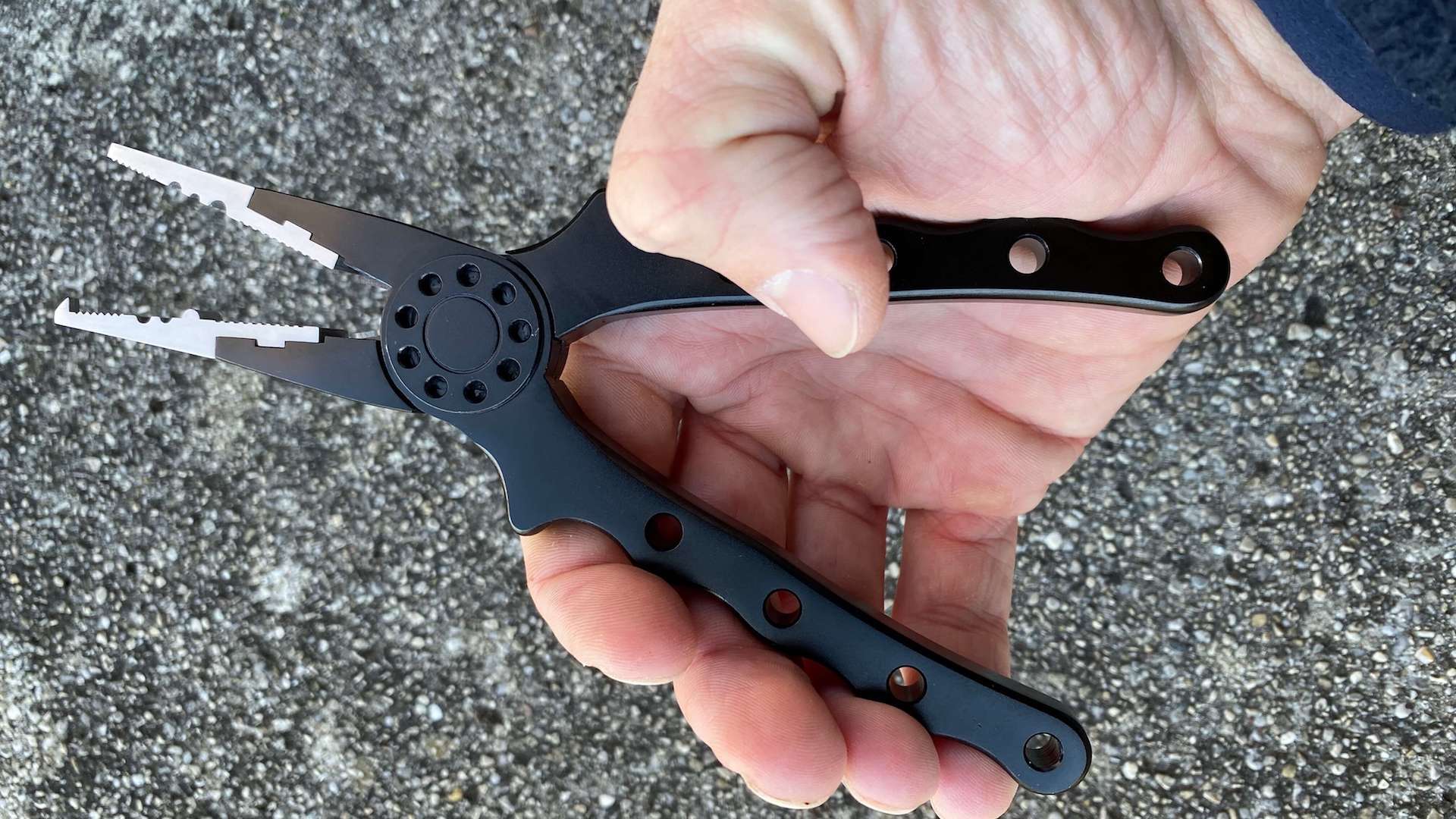 The Piscifun Aluminum Fishing Pliers
The Piscifun Aluminum Fishing Pliers are one solid pair of fishing pliers. Made from aircraft-grade anodized aluminum, they feel very sturdy and are very comfortable to hold. The aluminum however gets cold in winter, a disadvantage compared to the the KastKing version we'll talk about in a second.
The Piscifun Aluminum Pliers come with a handful of useful functions. First and foremost their stainless steel jaws can remove hooks and split rings. A spring keeps the pliers open freely and makes them easy to use with one hand.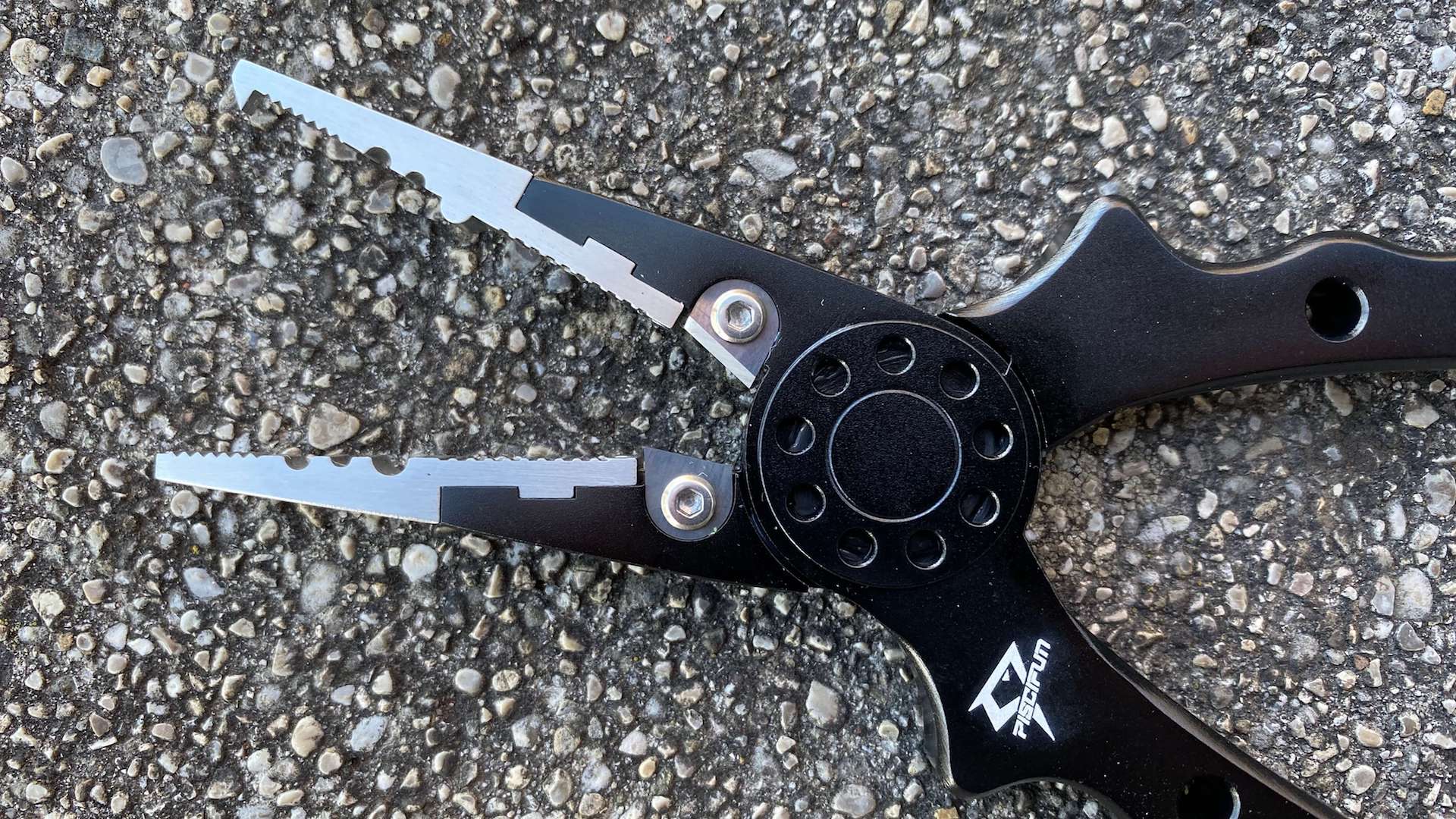 Piscifun pliers with tungsten carbide cutters
Another feature that we found very useful are the tungsten carbide cutters. The fully replaceable cutters enable you to cut the strongest braided lines, heavy mono leaders, fly lines and backing. You can even clip off the shank of a hook when fly fishing.
Piscifun pliers with nylon sheath
The Piscifun pliers come in a nice nylon sheath with a coiled lanyard and can be easily attached to your waders using the belt loop clasp. Their form makes them very sturdy. The downside of this build is the shorter arms that aggravate removing a hook if a fish has taken the fly deep inside the throat.
KastKing Cutthroat 7" Pliers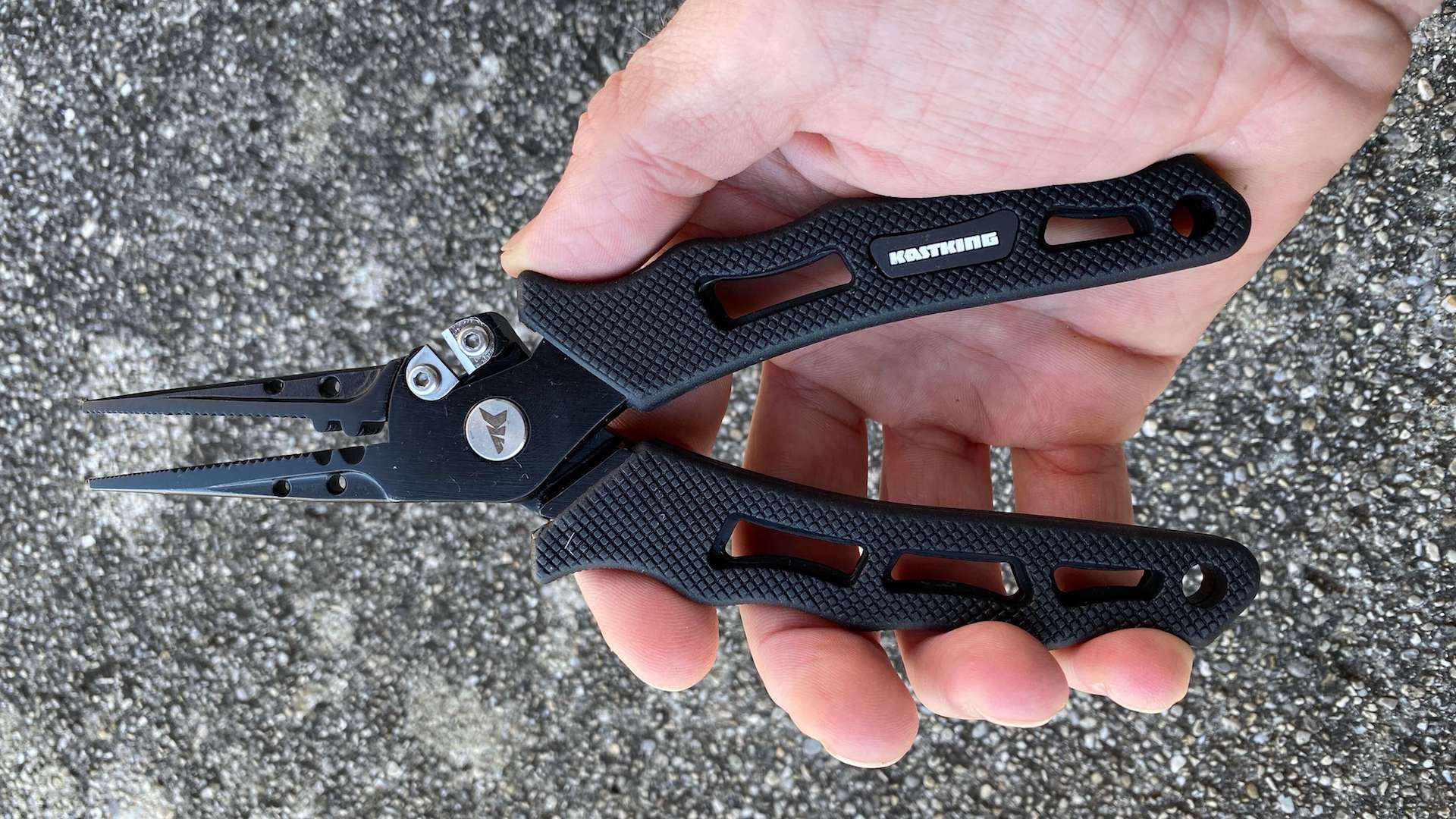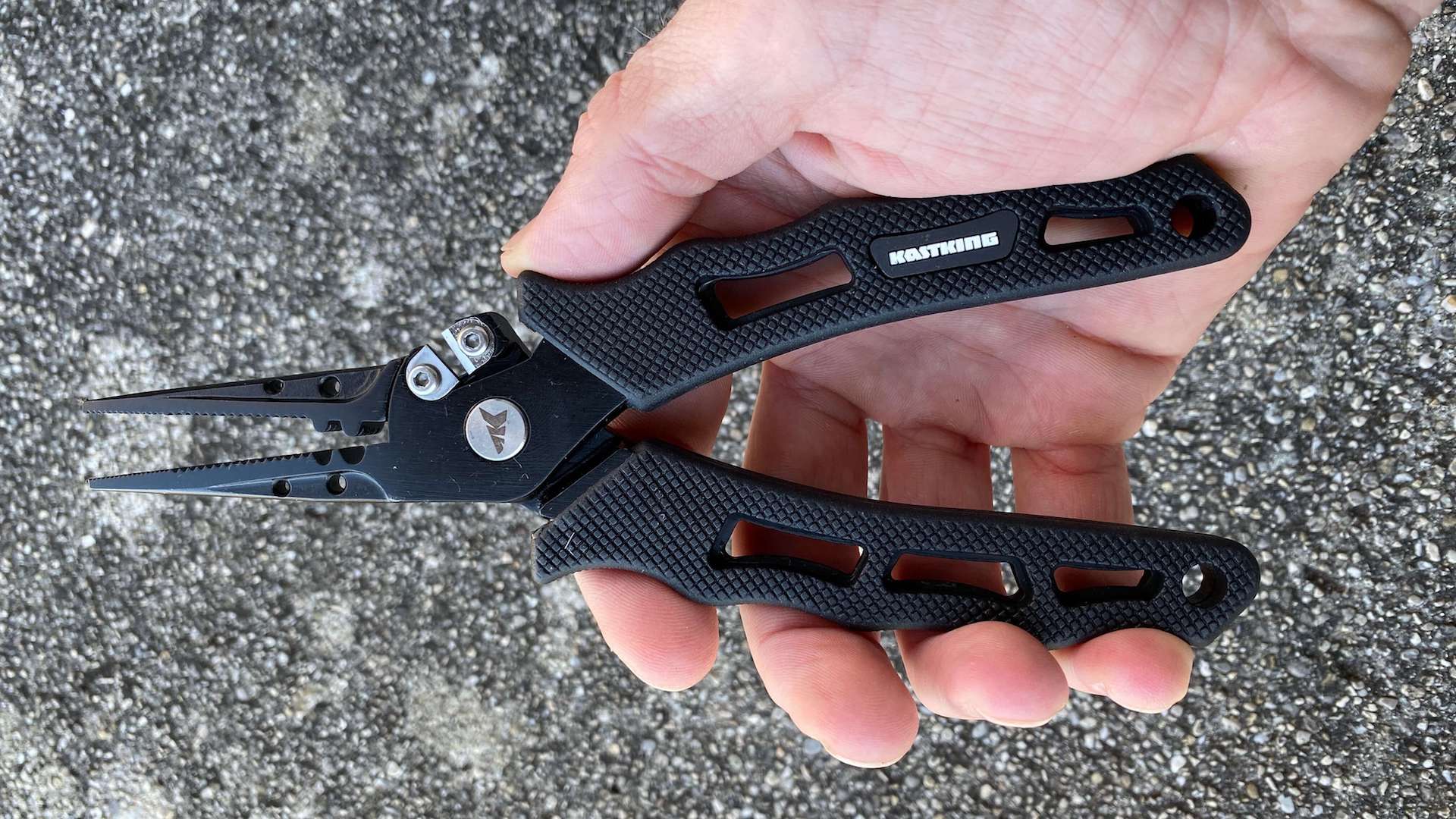 The KastKing Cutthroat 7″ Fishing Pliers in hand
The KastKing pliers have a similar shape as the Piscifun pliers. The main difference is the material of the handles. The KastKing pliers come with rubber coated handles that feel very comfortable, especially on cold winter days. The material also makes them very slip-resistant.
These pliers are not made from aluminum but from corrosion resistant stainless steel with a teflon coating. The manufacturer claims this material makes them significantly harder than aluminum pliers.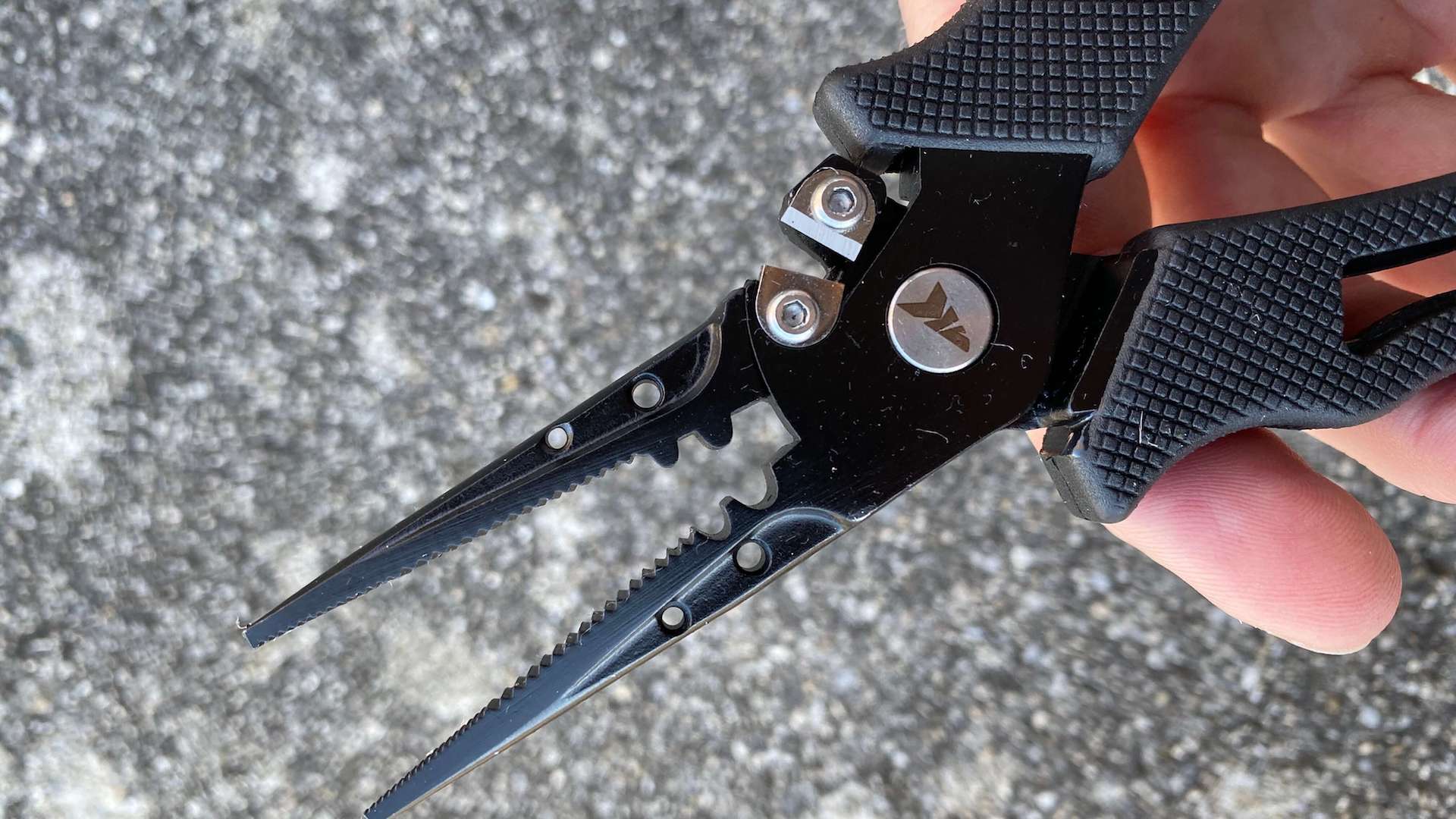 The KastKing Fishing Pliers with carbide cutters on top
The KastKing pliers are also equipped with tungsten carbide cutters. Other than the Piscifun, KastKing places the carbide cutters on top of the jaws next to the handle. It probably comes down to personal preferences in daily life. We did not find one solution easier to use than the other.
The KastKing's jaws are also multifunctional, allowing you to grab and remove any fish hook with the serrated jaws. The crimping slots enable you to secure a split shot weight or build a steel leader. The KastKing pliers are available both with a straight nose and a split ring nose.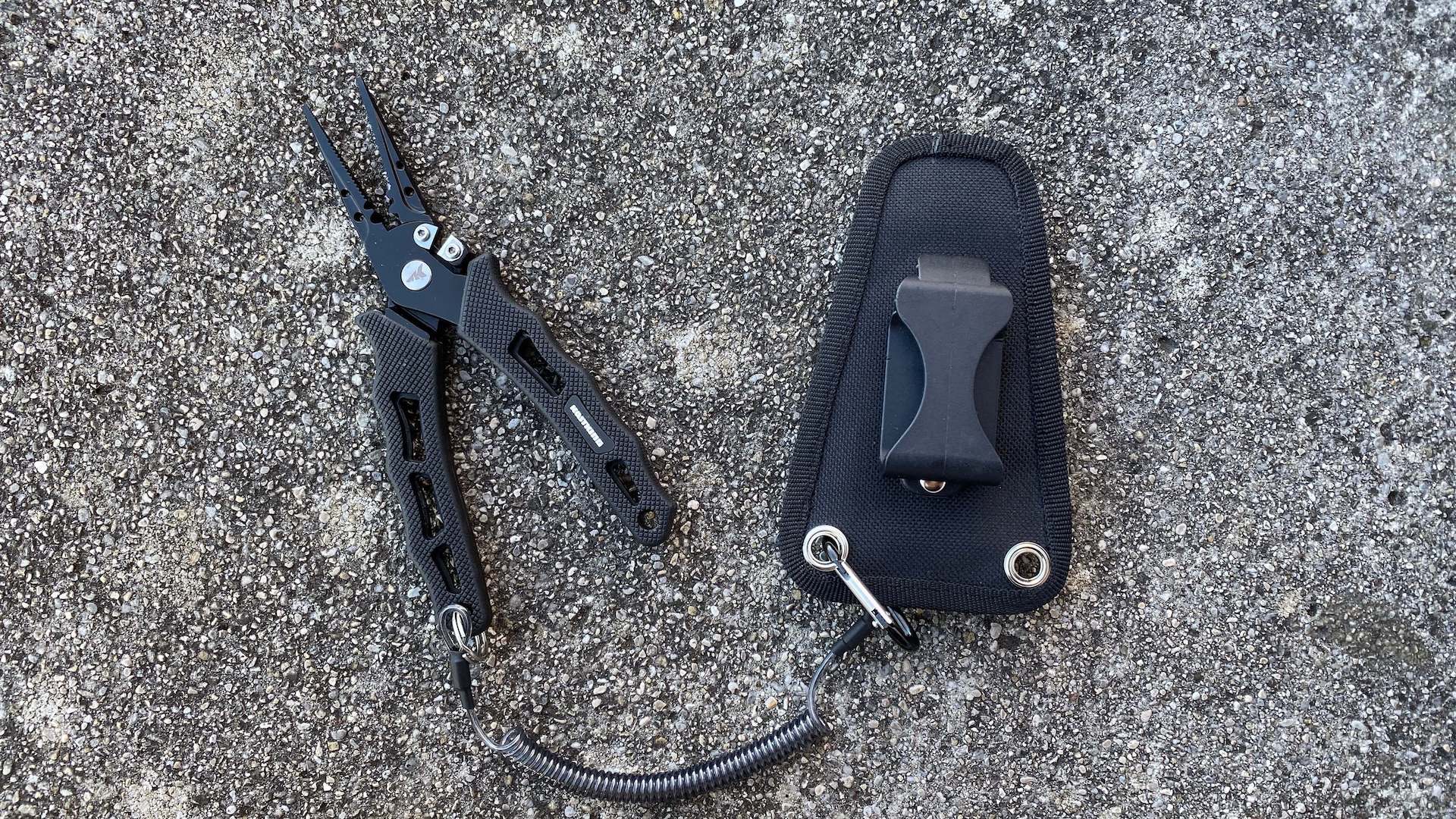 KastKing Fishing Pliers with sheath and lanyard
Just like the Piscifun this model also comes with a sheath and a lanyard. You can clip it onto the belt of your waders and always have the fishing pliers ready to use.
Curved Fly Fishing Pliers
The Samsfx curved fly fishing pliers
The Samsfx curved forcep is a classic pair of fly fishing pliers. Its curved jaws make hook removal very easy. It is equipped with a serrated jaw structure for a tight grip and a self-locking handle that makes attaching the fly fishing pliers to your vest or jacket easy.
The Samsfx fly fishing pliers (right) attached to a wading jacket
You can also get the Samsfx pliers in a set with a pin-on double zinger retractor and a fishing line nipper. The multipurpose tool includes a nail knot tool, a line clipper, a hook eye cleaner and a hook sharpener. The magnet on the retractor can hold a fly to dry.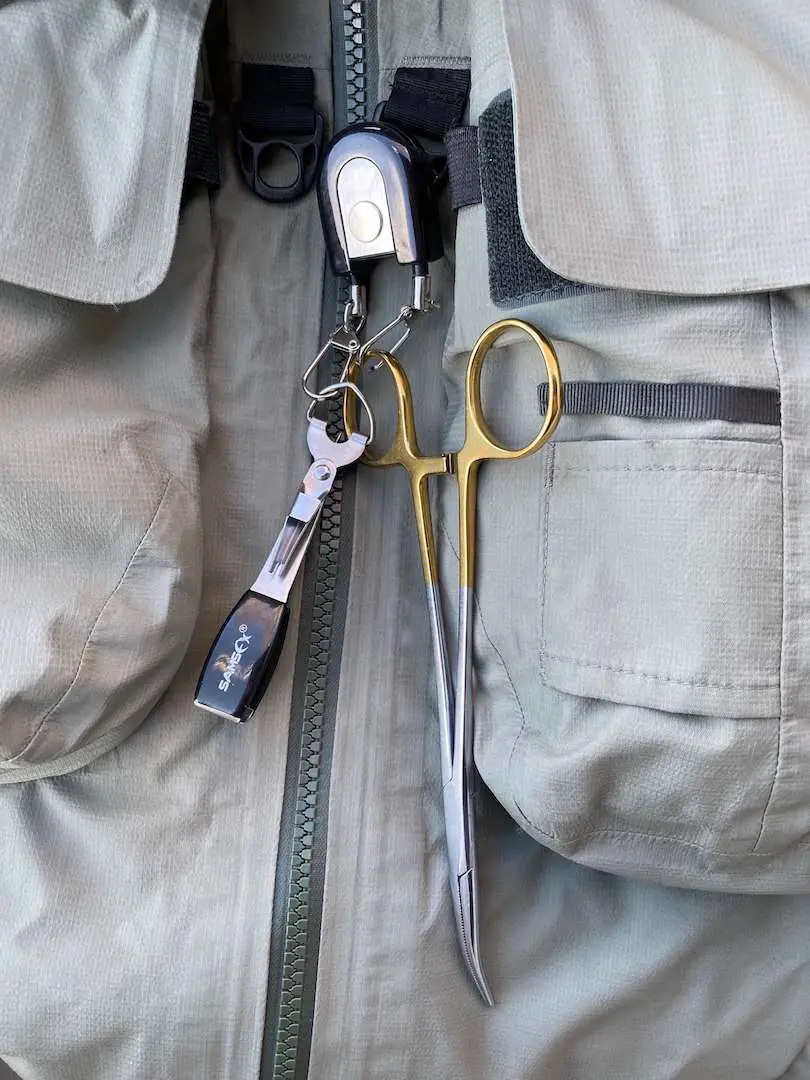 The Samsfx pliers with retractor and line nipper
The Samsfx fly fishing set is a great tool for fly fishermen and women. In combination with the nipper and knot tool you have everything you need easily accessible when hitting the water.
Stainless Steel Pliers / Artery Forceps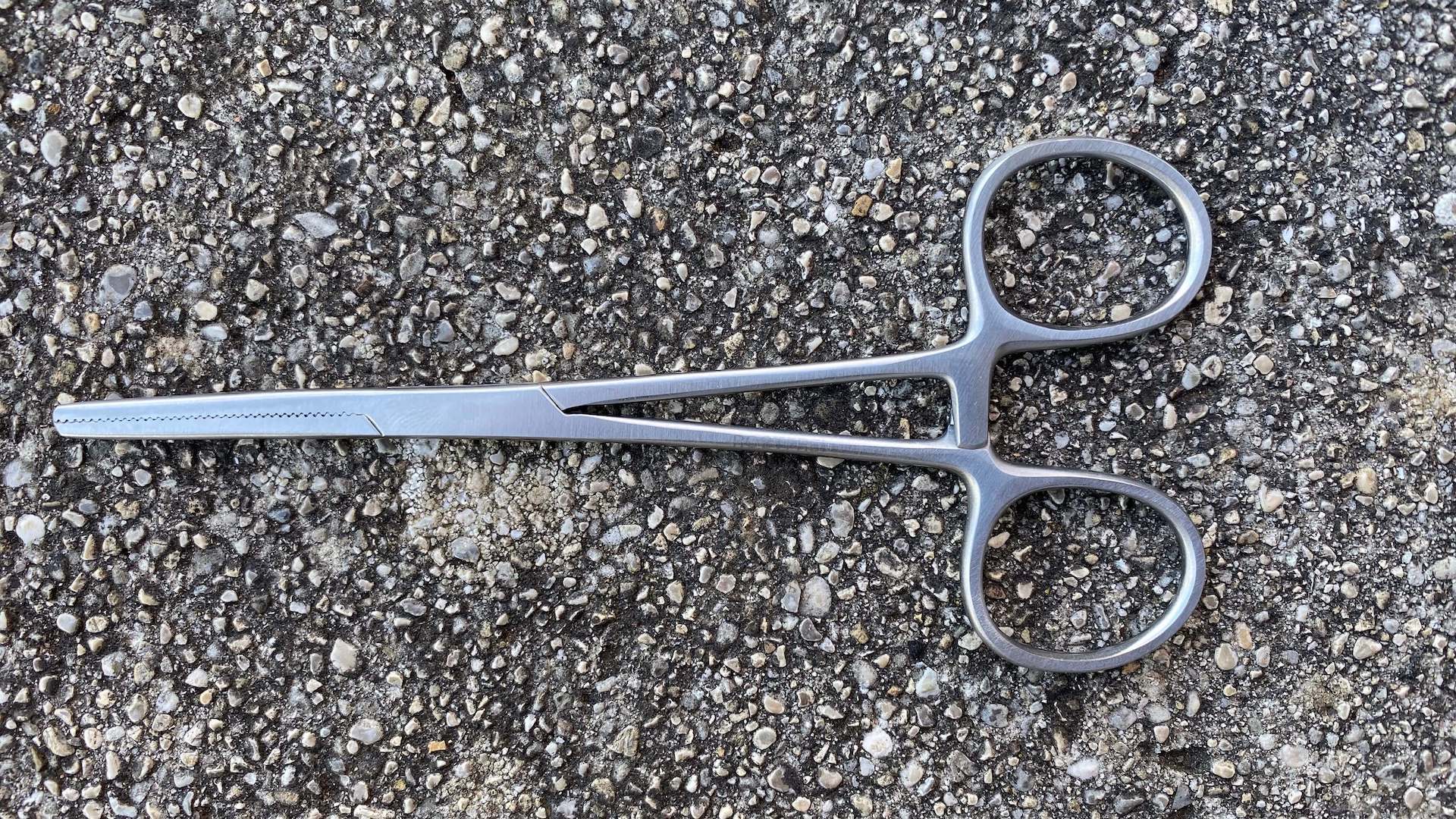 Stainless steel fly fishing pliers
A pair of stainless steel pliers / artery forceps is probably the most simple version of fly fishing pliers. They come in handy due to their small size, you can use them in freshwater as well as in saltwater without running the risk of corrosion.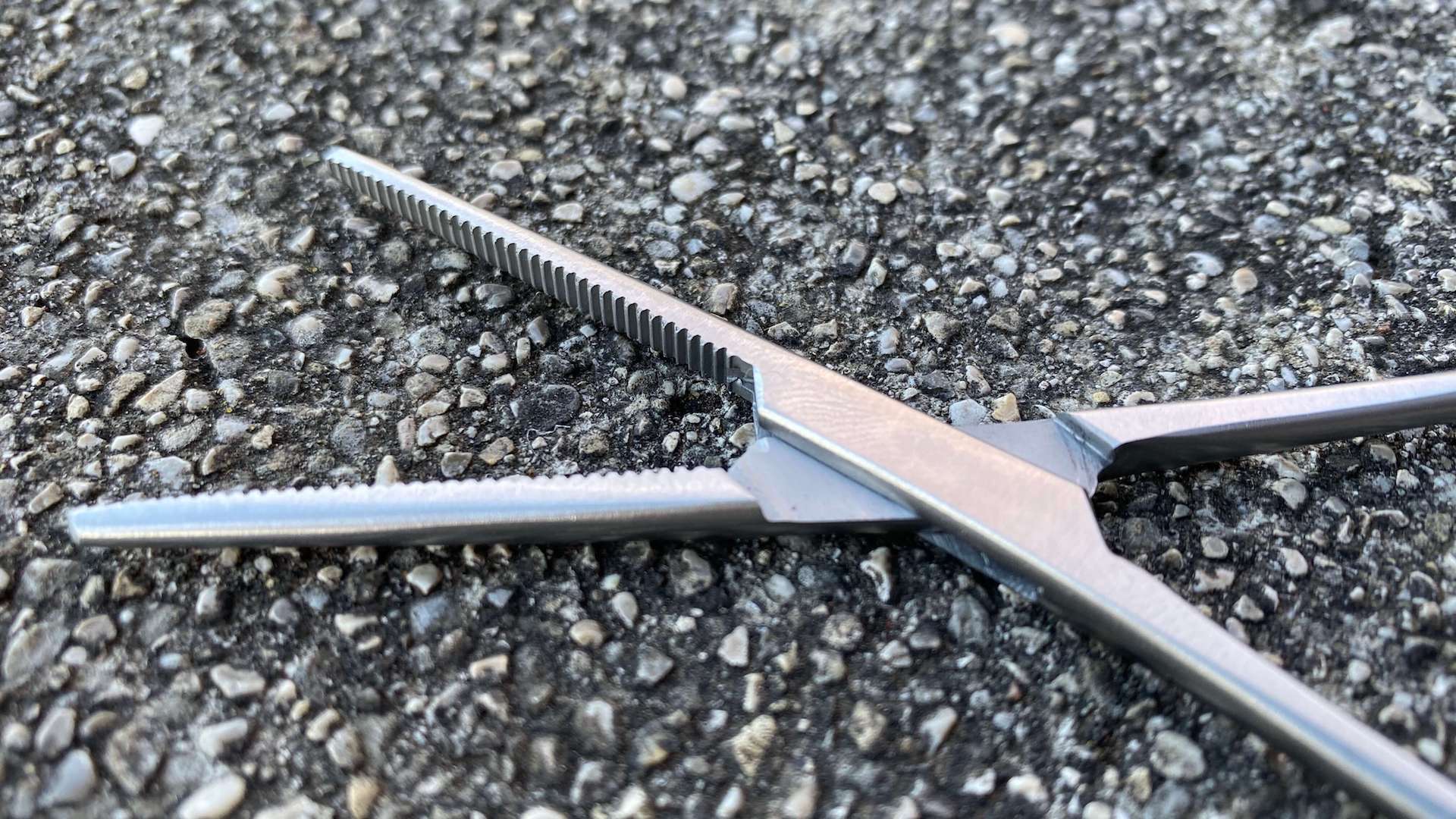 Stainless steel fly fishing pliers with serrated jaw structure
The serrated jaws make gripping any small object an easy task. Just like with the curved Samsfx pliers, these stainless steel artery forceps can be attached to a wading jacket or vest due to their self-locking handles. They work best when combined with a line nipper (see Samsfx fishing pliers above).
Stainless Steel Scissor Clamps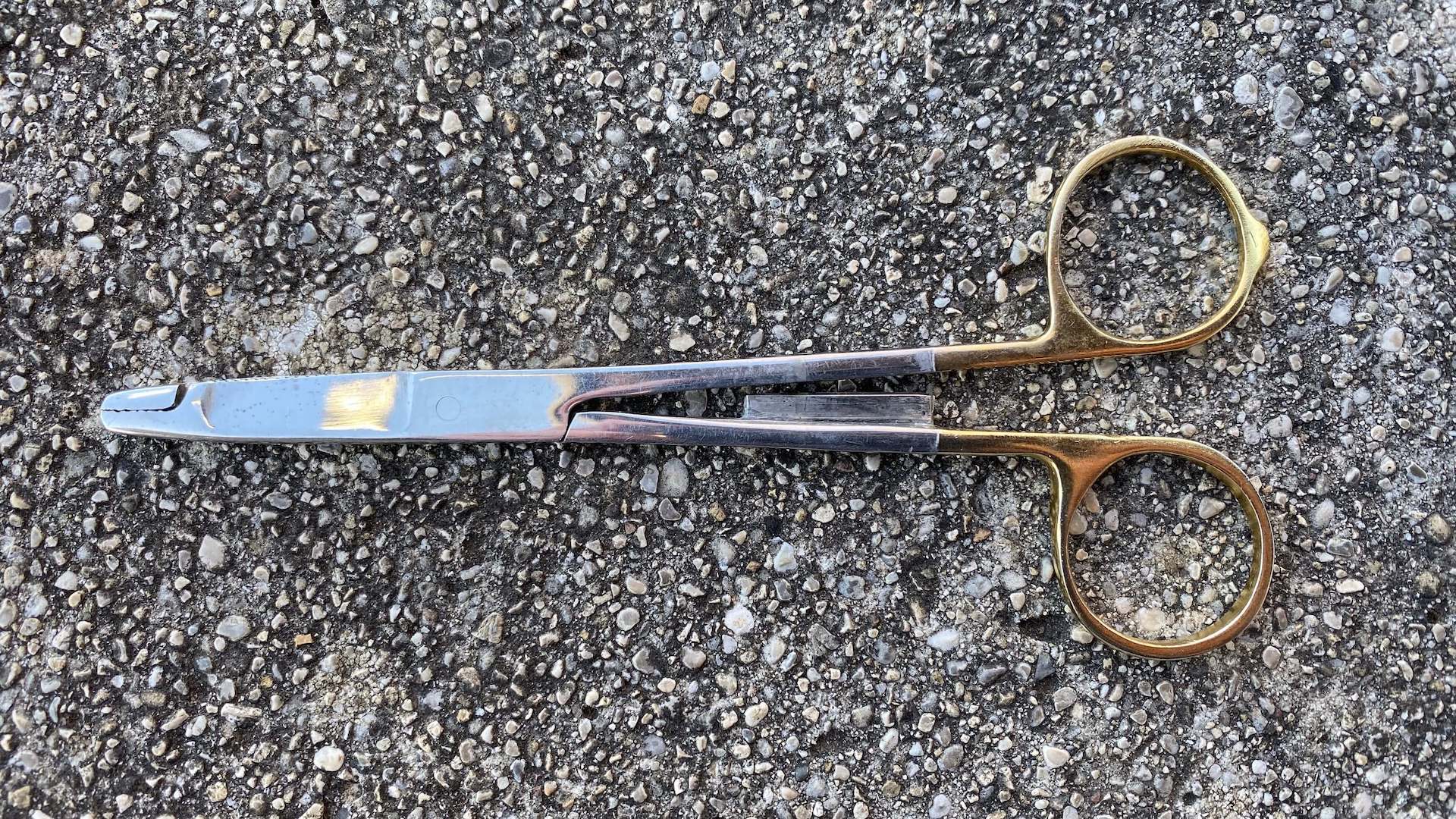 Stainless steel scissor clamps
If you want to reduce your gear at the water you should look for a pair of scissor clamps. This version of fly fishing pliers combines the best of both worlds from artery forceps and line clippers.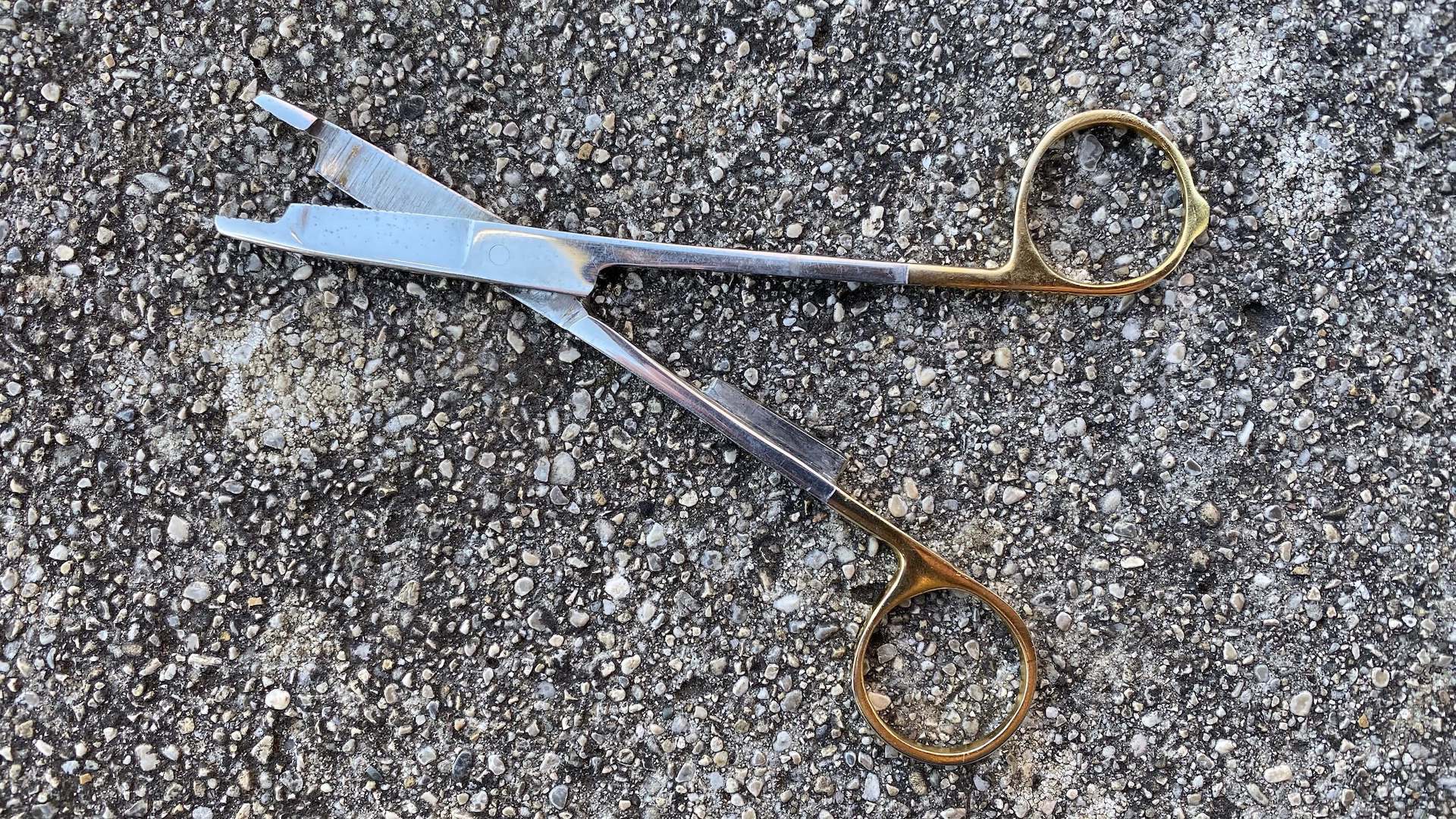 Fly fishing pliers with integrated scissors
The integrated scissors reduce the length of the jaws used to grip items a bit but give you the opportunity to clip a fishing line or tippet without having to add a line clipper to your gear.