A fillet knife is a crucial tool when you decide to process the fish you caught. Here are the best ones on the market.
A lot of people think they can use any kitchen knife to get the job done. However, if you invest a bit of money in a quality fish knife you will have a lot more fun in the kitchen. And you will honor the exceptional produce laying in front of you.
Table of contents:
How to Choose the Best Fillet Knife
Best Fillet Knives Quick Answer List
Review of the Best Fillet Knives
What You Need to Know about Fillet Knives
– Sharpness and Blade Retention
– Best Fillet Knife Sharpeners
– Construction of Fillet Knives
Disclaimer: We source, test and review the best products in the market. We only recommend products we use ourselves. If you end up buying a product from one of the merchants, we might earn a commission at no extra cost for you.
How to Choose the Best Filet Knife
What sets a filleting knife apart from a conventional one is primarily its blade. A filleting knife's blade is more flexible and lightweight enabling you to separate the flesh from the bone with ease.
In this article we will give you an overview of the best filet knives on the market. We will also tell you what to look for in a quality knife and answer all the questions you might have before making your purchase.
There are a few things to pay attention before you purchase. Most of all you want a quality knife that will last you a long time. That knife will be cheaper on the long run. We'll now take a look at the best fillet knives on the market. Afterwards, we'll explain some of the basics that you should know about filet knives. Jump to the knowledge section here.
You should consider a number of factor concerning the filleting knife's blade.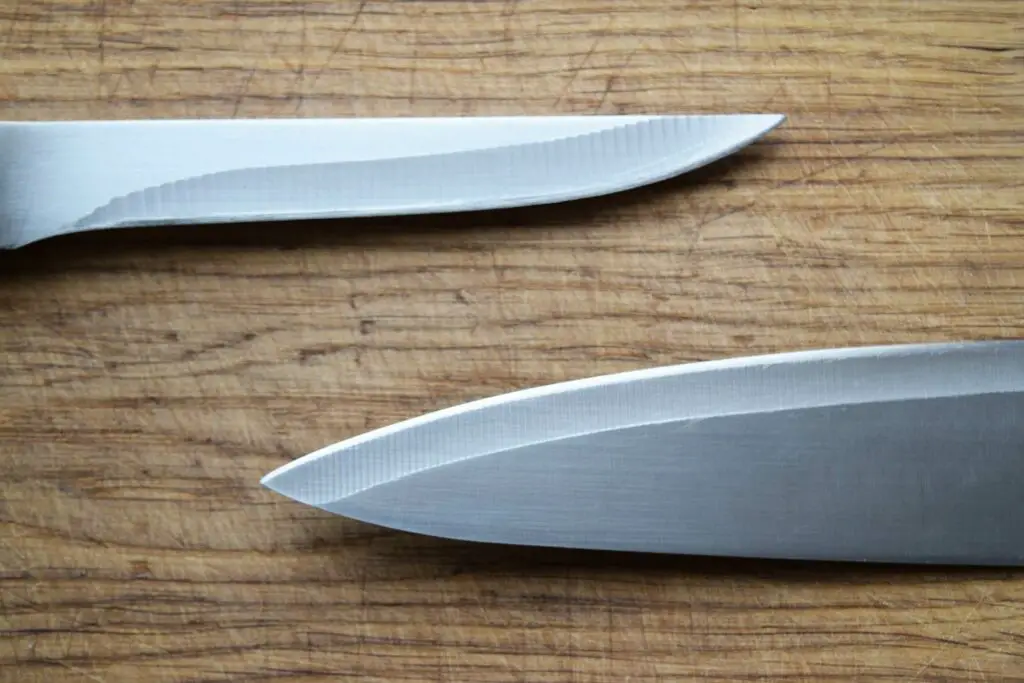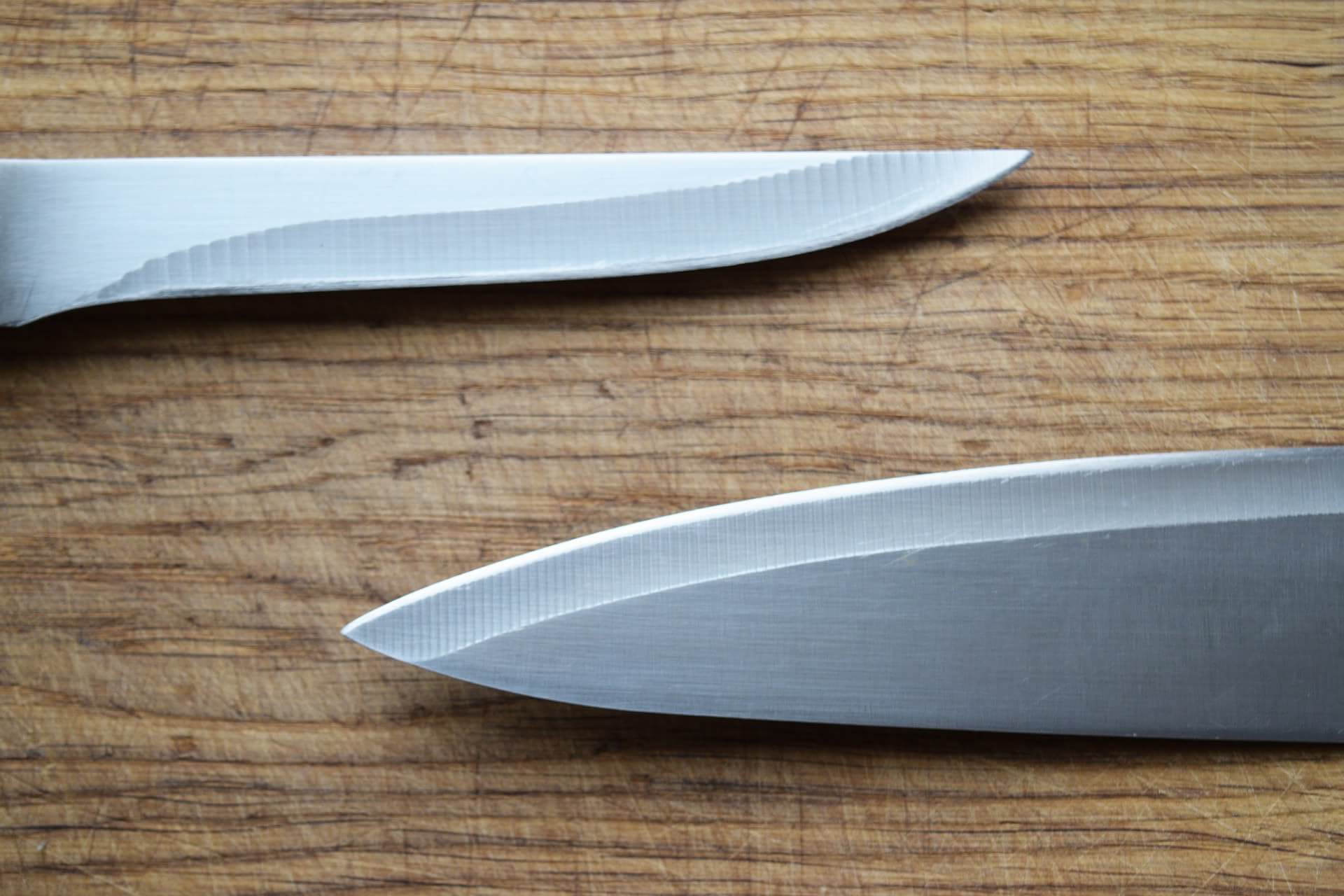 Best Fillet Knives Quick Answer List
1. Best Grip: Bubba 9 Inch Flex
2. Best for Frequent Use: Victorinox Cutlery 8-Inch Straight
3. Best Performance Filleting Knife: WÜSTHOF Classic 7 Inch
4. Best Professional: Zwilling Pro 7″ Fillet Knife
5. Best Electric Filleting Knife: Bubba Electric Fillet Knife Corded
6. Best On-the-go Fish Knife: Rapala4 Soft Grip
7. Best Minimalist: Global Flexible Swedish Fillet Knife
8. Best Versatility: Toadfish Stowaway
9. Best in Medium-price Range: Hammer Stahl 7-Inch
10. Best Saltwater: Gerber Controller Salt
The Bubba 9 Inch Flex is our top choice when it comes to the best grip. The trigger grip where the handle meets the blade adds another level of security.
The extra sharp tip of the Bubba 9 Inch Flex makes starting the cut even more easy. The Bubba is also a great choice if you want to take your knife to the water. It features a lanyard hole at the end of the handle and comes with a synthetic sheath for easy transport.
Verdict: Fantastic all-around fish knife that is well equipped and thought through. Due to its outdoorsy design not the first choice for the kitchen.
Swiss brand Victorinox is best known for their iconic pocket knifes. But they also produce high-end fillet knives as the Victorinox Cutlery 8-Inch Straight proves. At less than $30 it is a great entry-level product.
The Victorinox's handle is made from fibrox, ensure a safe grip due to its textured surface. Made in Switzerland the Victorinox comes with a lifetime warranty against manufacturer defects.
Verdict: Great entry-level product. Take special care when cleaning the transition from blade to handle.
German manufacturer Wüsthof has been making knives for two centuries. The WÜSTHOF Classic 7 Inch is an expression of their long-standing knowledge. The tapered single piece high carbon steel ensures precise cuts.
Used by professional chefs around the world, the WÜSTHOF Classic 7 Inch brings a high-end feel and performance to your kitchen. The black leather sheath enables you to safely take the knife along on a trip if needed.
Verdict: High-end German-made fish product that raises the bar. Delicate blade to be handled with care.
Zwilling has a long tradition of high quality kitchen knives: The Zwilling Pro 7″ is no exception to this rule. Its stainless steel blade is incredibly flexible. The knife is forged from a single piece of steel making it incredibly durable and long lasting.
The Zwilling Pro 7″ is available in multiple variations. If you're a traditionalist, the version with the wooden handle is for you. It comes as a 7″ or 8″ depending on your personal preference. The 8″ version is great if you tend to fillet bigger fish often as it makes handling bigger fillets a little easier.
Verdict: Elegant design with beautiful transition from blade to handle. Trusted by professionals and amateur chefs around the globe.
The Bubba Corded is a fantastic option if you are looking for a corded knife. None of the other products offers the flexibility and versatility of the Bubba Electric.
The Bubba Corded features four removable blades that come in different lengths and degrees of stiffness – two more flexible blades and two stiffer ones. The great feature of the Bubba Corded is the fact that all of these blades can be stored in the case that comes with the knife.
The Bubba Corded also comes with a very grippy and ergonomic handle that makes it comfortable to fillet several fish in a row. A safety lock and trigger guard place an extra on security.
The Rapala4 Soft Grip is the right choice if you are looking for a fillet knife to put into your tackle box. The stainless steel blade by Martiini Finland is known to be rock solid.
The soft-grip handle gives you great control, especially when you are filleting outdoors and your hands might be a little wet. The Rapala4 Soft Grip comes with a black sheath and a sharpener to keep the blade sharp at all times.
Verdict: Best fish fillet knife for everyday (outdoor) use. Not the one you would add to your kitchen equipment.
The Swedish G-30, 8″ is one for the purist. Made from one piece of stainless steel it is incredibly flexible making it a joy to use. The one piece design also makes cleaning it a piece of cake.
The dimple features of the Swedish G 30, 8″ are meant to ensure a safe grip. It comes down to personal taste. Some people prefer a rubber or wooden handle. They also contribute to the knife's low weight of only 0.55lbs (0.25 kg). The double-beveled edge ensures that both right- and left-handers can use the knife. Made in Japan.
Verdict: Beautiful, one piece design. Extreme flexibility. Some people perceive the steel handle as not slip-resistant enough
The Toadfish Stowaway is our absolute favorite when it comes to versatility. You not only get a high quality fillet knife but a folding cutting board with it. The knife itself is foldable as well can can hence comfortably be carried around by attaching it to your belt for example.
The Toadfish Stowaway comes in a neoprene storage case, perfect for travelling. Thanks to its titanium coated blade, the Toadfish Stowaway is also ready to be used in saltwater environments. To round off this great set, the Toadfish's cutting board has an integrated sharpener. The Toadfish Stowaway is dishwasher safe.
Verdict: Fantastic versatility. A knife, cutting board and sharpener in one set. Great value for money ratio.
The Hammer Stahl 7-Inch is a fantastic fillet knife if you are looking for a medium-priced product that portrays premium quality. Made from German High Carbon steel, the Hammer Stahl has a beautiful one-piece design.
The PakkaWood handle of the Hammer Stahl 7-Inch adds to the premium aspiration. Measured by laser, the Hammer Stahl blade is sharpened to a 20 degree bevel angle for superior cutting performance.
Verdict: Our mid price-range favorit with a premium approach. Nice traditional look with the combination of Pakkawood and steel in the handle.
If you are a fan of saltwater species and love to fillet them on the boat or dock, make sure to check out the Gerber Gear Controller. Available in two sizes (6″ and 8″) this knife ticks all the boxes of a great saltwater fillet knife with an increased degree of corrosion resistance.
The grip of the Gerber Gear Controller features an ergonomic shape that makes sure you don't slip even when applying increased pressure as is often necessary when filleting strong saltwater species. The plastic sheath that comes with the knife makes sure your product is safe for travels or when stowed on your boat. A great feature of the Gerber Gear Controller is the integrated sharpener that makes sure your knife stays sharp no matter how often you use it.
Verdict: Excellent choice for the saltwater fly angler due to its features specifically aimed at stronger species.
Bubba 9 Inch Flex Fillet...
WÜSTHOF Classic 7 Inch...
Last update on 2022-09-24 / Affiliate links / Images from Amazon Product Advertising API
What you Need to Know about Fillet Knives
Sharpness and Blade Retention
In order to make precise cuts it is essential that the blade is sharp at all times. Funnily enough a sharper blade is also less dangerous than a blunt blade because the cuts can be performed more easily. If you feel insecure using razor sharp blades consider getting a filleting glove. Here are a couple of filleting gloves you can't go wrong with:
SAFEAT Safety Grip Work...
SAFEAT Safety Grip Work...
Last update on 2022-09-24 / Affiliate links / Images from Amazon Product Advertising API
Blade retention is another crucial factor. It defines a knife's ability to stay sharp over a certain amount of time. A quality one should stay sharp for a while. But over time you will eventually have to sharpen your knife using a fillet knife sharpener. In the following paragraphs we want to give you an overview of the best fillet knife sharpeners on the market and different options for filet knife sharpeners.
Best Fillet Knife Sharpeners
Fillet knife sharpening tools come in different forms and sizes. We picked some of the best options and will tell you about their details here.
The Mueller Sharpener is a great entry level fillet knife sharpener for only a little more than $10. The best thing about it is its versatility. This fish fillet knife sharpener allows you to sharpen all kinds of knives, ranging from ceramic knives, to steel knives and scissors.
All you have to do is place the blade in the respective slot of the Mueller Sharpener and pull the knife towards you a few times. Simple as that. The sharpening will be automatically correct. A great tool for the not so experienced sharpener.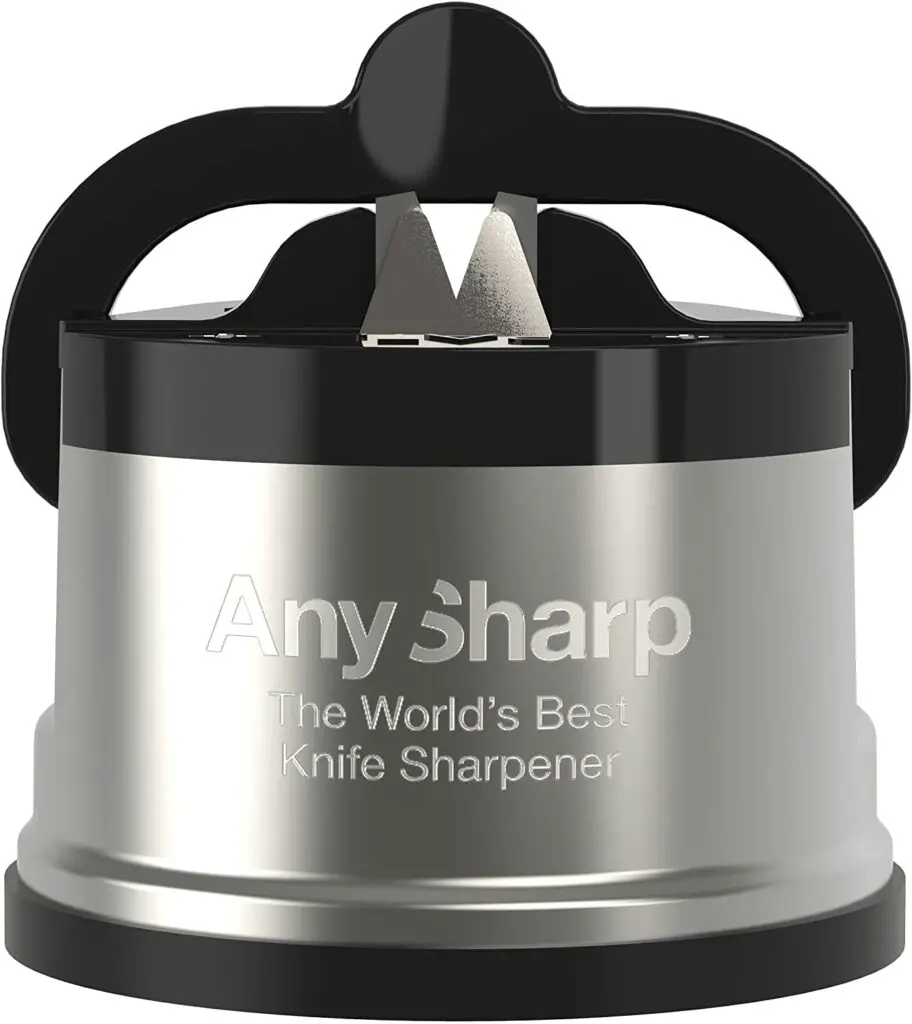 The AnySharp Pro our favorite when it comes to versatility. It can virtually sharpen any knife out there. The best thing about it is the fact that you can even sharpen serrated blades using the AnySharp Pro. Unless most fillet knife sharpeners, this fillet knife sharpening tool uses tungsten carbide as the material of choice for the sharpening process. This guarantees a long life for your tools.
The AnySharp Pro makes sharpening a piece of cake. All you have to do is draw your weapon of choice through the sharpener and your blades will be as new. Comes in a variety of colors to easily blend into any kitchen surrounding.
The Work Sharp Guided Field Sharpener is a great fish fillet knife sharpener if you are looking for a tool to take with you on your adventures. Yet, you'll need to know or learn the basics of fillet knife sharpening in order to use the Work Sharp Guided Field Sharpener properly. Don't worry though, it's no rocket science.
The Work Sharp Guided Field Sharpener diamond plates that always ensure a sharp blade after using it. This sharpener easily fits into luggage due to its very slim silhouette. Great for the outdoor lover.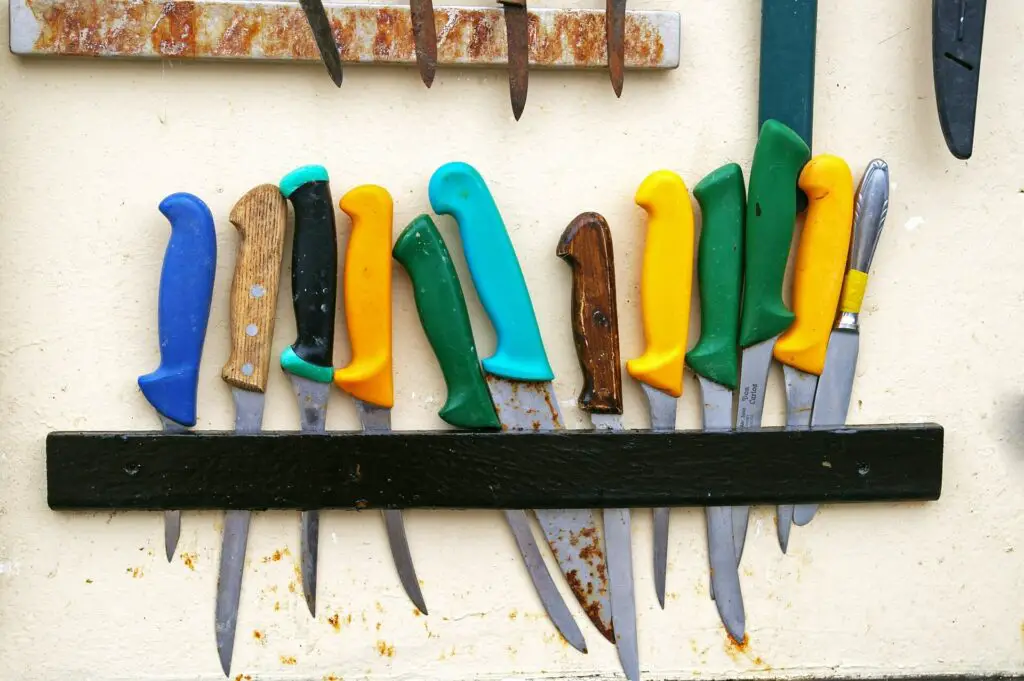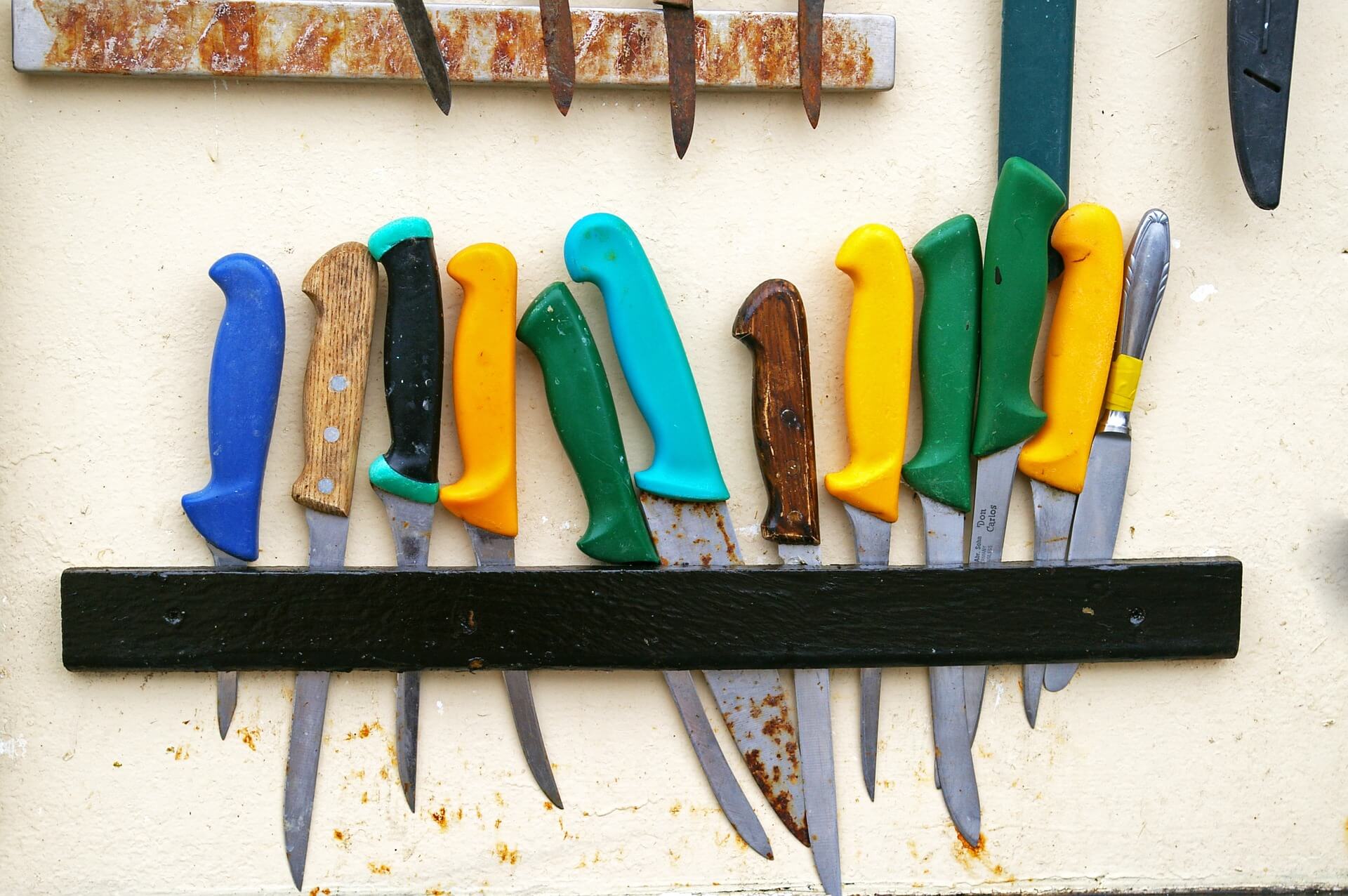 Construction of Filleting Knives
There are three characteristics that a quality filet knife blade has to fulfil: it needs to be thin, strong and yet flexible. A high quality steel (often made in Japan or made in Germany) ensures a thin and sharp blade.
Another aspect you should pay attention to is the handle. Some filleting knives are made from one piece of steel, others have handles made of plastic or wood. An ergonomic shape of the handle will ensure a tight fit and safe cutting.
Guarantee and Price
The price range of filleting knives is big. You can get started with around $25 and spend several hundred dollars if you want to. It comes down to taste and exclusivity in the end. You should look for a guarantee as fillet knives can break despite being flexible. Quality manufacturers often offer a lifetime guarantee.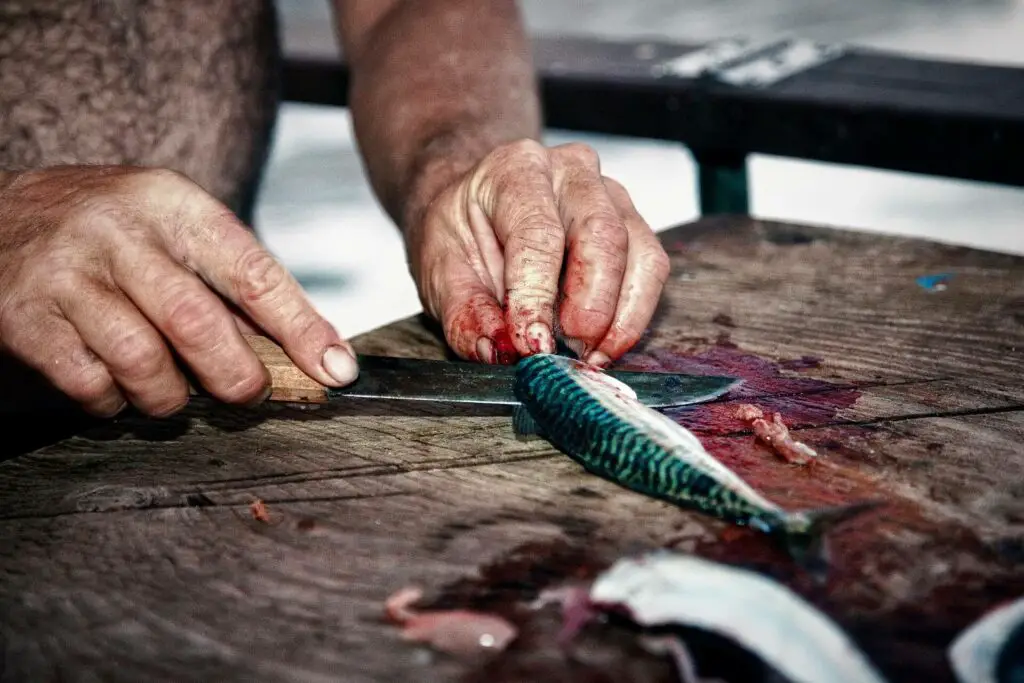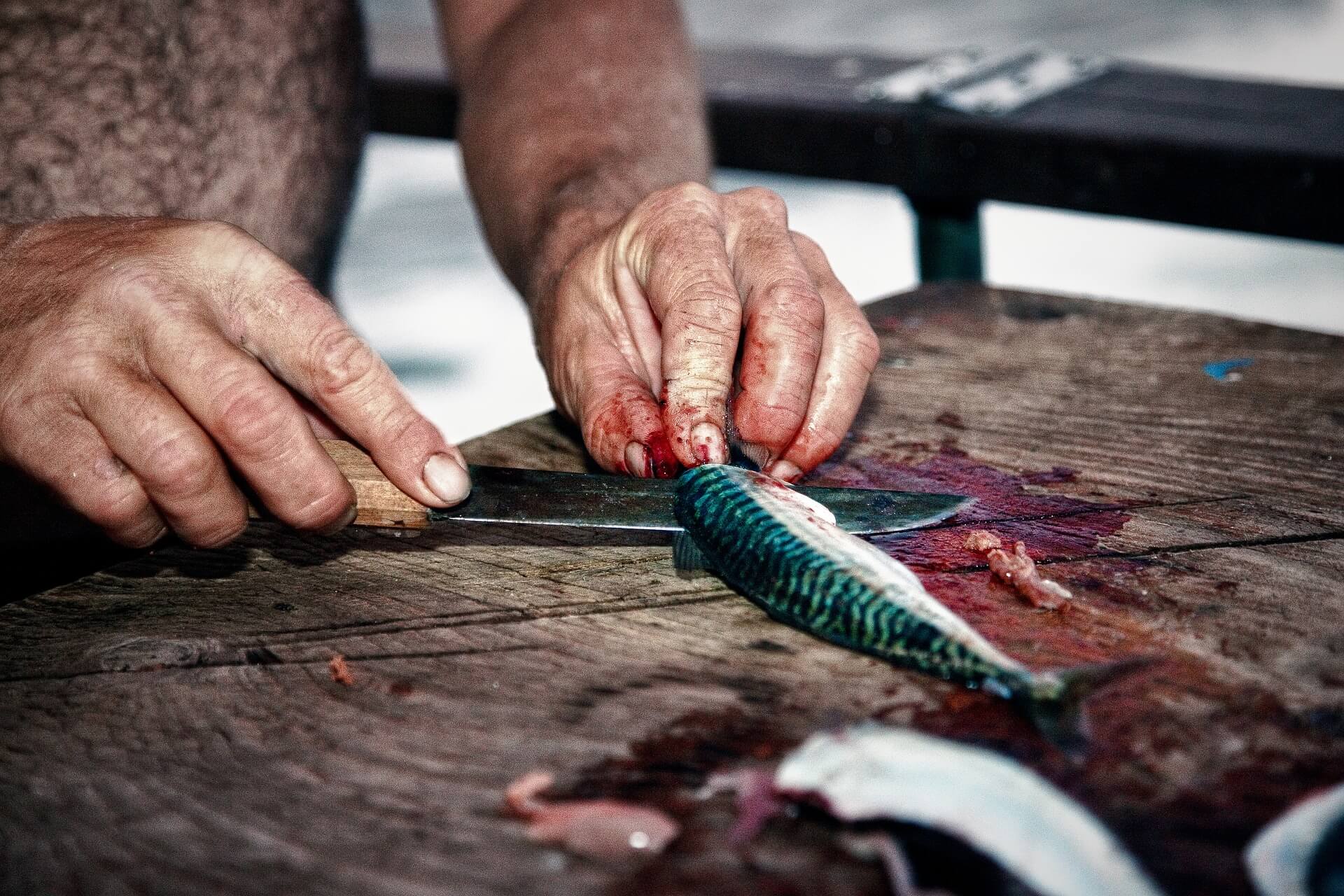 Taking Care of your Fillet Knife
Taking care of your knife is easy. Clean and dry it after every use. Store in a dry place and prevent it from dropping. Don't use it for other purposes than filleting, it will get blunt faster. Do not put a quality knife in the dishwasher. Water and some soap is enough – dry it with a towel.
Conclusion on the Best Fish Fillet Knife
As you can see from our test, fillet knives come in all sorts of makes, forms and shapes. You might be looking for a different type of fillet knife if you are looking for one to use on a trip or outdoors.
You might be looking for a high-end fillet knife to use in your kitchen on special occasions. No matter which one you choose in the end, all the knives in our test promise quality and longevity.
Frequently Asked Questions: Fillet Knives FAQs
What is the best size fish fillet knife?
The size of the fillet knife depends on the kind of fish you are planning to fillet with it. For smaller species such as perch, a 6-inch blade is ideal. If you are looking to cut trout and or bass, a 7.5-inch blade is well suited. For bigger species such as salmon or pike, you can use a 9-inch blade.
What makes a great fillet knife?
The most important features of a great fillet knife are the blade and the handle. Invest a bit of money in a quality fillet knife with a strong blade that will last for years. The grip should be sturdy, non-slippery and easy to clean.
What should I look for in a fillet knife?
A number of factors play a role when picking the best fillet knife. A sharp, yet flexible blade is crucial. Also consider the size of the knife, depending on the size of the fish you intend to cut.
How thick should a fillet knife be?
The blades of fillet knives tend to be very thin so they remain flexible to cut the fish. At the spine most fillet knives are in between 2.5 and 3.5 mm thick.
Do you need a fillet knife to fillet fish?
A fillet knife is a great tool to cut fish such as salmon or trout. The difference between a fillet knife and a normal kitchen knife is the thickness and flexibility of the blade. A fillet knife is thinner and more flexible and hence makes it easier to make precise cuts along the spine of a fish.
Are Bubba knives worth the money?
Bubba knives have gained many fans amongst fishermen and hobby chefs. Especially their handle design makes them stand out and Bubba knives provide excellent grip.
Disclaimer: If you click on one of the links in this article and end up purchasing a product we earn a small commission at no extra cost for you. Thank you!