Last updated on October 26th, 2023.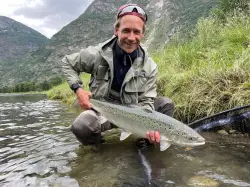 Latest posts by Leonard Schoenberger
(see all)
Sunglasses have evolved from mere fashion accessories to vital tools for outdoor enthusiasts.
The Bajio Paraiso sunglasses with rose mirror lenses are not just about looking good; they're about feeling good and seeing better in the great outdoors. Let's delve deeper into what makes these sunglasses a worthy addition to your fly fishing gear.
Frame and Construction
Specs and Features
Lens Width: 47 mm – Lens Depth: 52 mm – Bridge Width: 20 mm – Temple Length: 140 mm
Frame colors: 3
Lens colors: 7
Frame size: small
Price: $209 (with poly lens) and $259 with glass lens
Retainers not included
Cactus leather case
Disclaimer: Some of the links in this article are affiliate links. If you click on one of them and end up purchasing a product we earn a small commission at no extra cost for you. We only recommend products we believe in ourselves. Learn more here.
Material
Constructed using renewable, bio-based resins derived from castor beans, the Bajio Paraiso sunglasses represent an environmentally-conscious choice. This choice of material ensures that the frame is not only lightweight but also durable. I found the frames to adapt well to different head shapes in the small to medium size range. If you have a wide face these shades might be too narrow for you.
Comfort & Fit
One of the first things you'll notice about the Paraiso's frame is its ergonomic design, ensuring a snug fit. The nose pads are gentle, avoiding any undue pressure, making them ideal for extended use. The temples are not very wide which might be a downside if you're fishing in very bright conditions since some sunlight might still get in on the sides.
Aesthetics
The design is a seamless blend of classic and contemporary, making it versatile enough for both adventure and leisure. The rose mirror frame gives a subtle elegance, ensuring that you're always looking sharp, no matter the occasion.
Lens
The Paraiso are available with a wide range of lens colors which all come with polarisation. We got these shades with the rose mirror lens for low light fishing situations.
Clarity and Color
The rose mirror lens doesn't just add a touch of style; it's functional too. The lens provides enhanced contrast, making it perfect for a variety of lighting conditions. We got them specifically to fish in situations with less light such as fall days or when fishing into the night. I found the rose mirror lens to work well although they cannot compete with the Sunrise Silver Mirror Lens on the Costa Fantail Pro.
Where this lens really shines in my eyes is in bringing out the colors. When we fished them in the fall setting of upstate New York, these lenses did an excellent job in enhancing the beautiful fall colors and made the fishing even more enjoyable.
Protection
Beyond color enhancement, these lenses offer 100% protection from harmful UVA/UVB rays. This feature is indispensable, especially if you're planning to spend extended hours outdoors.
Coatings
The lenses come with multiple coatings, ensuring they remain resistant to elements like water, oil, and dirt. This not only enhances the lens's durability but also ensures clarity isn't compromised due to smudges or dirt.
Environmentally Friendly
Staying true to Bajio's commitment to sustainability, the lenses are free from harmful pollutants that might damage water ecosystems, making them an eco-friendlier choice.
Comparison to Other Sunglasses
When juxtaposed with many sunglasses in the market, the Bajio Paraiso stands out for its eco-conscious materials and lens clarity. The bio-based resins and pollutant-free lenses make it a top choice for the environmentally-aware consumer. Additionally, the combination of the brown tortoise frame with the rose mirror lens ensures you don't compromise on style while enjoying superior lens functionality.
Conclusion
The Bajio Paraiso with rose mirror lenses epitomize the perfect balance between aesthetics and performance. From their eco-friendly frame to their pollutant-free lenses, they're a testament to Bajio's commitment to quality and sustainability. They are a good fit for fly fishing with their great color enhancement and polarisation.
Pros and Cons of the Bajio Paraiso Sunglasses
PROS:
Great lens clarity and color enhancement
Perfect multi purpose shades for outdoor activists
CONS:
Temples are a little too narrow for bright light situations
Retainer not included (available for $15)
FAQ Corner
Who are the Bajio Paraiso ideal for?
The Bajio Paraiso are perfect for outdoor enthusiasts looking for a blend of style and functionality. Their enhanced contrast makes them suitable for activities like fishing, hiking, or driving.
How do I care for the lens?
Always rinse the lenses with fresh water before cleaning to remove any abrasive particles. Use a soft cloth to wipe them. Avoid using chemicals or harsh detergents as they might compromise the coatings.
Is the frame adjustable for a better fit?
The frame is ergonomically designed to fit most face shapes comfortably. However, for minor adjustments, it's recommended to visit a professional to avoid inadvertently damaging the sunglasses.
How resistant are the lenses to scratches?
While the lenses come with coatings that enhance their resistance to wear and tear, it's always a good idea to store them in a protective case when not in use to prolong their lifespan.