Last updated on November 22nd, 2023.
Latest posts by Leonard Schoenberger
(see all)
When venturing into the vast world of outdoor activities, particularly fly fishing, one quickly understands the significance of top-notch eyewear.
Sunglasses aren't just about style; they play a crucial role in enhancing visual clarity, ensuring you spot that elusive fish, and safeguarding your eyes from harmful UV rays. Amidst a crowded market, the Costa Fantail Pro Fishing Sunglasses distinguish themselves as elite. Let's explore what makes these sunglasses exceptional, delve into their specifications, and uncover why they're considered one of the best polarized options available today.
Disclaimer: Some of the links in this article are affiliate links. If you click on one of them and end up purchasing a product we earn a small commission at no extra cost for you. We only recommend products we believe in ourselves.
Specs and Features 
The Fantail Pro is a testament to Costa's dedication to superior functionality and design. Here's an overview of their main specs before we dive into how they perform in real life.
Frame Material: A bio-resin nylon frame combines durability and environmental consciousness.
Lens Material: 580G Lightwave Glass. This lens provides excellent clarity while not being too heavy. As a rule of thumb, glass lenses are heavier than polycarbonate (plastic) lenses. Costa claims their 580P lens is 20% thinner and more than 20% lighter than their competitors'. I've found the Costa Fantail to keep up with that promise with the clarity being unmatched and I've never had the feeling of the shades being too heavy even after a full day out on the water.
Polarization: Employing Costa's patented technology, these glasses dramatically reduce glare, especially off water, enhancing color contrast. Here's where Costa's experience of producing sunglasses for four decades comes into play: the harmful blue light and the harsher yellow is filtered out, while red and green is enhanced.
Vented Design: Cleverly placed vents, combined with side shields and hooding, prevent lens fogging during intense activities. I've found the temples to be wide enough to block out the majority of the light but still provide enough ventilation around them.
Lens Color Options: (note: not all lens colors are available with all frame colors) Different environments and activities necessitate varied vision capabilities. Costa acknowledges this with a range of lens colors for the Fantail Pro:
Blue Mirror: Perfect for open waters, this lens provides maximum contrast and color in bright conditions.
Green Mirror: A versatile choice for mixed light conditions, be it inshore fishing or sight fishing.
Gray: A general-purpose lens, it excels in glare reduction while preserving color saturation and natural contrast. Costa claims it's ideal for very bright sunlight but I've found it to be an excellent allrounder and to work well with overcast skies as well.
Copper Silver Mirror: Excellent allrounder, and surprisingly good in low light conditions from my experience.
Sunrise Silver Mirror: This is my favorite when it comes to lowlight conditions.
Size: Frame width: 133mm, Bridge Width: 15mm, Lens Width: 60mm, Lens Height: 41.8mm, Temple Arm Length: 120mm.
Adjustable nosepads
RX available
Warranty: Two years limited warranty during which your sunglasses will be repaired or replaced by Costa. Learn more here.
Price: $264 – 284 (non prescription)
Glass vs. Plastic Lenses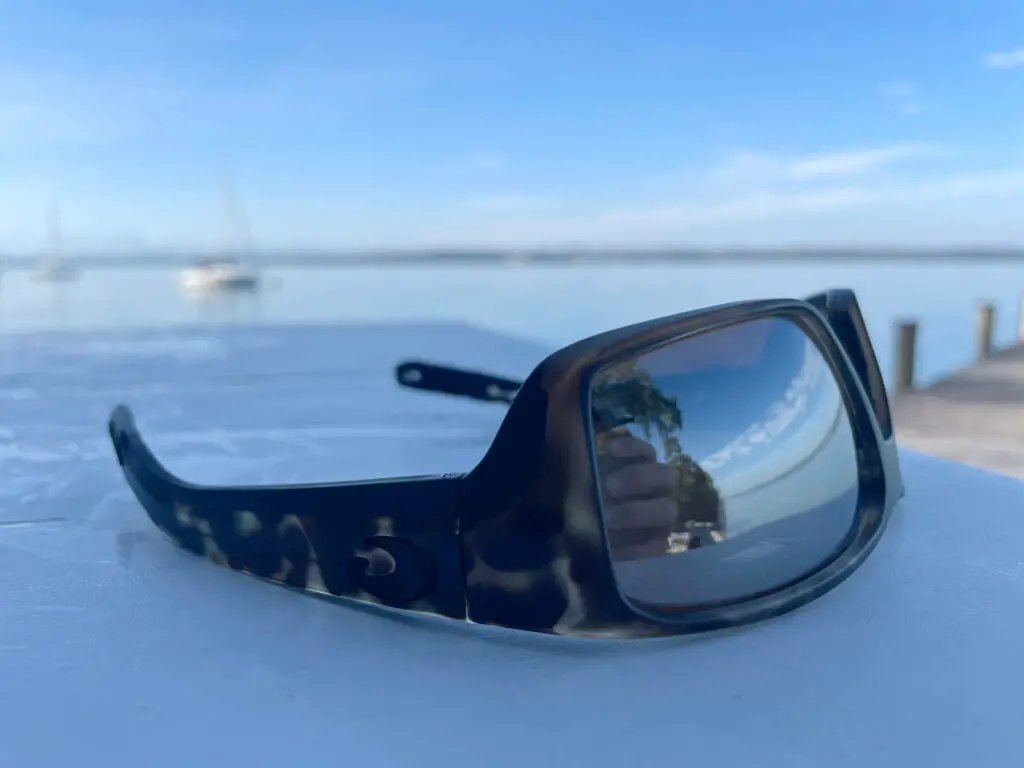 When choosing sunglasses, the debate often arises: glass or plastic (polycarbonate) lenses? Each has its merits. Glass lenses, like the 580G used in the Fantail Pro, are renowned for superior clarity. They tend to be more scratch-resistant than their polycarbonate counterparts, ensuring they remain unscathed from minor abrasions.
On the downside, glass lenses are heavier, but Costa's Lightwave Glass manages to mitigate this by being exceptionally lightweight. Polycarbonate lenses, however, are known for their durability and resistance to shattering, making them a good choice for high-impact activities. But when it comes to fly fishing, where clarity is paramount, the premium glass lenses of the Fantail Pro truly shine.
Why They Stand Out in Real Life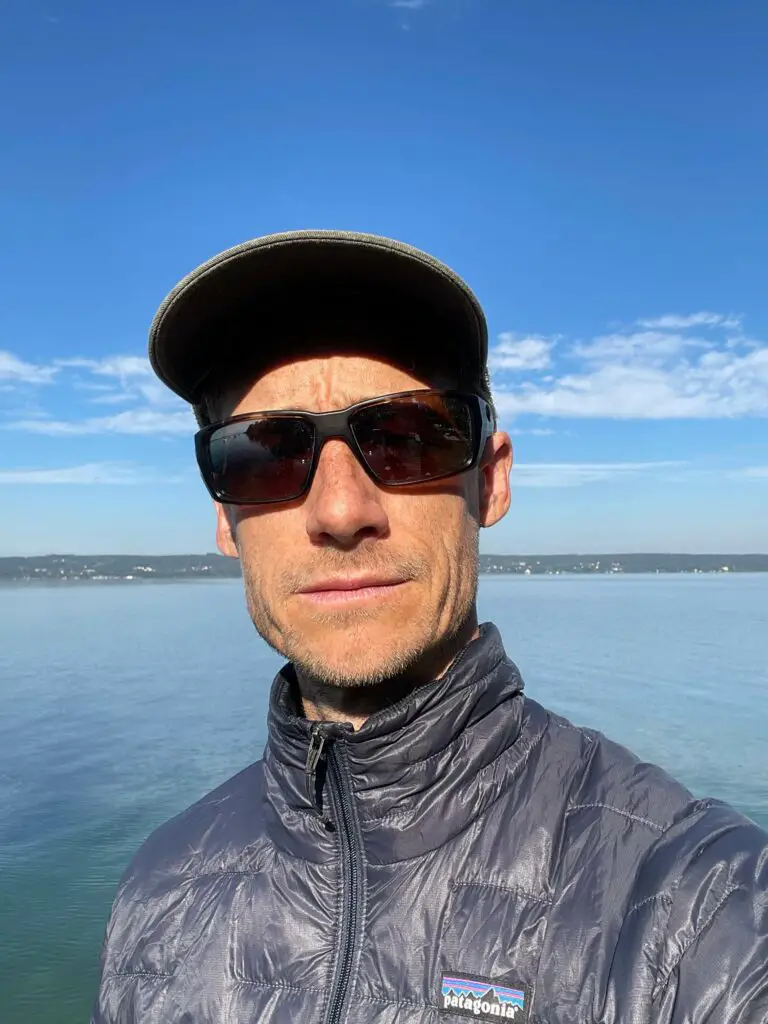 Now that you know about the basic specs of the Costa Fantail Pro and the advantage of their glass lens, let's dive deeper into what I love about these sunglasses in real life when hitting the water.
First off, these fly fishing sunglasses don't come cheap. At $284 they play in the same league as the Oakley Clifden Prizm Polarized. Here's what you get for it: first and foremost a high quality glass lens that provides excellent glare reduction, polarisation and protection from harmful rays.
Secondly, you can tell that's Costa shades are really tailored to fishermen. Adjustable nosepads make sure your sunglasses stay in place even when you're fighting a big fish. The fit of the sunglasses is snug but not too tight to prevent air from coming in (which helps prevent fogging). At the end of the temples you have holes for a leash (it would be nice to have a leash come with them as the Oakley's do).
PROS:
Unmatched polarization enhancing visual clarity.
Array of lens colors for diverse needs.
Sturdy yet lightweight frame.
Advanced venting system to combat fogging.
Deep-rooted commitment to environmental stewardship.
CONS:
Size L will work for most people but since there is no XL version, consider going for the Blackfin PRO if your face is wide
The frames come with a protective case and cleaning cloth but a leash would be a nice upgraded (since the Fantail Pro come with holes in the temples)
Conservation Efforts 
Beyond exceptional eyewear, Costa's heartbeat resonates with conservation. Their "Kick Plastic" campaign targets reducing oceanic plastic waste by advocating sustainable alternatives. Partnering with entities like Ocearch (which promote the protection of sharks), Costa further fosters marine research and education.
Conclusion on the Costa Fantail Pro
Yes, the Fantail Pro are an investment at almost $300. Is is a worthy investment. I would say yes. The eyes are your most important sense in fishing and from my experience it's not only crucial to protect them from flies or debris but investing in a high quality polarized lens, will improve your success on the water.
GET THEM AT VAIL VALLEY ANGLERS
FAQ Section
How do the Costa Fantail Pro Sunglasses compare to other Costa models in terms of fit?
Designed for a medium fit, the Fantail Pro ensures adaptability for various face shapes and offers a snug fit compared to other models.
Are they equipped to handle saltwater environments?
Absolutely! Their lenses resist the corrosiveness of saltwater, promising longevity and clarity.
What distinguishes the 580G Lightwave Glass from regular glass lenses?
Costa's 580G lens offers heightened clarity, scratch resistance, and is considerably lightweight, ensuring comfort during extended wear.
Does Costa offer prescription lenses for the Fantail Pro?
Indeed, Costa provides prescription options for this model, ensuring the widest user accessibility to their renowned optics.
How can I be a part of Costa's conservation initiatives?

Purchasing Costa products inherently supports their conservation pursuits. However, one can also actively participate in their partner programs or champion their campaigns to make a more profound impact.